Puttin' on the Ritz
Tuxedo Den is Back in the Family…
"When somebody comes through our door, we want to treat them like family," Austin Benbrook says of Tuxedo Den, a family-owned formalwear company with a history dating back to 1962. Founded by Emil and Bernice Benbrook in Eureka, it eventually expanded to 16 locations throughout Northern California. In the early 2000s, the family sold Tuxedo Den to another company, while the Benbrooks kept the original Eureka location. In 2013, when Austin, grandson of the founders, got the call that the current owners planned to close all their shops, he decided to buy back the Redding locations and close the Eureka store. He wanted to "bring the family feel back," he says. They had to move to a new storefront in Redding, which ultimately meant starting over from scratch, reworking the family name back into the business and letting customers know they'd moved.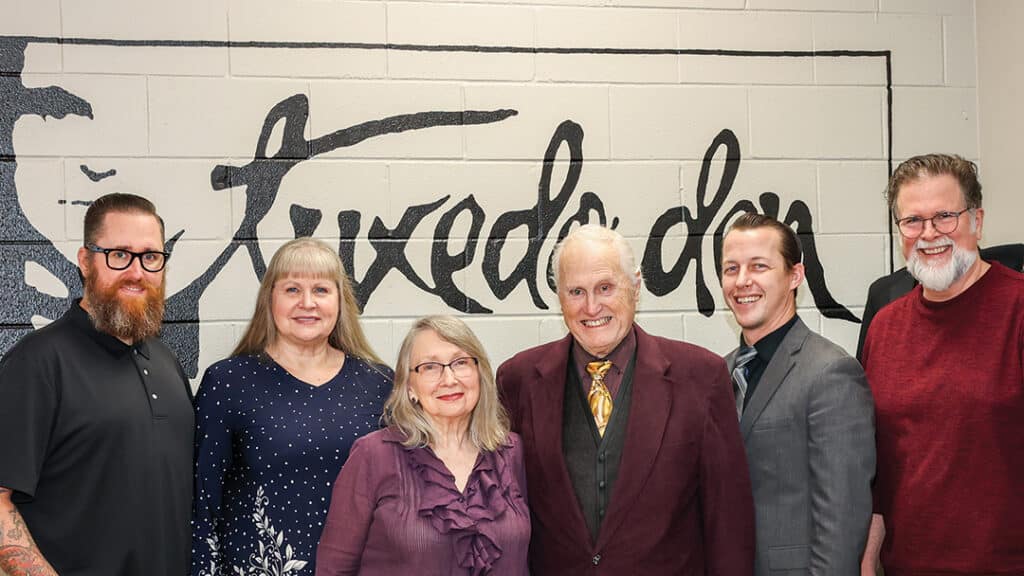 Today, Austin's father, Bob Benbrook, works in the Redding shop alongside him. "He's 87," Austin says. "Still comes in, clean shoes and presses shirts, and I'm just happy to have him there with me." Bob was 27 when his parents started the company, and he worked with them for many years, helping with the expansion and opening new locations. Austin's mother-in-law, Debbie Stewart, is also an integral part of the team, working as a seamstress. In addition to a wide selection of suits and tuxedos for weddings, proms and other formal events, Tuxedo Den offers full tailoring and alteration services, whether or not the items were purchased at the shop. "We take a lot of time to do alterations on rentals," says Austin. "We try to custom fit everything that leaves our store." Debbie does exceptional work on pieces from wedding and bridesmaids dresses to street clothes, and everything in between, he says.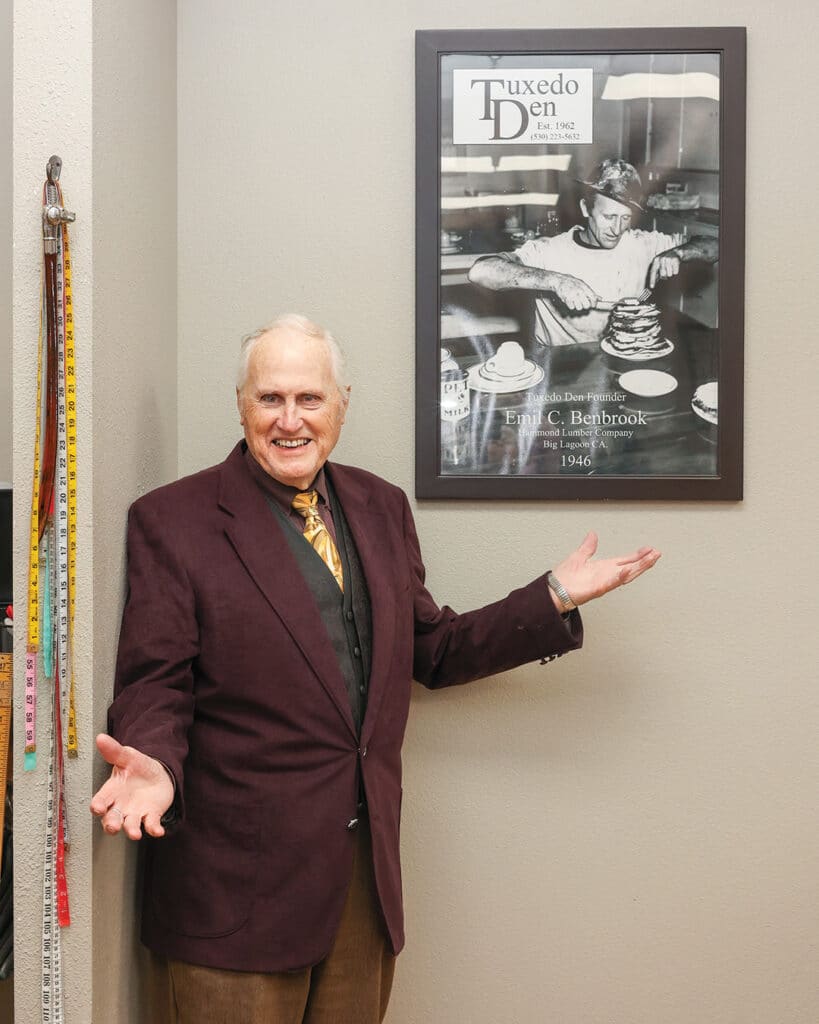 Tuxedo Den faced challenges during the pandemic, as most weddings and other events were canceled or postponed. However, they were able to weather the storm with just a small team, including Bob, Debbie and store manager Kyle O'Connor, who's been a long-time part of the Tuxedo Den family, and a group of unswervingly loyal customers. Tuxedo Den is increasingly excited about the return to normal functions like weddings, quinceañeras, proms and holiday parties, once again giving them opportunities to serve the community with their expertise.
Austin and his team understand that the clothing industry is constantly evolving, with fashion trends shifting more rapidly than ever. With one of the largest selections of rental styles on the market, however, Tuxedo Den is able to keep up with trends, offer classic options and allow customers the flexibility to request anything they'd specifically like to try on in-store. It is unique in the attention to detail and commitment to personalized service. The team aims to act as guides for their customers, helping them navigate the world of formalwear without being pushy or overbearing. This particular kind of care for the customer experience is a value that has been passed down through the generations, with Austin citing his brother Rod Benbrook and their father as major influences on his approach to the business. "I've never had two more influential people in my life," Austin says, adding that his approach is simply "learning a little bit about the person that comes in."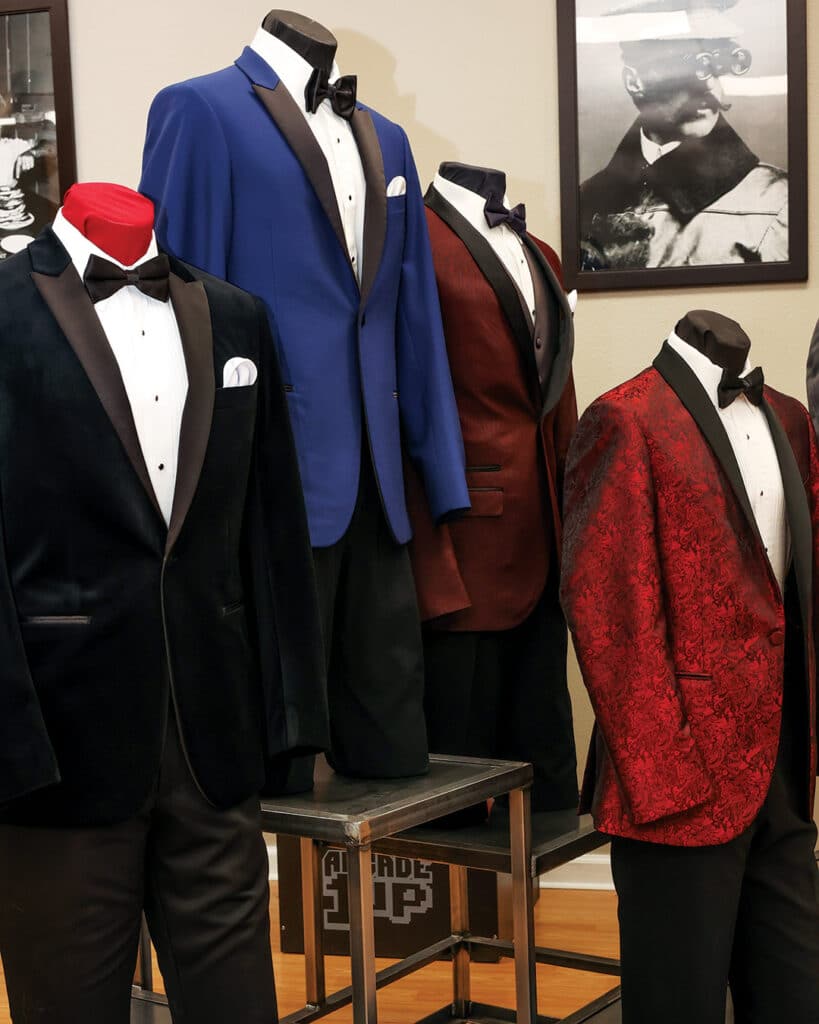 "We're just working on focusing on the customer and always looking to the future for something new," Austin says. On the possibility of opening more locations, he says, "I don't want to expand at the risk of alienating or diminishing customer experience when they come into our shop. So if that means that I focus on one shop for the rest of my days, then that's where it is." The company has no intention of sacrificing its firmly held priorities in the name of growth. Instead, the focus will remain on maintaining high standards and providing the best possible formalwear experience. •
Tuxedo Den • 218 Hartnell Ave., Redding
(530) 223-5632 • www.tuxedosredding.com
Hours: Tuesday through Saturday, 11am to 5 pm; closed Sunday and Monday
Article Written by:
Eythana Miller was transplanted to Redding from Montana three years ago and has fallen in love with the area. She's in her second year at Shasta College, and loves a good literary discussion over a few cups of black tea.