A Seat at the Table
Jesse and Aaron Palmer's Haven Collective…
To this day, Jesse Palmer remembers how nervous he was for Haven Collective's first wedding. He planned to arrive early, which turned out to be a good thing, because the thicket of trees choking the narrow, rural road to the site barely allowed his truck passage. So he still had time for himself, his brother Aaron and a mutual friend to set up tables and chairs for 250 guests.
First, they had to assemble the tables, sturdy eight-foot pine, hand- cut, stained and finished with a quality intended to enhance this most important of days. Done with that, 32 rustic farmhouse tables stood on their own hand-crafted legs for the first time outside of the wood shop. Next, since this was their first wedding, the brothers Palmer and friend began to unbox scores of brand-new chairs carefully chosen to match the tables.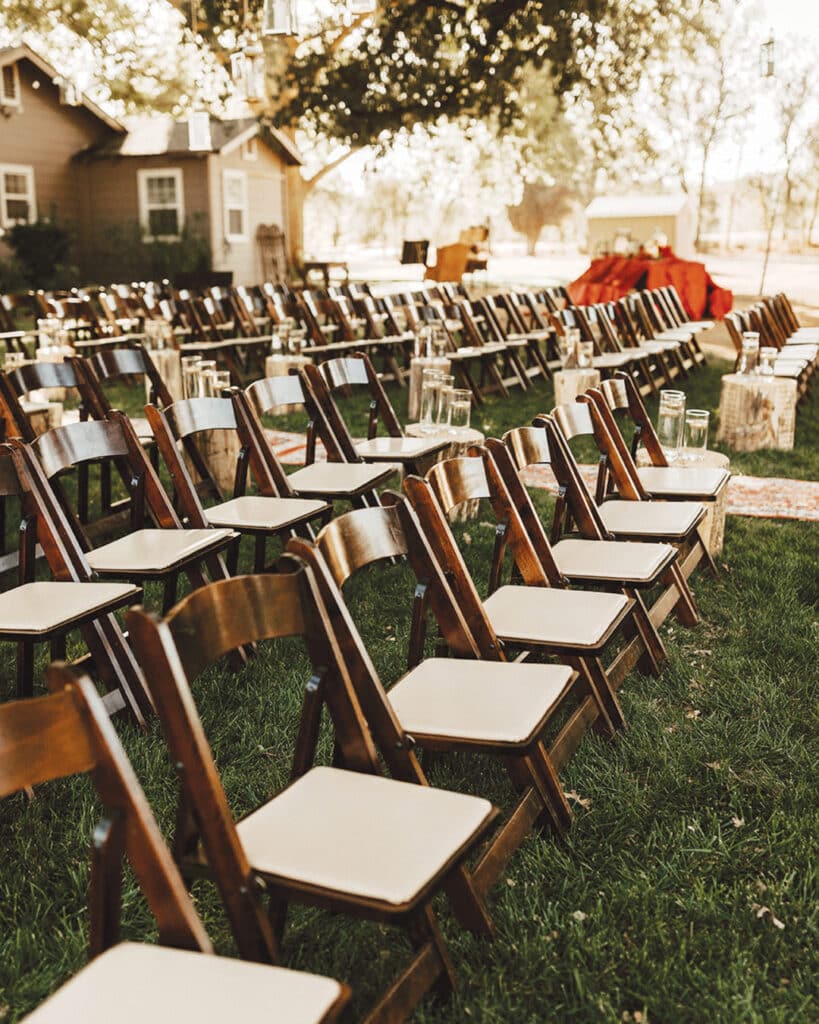 Jesse remembers working nervously, as the clock ticked away their hours. This first time, it took them five full hours to set everything up. For his second wedding, setup took less time and by, say, his fifth wedding, Jesse was confident he, Aaron and a friend could stage these 32 custom tables and chairs for any wedding within about two hours.
"We stopped building tables at 32, because we didn't have any place to keep any more," he says with a laugh. "Yes, we rent the same tables over and over again. For six years now."
Though Aaron and a friend pitched in on building the tables to launch Haven Collective, Jesse pretty much runs the day-to-day of the wedding furniture rental business himself, including marketing, scheduling and synchronizing with his customers' needs to make sure everything works out perfectly for them. The other two helpers step in to set up and take down for that special day.
Their attention to customer service appears to have paid off, according to a testimonial from that first wedding's bride, provided by Jesse: "I can't say enough good things about this business!" wrote Angel. "They went above and beyond; we didn't have to worry about a thing! These guys are professional, funny and kind! If you are in the market for tables and chairs for your event, Haven Collective is where it's at!"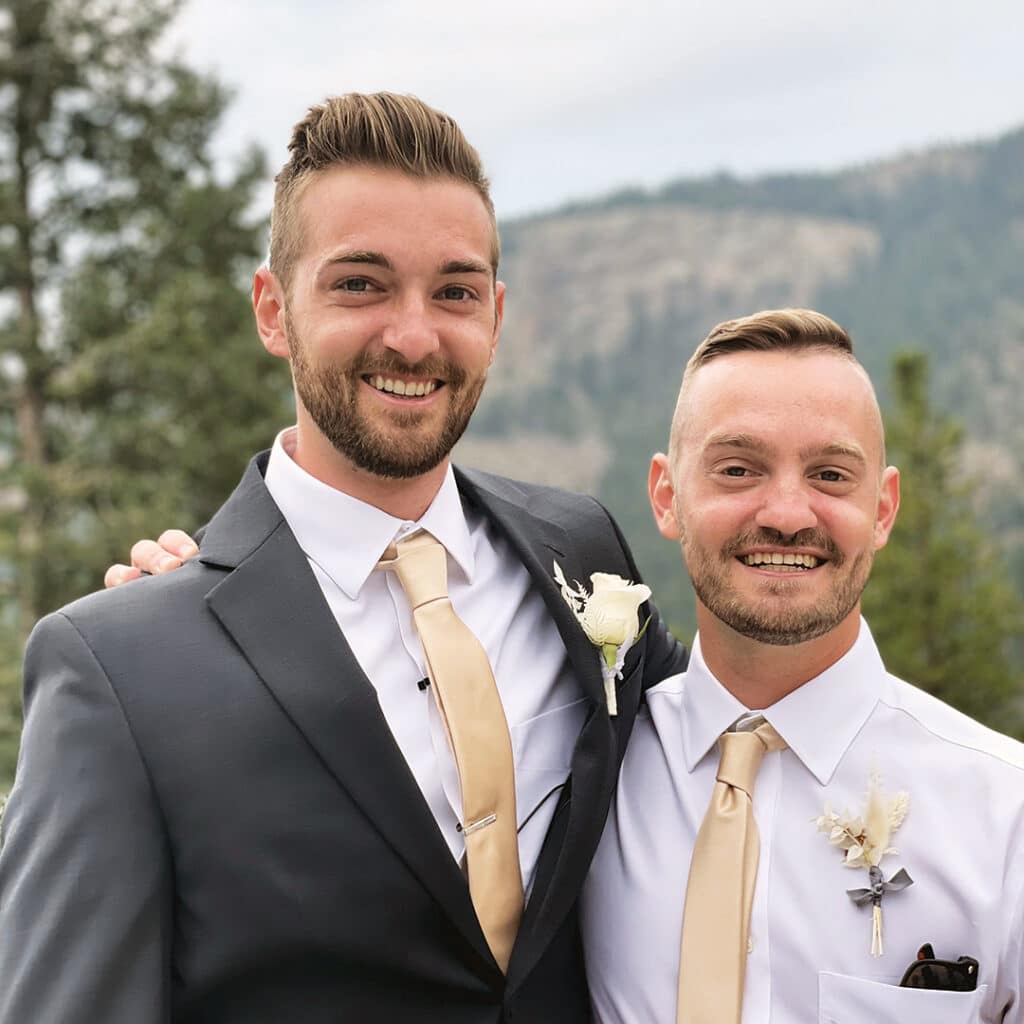 Similar praise can be found on Yelp, most often from a bride. "We do mainly interact with brides, as that is usually who contacts us," Jesse says. "I'm not sure on the reasoning for that."
Jesse and Aaron learned woodcraft at home, during their childhoods in Madison, Wis. The youngest of four brothers, Jesse tells of a household of people whose first thought after realizing a need for new furniture was to build it. "We would make coffee tables, kitchen tables, art pieces for ourselves," he recalls. "I was 7 or so when my dad proposed we make a coat rack for my room. I got a lot of quality time with my dad this way."
Teenage Jesse arrived in Redding about 11 years ago, following older brother Aaron and enrolling in the same school. A few years later, he helped build a table with a friend, who showed him an equal interest to his own in woodworking. Together they developed Jesse's idea for a business that would become Haven Collective.
"We picked the name Haven Collective because when we started building furniture, it seemed like a little haven from our busy lives, where we could relax, have fun creating and spend time with each other," Jesse says. "The Collective part was because we were a group where we wanted each person to bring whatever unique aspects they had to the table and make each other better as people. It was exciting. I have always loved the idea of creating businesses. They can be a great outlet for creativity and opportunity to provide something others want and need, while also creating a living for my family."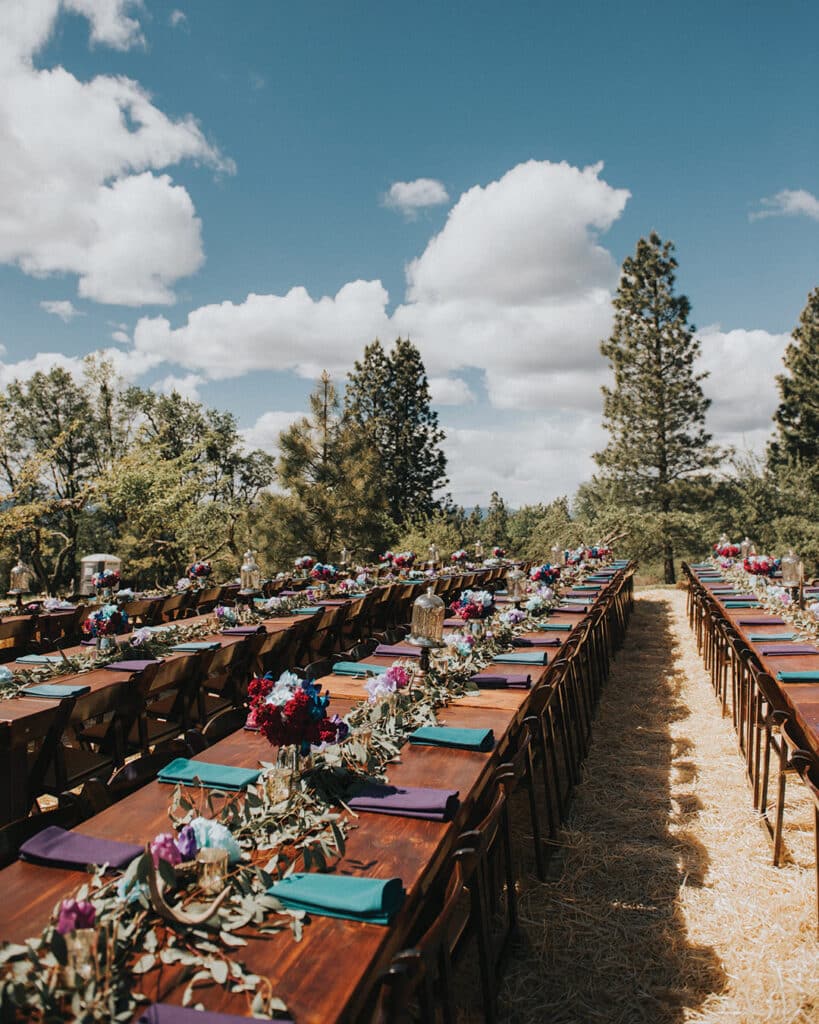 With Aaron and friend, they built those 32 tables during an especially busy time. "Over the three months we were building them leading up to the wedding, we were both at full-time school in Shasta College, working 30 hours a week at our other jobs, and building tables in whatever free time we had left," he recalls. "Probably averaged 80- to 90-hour work weeks for those three months." They finished table 32 the day before that first wedding. Brides – and possibly others – who might appreciate the services of professionals well-experienced in the setting up and taking down of wedding tables may contact Haven Collective through its website. Jesse, Aaron and a friend provide for up to two weddings per weekend and they are booking quickly. Although the clock is ticking, here's a crew that will take a substantial load off your nerves. •
Haven Collective • www.havenweddings.com