Hair Apparent
All in the Family at Shasta School of Cosmetology…
When DJ Hambelton's grandfather injured his hip while working in a Colorado rock quarry in the 1950s, he landed on beauty school as a viable career alternative. "It was something he decided he could do," says DJ. His father remembers seeing clients come in and out of their in-home salon all day as he was growing up. Two of DJ's uncles joined his grandfather in the profession after finishing stints with the military when they saw they could do well. A great-uncle "fell into buying a school" in Citrus Heights in the 1960s and began the now long- standing Hambelton practice of teaching. His grandfather and great-uncle bought the Shasta School of Cosmetology in Redding in 1973, which ultimately shaped DJ's upbringing, as his own father took over around 1994.
When DJ was in high school, his dad made a deal with him and his two brothers. If they went to a trade school, they got to keep the car they drove in high school. "I want to go to truck driving school," was DJ's response. It became apparent that that was not an option; his dad very specifically meant a trade within his cosmetology school. As a 17-year-old high school senior, DJ grudgingly chose manicuring because it was the shortest possible option at 10 weeks. About halfway through the course, he realized he enjoyed the industry and asked his dad when the next cosmetology course started. Working with his family
as a teenager wasn't easy. "One of the toughest things was training under my dad," DJ says. At the same time, without that experience, "I wouldn't be who I am today." He began teaching at the school in 1997, a year after graduating high school, and except for three years at his great-uncle's school in Citrus Heights, he has been there ever since.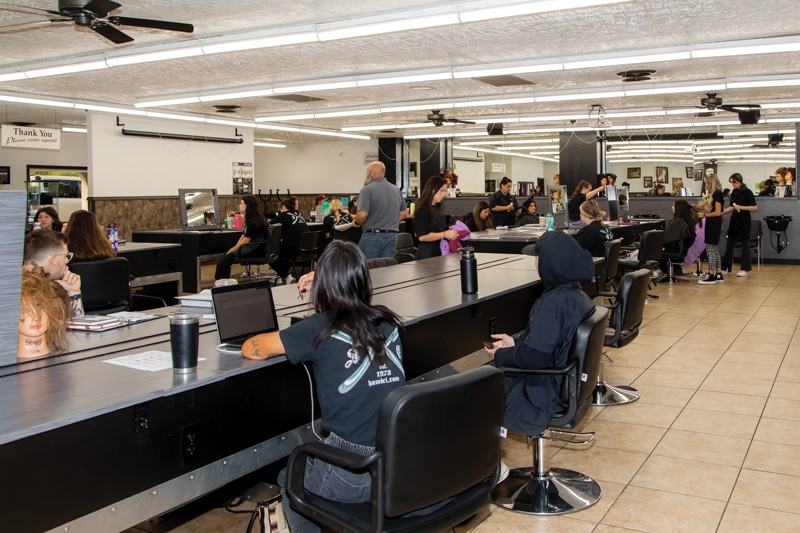 In 2018, DJ and his wife officially bought the business from DJ's dad. Since then, he says, "I don't think we've had what I would call a clean year." The school was hit with a roster of difficulties along with the rest of Shasta County, starting with the Carr Fire in 2018, followed by the 2019 storm known casually as "snowmaggedon," leading roughly into COVID the following year. "We were taking whole file cabinets and throwing them into the back of the truck," says DJ remembering the firenado in 2018 that came within a few miles of the school. During COVID, the school transitioned along with everyone else, changing according to the ever-shifting guidelines in order to stay open. DJ says a lot of individuals work in the beauty industry "because they need people. When you take that away, as COVID did, it made the mental health side really bad." It was a tough year for a lot of students, many of whom took a break or were forced to withdraw because of family or personal challenges. DJ has always been intentional about taking time with students when they need help, whether it's related to school or not, and during the demanding circumstances of the last few years, he made sure it was a priority." I want the students to feel and know that I care about them," he says. "I want them to succeed."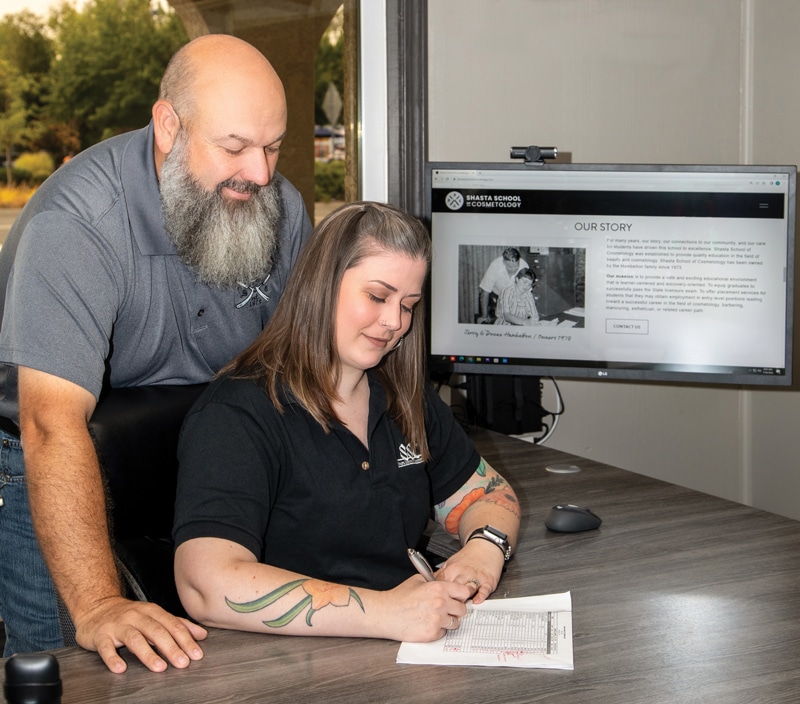 Elaina Willis, a recently graduated student who commuted from Los Molinos, talks about the generosity and care she felt from school staff. A month before she graduated in April, her daughter broke her collarbone at school. "I didn't have any hours to spare," Willis says. The school worked it out so she could still graduate on time and not have to worry about any financial changes. "They helped find a really easy solution that worked for everybody so I could go be with her."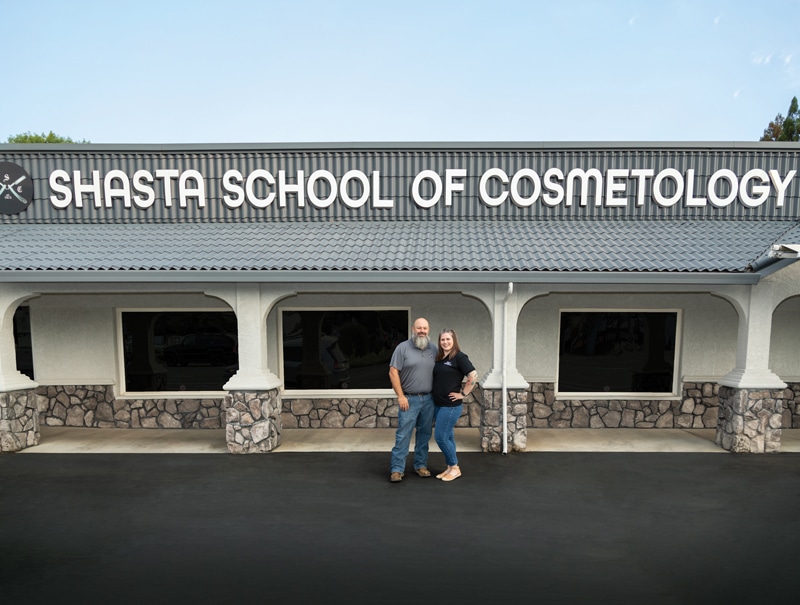 A recent challenge that has taken a generous portion of DJ's time is a change in the state-required length for a cosmetology course, from 1,600 hours to 1,000 hours, and removal of the state practical exam because of a supposed hardship the previous requirements inflicted upon students. This shift requires enormous effort from DJ and the school staff, however, as adjustments in curriculum are time consuming, labor intensive and expensive. To ensure students still graduate from his school fully prepared for their future careers, the school has instituted its own exit exam. He plans to bring salon owners from around Redding to help administer the exam as well as give students the opportunity to get connected to local businesses and potential future employers. He is committed to the readiness of his students and the quality of work they'll be able to do, and his and his teams' tireless work reflects that. •
Shasta School of Cosmetology
678 N. Market St., Redding
(530) 243-7990 www.shastaschoolofcosmetology.com Closed Sunday and Monday; find hours of operation on their website
Article Written By:
Eythana Miller was transplanted to Redding from Montana three years ago and has fallen in love with the area. She's in her second year at Shasta College, and loves a good literary discussion over a few cups of black tea.