Perfectly Simple
Simple Living Co. Seeks Sustainability…
"We want to see Redding be a sustainable economy. We hope that when we step away, that's what we've helped to build. We want to encourage people to shop local, build local, manufacture local, supply local. That's the Mount Everest. We want to be a voice for that." Steven and Sarah Major of Simple Living Co. see their wellness- and sustainability-focused lifestyle brand as more than a place for customers to grab a moisturizer. Success to them includes an economically thriving community, the health of their neighbors and a widespread awareness of how people are affected by what goes on and into their bodies.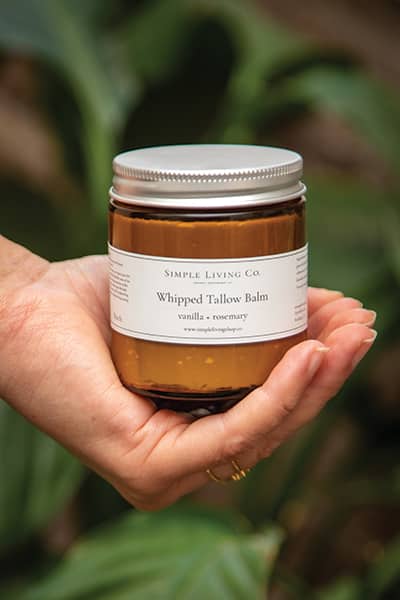 This dream began as a passion of Sarah's, when she turned her 14-year interest in healthy living into a community she could build. Seven years ago, she started an Instagram account to share her love of healthy food and low-waste living, posting things like recipes, immune health tips and grocery hauls. She has grown her online following since that time. When the option came up for her and her husband Steven to take over what was then known as Wild Radish Studio, which offered massage and cupping as well as natural cleaning supplies and bath and body products, they jumped at the idea. Their friends Kaitlyn and Asher Holland joined them as partners, and they became operational in August 2020.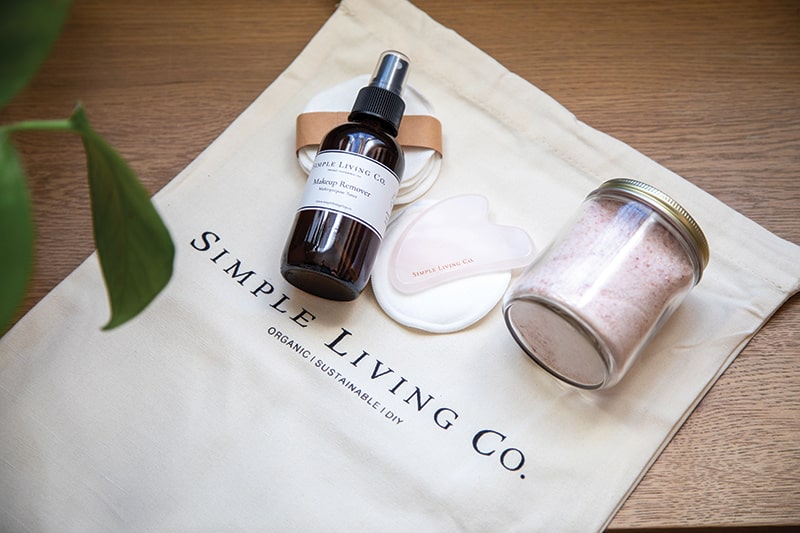 When previous owner Camille Knudsen was running Wild Radish Studio, she offered products solely in bulk, largely for DIY product purposes. When the Majors took over, they gutted the interior and redid it as a retail space. They were excited about moving into the Division Street shop, around the corner from Theory Coffee Roasters and Sketch and Press. Steven shares of the delight of being close to the center of so many new and developing projects. "We've fallen in love with the downtown community even more," he says. After two months in business, they changed their name to Simple Living Co., which embodies the sentiments at the core of their brand. Shopping for wholesome skincare, home or cleaning products doesn't need to be complicated or convoluted.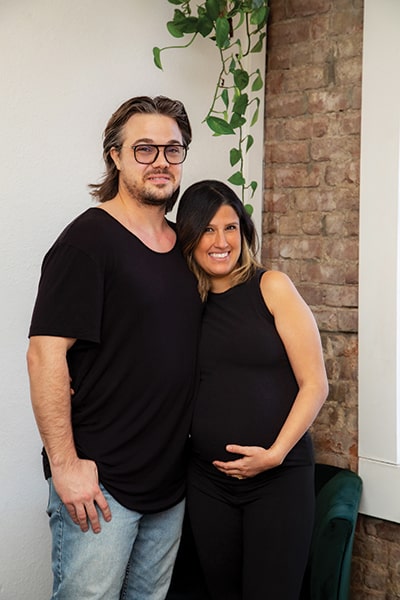 A staple product is whipped tallow, derived from natural grass-fed beef, for which the recommended use is as a moisturizer because of its richness in vitamins A, D & K, and its ability to stimulate the skin's natural collagen reproduction. "Sarah discovered tallow when she was researching the power of collagen and its benefits for the skin," Steven says. "She tried it for the first time when she was personally struggling with eczema and really dry skin." She was amazed by the soothing results, and now many customers have had the same incredible experience. They also offer whipped shea butter as a vegan option, with similar outcomes.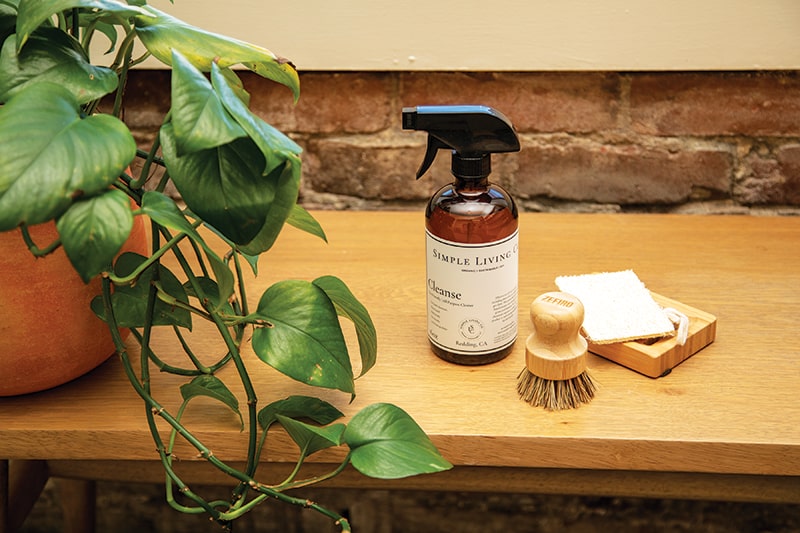 A cornerstone of Simple Living Co. is their commitment to supporting local supply chains and keeping environmental wellbeing at the forefront. "Sustainability isn't just 'use glass instead of plastic.' We want everything to be local," Steven says. Some examples of this principle in their products are a hand soap that's made from pine, spruce and cedar trees in the Siskiyous, and dish soap blocks that use olive oil from Chico farms.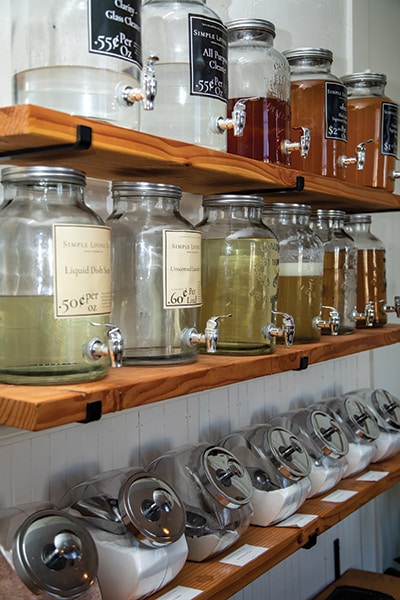 Business is nearly evenly split between their brick-and-mortar location and events. Redding does not shy away from farmers markets, holiday bazaars or specialty fairs. They've felt the support of the city at every gathering, and in large part, that is what makes it feel worth it. The Majors want their products to be those which can be widely enjoyed and utilized. "We want to be a light to the community," Steven says. "We want to be a place where people can find great products, whether it's for gifts or necessity." They love their storefront, but also have their products in other businesses around town, including Enjoy and Abode, and they supply Evergreen with all the cleaners for their shop. They've moved into online sales as well, appreciating the ease with which they can reach a larger audience.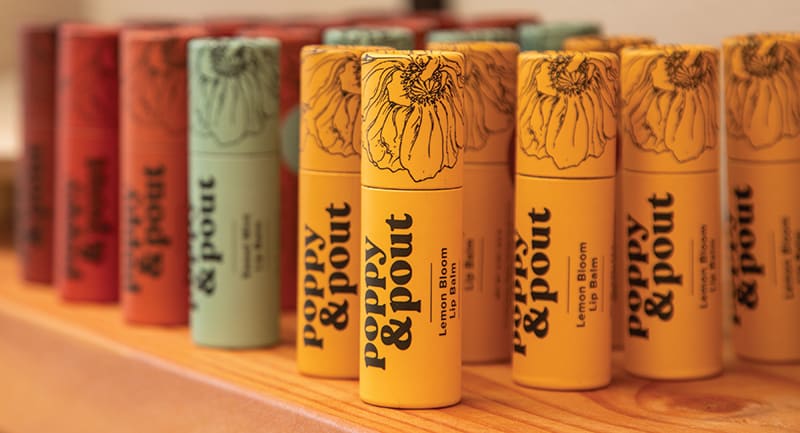 Of being environmentally aware, Steven says, "A lot of people want that lifestyle but don't know where to start. How can we help someone become sustainable one step at a time?" This question is central to the way they design products and position themselves as a company. Education is a crucial first step to change of any kind, and the Majors are determined to do their part with Simple Living Co., encouraging people to make those choices that will positively affect them and their families. •
Simple Living Co. • 1507 Division St. #3, Redding (530) 638-4709 • www.simplelivingshop.co Open Wednesday – Saturday 10 am-5 pm
Find them on Instagram
Article by:
Eythana Miller was transplanted to Redding from Montana three years ago and has fallen in love with the area. She's in her second year at Shasta College, and loves a good literary discussion over a few cups of black tea.
Photos by Melinda Hunter