Telling Her Story
Kimberly Boney's Handmade Jewelry…
Vintage. Modern. Glam. Natural. Old and new, simultaneously. Each piece of handmade, vintage, upcycled and repurposed jewelry created for HerStory Vintage is just as unique, joyful and beautiful as its creator, Kimberly Bonéy of Redding. Her hope is that her designs will inspire a "bold, free and utterly fearless" approach to fashion and to life.
As a child, her sense of creativity "came out to play" in the form of fun and quirky fashion choices. Even then, she found joy in unique combinations of colors and textures. That "push the boundaries" approach to fashion helped give her the confidence and perspective to create her own brand.
When she was 10 years old, she bought some craft supplies and sold handmade wares at a church fair. "I made these fun suede earrings with beads on them," she recalls. Nearly two decades later, in 2008, she opened The Kimberly Nicole Boutique in downtown Redding, selling hand-selected clothing, handbags, shoes and jewelry. After closing her shop, she shifted to selling her creations at vintage, art and trade shows in Northern California, and in local businesses, including Enjoy the Store – Redding and Redding Fashion Alliance. "Those organizations support the local creative community in such a meaningful way and that's something I'm proud to align with," she says.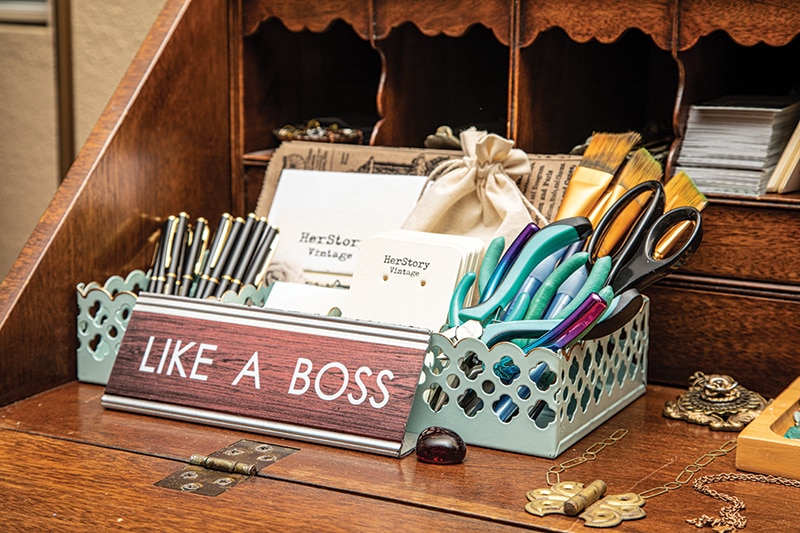 The wife and mom, who has built a marketing and freelance writing career, has carved outthe time to launch her online store over the past few years. Her business is driven by her love of storytelling and her affinity for the planet we all call home. "I love to find unique uses for materials that might otherwise be written off as mere junk," she says.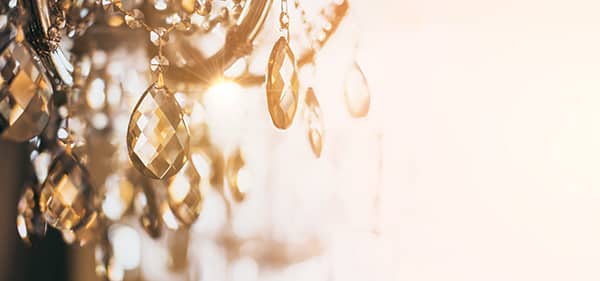 Antique shops and flea markets are her favorite places to hunt for materials, including hardware, metal elements, vintage chandelier crystals and old keys. "I see the potential for a new life and a new story in these pieces," she says. "Even if it started off as an old piece of hardware, it can be reimagined as a fabulous piece of jewelry. I've always loved art deco and vintage elements. Sometimes I buy a piece and am not sure exactly what I'm going to do with it. I'll put it aside and say, 'I'll look at you again in a few months.' It's about taking the time to tell its story in the most authentic way."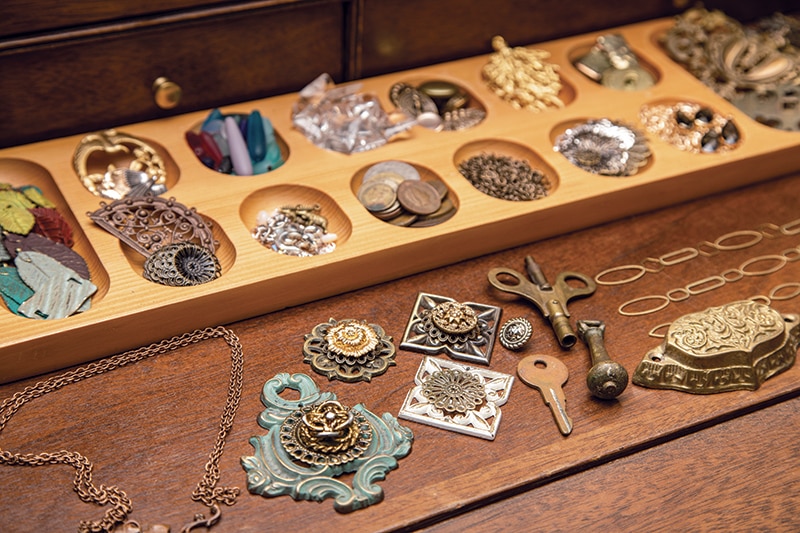 Telling that story is a critical piece of Bonéy's creative process. Lady Liberty was inspired by one of Bonéy's earliest memories as a child in New York City, visiting the Statue of Liberty with her dad.
"I remember being up in her crown, and you could see the entire New York skyline. Here you are, all the way out on this island in the middle of the water. She's majestic. She stands for belief and hope in something good," says Bonéy. She found an old hardware piece with an oxidized turquoise color, and it brought her right back to that moment in Lady Liberty's crown. "I built the chain with links of different shapes and started layering in a flat disk and a vintage button. As you start building, a piece becomes its own story."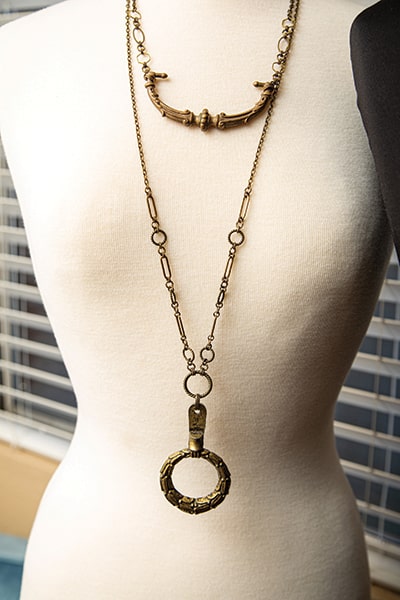 The Antwerp, one of her most popular designs, is made from recycled sea glass beads and topped with an ornate brass or copper cap. "I was in Antwerp, Belgium in 2003. I looked up and saw a beautiful cathedral there with a tall spire. It's the kind of place that makes you stop and take notice. When I looked at that piece coming together, with that bead cap on top of the sea glass, it brought me back to a different place and time."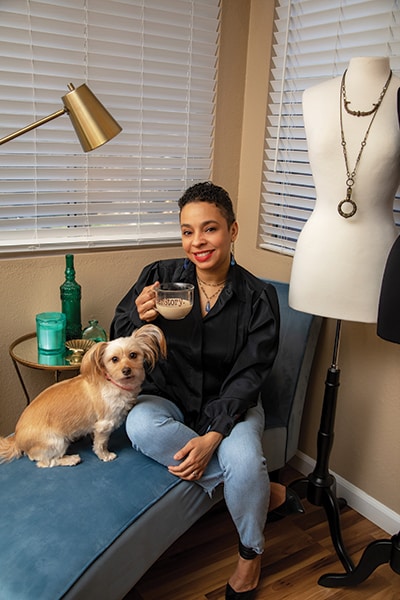 The magic happens at her vintage desk in a tiny space in her living room, usually accompanied by her dogs, Remy and Daisy. Sometimes paper airplanes are flying overhead, courtesy of her 10-year-old son, Braxton. She'll lay out the various pieces, then "give it time to breathe a little bit," as she believes is necessary when writing any story. "Sometimes I'm sold on it immediately and don't have edits to make, but other times, it doesn't look the way I want it to look just yet. I'm listening to what is supposed to happen in each piece."
Bonéy is a believer in growth, even when it's painful. One of her family's most devastating tragedies led to new growth in her career. In 2018, the Carr Fire destroyed her home, as well as her mother's home across the street. "We lost everything. My mom lost everything," she says. "They were unimaginable circumstances, but even hard things – like a fire – can bring about something beautiful."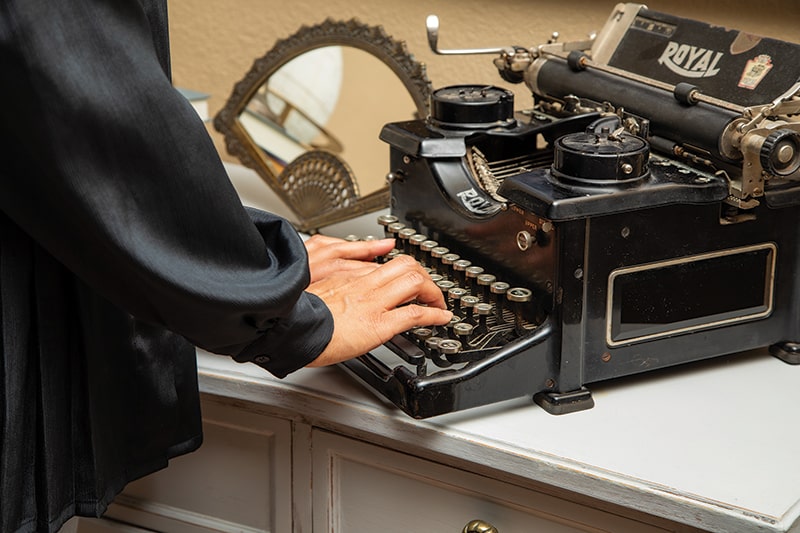 She and her husband, Cleveland, took a collective breath and focused their energy on finishing the website and creating some new products, including HerStory branded t-shirts and market bags and one-of-a-kind denim scarves. It's been full speed ahead ever since. Seeing someone wearing her jewelry, she says, "is still humbling. It makes me excited and grateful to see someone appreciate my art enough to wear it. It's not a piece of art that is on a wall – it's on their person, and that's a whole different type of energy."•
HerStory Vintage • www.herstoryvintage.com
Find them on Facebook and Instagram
Article by Kerri Regan
Photos by Melinda Hunter
Kerri Regan grew up in the North State and earned her bachelor's degree in journalism from San
Francisco State University. A freelance writer and editor, Kerri enjoys exploring the North State with her husband and three children.