Lovely Liqueur
Denny Bar's Zen De La Creme…
"Generally in life, if I don't like it, I don't do it," quips Pamela Montalvo, who made the unlikely move from New York City to Northern California four years ago to become the brand ambassador and bar program director at Denny Bar Restaurant and Distillery. So far, it's been a journey filled with innovation.
"Bartending is like cooking," she says. "Your end product is only as good as your ingredients. But as I was building the bar program, I had trouble finding a chocolate liqueur that I thought was excellent." Even though Montalvo had never created a spirit before, she began experimenting with the distillery's own vodka and came up with a product she liked. "I honestly just created it to use behind our own bar, but the owners all loved it and said let's bottle this. So here we are."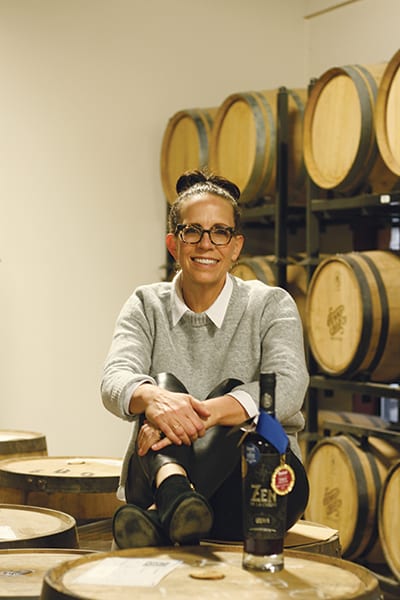 Called Zen de la Crème, the chocolate liqueur is now part of the distillery's regular offerings. According to Montalvo, the name came from one of the owners, Sparrow Tang. "I first told Sparrow it's a crème de cacao and he said, 'A what de what?' He thought that sounded just kind of clumsy and awkward. So, one day he says, 'Let's call it Zen de la Crème because it's smooth and Zen-like to drink.' I said great, because I had no idea what to name it. I was just making it."
The bottle's presentation exudes elegance, and the label is a partial ode to Montalvo's contribution as creator. At first glance, it looks like an intricate web of lines. But look closely and it becomes more like a game of Where's Waldo. "The Statue of Liberty is in there for me as a New Yorker. My middle name is Rose, so there's a rose. I have a black belt in karate so there's a kicking girl somewhere in there, too," Montalvo says. Eventually the whole team got involved in the fun. "All the owners started piping in with little things they wanted to see. There's a sasquatch. The Pacific Crest Trail is in there. There are hundreds of little images on the label, so it's really fun to look at."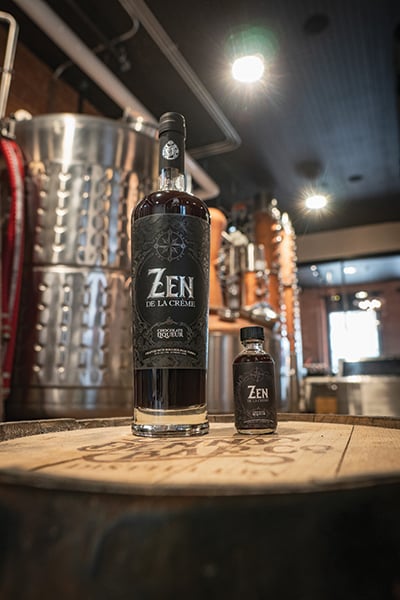 "Lovely" is the word Montalvo chooses to describe the "mouth feel" on the liqueur. "What I really like is that it has that true dark chocolate flavor. It's velvety and silky and I'm super proud of it. Like, you would never believe it has the alcohol content that it does." At 27.5% alcohol by volume, it's not as strong as a distilled spirit, but it does have a higher proof than many other liqueurs. "I make it with Boulder Peak Vodka, which has a natural sweetness to it because of the corn content, then toasted cacao and some sugar. And, of course, some other things," Montalvo says with a smile.

At first, Montalvo only made Zen in four-gallon batches. "I ended up making a batch almost every single day because I was always in a panic to keep up with demand. I also had to fight with the kitchen because I needed the ovens to toast my cacao nibs. So, I'd go in early to start a batch before they came in." Montalvo still laughs about a picture that was snapped of her back then. "I'd gone in on a day off to just keep up and I was so tired I fell asleep stirring at the end of the bar. My head was down but my hand was still going." These days, production has increased to 30-gallon batches, but it's also become more manageable. "It's still handmade, of course. I still personally toast all the nibs and put everything together. But we've automated it a little with a machine that mixes, so I'm not stirring for hours on end anymore."
Zen's success led Montalvo to experiment with other successful infusions. "I created our Boulder Peak Lemon and vanilla vodkas and those have gone really well." She processes them with an equal amount of care. "I hand peel about 300 lemons for every batch of our lemon vodka, so there's very little pith in it, which would make it bitter. We then use the fruit itself in the bar and restaurant, so nothing goes to waste."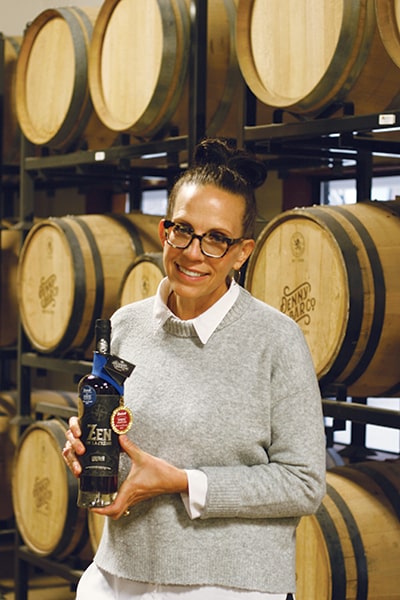 So far, all of Montalvo's concoctions have been met with accolades. "Zen de le Crème won double gold and Best of Class with Sunset magazine's Spirit Competition," Montalvo says. "The lemon and Vanilla Boulder Peak Vodkas also both won gold in the San Francisco World Spirits Competition in 2019. It's rewarding because I'd never made anything in my life that somebody wanted to buy. I mean, other than a ton of cocktails."
There's more to come. "I have in the pipeline a cinnamon liqueur and a toasted
coconut liqueur. But, as far as a packaged product, Zen is my baby."•
Zen de la Crème can be purchased at the Denny Bar Distillery tasting room in Etna or in most
grocery and retail liquor stores throughout Northern California. Residents of California may also
purchase online at dennybarcompany.com
Denny Bar Company Tasting Room
511 Main St., Etna • (530) 467-5115
Open Wednesday-Sunday • www.dennybarcompany.com
Photos Courtesy of Denny Bar Co. and Pamela Montalvo