The Right Angle
Makeover of Triangle Motel…
Most of us have done it—scrolled through Netflix until a show catches our eyes. Eight hours later we emerge from a binge, bleary- eyed and dazed. The show caught not only our eye, but our entire day or night.
Erin Bianchi of Los Molinos got pulled into shows about motel makeovers during the height of the COVID pandemic. First there was the Netflix show "Motel Makeover," and then there was "Fixer Upper: The Hotel" with Chip and Joanna Gaines. "I watched every single one of them about six times," Bianchi says with a laugh. "I got in my head the hotel I wanted. I was up at midnight looking at hotels all over Red Bluff on the internet."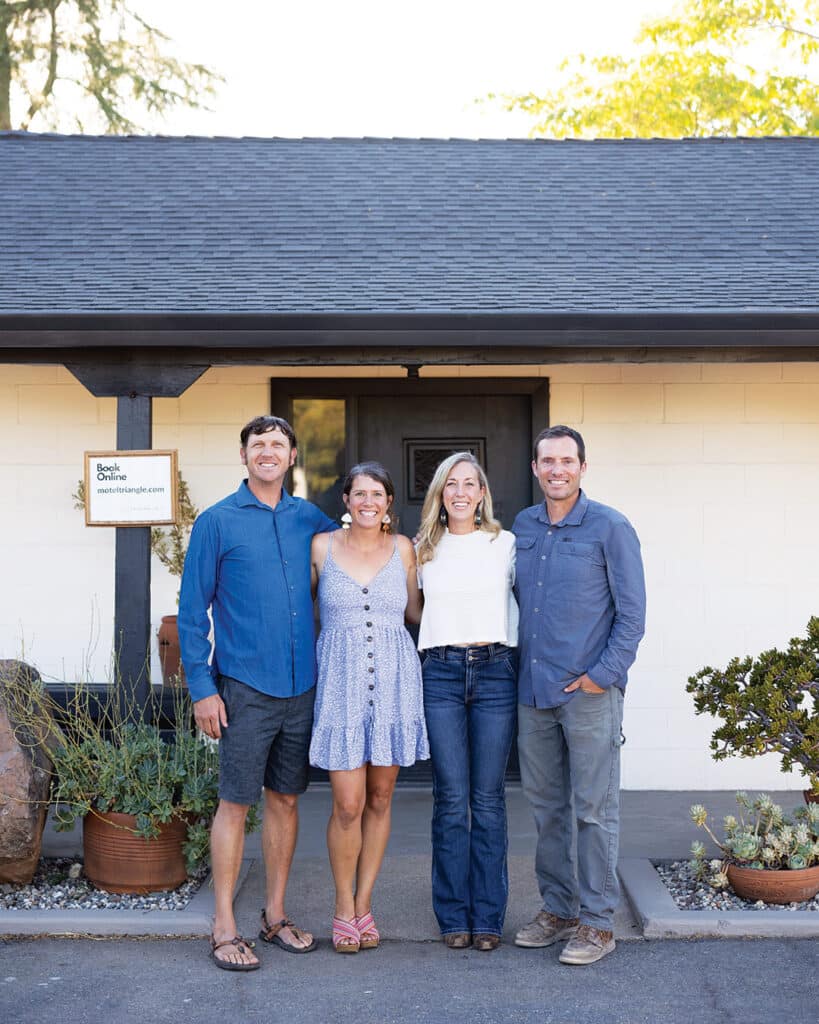 It was a great topic of conversation for a Taco Tuesday that she and her husband Robbie shared with Robbie's sister Becky and her husband Collin Klinesteker and their combined children. "Our Taco Tuesday turned into this motel dream," says Bianchi. The two couples decided to combine forces for a motel makeover of their own. They just needed a property.
Just like any good renovation show, the hiccups came early. The ideal property was found right in town and was a perfect size for a do- it-yourself renovation. But it wasn't for sale. "Our Realtor cold-called the hotel and they hung up on us," says Bianchi.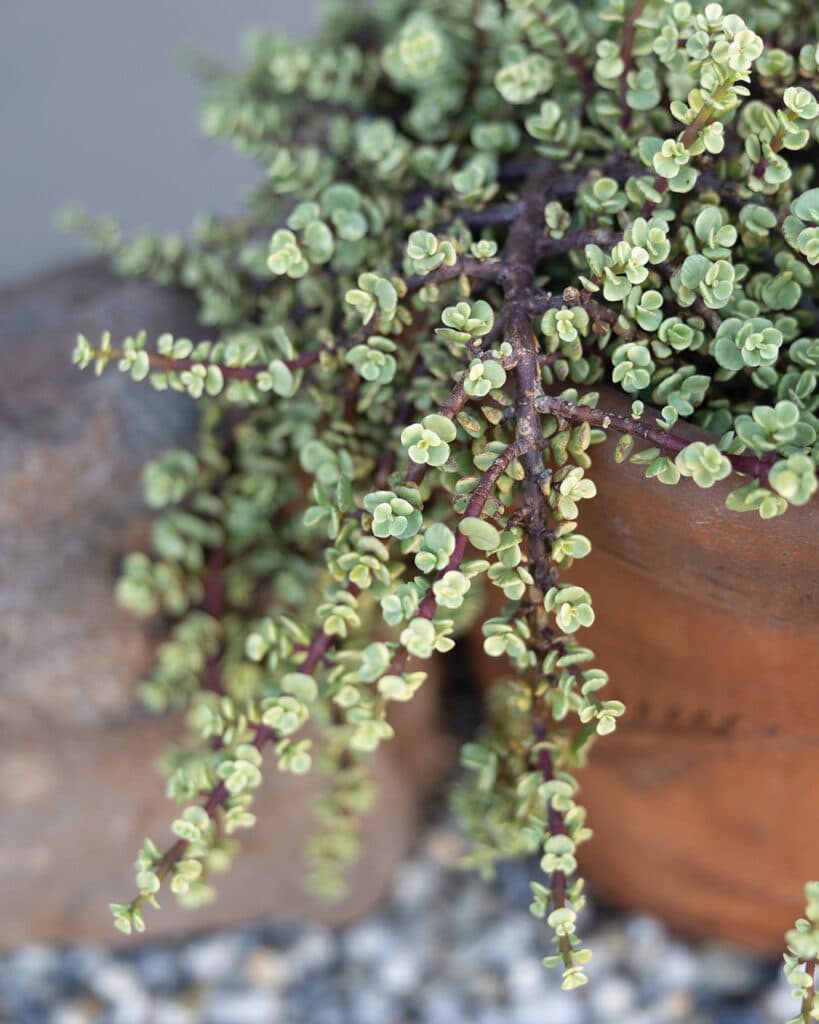 The 1940s Triangle Motel had been a life endeavor for a woman named Betty, who had moved with her husband from San Francisco in the 1970s to run it. She turned 80 years old in the process of selling to the Bianchis and Klinestekers, and did so only after developing a trusting relationship that assured her the motel would be in good hands.
"It was pretty run down, but even in its state it felt good and was charming," says Bianchi. "It felt kind of adobe to us with its cinderblock and creamy color." The property has two buildings with six rooms each as well as an apartment. The team started with a full renovation of one building with a laundry room and are now renting from it. "We started with doing dump loads inside and out. To start, it was about 50 loads," says Becky Klinesteker. The two couples got going with renovations themselves, but brought in an electrician, tiler and roofer.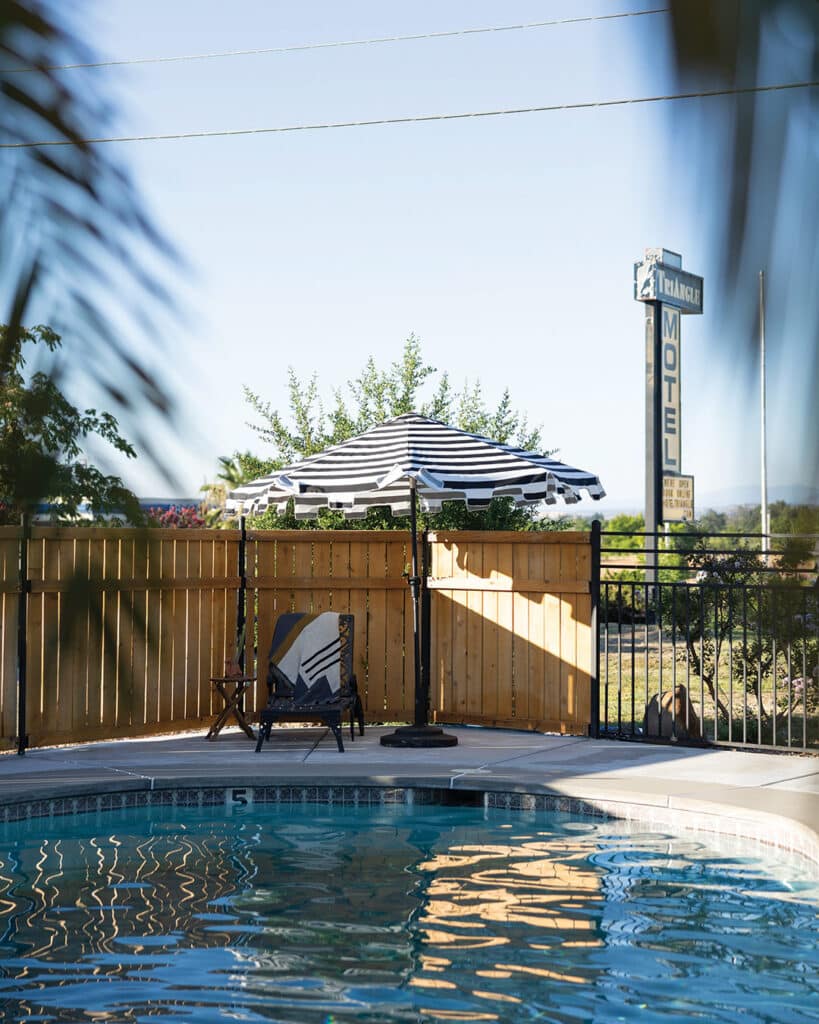 The hotel aesthetic is consistent to its 1940s origins and focuses on items historical to Red Bluff in a clean and neutral palette. The hotel came with old pots filled with succulents that the women are nurturing. The original glass windows remain, newly redone. "Becky learned to glaze windows," Bianchi says. "We joke that we're going to be professionals in a lot of areas."
The couples created headboards for the new beds that match the closets of each room and contain lighting for the bed. "The front doors of every room and every bathroom are custom made. Robbie took on the doors and they are beautiful," says Bianchi. "He kept the same design as the original."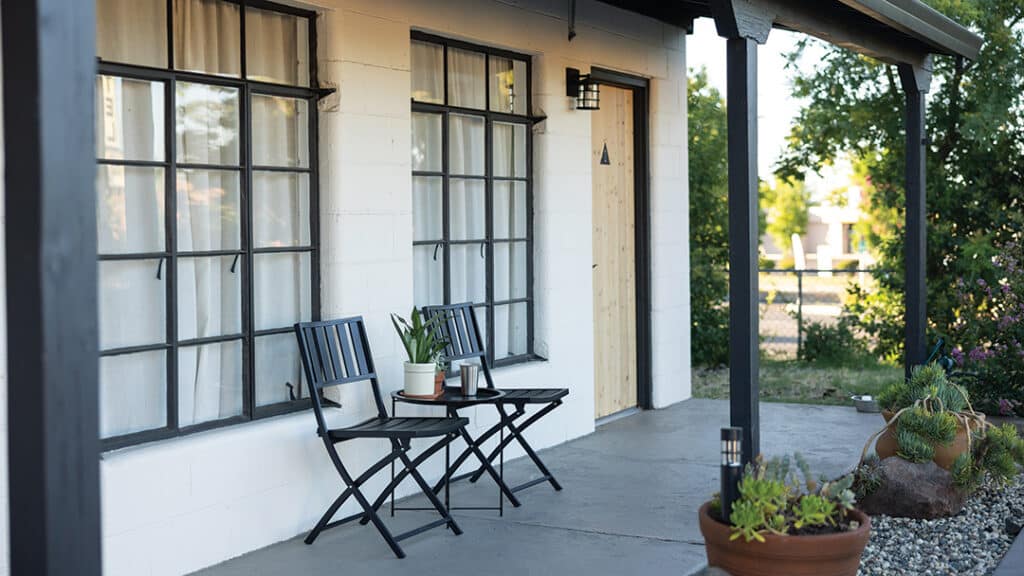 While remaining true to the original design aesthetic is important, so too is uplifting other small businesses, especially those that are local. "We've also been trying to use local amenities," says Klinesteker. Bianchi once owned a kitchen store in downtown Red Bluff called Cook and got to know Sam LaRobardiere of Theory Coffee when he had a coffee cart at the farmers market. "He would stop by and we would chat about dreams and all the unknowns of starting a business and whether our businesses would make it. He is now wildly successful." The Triangle Motel features his steeped coffee bags to provide morning caffeine to guests who may need a little boost of energy to leave the comfort of the local Square Deal Mattress Factory beds they've slept on.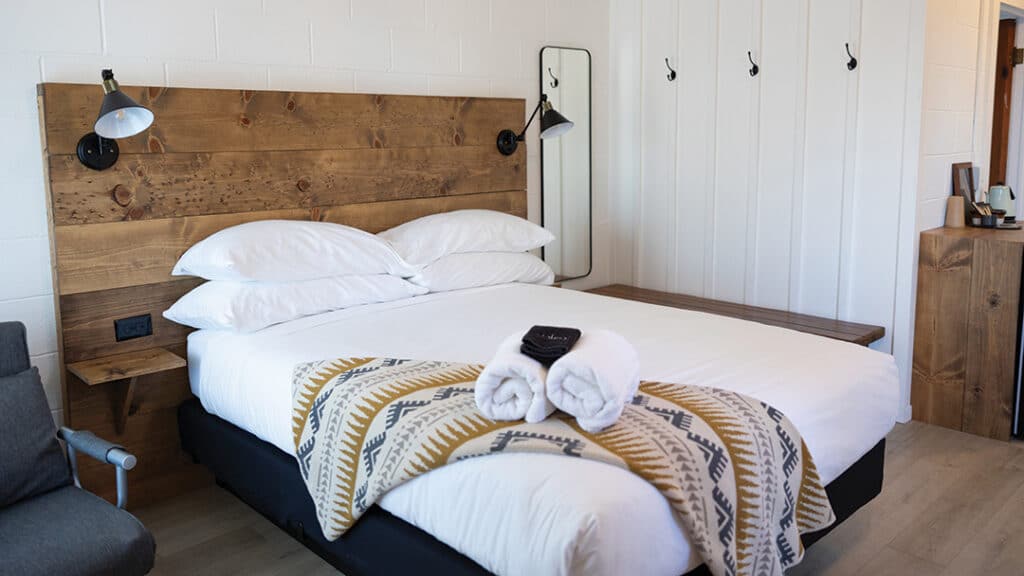 The duo has also entered a partnership with Samantha Trotta of Wild Harvested Esthetics, who creates the motel's custom soaps with home-grown or wild-harvested botanicals. "She created a scent and color that fits perfectly with the motel aesthetic," says Bianchi. "Sam wanted it to be something refreshing and uplifting but also calming for travelers so there's a blend of chamomile, peppermint and yarrow."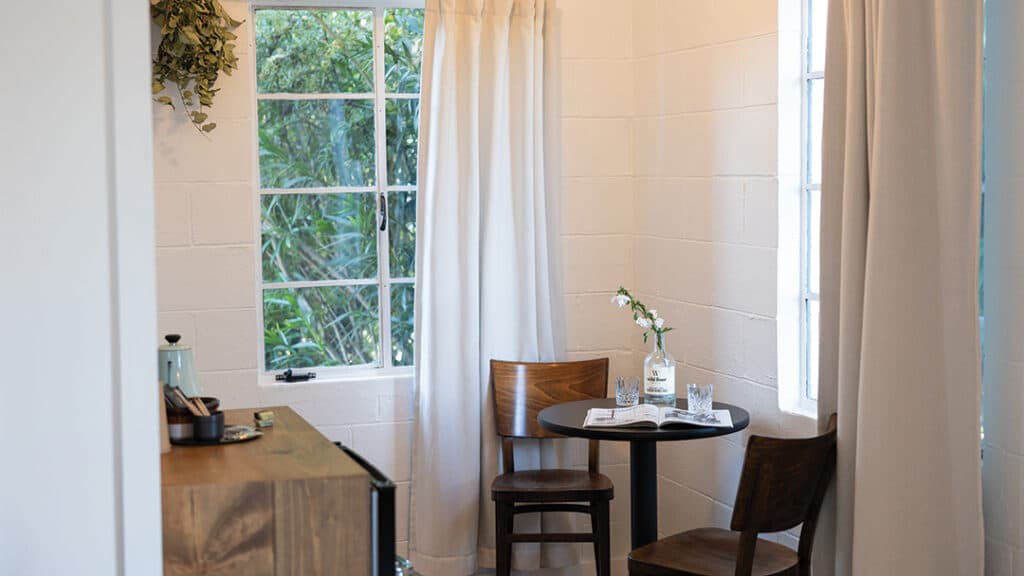 The two couples welcomed their first guests to the Triangle Motel on the weekend of the Red Bluff Round-Up in April this year. Prior to that, they had a soft opening by hosting an overnight birthday party for a friend where all the rooms were full. That experience made them realize that the space could be used for more than travelers. "We're small enough to rent the whole space," says Klinesteker. "It's good for wedding parties, family reunions."
"There's a really sweet feedback from guests," says Bianchi. "The thing that we wanted to put out there is what we are getting back. I just want these rooms to be a blessing to anyone who walks into them." That certainly brings a payoff to those hours binge-watching the Netflix shows. •
Triangle Motel www.moteltriangle.com
1175 Montgomery Road, Red Bluff • (530) 520-9533