Home Away from Home
Part-Time Houseboat Living…
There's nothing like being on a houseboat motoring along the blue waters of a Northern California lake amongst the pines, soaking in the sunshine on a floating sundeck and jumping in to cool off when you need to. If you want to go wakeboarding or tubing, you are right next to your sleeping quarters, and when you're done recreating on the water there's no need to get in a car and drive yourself home. Instead, you can fire up that barbecue on your own private patio and indulge in a home-cooked meal while watching the sun dip below the Cascade Range.
Shasta Lake is one of the more popular destinations to go houseboating in California, and people near and far come to spend spring breaks and summer holidays on the lake. Marinas on the Pit River Arm and Sacramento River Arm rent houseboats and moorage slips, and many people use their vacation time to hang out on the lake in a rented houseboat or their own for one or two weeks a year.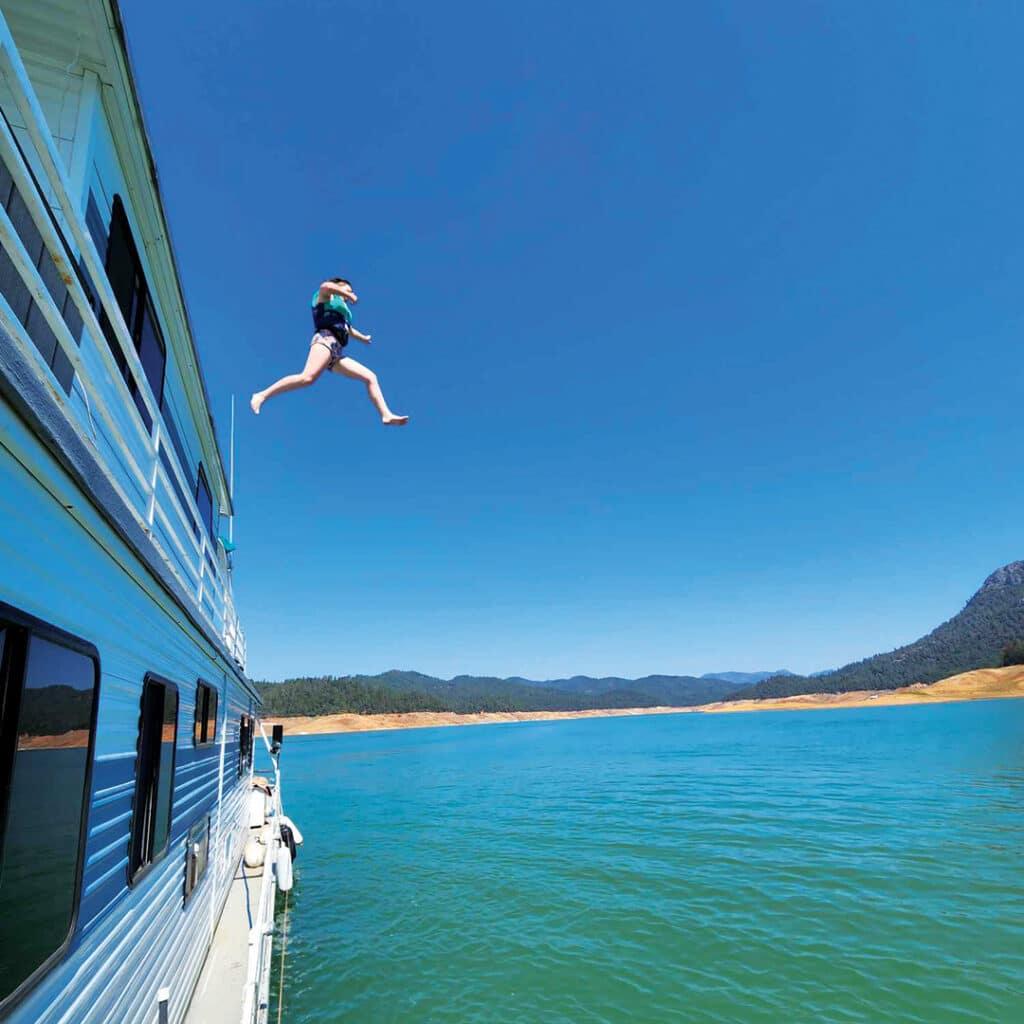 Shasta Lake is also one of the only U.S. Forest Service- managed lands in the country that allows houseboating on its waters, along with Trinity Lake. Staying on a houseboat is much like camping in that you can't stay in one spot longer than 14 days and you can't live on the lake for extended periods of time. The Forest Service issues a certain number of special use permits for houseboats on the lake to prevent overcrowding, and when someone buys or sells a houseboat on Shasta, there's a "permit relinquishment" transfer process that all parties adhere to. "It's treated like camping, and the permit stays with the houseboat," says Jessica Omura at the U.S. Forest Service Shasta-Trinity National Forest Visitor Center.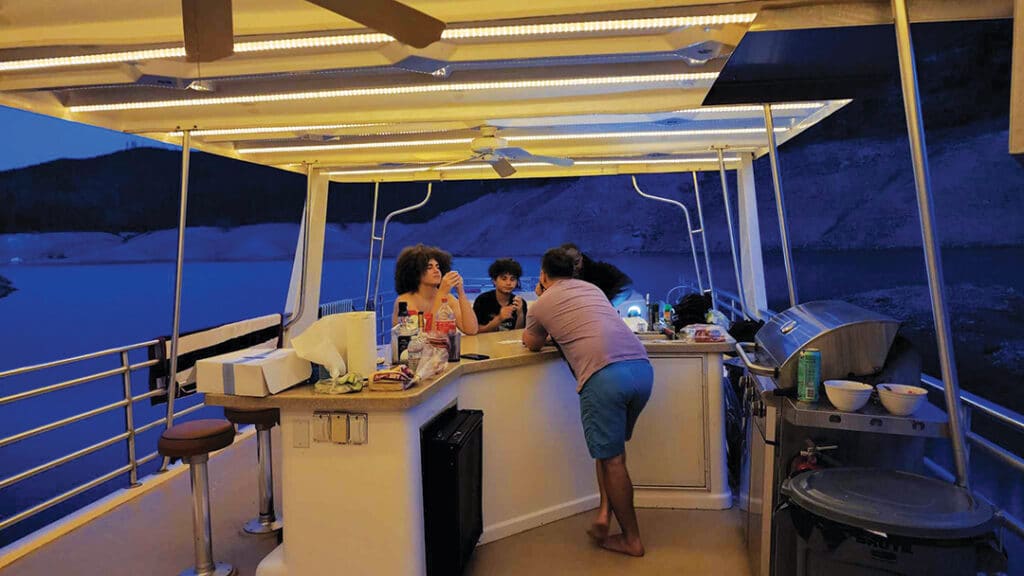 With the water levels being so high on Shasta Lake this summer, there are more coves and places for people to park their houseboats and then go out in a secondary boat to explore, which is why many have been flocking to the reservoir.
Shasta Marina at Packers Bay has around 85 houseboat slips, and none are available to rent right now. There is a waiting list that changes, but there are currently at least 20 people on it. It costs $5,280 per year or $530 per month to keep a houseboat moored there, but most people pay the yearly fee. Bridge Bay Marina, right off Interstate 5, has 250 houseboat slips that average $500 per month based on size but they are completely full, too. "It's a busy year; everyone is excited with the lake being up," Bridge Bay Resort Director of Guest Relations Zack Morgan says.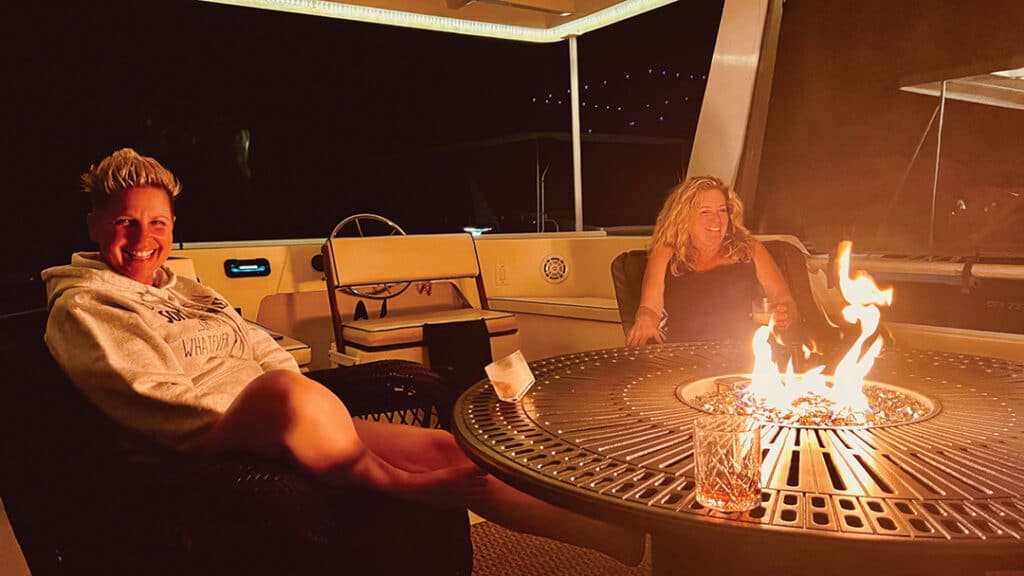 While owning a houseboat can be quite an investment (and you are not allowed to live in a moorage slip in any of the marinas), renting a houseboat is a way to dip your toes in the water and gauge if you want to move forward with buying your own floating home and/or joining a moorage slip waitlist.
If you don't have a friend with a houseboat or if you have a big family or group who is coming into town and wants a unique getaway, renting a houseboat is the way to go. Bridge Bay Resort has houseboats that sleep 8-16 people, ones with waterslides, private bedrooms and upper-level steering capabilities. Likewise, Shasta Marina at Packers Bay has a fleet of clean, well-maintained houseboats with penthouses, bunk beds, wet bars and other amenities.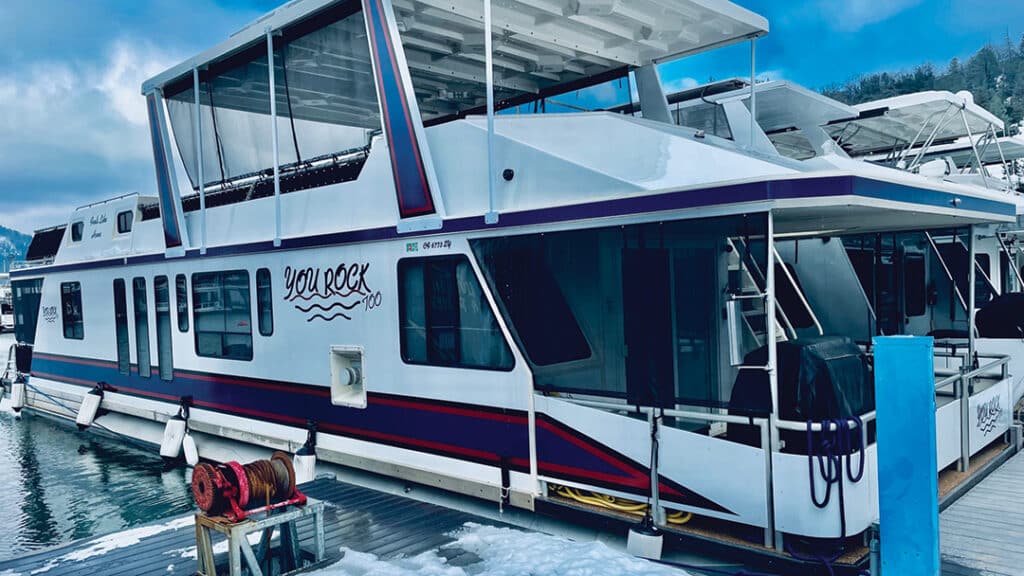 Whether you're with your family or your friends celebrating a special occasion, now is the time to round up your group, book your houseboat trip, load up some groceries and head to the lake to play, relax, enjoy nature and create some memories. •
Bridge Bay Resort • www.bridgebayhouseboats.com Shasta Marina • www.shastalake.net