Amazing Graze
Setting a Table with Sweet September Charcuterie…
Creativity is a masterful shapeshifter. It can take the form of a canvas, telling a story with infinite swirls and strokes of paint. It can come in the form of a sculpture, chiseled to perfection with the deftest hand. For Jamie Kline-Anderson, creativity finds its home on an elegant display of wooden boards, laden with an enchanting, intricately placed selection of edible art.
Developed in 15th century France, the term charcuterie (pronounced shar- KOO-tuh-rie) referred to the preparation of cured meats like salami, prosciutto, ham, bacon and the like. Today, charcuterie encompasses a menagerie of fresh and dried fruits, decadent cheeses, spreads and dips, nuts, crackers, and, of course, cured meats. Charcuterie has even made its way to the breakfast table and the dessert bar.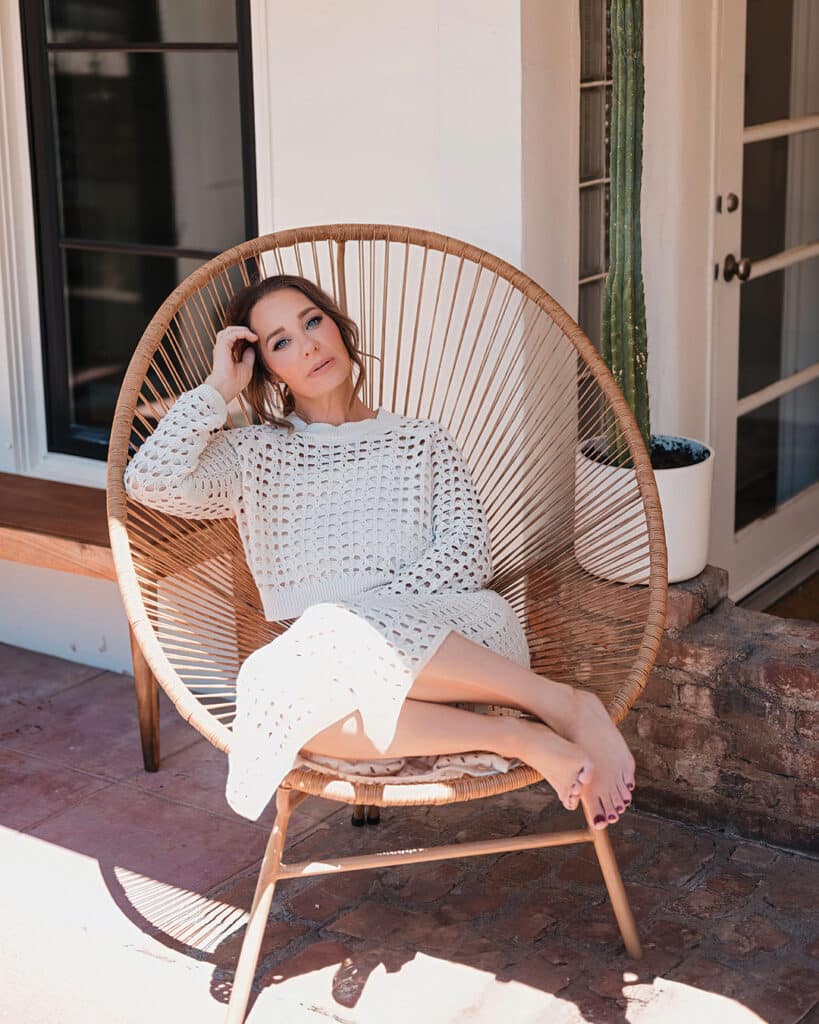 Jamie Kline-Anderson's love affair with charcuterie boards started five years ago, when she began hosting a monthly social mingle called Wine Downtown Wednesday at her real estate brokerage, Avenue Real Estate. The pop-up was a place for local artists – from master bakers and jewelry designers to soap makers and performance artists – to showcase their talents.
"Bringing people together among beautiful things and conversation is something I've always been incredibly passionate about," says Kline-Anderson.
After curating a stunning, six-foot grazing table for her guests to mingle over at the event, Kline-Anderson began getting calls from people in the community who had seen her work shared through social media.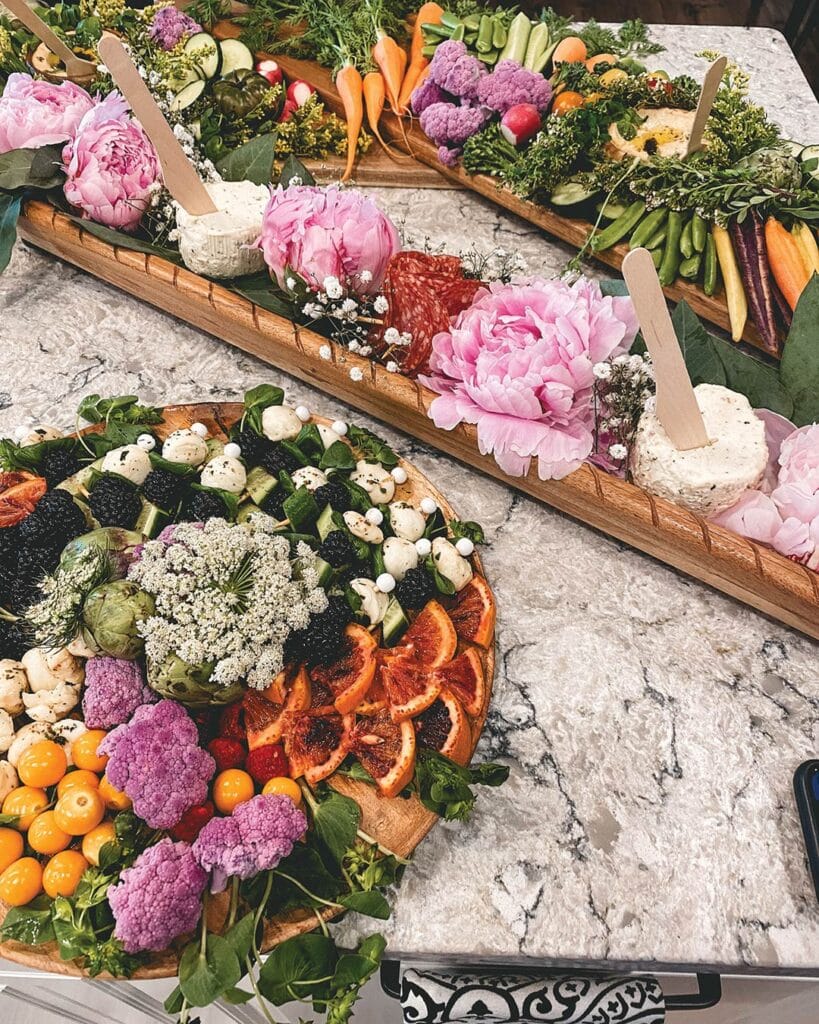 "Our guests created quite a buzz. I started creating the boards slowly and organically, mainly for friends and family, but the word started to spread," says Kline-Anderson. "My passion for food, arrangement and display has been lifelong, but the last five years have been a beautiful, delicious creative outlet."
Since 2018, Kline-Anderson has been asked to create grazes for special events, private home dinner parties, business launch parties, personal brunch boxes and several local charity events. Among her most prized boards were those created for the Wings of Angels dessert auction, the Make-a-Wish Foundation, and a Friends of Whiskeytown charity event.
"Some of the grazing tables take weeks to design, between table scaping, arrangement, deciding what food to use and the custom- made additions," she says.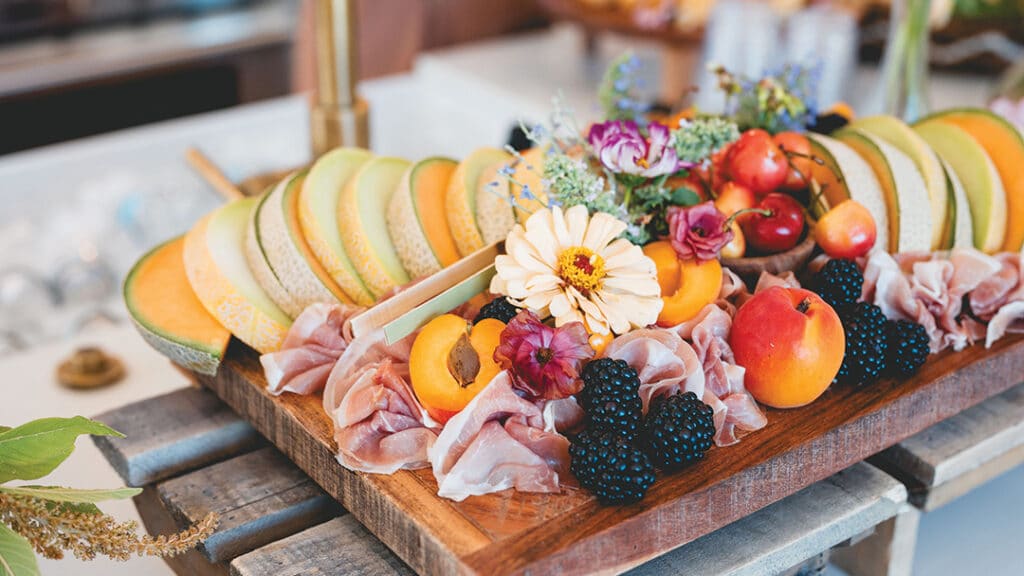 Between real estate appointments and plenty of trial and error, Kline-Anderson honed her craft. Her creativity rose to the occasion. Today, she freely pairs elements she wouldn't have combined in the past. "Being open to new things has allowed me to go there," says Kline-Anderson.
With a design aesthetic she describes as "intentional yet spontaneous," Kline- Anderson's boards are bursting with color, flavor, texture and style, made even more divine with flourishes of fresh flowers, a whimsical kiss of baby's breath, a sprig of rosemary or a perfectly placed olive branch. "The florals and greenery are part of my signature – much like an artist would sign their work," says Kline-Anderson. "Every board holds meaning, and it's a beautiful thing to watch people gather and have a conversation while grazing."
A natural-born creative, Kline-Anderson describes herself as a good-food-obsessed perfectionist who loves baking, floral design, interior design, nurturing her plants and hosting a good party. It's not hard to imagine these passions and talents would culminate in the form of edible art.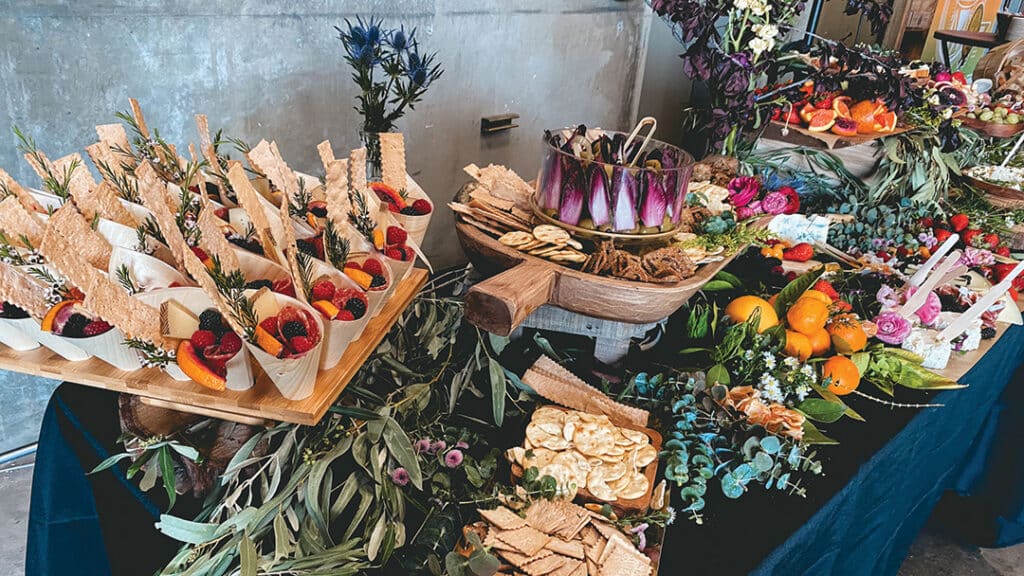 While other creative endeavors and obligations meant the boards had to wait to take center stage, passion never plays the background for very long. Enter Sweet September, a dream no longer deferred, inspired by nature, textiles, florals, color, travel and Kline-Anderson's love of the changing seasons.
"September is my favorite month, and it also happens to be my birthday month," says Kline-Anderson. "I love the fall and the sweetness it brings."
California isn't just the place where Kline- Anderson grew up – it plays a big role in inspiring her work. She sources the highest- quality ethically sourced cheeses and charcuterie from local and California-based farmers. Combined with fruits, vegetables and nuts in the most unimaginably beautiful colors and dips she custom makes from scratch, Kline-Anderson's attention to detail can be both seen and tasted in her boards.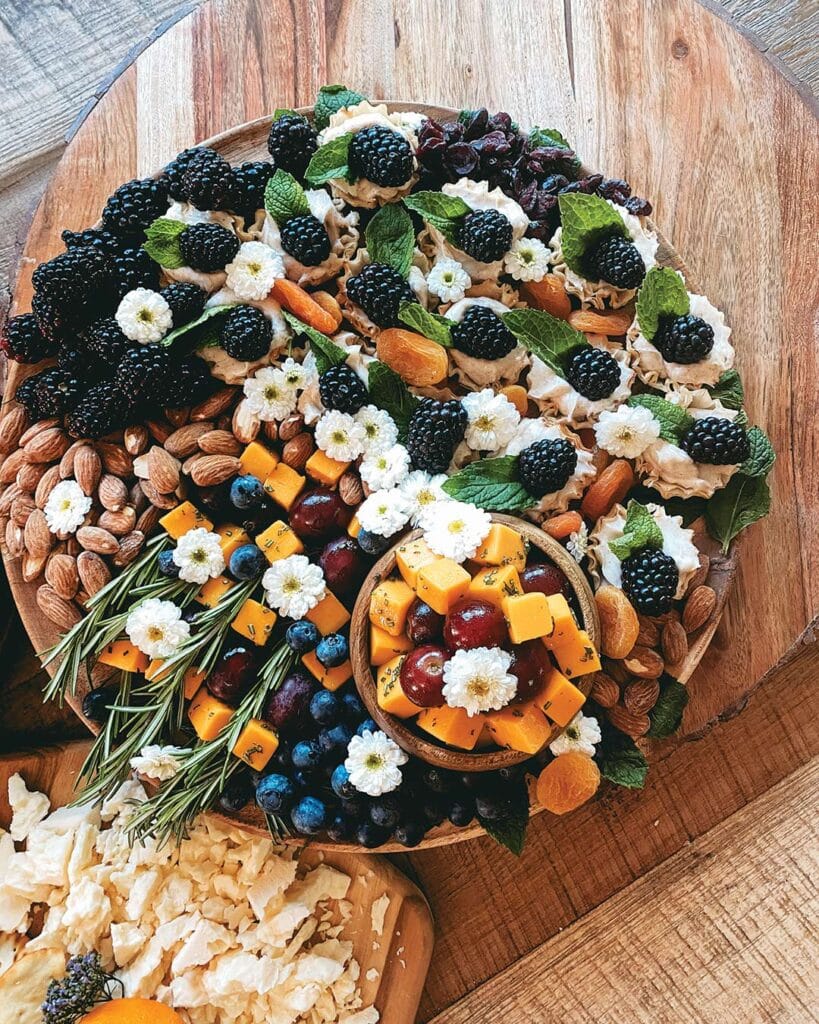 With plenty of exciting things on the horizon, including a lifestyle food-based book to be released next year, Kline-Anderson sees Sweet September becoming a well- recognized brand in the community. She hopes to share her passion through classes, collaborate with others and continue to support the smaller movers and shakers within the industry.
"I'm excited to bring a different creative approach to grazing with art, food design and gathering," says Jamie Kline-Anderson.
Like hope, creativity springs eternal. •
Sweet September www.sweetseptember.com (530) 646-6645
Find them on Instagram