With Whimsy
Artist Cathy McCall's Holiday Figures…
'Tis the season for holiday spirit. From ornaments to quaint figurines to throw pillows, folks are decking the halls and feeling festive. Holidays often bring merriment, and for local artist Cathy McCall, they also bring inspiration for her unique sculptures.
Whimsical. Seasonal. One of a kind. How does McCall find her inspiration?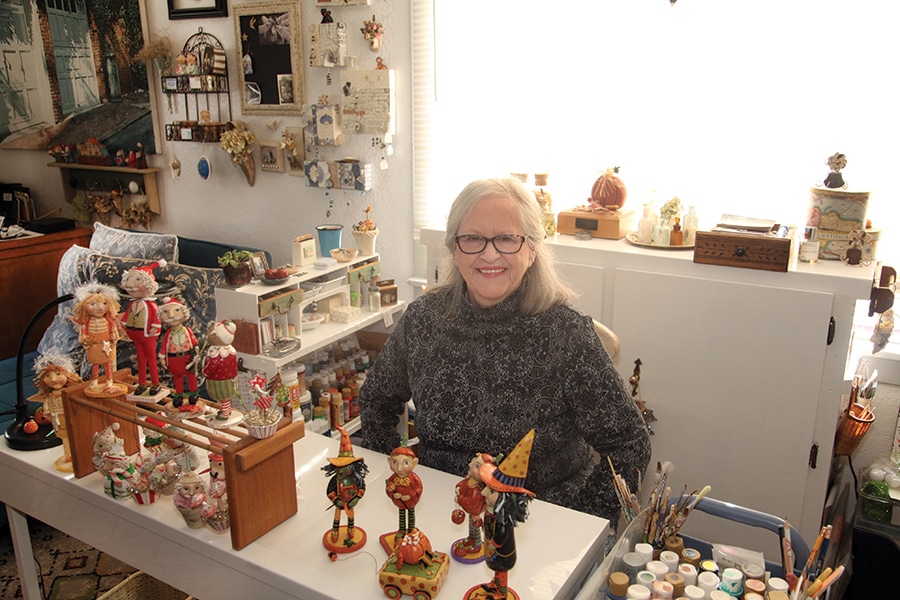 "If I go for five days without doing something creative, it worries me," McCall says. "I don't know what I would do if I didn't do this. I have to be creative. It's important to me to make things." She recognizes that artistic blocks are bound to happen, but she likes to keep the wheels turning. With that mentality, it's no wonder McCall is a fan of the changing seasons.
Her inspiration comes in a variety of forms. But perhaps most of all, her creativity stems from the holidays and general good tidings. As the seasons shift, so does McCall's home decor. She loves to add and subtract decorations based on the holidays, and she crafts new works of art by season, too.
Christmas is a big time of year for McCall's creations, but her holiday-themed figurines don't stop with winter. She also makes figurines for Valentine's Day, Easter, Fourth of July and Halloween. With all the love for the holidays and her care for the art, McCall's creations bring joy not only to her, but to those who personally experience their whimsy. On the expressions of her creations, McCall adds, "Some might look sad, but I like to think it's in a cute way."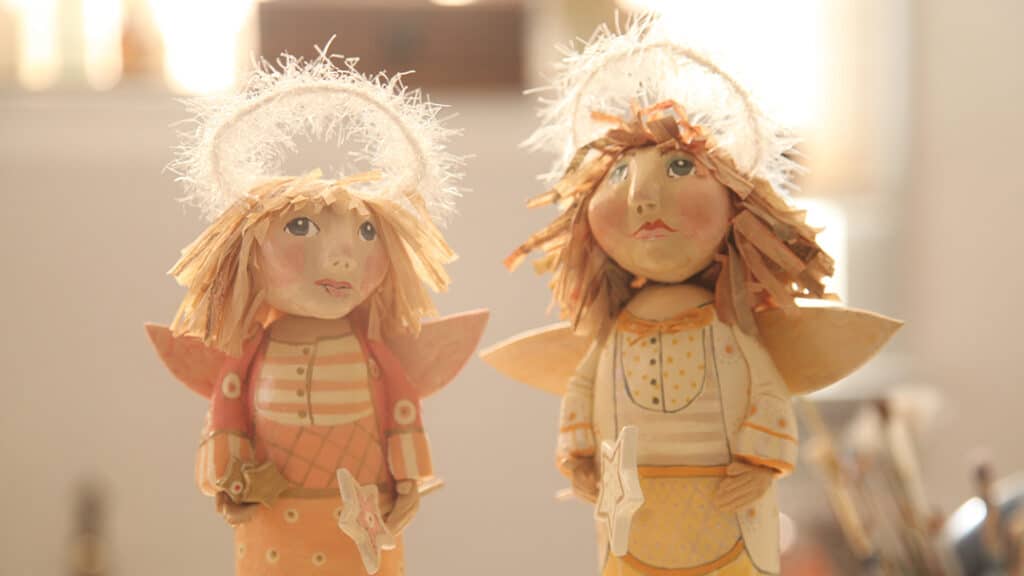 For Christmas, McCall's artistic focus has recently centered on crafting Santa characters and festive ornaments. Her ornaments explore holiday creativity. Mushrooms coming out of cupcakes, witches in cupcakes and glitter-covered houses are just the tip of the iceberg for her creations.
She is constantly thinking of new paths and materials she can explore in her imaginative creations, and while sometimes she sketches her ideas, other times she just lets the ideas flow and creates whatever comes to mind.
Part of her Santa inspiration comes from close by. As McCall's family and friends have remarked, her husband bears resemblance to her beloved little Santas, in particular for their mustache similarities.
The Santa sculptures are McCall's most time-consuming pieces to create. Some steps even require a few days. She has to cut and shape a figurine, stabilize it with dowels and let the glue set, all before applying the paper clay and paint. After applying the clay, it can take a day or two to dry in cool winter weather.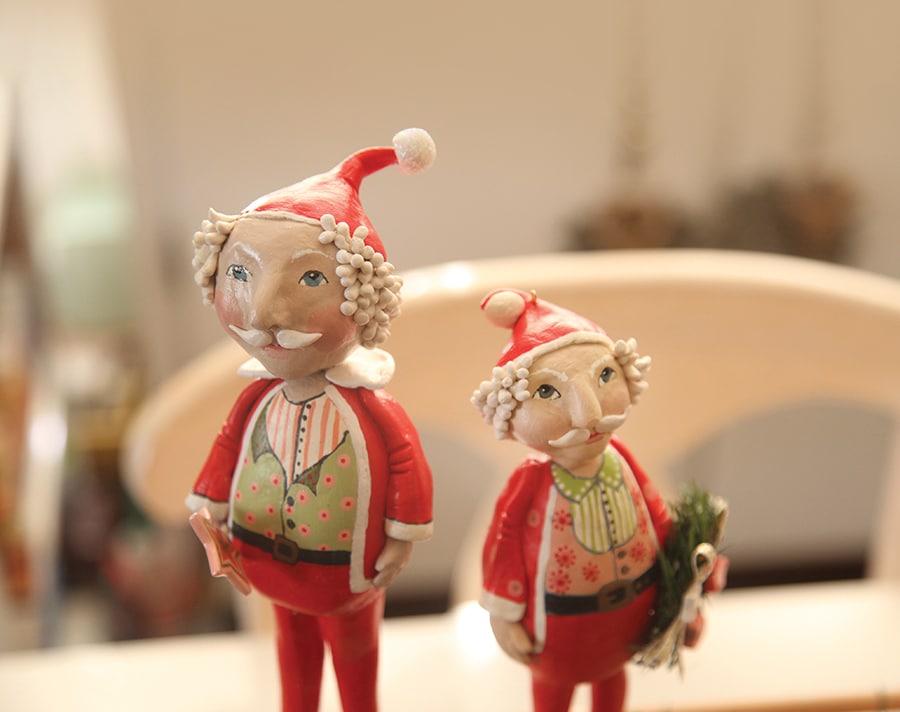 Even still, painting is the longest step, because she puts so much care into the details and giving them their own unique appearance. It can take multiple layers of acrylic paint to get full coverage on her figurines.
"If I could just be like 'Bewitched' and shake my nose, wouldn't that be nice?" she asks, and pauses before adding, "Well, no. I like the creating."
It's no surprise, given McCall's long history as a creative. One of her first, memorable works of art was a 3D creation at 6 years old: a papier-mâché hand puppet. "I loved it, and how it turned out," she says, still thinking fondly of the creation. Ultimately, she gifted it to a neighbor kid up the street.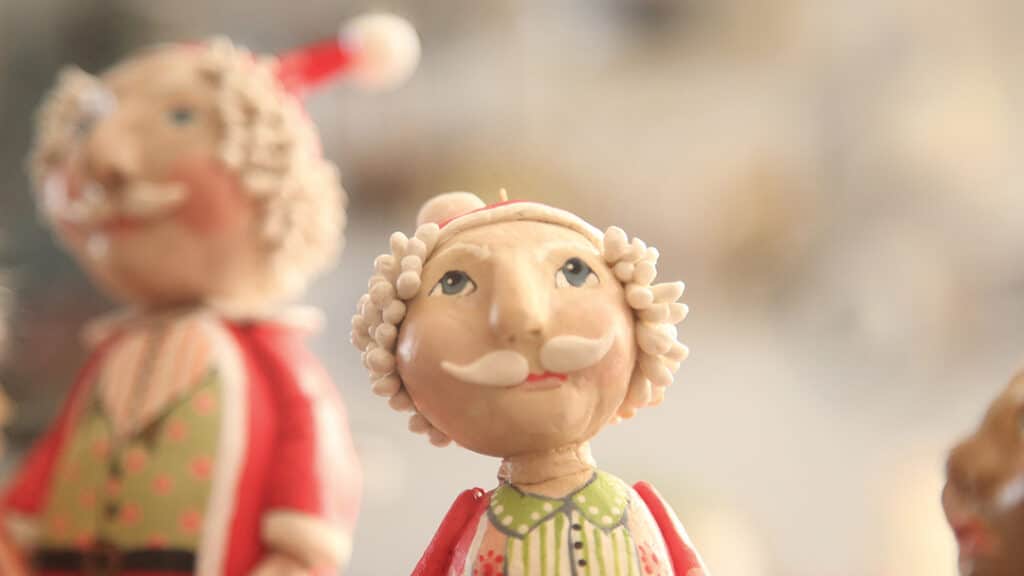 After growing up in Redding, she left to study art in college. For a long time, her artistic focus was on photorealism paintings. However, due to the demands of oil paintings, she now prefers the 3D creations over two-dimensional paintings.
Now, her creations are made from paper clay. She crafts all kinds of inventive characters. They still take a lot of time to produce, but McCall's love of art and creating keeps her going.
Every year, she tries to add something new. One of her favorite items to add are her ornaments, because they're affordable to customers. Her work can be found at Enjoy the Store, which is the only place she sells her work•
Article by:
Madison Heller was born and raised in Redding, and as a result spent her summers swimming and camping all over the North State. When not writing, she enjoys baking sweets, drinking coffee and spending time outside.