Walking in a Christmas Wonderland
45 Years of Christmas Cheer: Celebrating Country Lane Antiques…
In 1977, Judith and David Klages started Country Lane Antiques, now located in historic downtown Cottonwood, out of their home. When asked how it feels to celebrate the 45th anniversary of the year-round Christmas and antique shop, Judith says she looks forward to celebrating its 50th.
Originally from Virginia, Judith and David intended to trek all the way to Alaska before settling down in the North State. "For more than 20 years, my husband and I traveled the country working for newspapers. We ended up here and started collecting more antiques. We couldn't stop, so we started selling out of our home, and then we opened this with a friend of mine," Judith recalls. "The more we got into it, the more we enjoyed working together. And so we quit work and did this."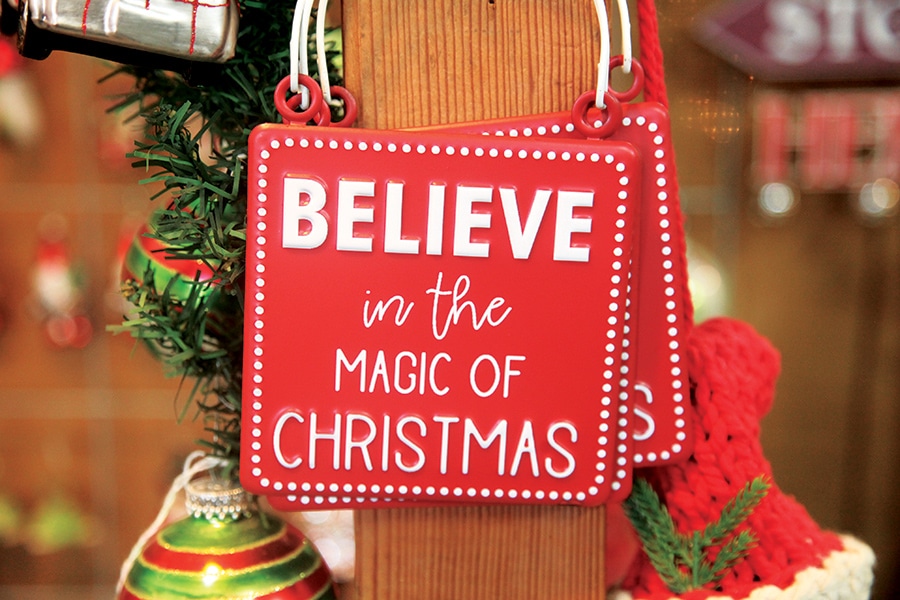 After getting their start with antiques, the couple began selling Christmas decor year-round in 1998. Most recently, Judith, who covered topics like fashion and food as a feature writer, has introduced something new to Country Lane: New and vintage women's clothing and accessories, including costume jewelry that, although new, often possesses a vintage-inspired charm.
Judith is curating a boutique-style shopping experience with her fashion inventory. "I just pick and choose and I only buy one," she says decidedly. "When it's gone, it's gone. You're not going to see it again." Every so often, Judith says, a piece of vintage clothing from her own personal collection makes it onto the floor for sale.
The garments and accessories are tucked among carefully arranged sections that conjure cozy rooms — a table draped with jewelry and scarves near a full-length mirror, a bedroom of antique furniture gleaming under a golden Christmas tree — the type of richly layered anti-IKEA dioramas that make antique shopping so enchanting.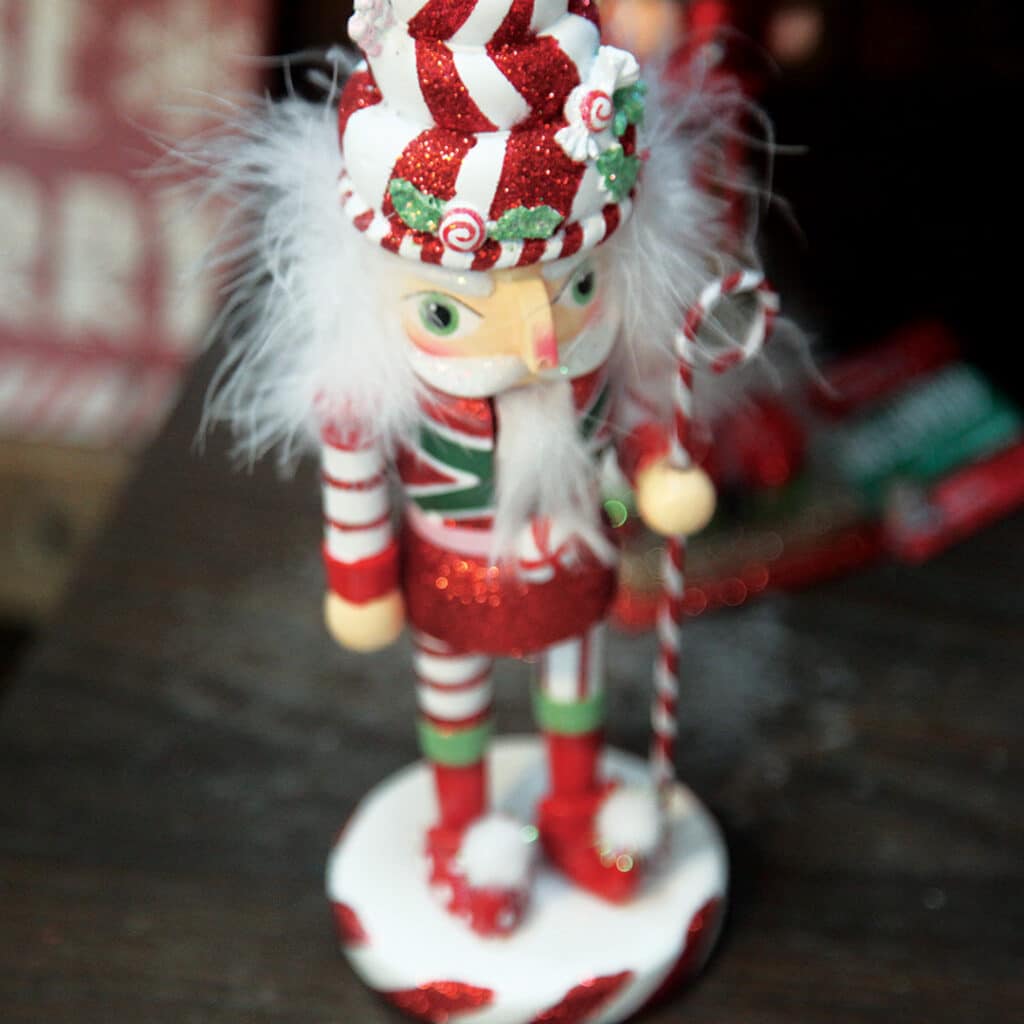 While a true believer in the (potentially lost) art of browsing, Judith keeps the shop cohesively organized, allowing shoppers to gravitate toward what they're looking for. "Each section has a color theme," she explains of the two large rooms that comprise the store. "It's based on the Christmas tree. Everything — the fashions, the home decor, the paintings that go in there — matches that."
Of a whimsical green and lavender section in the first room's center, she describes her vision for one of the Christmas season's updated centerpiece trees. "Here, there will be a big peacock tree," she says, gesturing to the air above her. "Purple, green and gold on a white flock tree, so they'll stand out."
A short passageway leads to the second room, which is dedicated nearly entirely to Christmas decor. Here, a sign nestled into the needles of a tree frosted in sugary blues and peaches extends an invitation to passersby: "Like apples, pick ornaments off the tree."
Two distinct sections of red beckon. In the more formal of the two, shimmering poinsettias, serene angels and bright cardinals ornament a cream colored hearth, while its more casual counterpart offers candy-cane stripes and cheerful snowmen. Elsewhere, the pinecones and forest animal silhouettes of a lodge-style section warm a green tree with glittery browns and coppers. Last year, her selection of cozy black-and-white decorations featuring vintage-style patterns were popular, and she expects they will be again this year.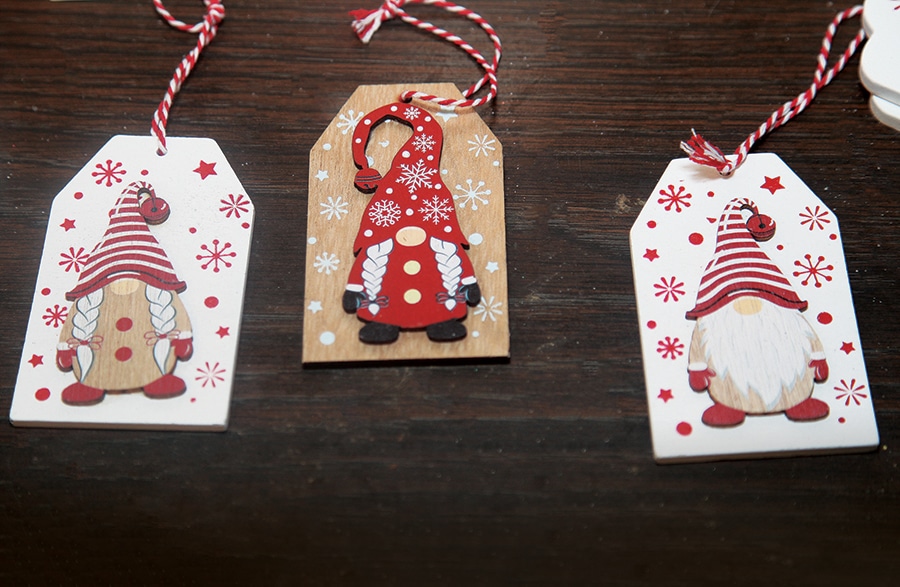 Speaking of the variety of Christmas decor styles, Judith observes that "everything cycles" in popularity. Interestingly, "young people tend to buy what their grandparents had," often choosing the more distantly nostalgic over what they grew up with in their parents' homes.
Judith has observed this first hand. As Country Lane nears the half-century mark, her customers' grandchildren have become customers themselves. "It's fun to have the third generation of a family come in, to help them pick out something special," she says.
"All of my friends have come from being in the business," she says, reflecting on her 80th birthday, which she celebrated in the shop last December in good company, complete with impromptu serenades and gifts of homemade cakes and cookies. "I like people. That's what this business is really about."•
Country Lane Antiques
20839 Front St., Cottonwood • (530) 347-5598
Hours: Monday through Saturday, noon-5 pm; Sunday, noon-3 pm
Find Country Lane Antiques on Facebook
Article Written By:
Delaney Uronen was born and raised in Northern California and holds a bachelor's degree in English from the University of Nevada, Reno. Art, community, and landscapes keep her bouncing between both places. Her work has appeared in Double Scoop and Brushfire. You can reach her at uronende[email protected]