On the Edge
A.J. Young Outfits the North State…
On an early summer evening, local designer A.J. Young's first line of swimwear kicked off Redding Fashion Alliance's DamGood Summer fashion show. The models – among them the designer herself – stomped across hot concrete in smirks and latex platforms to house music that thumped affirmations into the city center: "I'm so free, I'm so fly, I'm so fabulous."
Each one-of-a-kind swimsuit featured prints that recalled shimmering pools of oil and electric snaps of strawberry bubblegum. Paired with black leather accessories and statement sunglasses, the collection flaunted clean construction, dramatic cutouts and asymmetrical lines.
"Everything that you're afraid to wear, I want to create it and give you the confidence to walk down the street," she says of A.J. Young Designs. "I want to express who every person is individually and amplify that by 10."
Redding Fashion Alliance's lead alterationist, Young began her design journey while still in high school, creating period-correct Victorian gowns for historical reenactment. She fell in love with the unlimited design elements of the era's aristocratic dress. Speaking of layering richly colored silks, brocades and velvets, she likens their construction to that of the iconic emerald green gown from "Gone With the Wind" – "you have all of these fancy trims that look like they belong on curtains, but you just pop them on a dress."
While she has since moved away from creating period-correct gowns, their influence can be traced in her work as a gothic sensibility that joins a distinctly punk style. At Redding's 2019 Fashion Week, Young showcased her Black Widow collection, a line of black and blood-red satins paired with steel works shaped into a regal spiderweb high collar, a six-pronged crown and a skeletal peplum skirt. For Redding's 2020 Fashion Gala, she presented a quartet of gilded gowns and separates; gold tulle, sequins and appliqué adorned sheer mesh bases and form-fitting silks. Elsewhere, her affinity for black latex, chunky hardware and silhouettes that recall an updated 19th Century give A.J. Young Designs its trademark edge.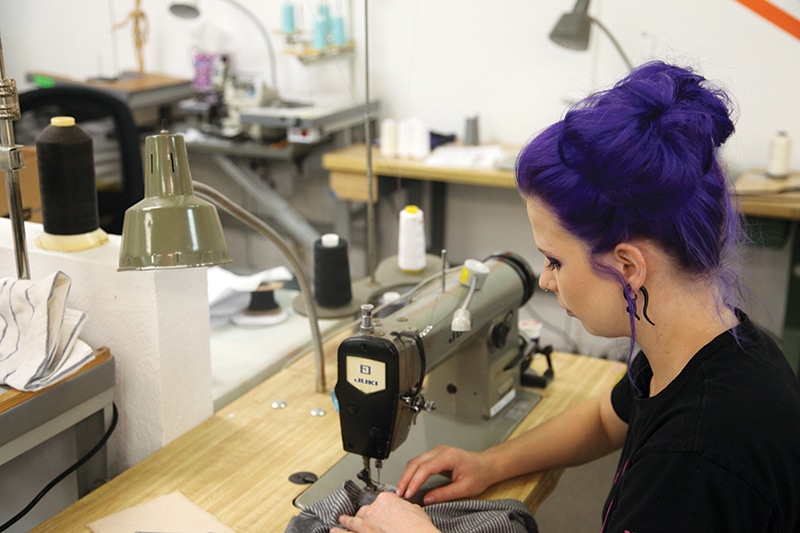 Earlier this year, she added film to her portfolio, serving as costume design assistant on the set of "The Dresden Sun," a sci-fi/cyberpunk thriller filmed primarily in Shasta County. Starring Christina Ricci, Mena Suvari and Steven Ogg, the Archetype Pictures film boasts another creative with local roots in Executive Producer Tyler Lockamy. Most recently, she's been tilting her punky wheelhouse towards something more pop by injecting bold color into her designs. Of her swimwear collection, she says "I wanted to play with what I had in my repertoire and make it explode into something fun. I believe colors, their vibrational force, can really elevate us."
Such an elevation in vibrations is what she sees for Redding's future. For Young, the North State is ready to express more color, variety and individuality. "I think we're getting there," she muses, recalling visits to Club 501, where she could dress up without holding back and commune with others riding the same wavelength. Despite the 5's closure this year, she has hope for local culture to explore more. "I can bring it to that next level. It's a matter of doing it and having people follow."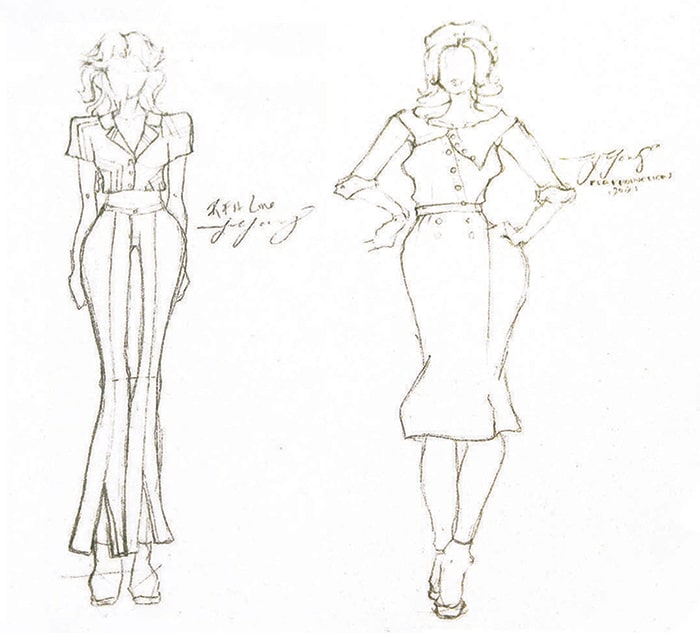 The designer hopes to lead the way into organic ways of being in more ways than one. Young lives and works at Renaissance Farm, where they seek to cultivate a completely self-sufficient lifestyle. For Young, moving toward sustainable living "is the future," one we must choose as inhabitants of a planet with rapidly dwindling resources."
As a "firm believer that we should be getting entirely away from mass production," she emphasizes the importance of "learning to express ourselves without an over- abundance." In an era of fast fashion, "microtrends" and unprecedented waste in the garment industry, Young says it can be difficult to reconcile her love for fashion with her goals of sustainable living.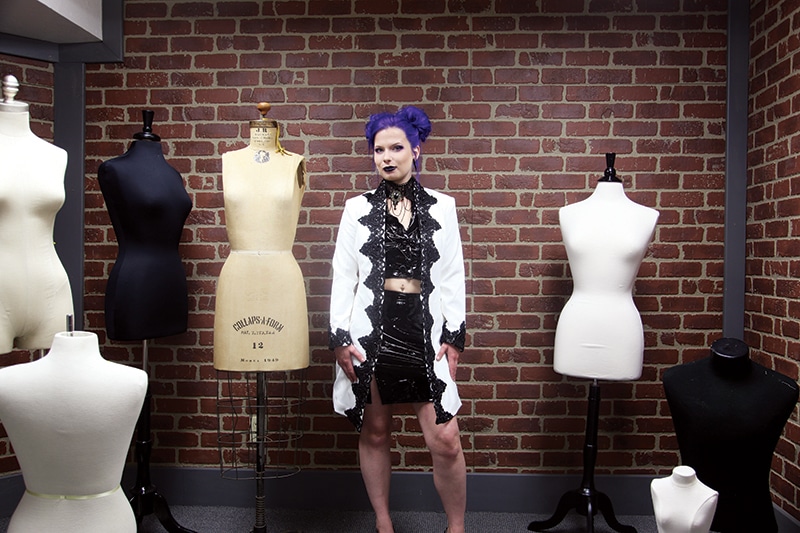 Yet, this tension may be a productive one. She imagines an exciting shift in the way we clothe ourselves that includes buying from local designers, learning to upcycle, tailor and mend our own and secondhand clothing and even turning to garments and shoes 3D-printed from recycled plastics. In Young's vision for a new future, the gothic meets the punk where the decay of overindulgent industry is torn apart and reimagined into something uniquely new.
By moving away from mass-produced style, perhaps we may come closer to the more authentic self-expression she envisions. Along with the rest of Redding's growing fashion scene, she may just be helping to usher in this very future. As overheard at the DamGood Summer show: "I never want to shop at Target for a swimsuit again."•
A.J. Young
(530) 598-5846 [email protected]
Redding Fashion Alliance 1698 Market St., Redding (530) 276-0458
Open 11 am- 4 pm Tuesday through Saturday
Find A.J. Young on Facebook and Instagram @ designer_a.j.young_artist
Article Written By:
Delaney Uronen was born and raised in Northern California and holds a bachelor's degree in English from the University of Nevada, Reno. Art, community and landscapes keep her bouncing between both places. Her work has appeared in Double Scoop and Brushfire. You can reach her at [email protected].