Lobster Tails
Lobster Macaroni and Cheese…
For many of us, Valentine's Day dinner means getting a reservation at a fancy restaurant and forking over more money than you normally do for a delicious meal. That's a fine idea. But a delicious dinner at home can be even finer and the memories even more unforgettable.
Staying home for Valentine's Day has many benefits: You decide the atmosphere (romantic or casual), the attire (fancy or pajamas), and the menu (extravagant or comfort food). As for the menu, why not combine extravagance with the ultimate comfort food?
Lobster Macaroni and Cheese is the perfect Valentine's Day offering, marrying the sumptuous taste of lobster and the quintessential comfort food that is mac and cheese.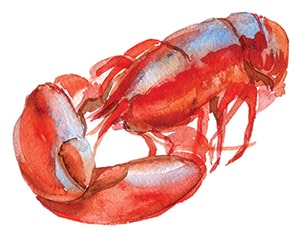 "My number one elixir for anxiety? Comfort food."
-Katie Lee
LOBSTER HISTORY: FROM PRISONS TO PENTHOUSES
Lobster hasn't always been considered a delicacy served for special occasions. In fact, when European settlers landed on America's East Coast, lobsters were so abundant that they were typically used for fish bait or fertilizer. Called "cockroaches of the sea," these crustaceans were considered food for poor people. Prisoners and slaves were fed lobster as an inexpensive way to provide protein.
By the 1880s, industrial canning, railway transportation and refrigerated rail cars allowed lobstermen from Maine to North Carolina to sell their catch throughout the nation. And by the 1940s, lobsters gained the reputation as a delicacy served in the fanciest of restaurants from coast to coast.
Not only is lobster meat delicious, it actually has some health benefits. It is high in omega-3 fatty acids, potassium and vitamins B-6, B-12 and E. It also contains fewer calories than skinless chicken breasts.
OOEY, GOOEY, CREAMY TASTY TREAT
But let's not think about calories – at least on Valentine's Day. Mac and cheese is a comfort food, not a diet plan. And what, exactly, is comfort food? Everybody has their own favorite, but studies show that comfort foods get their power from nostalgia and normalcy. No matter the culture or geography, humans crave foods that give them comfort. And here in America, ooey, gooey, creamy cheese fits the bill for most of us. (Doesn't everybody love grilled-cheese sammies?)
This Valentine's Day, why not stay home, put on your most comfy jammies and say "I love you" with this easy and mouthwatering Lobster Mac and Cheese? •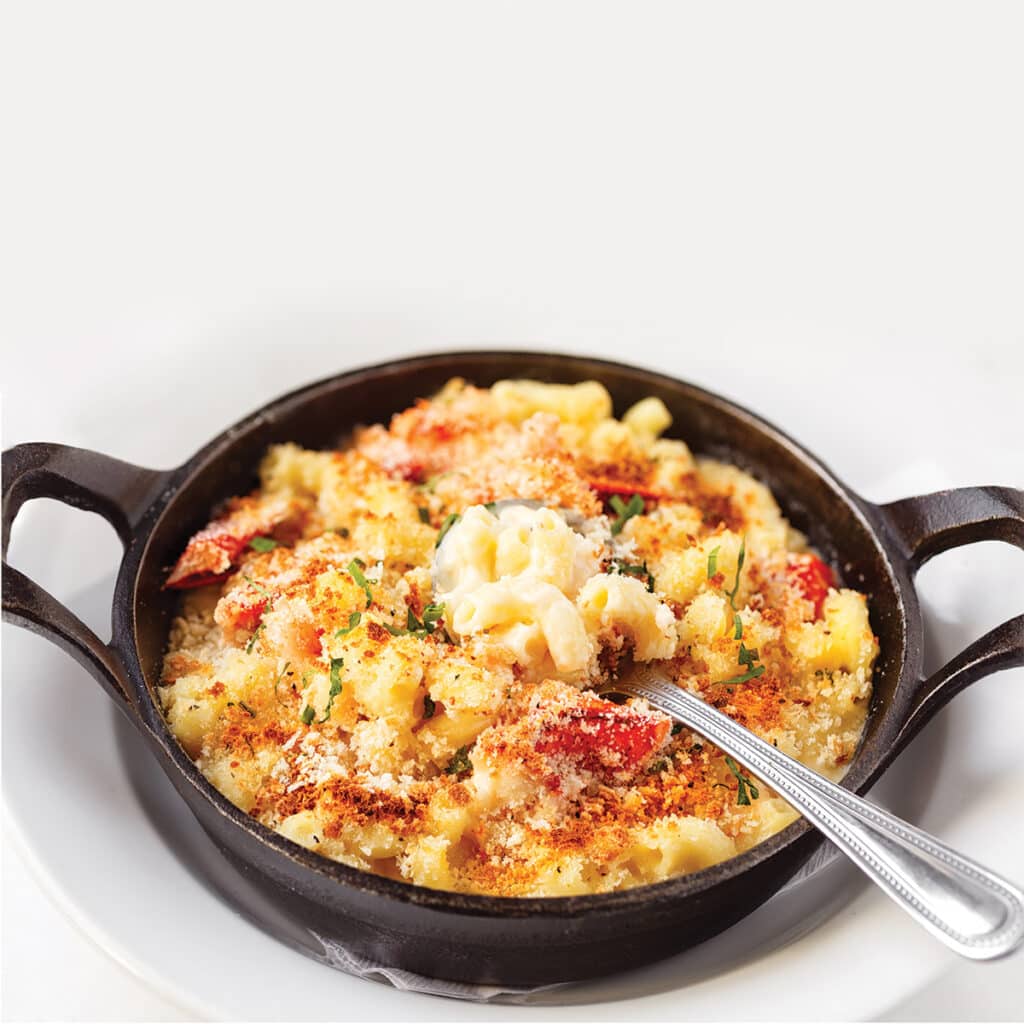 LOBSTER MAC AND CHEESE
Servings: 6
Prep Time: 15 minutes
Total Time: 1 hour, 20 minutes
INGREDIENTS
• 2 T kosher or sea salt (divided)
• 1 lb. elbow macaroni
• 1 quart whole milk
• 1 stick (8 T) unsalted butter (divided)
• ½ cup all purpose flour
• 4 cups Gruyere cheese
• 4 cups sharp cheddar cheese
• ½ tsp. black pepper
• 1½ lbs. cooked lobster meat (about 3-4
lobster tails, depending on size)
• 1½ cups bread crumbs
• ½ cup grated Parmesan cheese
INSTRUCTIONS
Step 1: Preheat oven to 375 degrees.
Step 2: In a large pot, boil water and add 1 tablespoon of kosher or sea salt.
Step 3: Add elbow macaroni to the boiling water and cook 8 minutes. Drain and set aside.
Step 4: In a small saucepan, heat the milk, being careful not to boil it.
Step 5: In a large pot, melt in 6 tablespoons of butter (setting aside 2 tablespoons for later). Add in the flour, stirring regularly with a whisk. Cook over low heat for 2 minutes.
Step 6: While still whisking the butter/flour mixture, add the milk and cook over low heat for another 2 minutes, or until the mixture is thick and smooth.
Step 7: Remove the large pot from the heat and add Gruyere cheese, cheddar cheese, black pepper and 1 tablespoon salt.
Step 8: In the large pot, stir in cooked elbow macaroni and cooked lobster meat. Place the mixture in 6 gratin dishes, ramekins or bowls.
Step 9: Melt the remaining 2 tablespoons of butter. Combine with bread crumbs and Parmesan cheese and sprinkle evenly on top of each of the 6 individual dishes or bowls.
Step 10: Bake at 375 degrees for 30 minutes, or until sauce is bubbly.
Step 11: Let sit for a few minutes and serve.