Love In High Places
On the Lookout…
With twenty-three years of experience in a fire lookout, Barry Snyder has a succinct description of how life there can change when smoke is spotted. "It's like going from an ashram to a war zone," says Snyder, who staffs Eddy Gulch Lookout in the Salmon River District. "Sometimes, if there's a lot of lightning and many starts, we have to be the sole source of information to get ground crews in. We have slopes that are 60-70 degrees. You don't want to run people around. It's grueling. Time is of the essence. Response time is critical."
The ashram experience comes on all of the days when smoke isn't seen but is being scanned for on a regular basis. A fire lookout spends time alone in an almost meditative state, learning the topography of the land. "The first part of the job is to just learn the landscape until you can see it, until it becomes part of you," says Karen Anderson, Snyder's partner in life who helms the Bolivar Lookout in Scott River District. "We're looking at a lot of forested land and mountains. That becomes your meditation, looking out of soft eyes and seeing if anything is sticking out."
The dichotomy of long hours scanning the horizon without any action combined with the need to jump into overdrive at the first sight of smoke makes for a truly unique career and way to live one's life. "It becomes a soul-calling," says Snyder. "It's an extraordinary experience."
For Snyder, the call to the lookout began in a life crisis. "It was about the mid-'90s. I'd been in banking," he says. "I just went through this crisis of not knowing what I wanted to do with my life." A trusted friend, Tom Foley, made a life-changing suggestion: "'Why don't you go get a fire lookout, sit in the mountains for a while and figure it out?'" He did just that. He was hired sight unseen and pledged to stay a year. "You know, it's 23 years later and I'm still there," he says with a laugh.
"It becomes a part of you," adds Anderson, who made her way to Snyder's lookout one summer when she was between jobs and searching for her own way. "I decided I should get a lookout." She ended up in the lookout of Foley, who had made the original suggestion to Snyder. "I got the very lookout that he had been a lookout at for 19 years," she says.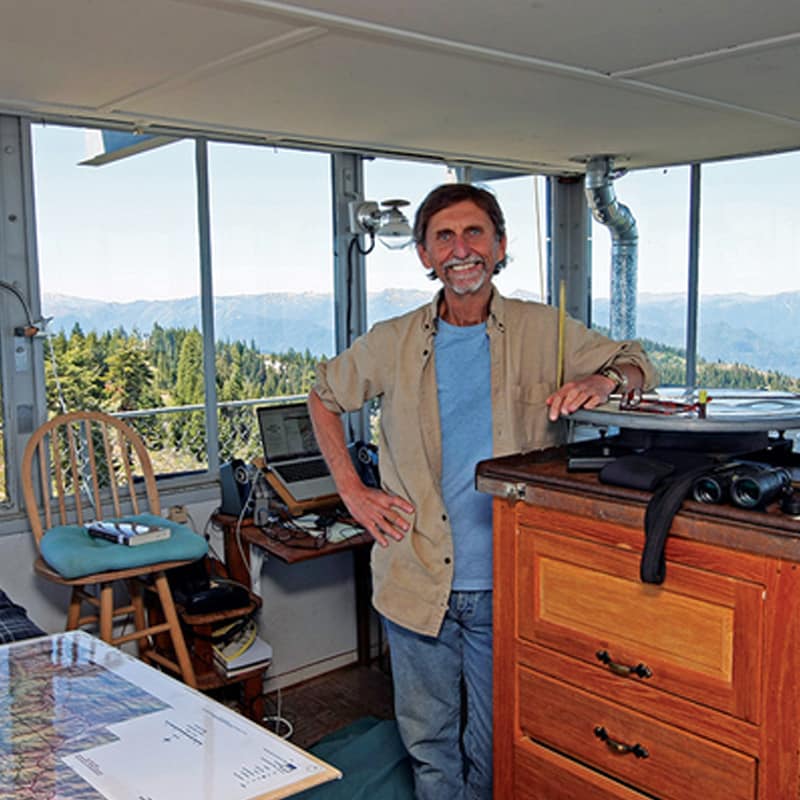 "Right now our lookouts are only about 16 miles apart as the crow flies," says Anderson. "We can't see each other because there's a mountain ridge. It would take about one-and-a-half hours to drive to each other. In the summer, our lookouts become our primary home, we spend so much time out there."
The couple has the same days off each week, Snyder three and Anderson two, which overlap. They make their way back to the home they share in Macdoel, a different ecosystem entirely from which they work. "It's a high desert area. It doesn't carry fire very well," says Snyder. Adds Anderson, "We come home and our home feels very crowded with things. The lookout helps you to just become essentialized that only the real important things are there."
Out on their lookouts, the couple can communicate, but it's primarily about weather. "Barry can see the clouds over me and tell me what they look like," says Anderson. "We're at the south end of the districts, and that's where the weather begins. It comes up from the south." Weather, of course, is what often starts wildfires and determines their direction and strength.
"We're information sources," adds Snyder. "We communicate the weather if people are having difficulty out in the forest. It's a really important communication function. If the weather changes, it's crucial information out there. We're responsible for monitoring who's on the ground and where and letting them know where the weather is and when it changes."
The job has gotten more technical over the years, with lookouts now being outfitted with internet connections that allow the couple to access weather monitoring sites. Still, there's nothing like seeing with your own eyes what's in front of you. "Barry's the weather guru," says Anderson. "He can read clouds and their patterns. Everybody relies on him for that."
While the couple look forward to their days off together, they also treasure the solitude of their individual experiences while on duty at their respective lookouts. "There's a magic about being a lookout," says Anderson. "And there's a mystic. Here we are all by ourselves up on a mountain top. It's a very unusual situation. We feel very blessed." •