Mentors Recruited And Trained At Catalyst Mentoring
Time Well Invested…
"How do mentors win?" prompts the trainer.
"BY SHOWING UP!" calls the class.
Back when Aaron Hayes taught at a local continuation school, he picked up on a story floating around campus. A group of the boys discovered an old man working on a car in his driveway. They stopped to watch. The old man not only welcomed them, the story goes, but he invited them to help him, handing out tools and explaining what needed to be wrenched to fix things.
The old man said they could come back any time, according to Hayes, and the boys took him up on it, making the visit a regular after-school activity. The schoolteacher initially took all this as a positive story, a good use of his students' spare time. But he soon realized this one hour or so of extracurricular activity actually transformed these kids. Normally part of the rough-and-tumble crowd at the continuation school, the boys seemed calmer and focused more to task in their classes.
"This is when I saw what mentoring could do, and how easy it could be," says Hayes. "That old man changed the trajectory of those kids' lives by only being there for them. He cared to be there."
Laid off from Pioneer during the 2007 economic turndown, Hayes became a pastor, eventually honing his mentoring skills with youth meetings at The Stirring, a Redding church. Two years ago, he and his former school principal teamed to create Catalyst Mentoring, breaking off from the church and setting up its own office in the city. Hayes now considers himself a former pastor and states flatly that Catalyst Mentoring is a non-denominational organization that mentors kids regardless of belief.
"How do mentors win?" prompts Hayes the trainer.
"BY SHOWING UP!" calls the class.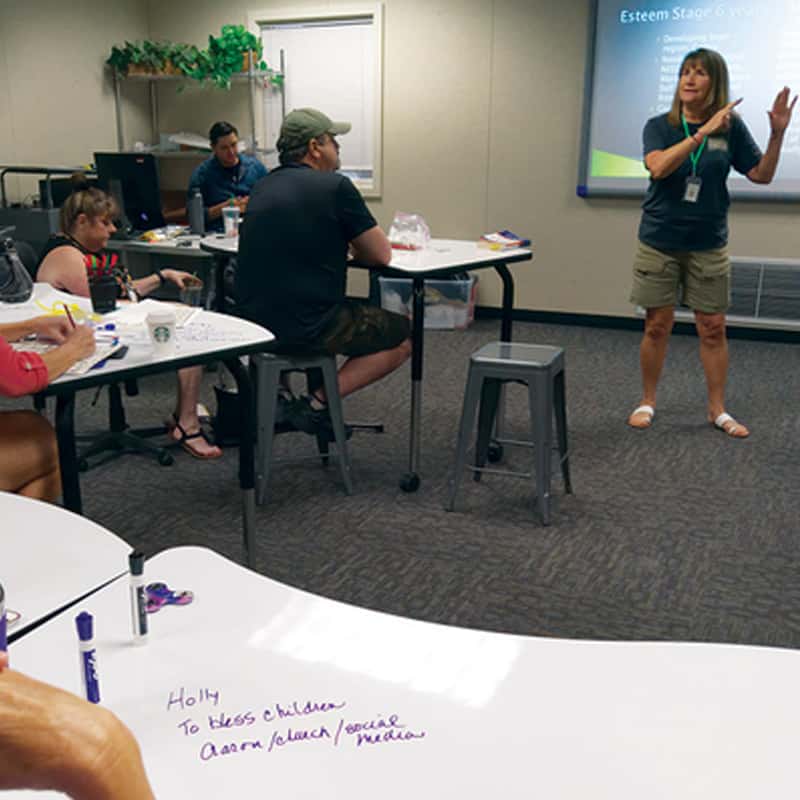 Today, Hayes stands before a class of about a dozen students assembled at Parsons Middle School, but this time it's a Saturday.
Most of his students left adolescence behind a long time ago and all are here because they want to be here. This is Mentoring Boot Camp, run by Hayes and Elsbeth Prigmore, co-founders of Catalyst Mentoring, a nonprofit dedicated to recruiting and training mentors and placing them in schools to serve as models for respect and support for at-risk children.
"Every kid is one parent or adult away from being a success," declares Hayes. "Nine out of 10 of those mentored go into mentoring in the future. No one is changing the city more than those investing in our youth."
For his part of the three-hour session, Hayes offers heartfelt instruction on such topics as earning trust from an distrusting child, how to shift behaviors without concretely telling a mentee what to do, how to validate tiny steps taken with praise while encouraging more and, most importantly, how to forge and strengthen an emotional bond – winning, in mentor parlance – "by unconditionally, consistently showing up."
If Hayes presents the heart of the Catalyst curriculum, co-founder Prigmore addresses its mind. An independent educational consultant through her company Connect the Brain, she specializes in building capacity for safe learning environments by teaching teachers the functions of the brain, especially the one in the head of a traumatized child.
"You cannot teach a kid in panic mode," Prigmore tells the class as she goes through the stages of the development of a child's esteem. "As anxiety goes up, performance goes down." She describes in detail how neuroscience can be applied to reach kids despite their trauma-induced impairments.
Ultimately, Hayes's heart and Prigmore's mind come together to overcome barriers a mentor must breach to truly connect with mentees. One of the biggest is what Hayes calls "caveman thinking," the reactive good/bad, up/down, black/white mindset that restricts choices to only a stark two. He spends a lot of time detailing techniques and processes to open a mentee's mind to the myriad of possibilities from which one can make a conscious, forward-thinking choice.
Hayes cautions his class to avoid entering mentorship with the idea the mentor teaches a mentee how to be. "What if the kid doesn't believe what you believe?" he asks rhetorically. "No, the message is, 'You belong.' I don't care about what you believe; I don't care about what you did; I don't care about your sexual orientation – I care about you, regardless."
To date, Catalyst Mentoring has trained 350 mentors, according to Hayes, drawing from the ranks of mentoring projects from 22 local organizations, including the YMCA, Court Appointed Special Advocates and Exodus Farms. Prigmore says today's mentoring boot camp marks the first time Catalyst has trained its own team and with their school liaison, Jenna Berry, they've launched an ambitious placement project.
Catalyst Mentoring's 2019-2020 school year goal is to place 10 mentors in alternative school programs on five targeted campuses: Parsons, Pace Academy, Mistletoe, Boulder Creek and Turtle Bay. Berry stands ready to pair 50 new mentors with children who need them, normally in groups of two or three.
To make this goal, says Prigmore, they're going to need more volunteers.
"Anyone who has the desire and an hour a week can become a mentor," she says. "That's all it takes. It will change someone's life. It'll change your life, as well." •
Catalyst Mentoring
935 Industrial Street, Redding
(530) 510-1990