What's Cookin – Maple Glazed Pork Chops
This savory and sweet autumn-inspired dish combines the flavors of tender pork, maple syrup and sautéed apples. Enjoy!
Prep Time: 15-20 MINUTES
Cook Time: 15-25 MINUTES
Makes Four Servings
INGREDIENTS:
4 bone-in pork chops
Salt and pepper to taste
2 T olive oil
2 apples, cored and sliced
1 T butter
1⁄4 cup maple syrup
1⁄4 cup maple syrup
1⁄4 tsp. cinnamon
1⁄4 tsp. nutmeg
1⁄4 tsp. allspice
Fresh parsley (chopped) or rosemary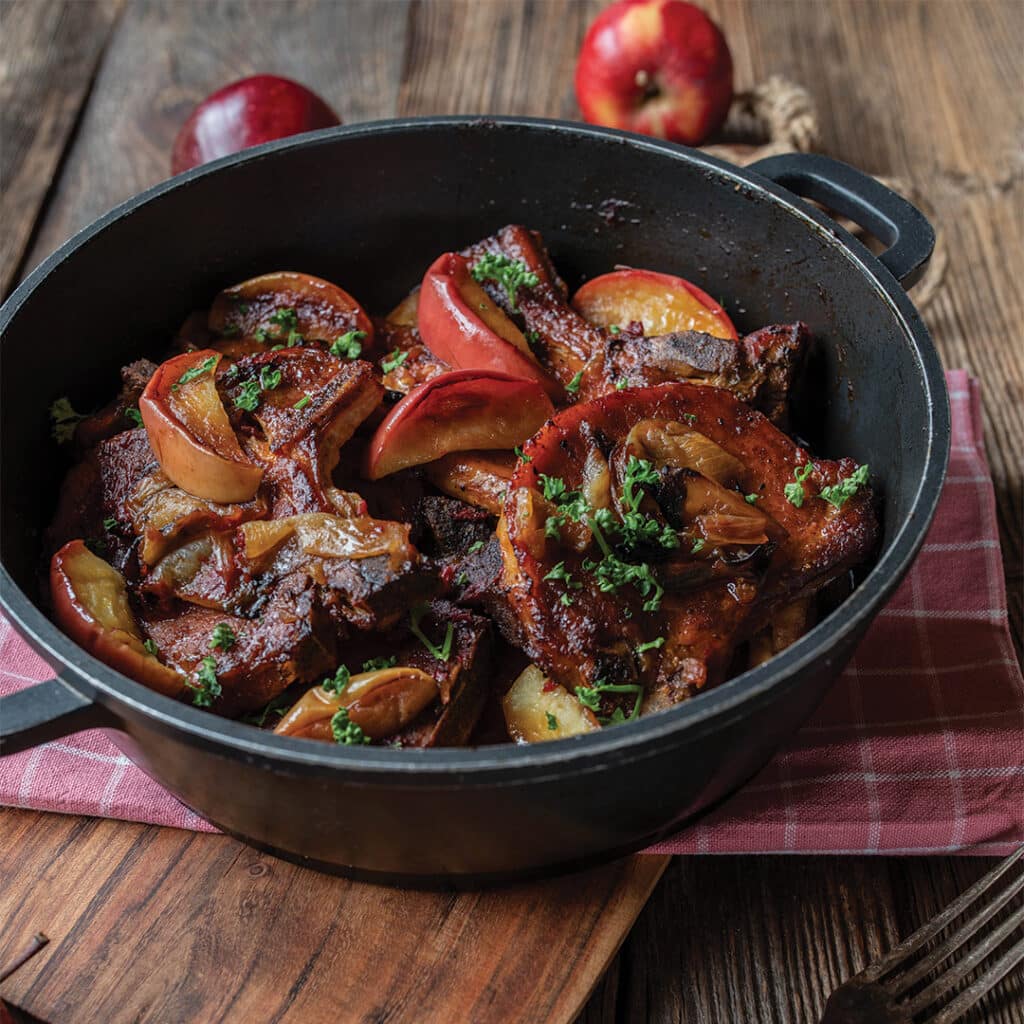 DIRECTIONS:
Step 1: Preheat oven to 375 degrees.
Step 2: Season both sides of the pork chops with salt and pepper.
Step 3: In large oven-safe skillet, heat the olive oil over medium-high heat. Add the pork chops and sear them for about 3-4 minutes on each side until they're golden brown. Remove them from the skillet and set aside.
Step 4: In the same skillet, melt the butter. Add the sliced apples and sauté for about 3-4 minutes until they start to soften.
Step 5: In a small bowl, mix together the maple syrup, cinnamon, nutmeg and allspice. Pour mixture over the apples in the skillet and stir to combine.
Step 6: Return the seared porkchops to the skillet, nestling them among the apples.
Step 7: Transfer the skillet to the preheated oven and roast for about 10-15 minutes or until the pork chops are cooked through and have reached an internal temperature of 145 degrees.
Step 8: Remove the skillet from the oven and let sit for a few minutes.
Step 9: Serve the pork chops over a bed of the sautéed apples. Drizzle remaining glaze over the top.
Step 10: Garnish with chopped fresh parsley or rosemary.
LOVE OUR RECIPES?
Come into Enjoy the Store in Redding each month and ask for your FREE recipe card.