A-Maize-ing Taste
Spicy Cajun Corn Chowder…
Fall is my favorite season. The crisp air, the colorful leaves, the cozy sweaters. And of course, the comfort food. Nothing warms me up more than a bowl of creamy, hearty soup on an autumn day. And one of my go-to soups for fall is corn chowder.
Corn chowder is a classic American dish that originated in New England. This thick, creamy soup made with corn, potatoes, onions and cream is a simple but satisfying meal that showcases the sweet and savory flavors of corn. You can enjoy it all year round, but it is especially tasty in the fall when fresh corn is still available.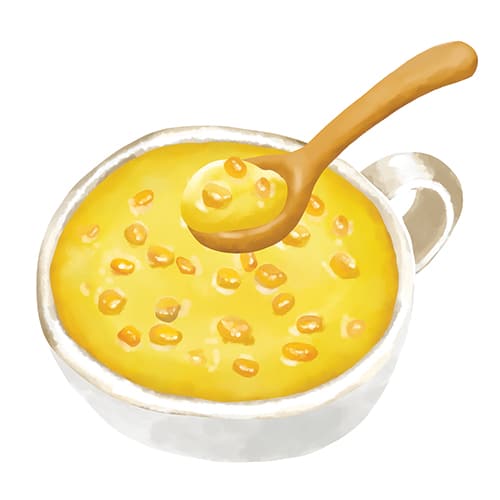 I like to make my corn chowder a bit spicy – Cajun style. The tang serves as a perfect contrast to the sweet, earthy flavor of the corn. Plus, the splash of heavy whipping cream gives the chowder a creamy balance.
This recipe has a kick, but it is not too fiery. It's not tongue-on-fire, eyes-watering, nose-running spicy. But you may want to make sure your favorite beverage is nearby!
If you are pressed for time, frozen corn will work fine for this recipe, but I prefer to use fresh corn from the cob. To remove the corn kernels from the cob, lay a shucked ear of corn on its side on a secure cutting board. Cut off the kernels, rotating the cob as you slice so it's always sitting on a flattened side.
This recipe will make about 8-10 servings, so you may have leftovers – and this chowder tastes even better the next day. You can easily halve the recipe if you need to but believe me when I tell you to make the whole pot and enjoy it for a few nights. Or do what I usually do: Double the recipe and freeze half of it for later.
Enjoy!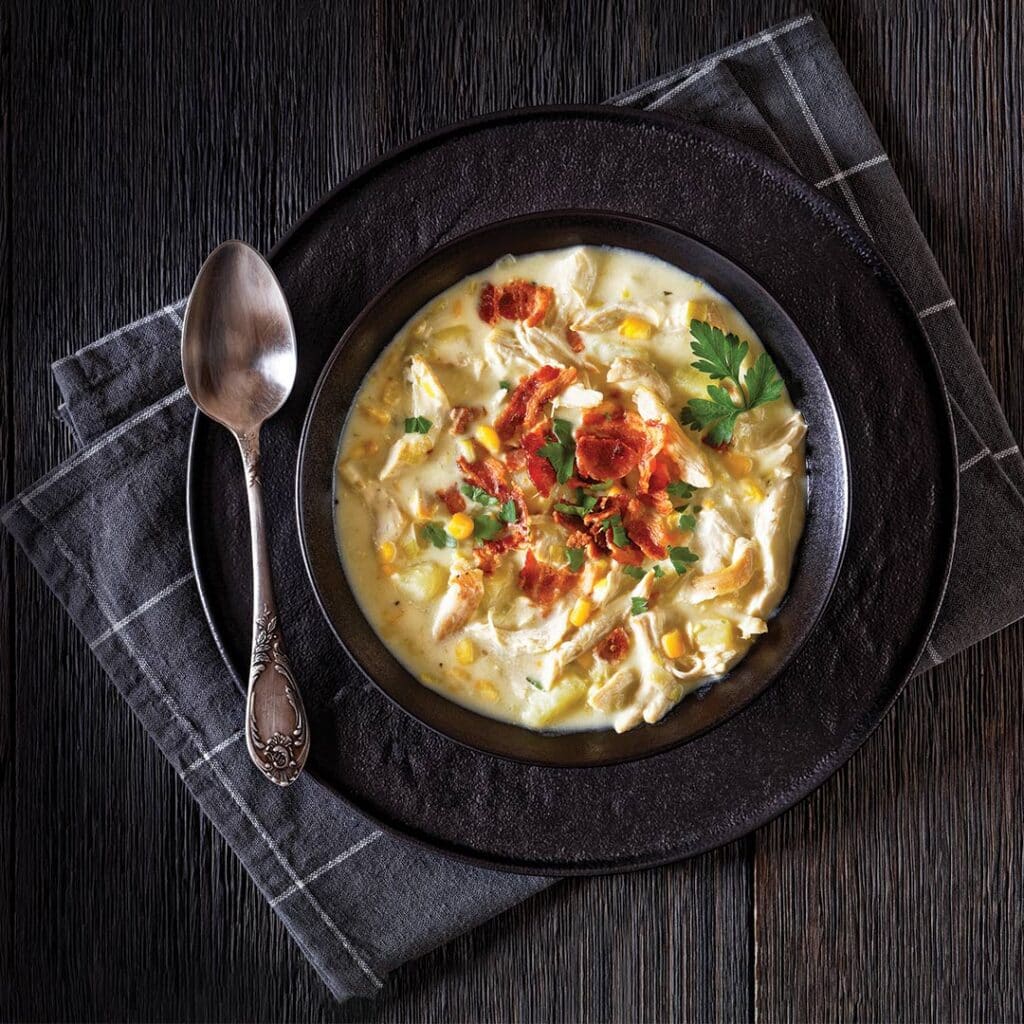 SPICY CAJUN CORN CHOWDER
INGREDIENTS
1 stick butter
1 lb. chicken breast, diced
4 T Cajun seasoning
1 cup sweet onions, diced
1 cup celery, diced
1 T fresh garlic, diced
1 cup flour
1 cup red potatoes, diced
4 cups chicken broth
1 cup corn kernels
11⁄2 tsp. black pepper
1⁄2 T cumin
1 T fresh parsley, chopped
1⁄4 cup fresh cilantro, chopped
6 cups heavy whipping cream
2 T sour cream
Green, yellow, and red peppers, julienne-sliced
bacon for garnish
INSTRUCTIONS
Step 1: In heavy-gauge soup pot (or Dutch oven), melt butter.
Step 2: Coat chicken with Cajun seasoning and cook until chicken is about 165 degrees in the center. Remove chicken from pot and cut into cubes. Set aside.
Step 3: Add onions, celery and garlic to soup pot and cook vegetables until soft.
Step 4: Slowly add flour to soup pot and cook at medium temperature, stirring continuously for 7-8 minutes (set a timer). This is the roux. Do not brown the roux.
Step 5: In a separate pan, boil the diced red potatoes until they begin to soften (al dente). Remove potatoes with a slotted spoon and set aside.
Step 6: Slowly stir chicken broth into the roux, stirring continuously to incorporate.
Step 7: Add cooked chicken, corn kernels, spices, herbs and heavy whipping cream. Bring to 180 degrees for 5 minutes.
Step 1: Garnish with a dollop of sour cream and julienne peppers.