Whats Cookin' – Moroccan Rubbed Rack of Lamb
June 2023 Recipe…
The Moroccan rubbed rack of lamb is a flavorful and exotic dish that is perfect for any special occasion, The end result is a mouthwatering dish that will impress any dinner guest… Enjoy!
Moroccan Rub Ingredients:
1 T ground cumin
1 T ground coriander
1 T turmeric
1 T paprika
1 T salt
1 tsp. grated nutmeg
1 tsp. ground cinnamon
1 tsp. ground cardamom
1 tsp. ground allspice
1 tsp. cayenne
½ tsp. ground cloves
Rack of Lamb Ingredients:
2 racks of lamb
1 cup Moroccan spice rub
Salt and pepper to taste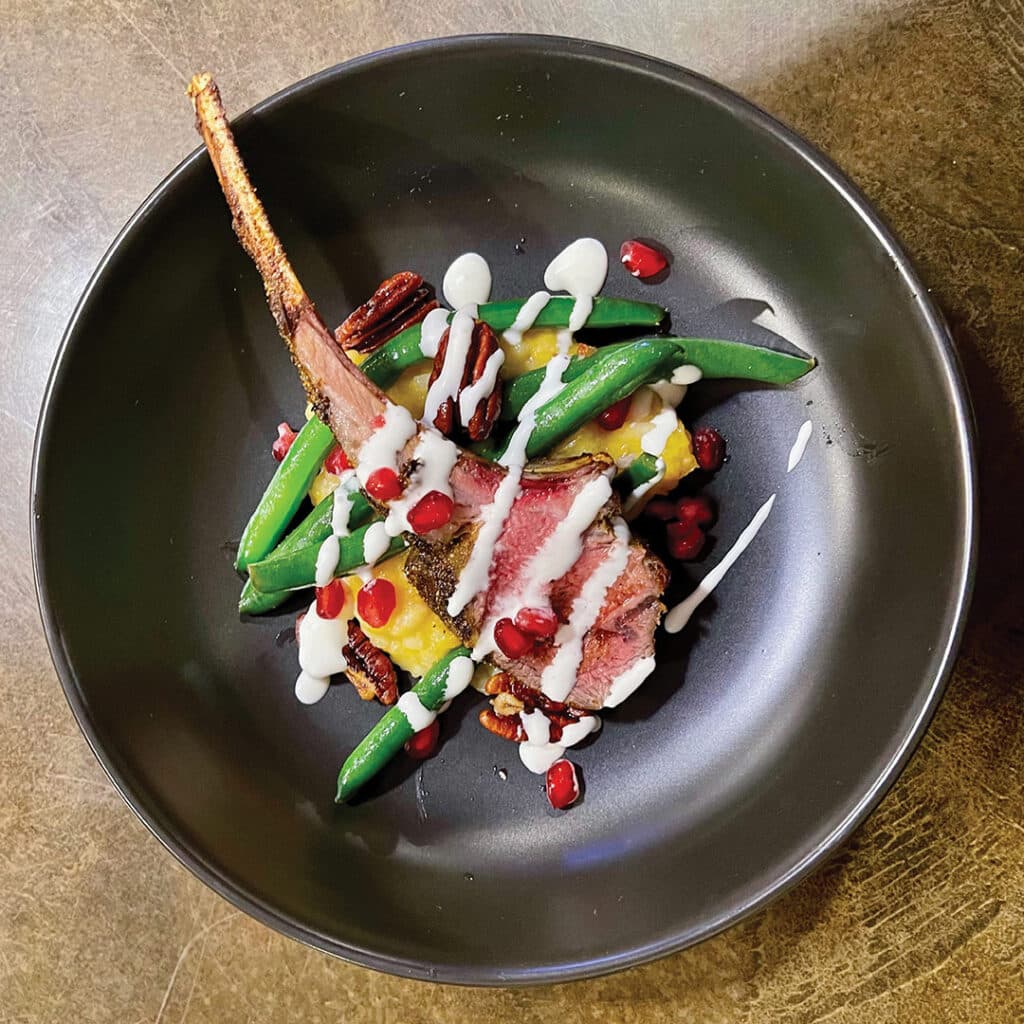 English Sauce Ingredients
(for the top of the lamb):
8 oz. cream cheese
1½ cups chicken stock
1 cup sour cream
Salt and pepper to taste
Moroccan Rub Directions:
Step 1: Thoroughly mix all ingredients in a bowl. Store up to 3 months in an airtight container.
Rack of Lamb Directions:
Step 1: Rub lamb generously with Moroccan spice rub.
Step 2: Sear lamb in very hot pan for 1-2 minutes each side, making sure to brown all the way around.
Step 3: Bake in oven for 10 minutes at 350 degrees.
Step 4: Let rest at least 20 minutes, or up to 3 hours. You can refrigerate for up to 2 days, but when service cooking time will very depending on how cold your refrigerator is.
Step 5: When ready to serve, cook at 350 degrees for 10 minutes for medium rare, 15 minutes for medium and 20 minutes for medium well.
English Sauce Directions:
Step 1: Blend all ingredients together with emulsion blender.
Step 2: Drizzle over top of lamb.
Recipe By:
Chef Josh Carey has been cooking for more than 20 years. Starting in a small pizza restaurant in the Bay Area, he loves cooking pasta and Italian food. He finished his culinary degree from Shasta College in 2012. He became a sous chef in 2015 and executive chef later that year, and opened his own catering company in 2021. Carey puts on five- to 10-course wine dinners in addition to catering for larger parties as a buffet. He can be reached at (530) 691-1345.