Good to Grow
Annie Hilton's California Peony Company…
A peony's stunning bloom and sweet aroma are hard to miss, especially when they're some of the first blossoms in spring. Depending on the variety, individual blooms can reach up to 10 inches wide and come in every color except blue. They make excellent cut flowers, can be grown throughout the United States, have buds that can tolerate refrigeration for weeks on end and typically last at least a week in a vase.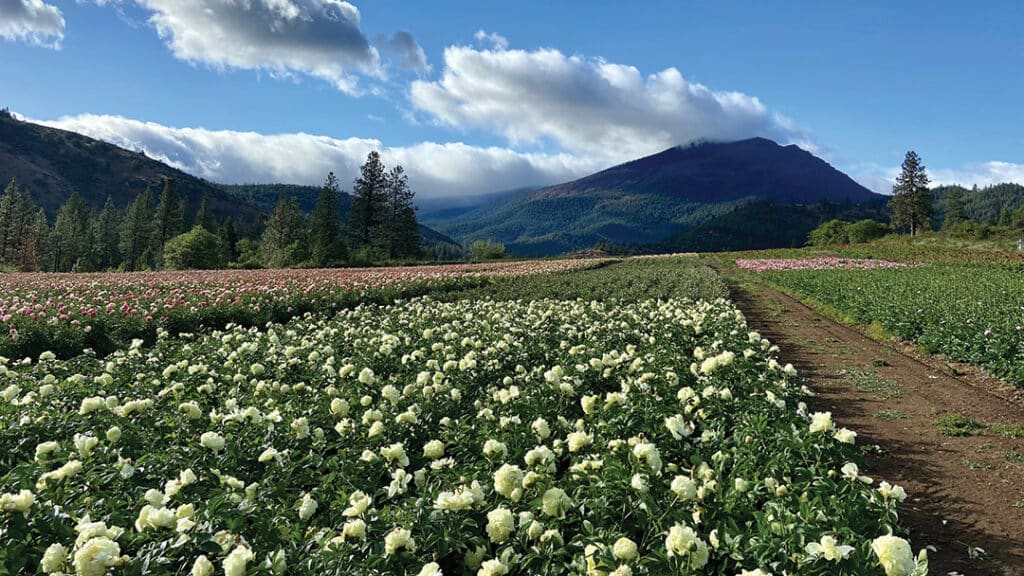 As a generally low-maintenance perennial, some peony plants can even live more than 100 years. In fact, many plants outlive the gardener who planted them. So, it comes as no surprise that these flowers have become a hobby gardener's mainstay and a bridal bouquet favorite. And when it comes to commercial peony cultivation, there's a budding new player in the market who's already making a name for herself.
Even though she lives in the tiny hamlet of Callahan, she's determined to outgrow her competition. "We have more than 10 acres planted, which is definitely the largest peony farm in California. It's pretty big," explains Annie Hilton, the owner and operator of the California Peony Company. "Last spring, we cut for a wholesale market and worked with a distributor on the California coast. We harvested close to 17,000 stems."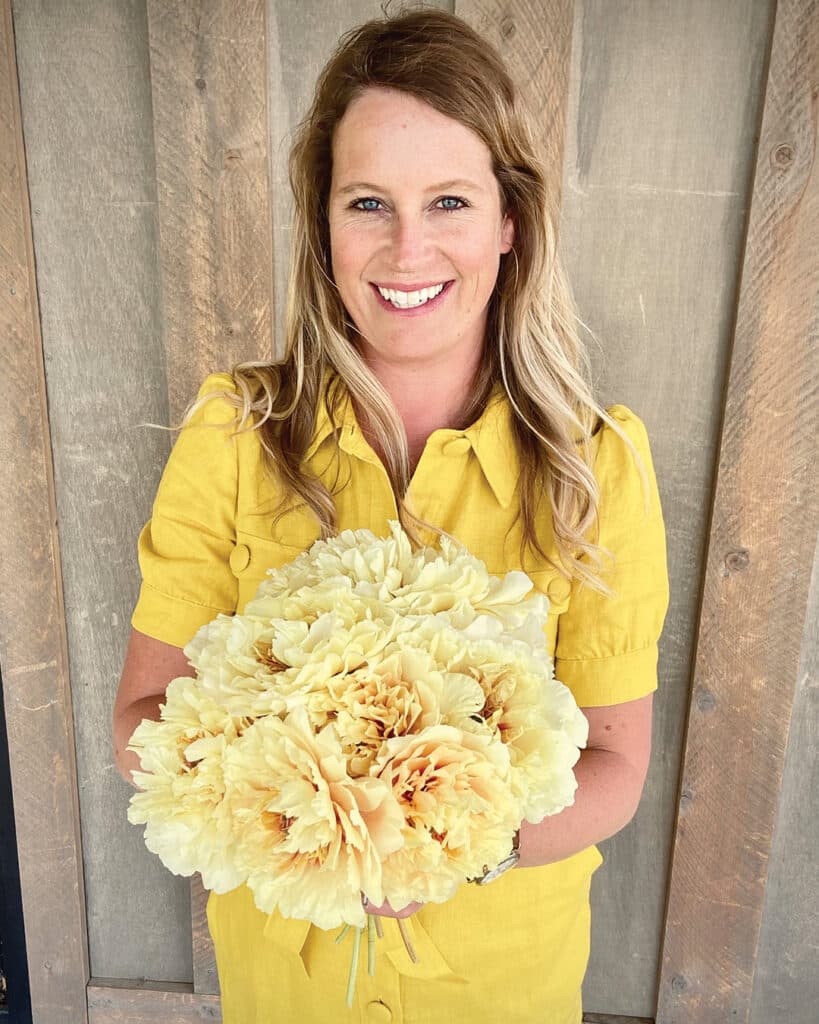 Peonies are native to Asia, Europe and western North America. The Tang Dynasty of China began breeding peonies in the imperial courts in the 7th century BCE and by the late 1800s and early 1900s, they began taking off in popularity in the United States. "They're one of the oldest cultivated flowers and were grown originally, especially in China, for medicinal purposes because they have anti-spasmodic properties for seizures. They have also been used in childbirth to help with pain," explains Hilton. Now, with more than 6,500 varieties of peonies on record, new ones are still being introduced every year.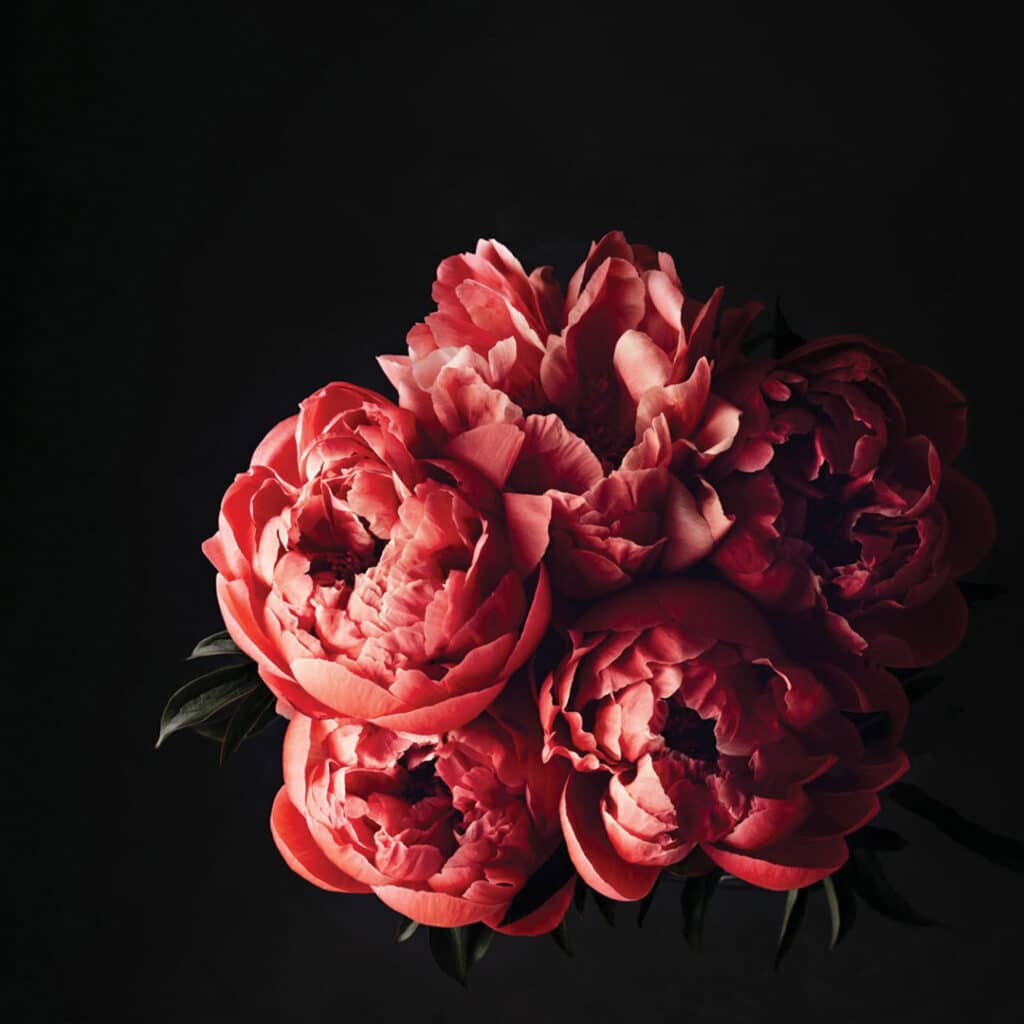 Diversity aside, all varieties fit into three main categories: tree, herbaceous and itoh (a cross between the other two). "I feel like when people think of peonies, they think of the big bomb, full petal and really fragrant white or pink blooms. But there are some really unique varieties out there. We are growing about 15 varieties that are great for cut flower production, but we also have some that we're doing tests with that have strong, straight stems so they don't need to be propped up as much." The historic diversity of the plants can be seen in the region around Hilton's farm. "What's neat around Northern California and Southern Oregon is that a lot of the old homesteads have peony plants. So it's cool running into people in public and they're like, 'Oh, my grandmother planted peonies that have been at our house for years and years and years.'" For Hilton and her family, the decision to plant a peony farm was not only a financial leap of faith but came after years of trials and tribulations. "I've always had a passion for growing flowers and love gardening on a personal scale, having grown up with my parents on their ranch and hobby farm. So, in 2013, I planted about an acre of flowers with more than 100 varieties. I took what I grew to some local farmers markets and tried to make it successful. But in our mountain climate, we have a short growing season, so to really make it worth my time monetarily, I knew I was going to have to invest in serious infrastructure to make the growing season longer." For Hilton, that's when peonies became the obvious choice. "In the bud stage, it's called a marshmallow. You pick it just when you start to see color, and you can keep them in cold storage out of water for up to six weeks. They also ship really well. So, it was in me and my husband's mind that if I did want to grow flowers, this is the perfect flower for our climate. We can grow it outdoors and don't need big green houses. We attended a peony growing conference in Alaska in 2018, and when we left, we realized we can absolutely do this. So, here we are."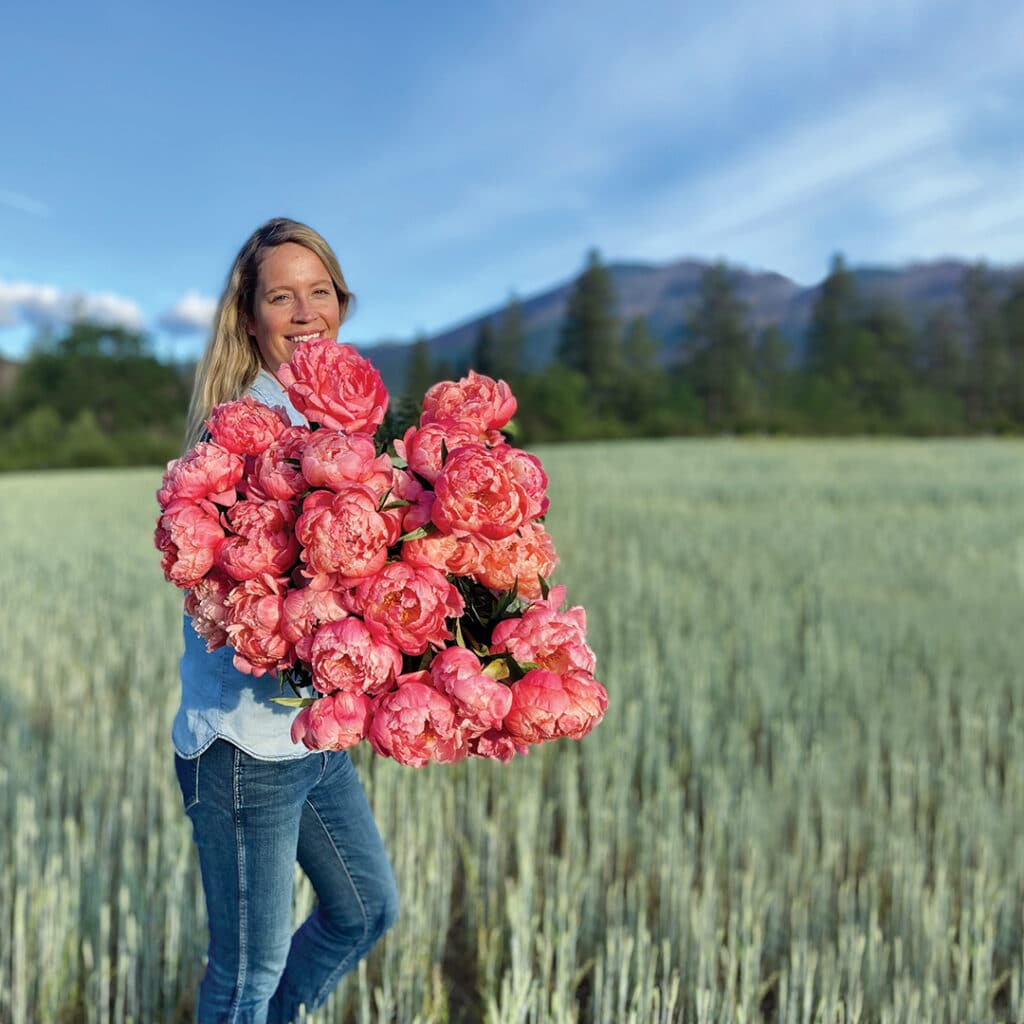 As a family undertaking, it's been a labor of love. "My husband and I both have had day jobs to maintain, so it's been pretty crazy spending the evenings and the weekends doing this. And with irrigation there's always plumbing problems or some other sort of large project we're working on. But hopefully, the idea is that eventually we'll be able to be doing this full-time, working seasonally with the land, with a product we love in a place we love," Hilton says, though with a laugh. "We keep telling our kids, as you get older, you'll see." •
California Peony Company www.californiapeonycompany.com