A Positive Difference
Youth Options Shasta…
This month, Enjoy sat down with Jennifer Coulter, Program Director for Youth Options Shasta
ENJOY: Tell us more about Youth Options Shasta.
COULTER: Youth Options Shasta was initially developed by a coalition of law enforcement agencies as the Youth Violence Prevention Council in 1996 to address gang violence in Shasta County. The organization has evolved over the years, and while the name has changed, the mission has stayed the same: to promote a safe and healthy community by providing positive options for youth. The Board of Directors is comprised of respected community leaders, including representatives from law enforcement, government, business, education and community sectors.
ENJOY: Briefly describe the various programs and services that you offer.
COULTER: Youth Peer Court (launched in 2003) provides "restorative justice" practices and pro-social peer influence to impact youth who have made poor choices. We serve up to 200 high school students a year, and youth also volunteer as jurors. Teens are held accountable for their actions and a plan is developed to help repair the harm to the victim and community while building skills to prevent future problems. Each young person is paired up with a volunteer youth Peer Advocate, and they do an amazing job at getting to the root of issues. Local Superior Court judges volunteer to hear cases in their courtrooms with a jury made up of youth. The program boasts a 94 percent success rate.
Youth Fire-Setter Prevention & Intervention is a nationally recognized program that provides unique, relevant and up-to-date information regarding the consequences of youth fire-setting through a multi- agency Youth Fire Prevention and Intervention Academy. About 20 youth per year who have been involved in fire-setting activities and their families learn useful tools that help them recognize the hazards of fire-setting, poor choices, thinking errors, and how communication repairs harm done while taking responsibility for their actions.
Shasta Youth Leadership Camp (SYLC) invites about 150 middle school students (campers) and about 40 high school students (counselors) to attend a camp that teaches them about leadership, communication, relationships, drug use and more. Camp is a collaboration with local law enforcement agencies and other community partners who volunteer as adult/supervisory staff.

The Youth Action Council (YAC) is a partnership with the City of Redding to engage youth with local government. City Council members and other city leaders connect youth with local government and offers opportunities to encourage youth to consider government in their employment choices.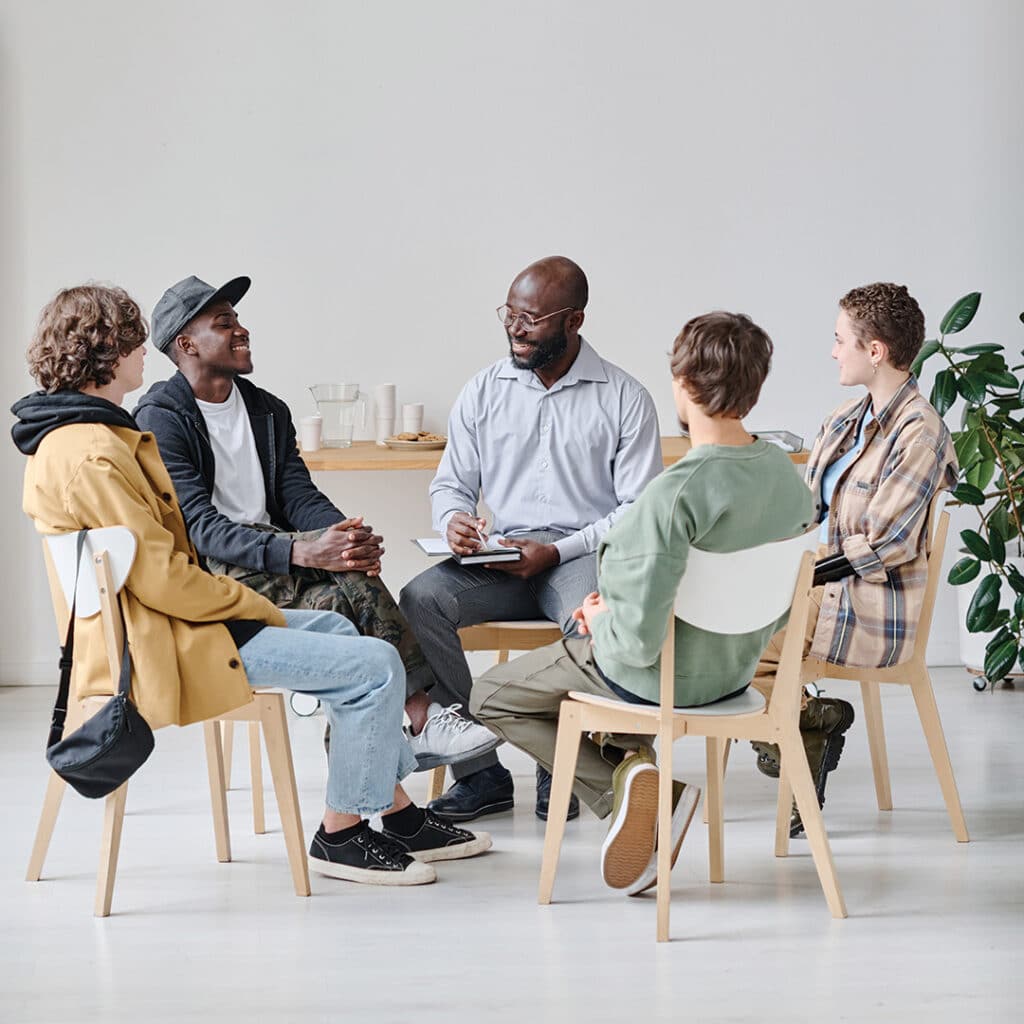 ENJOY: How has Youth Options Shasta made a positive difference in a participant's life?
COULTER: One young lady ran into a bit of trouble and was struggling in school and with her relationships with peers. After being connected with a Peer Advocate and working with our case managers, she found a safe place. She started volunteering and finding out that she has a voice and ability to help others. Through this process, she improved her relationships with teachers at school and her grades improved. She was able to join the track team and became a spokesperson for restorative justice.
ENJOY: What qualifications do you look for in a mentor?
COULTER: We are looking for adults who are good listeners and provide a sounding board, are flexible, are knowledgeable and able to give constructive feedback, value a diversity of perspectives, are knowledgeable and nonjudgmental, and are honest and candid. They go through training and a background check, and are expected to work with a child for about one hour per week for at least one year.
ENJOY: Do you collaborate with local schools or community organizations?
COULTER: Yes, we work closely with groups that include Catalyst Mentoring, the Martin Luther King Jr. Center, the Redding and Anderson Teen Centers, Shasta County Office of Education, and more.
ENJOY: How can someone volunteer?
COULTER: You can find out more about the available options at our website, www.youthoptionsshasta.org/volunteer •
www.youthoptionsshasta.org