Mini Lemon Blueberry Galettes
These mini galettes are a sweet and simple rustic style dessert full of fresh, juicy blueberries wrapped in a sweet lemon pastry crust. These tiny treats will satisfy your taste buds and fill your kitchen with the loveliest aroma while baking. Enjoy!
Mini Lemon Blueberry Galettes
PREP TIME: 40 MINUTES
CHILL TIME: 30 MINUTES
BAKE TIME: 20 MINUTES
MAKES: 12-14 MINI GALETTES
FILLING INGREDIENTS:
• 1 ½ cups fresh blueberries
• ½ T cornstarch
• 1 T lemon zest
• 1 tsp. lemon juice
• 1 tsp. vanilla
• 2 T brown sugar
CRUST INGREDIENTS:
• 2 cups flour
• ½ tsp. salt
• 2 T sugar
• 2-3 T lemon zest
• 1 cup (2 sticks) cold butter, cut into cubes
• 3 T cold water
• 3 T lemon juice
• 2 T heavy whipping cream
• Raw or coarse sugar (optional)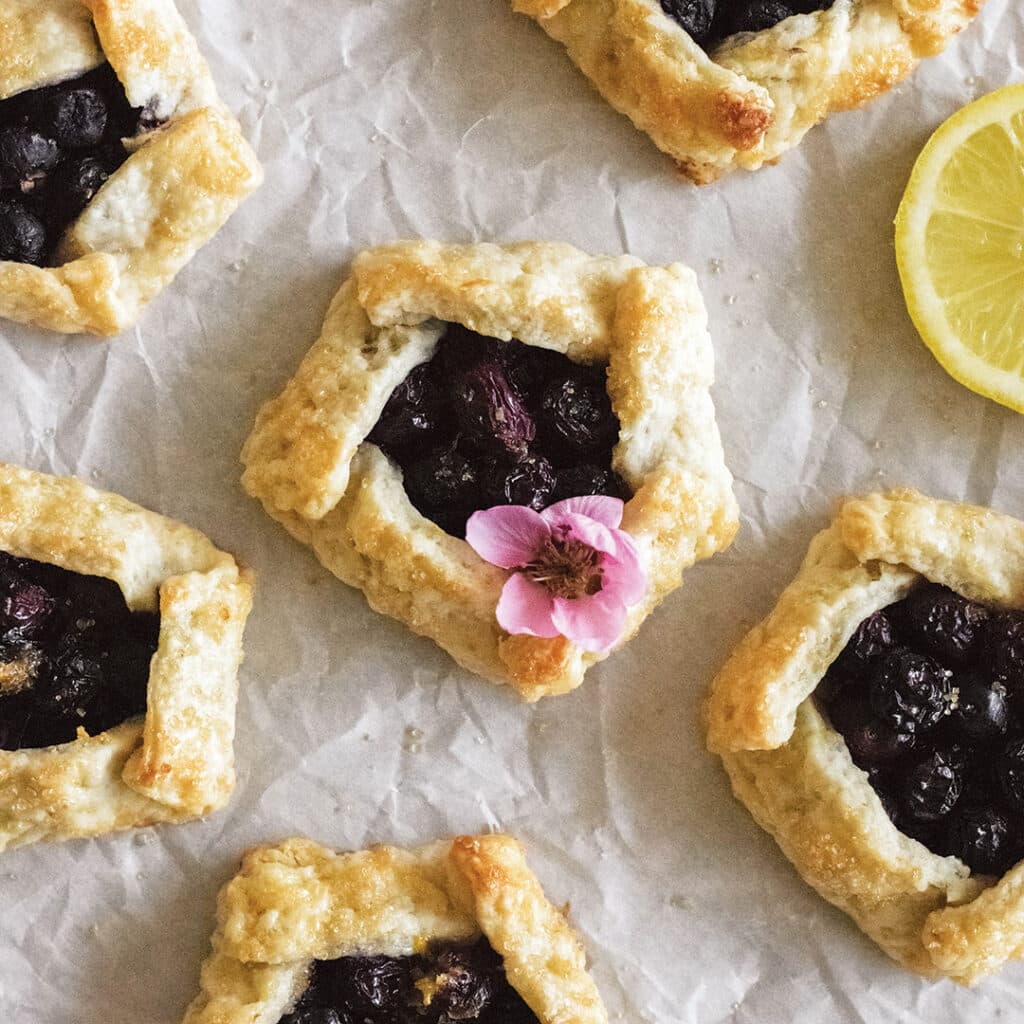 DIRECTIONS:
Step 1: Zest 2-3 large lemons in a small bowl and set aside. Juice the lemons into a small bowl and set aside. Line two baking sheets with parchment paper and set aside.
Step 2: Prepare the filling by adding the blueberries, cornstarch, 1 T lemon zest, 1tsp. lemon juice, vanilla and brown sugar to a medium-sized bowl. Mix together, making sure the blueberries are fully coated. Once coated, place the filling mixture into the refrigerator to chill.
Step 3: Prepare the crust by adding flour, salt, sugar and remaining lemon zest to a large bowl. Whisk together until fully combined. Next, cube the cold butter and add it to the flour mixture. Use a pastry cutter to incorporate the butter into the flour mixture until pea-sized crumbles form. Add the cold water and lemon juice to the dough and mix in until combined. Use your hands to bring the dough together and form it into a ball shape.
Step 4: On a floured surface, use a rolling pin to roll out the dough about 1/8-inch thick. Use thetoprimofabowloralarge circular cookie cutter to cut out approximately 41⁄2-inch circles
from the dough. Place cut-out dough pieces onto the prepared cookie sheet. Repeat until all the dough has been used (or until you've cut out 12-14 circles).
Step 5: Remove the filling mixture from the refrigerator and use a tablespoon to scoop the blueberries onto the center of each dough circle, leaving about a 3/4-inch border all the way around. Use the dough border to make five small folds around the blueberries, starting on one side and working your way around. Be sure to push the dough firmly onto the next fold so it will keep its shape during baking. Once each galette is assembled on the baking sheets, place in the refrigerator to chill for 30 minutes.
Step 6: When 5-10 minutes of chill time remains, preheat the oven to 375 degrees. Before baking, use a pastry brush to brush the top of the dough with heavy whipping cream, then sprinkle on raw or coarse sugar, if desired. Place the baking sheet on the middle rack and bake for 20-22 minutes. Enjoy the mini lemon blueberry galettes warm with some vanilla ice cream or let them cool on the baking sheet. Store in an airtight container to keep fresh for a couple of days.
LOVE OUR RECIPES?
Come into Enjoy the Store in Redding each month and ask for your FREE recipe card.