Chestnuts Roasting
Harrison's Fresh Chestnut Soup…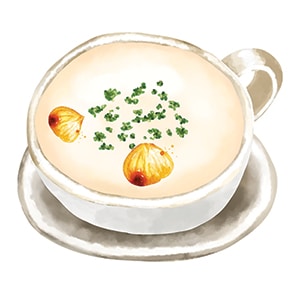 Ingredients
6 T unsalted butter
12 oz. fresh chestnuts, cooked, peeled (1 lb. fresh)
1 carrot, peeled and sliced
1 parsnip, peeled and sliced (optional)
1 cup celery, finely chopped
6 cups chicken or vegetable broth
¼ cup Madeira wine
Pinch nutmeg
Salt and pepper, to taste
2 sprigs parsley, fresh, finely chopped
Pinch cayenne pepper, or to taste
¼ cup sour cream or cream fraiche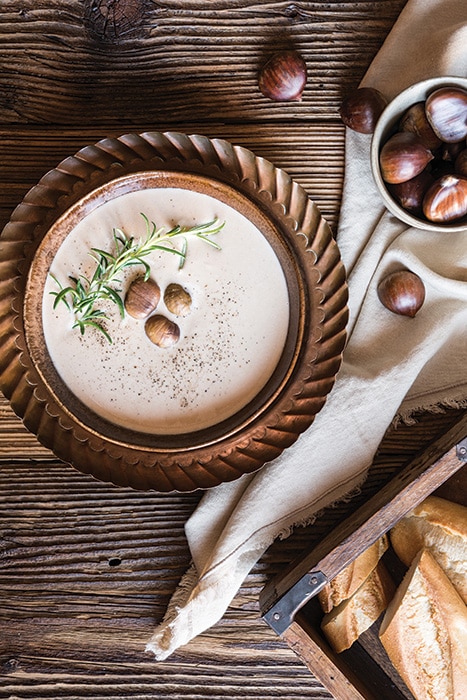 Direction to Prepare the Fresh Chestnuts
Step 1: Rinse the fresh chestnuts in a colander with cool water.
Step 2: Use a large heavy knife to cut chestnuts in half. Carefully place the nuts in a pan of boiling water and cook for 8 minutes. Remove them from the pan and place in a bowl of ice water. The ice water chills the nuts quickly and helps release the shell and the inner skin (pellicle) from the chestnut. Remove the shell with a chestnut knife or paring knife and peel off the pellicle.
Step 3: Use these prepared fresh chestnuts the same day to make Harrison's Fresh Chestnut Soup, or store them in a sealed container in the refrigerator for a week, or in the freezer for several months.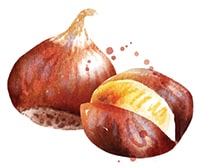 Direction to Prepare the Soup
Step 1: Sauté the fresh chestnuts in 3 T butter over medium heat until heated through (about 5 minutes). Set aside.
Step 2: In a large saucepan, melt the remaining butter and sauté the sliced carrots, parsnips and celery until tender (about 7 minutes). Add the stock, prepared fresh chestnuts and wine. Bring to a boil, then simmer 30 minutes; season with a pinch of nutmeg and salt and pepper to taste. Puree the soup with an immersion blender, blender or food processor. Reheat as needed before serving. Garnish with parsley, cayenne pepper to taste and sour cream or cream fraiche.