Beauty in Decay
Artist Ellen Hedfield…
A depth of awe and respect for everything old and weathered speaks directly from Ellen Hedfield's watercolor paintings to her viewers. Her art relays the dignified beauty that old things exude, after having been worn by their service, and often set aside to age, gather dust and rust. These aged entities are never lost on Hedfield. Whenever something worthy of her appreciation for its service to humankind captures her attention, she quickly jumps out of her car or wanders directly off the trail to record its stunning beauty, storing it safely within her phone. Once at home, she recreates these older structures, signs and vehicles, calling viewers to experience the nuances of the most unnoticed places and things. Hedfield is an artist with an intent focus on the detailed nature and texture of everything that surrounds us.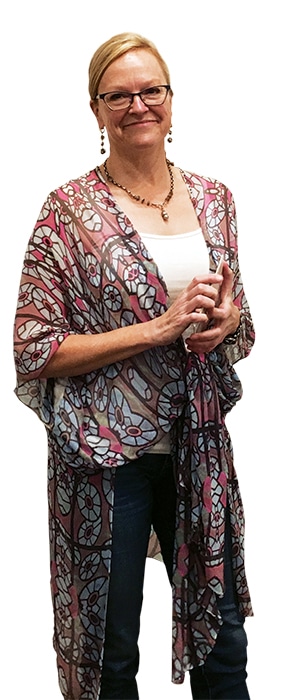 Hedfield's work was displayed at her solo show at the Mosaic Gallery at Turtle Bay in Redding from August through October. At the opening, a viewer stated, "I love her work. Her paintings jump right off the paper at you." Hedfield was pleasantly surprised to discover the show favorite among those in attendance was "Last Stop," a painting of four buses lined up in a "retired bus boneyard in Williams." One admirer wrapped up his leaning toward this painting, reminiscing about his hippie parents and their travels all over California in an old VW bus. Hedfield notes, "In the bus painting, I see them as four old friends who have served their purpose, and been sent off to the boneyard, but they are still together. I personify these objects and give them a little character. My watercolors bring up old memories for viewers." Another woman was drawn to her painting "Ludlow – Bypassed," sharing, "It reminds me of when I was a kid and our family moved to California, driving Route 66." Hedfield explains, "There is a melancholy, a sentimentalism that surrounds the subjects I choose to paint."

Hedfield was born and raised in Detroit, and she moved out west to work as an environmental engineer, ultimately settling in Redding. Primarily self-taught, she began her exploration of art in the 1990s. In her early architectural paintings, "My engineer brain digs into the mechanics of how to make a painting work. 'Sorry No Vacancy' was like a puzzle to paint. I had to work out how the neon is projected forward from the sign, while the shadows are cast backwards, back onto the sign. In 'Curvature,' the painting of the railroad trestle over the Sacramento River, the precision of the different support structures, and having the cross beams in the correct order make the depth feel right. I enjoy figuring out how to get a complicated painting set up correctly. My engineering background informs how shadows are cast and how perspective works."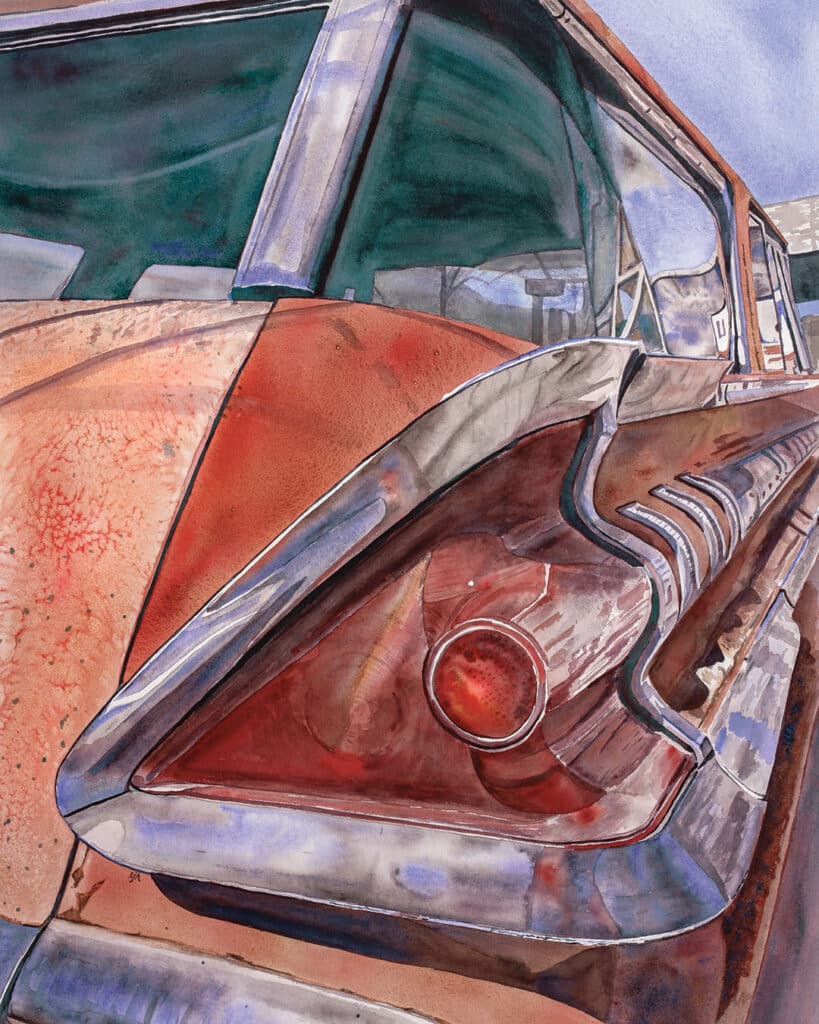 Hedfield has since shifted to textural works. Her watercolors are unique in the way she skillfully captures the bursting colors that old things — often considered dull or dusty — actually transmit. In her painting "The Color of Rust I," she transforms the nuts, bolts and an I-beam on a weathered bridge employing full-on, vibrant technicolor. The cornflower and azure blues, the crimson and vermillion reds, and the copper and cinnamon browns blend with goldenrod, violet and forest green. Her mix of rich colors bursts forth from the paper, making the rough surface of rust tactile to viewers. How can nuts and bolts become so engaging? Hedfield paints them in a way only she can do, paying homage to the way small things come together to make up larger constructions. Her art gives viewers a chance to bask for a moment "in a sentimentality for the specialness of the ordinary."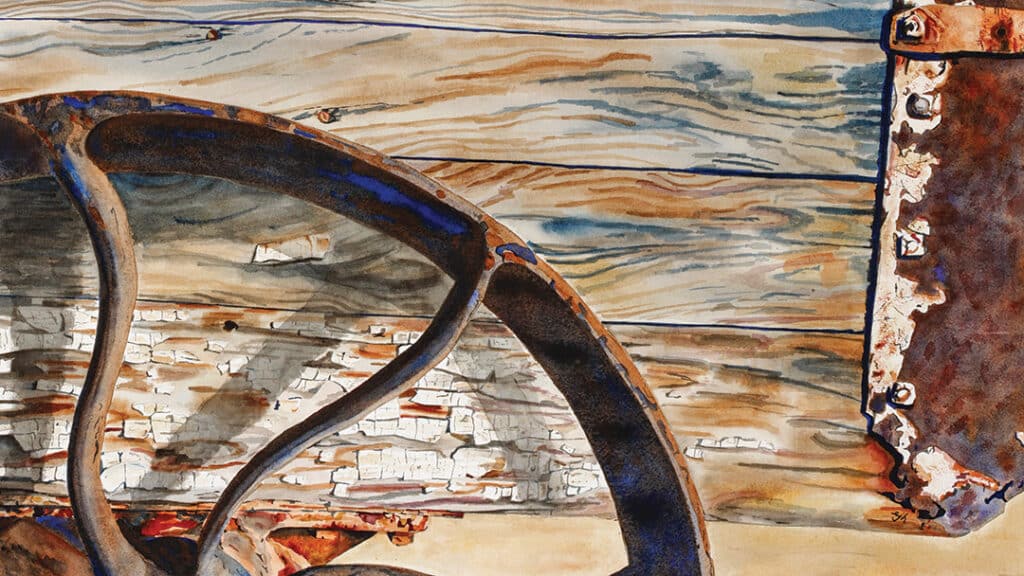 Hedfield loves to explore the mountains, deserts, small towns, railways and back roads of the Western United States. This is what inspires her paintings. "There is a beauty and dignity in the ordinary things that surround us," she says. "I choose my subjects carefully, to communicate the sense of place and history I experience in their presence." Whether it's a neon hotel sign watching over the Mojave Desert, an old station wagon left unused, a row of four buses in a junkyard or a tangled fuse box at an abandoned motel on Route 66, all of her paintings give everything old, a new life. She also sheds new light on familiar local sites, painting a train covered with graffiti and the Gerlinger Steel sign, brushing new life into their weathered surfaces, and revealing their worthiness of our admiration. Her work encourages viewers to take a second look at everything around them, to see their surroundings with new eyes, and with admiring hearts, the way she does. Hedfield's use of vibrant color and watercolor paints to recreate the beauty she sees in her subjects, and the way in which she reinvents the old, turning it into something new, is simply stunning. •
www.ellenhedfieldart.com
Article Written by:
Ann Sittig is a writer and a lover of North State nature. She is passionate about teaching Spanish and sharing her knowledge about Spanish-speaking culture. She is the lead author of The Mayans Among Us: Migrant Women and Meatpacking on the Great Plains.