Beyond the Brews
Trinity County Brewery in Weaverville…
A chance encounter during a walk in the woods led to a partnership that continues to brew up good times and community spirit in Weaverville.
Neil Petersen is the brewing part of the Trinity County Brewing Co., adding a lifelong interest in making beer and cider and extensive experience as the lead brewer at Woody's Brewing Co. in Redding.
Jake Corella brings a wealth of hands-on restaurant experience, an appreciation for beer, and a trunk full of ideas, tips and observations gleaned from lengthy stints as a delivery driver serving restaurants, bars and stores throughout the state.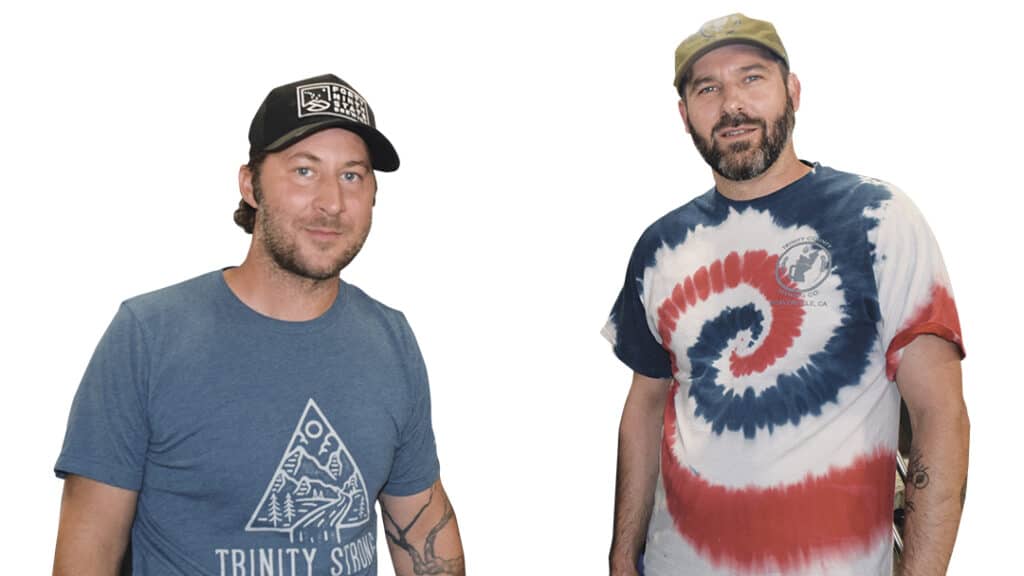 Both are avid outdoorsmen and it was rather serendipitous when they met in 2011 while hiking the 2,653-mile Pacific Crest Trail. The trail was a little lonelier back then, Corella says, with about 350 starting the hike and about 100 completing the border-to-border trek. Chery Strayed's bestselling memoir "Wild" was published in 2012 and interest in the Pacific Crest Trail skyrocketed.
The two reconnected a few years later while rock climbing in eastern Shasta County, and the idea of teaming up to open a brewpub began to gather steam. Petersen was living in Round Mountain at the time and brewing at Woody's, while Corella was living in Redding and delivering liquor in Trinity and Humboldt counties for Young's Market.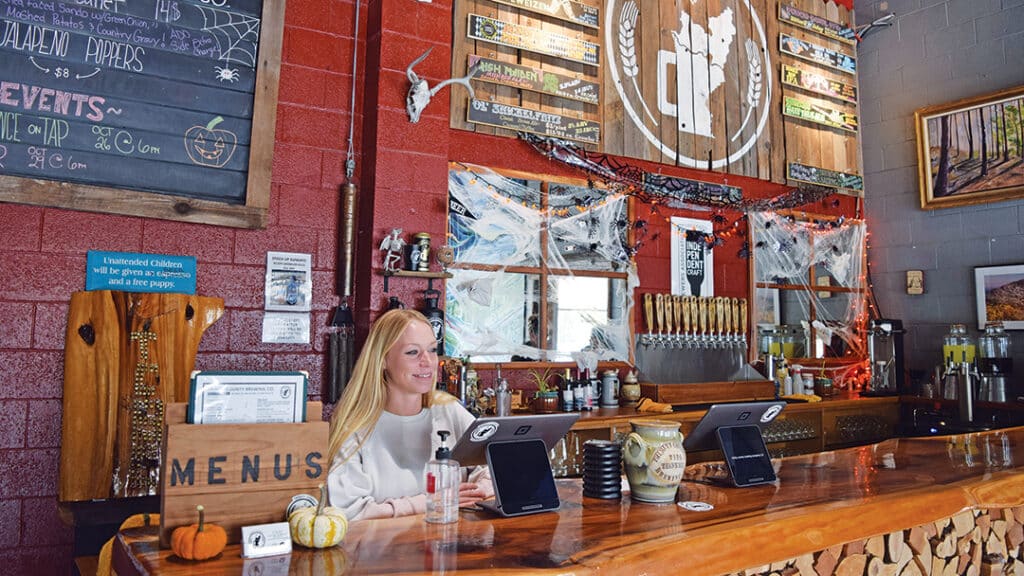 Picking a location for the brewery was an easy call. The Redding craft beer market was already fairly saturated and Corella has deep family connections to the Trinity County seat. Corella's mother, Angela Adrian, has family roots in Weaverville dating back 100 years.
The partners found a suitable building at the west end of Weaverville's main street (the former Lou Girard Ford dealership) with room for a kitchen, brewhouse, taproom and generous patio. Transforming the building into a brewery and pub was a huge job and the two tackled it with help from friends, family, contractors and craftsmen.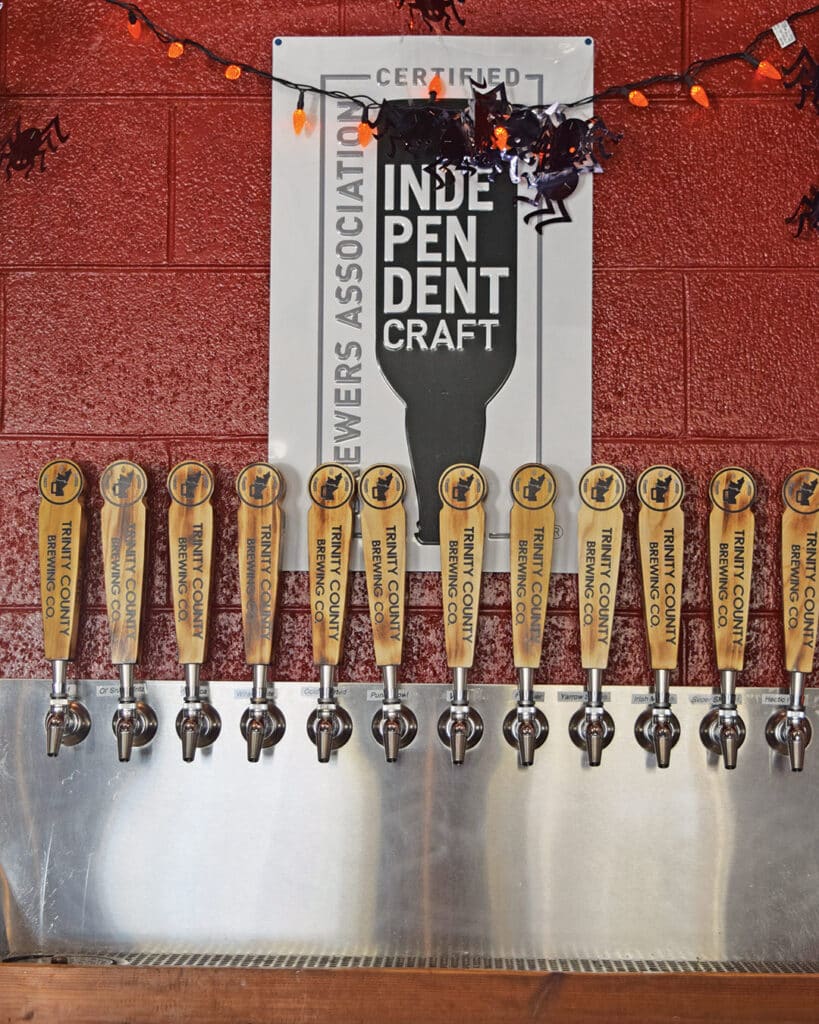 Local touches abound, like the thick redwood slab tables and bar, and design touches like a map of the Trinity River on one tabletop and an inlaid chess board on another. Restroom sinks fashioned out of redwood and kegs are another nice touch.
The process was not without its challenges: A month after the building's purchase, Petersen was diagnosed with Stage 4 colon cancer. "I won the epic lottery of lotteries," he says of his recovery.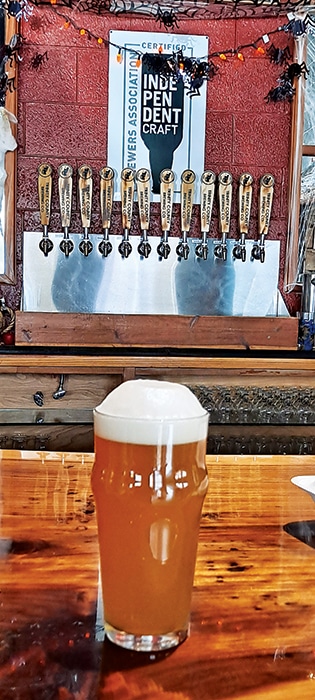 Corella says they were hoping for an upbeat pub environment when Trinity Brewing Co. opened in May 2020, and is gratified to note the brewery "has definitely become a hub. It's not just a drinking establishment, it's a gathering place. We have a lot of showers, fundraisers and anniversaries here." Live music livens up the scene a couple times a month, as well.
Pat Zugg, a volunteer at the Trinity County Visitor Center, says the brewery has been a welcome addition to Weaverville. "Almost everybody in town likes it. It's packed almost all the time. They're part of the community. They're always trying to do things down there, which is great, like their 'Science on Tap.' They're constantly out there, trying to promote the community."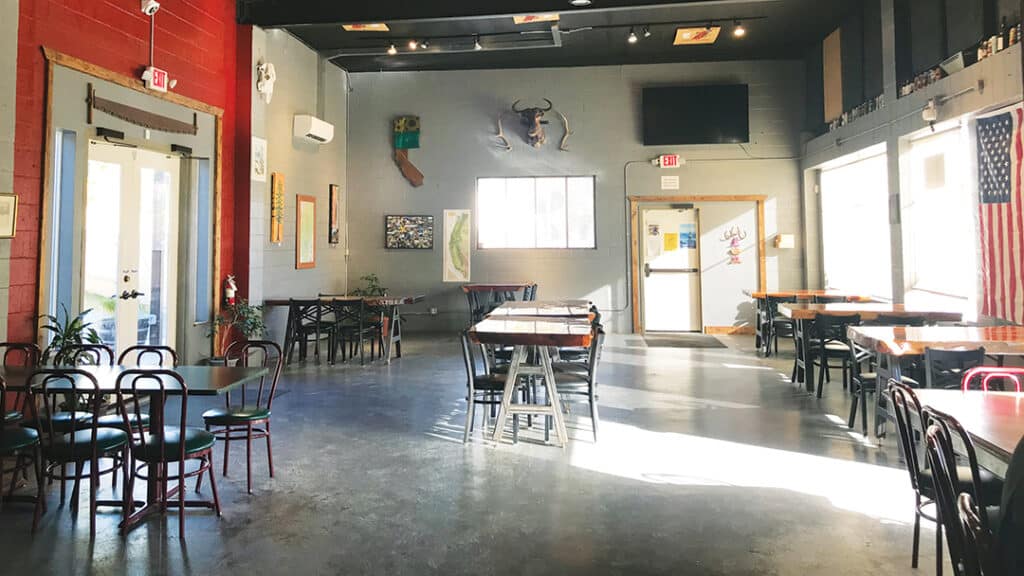 Petersen likes to promote a nice variety of beer. "I hate to walk into a place and see 18 of 20 taps are an IPA," he says, referring to the hop-forward style of beer that's been a West Coast craft beer mainstay for years.
Petersen likes to dabble in sours, cider, wheat beers, lagers, red ales and saison ale. Hopheads won't be disappointed, however, with Punch Bowl IPA, Super Smash and Cold-Hearted Woman on tap to provide plenty of that pucker power.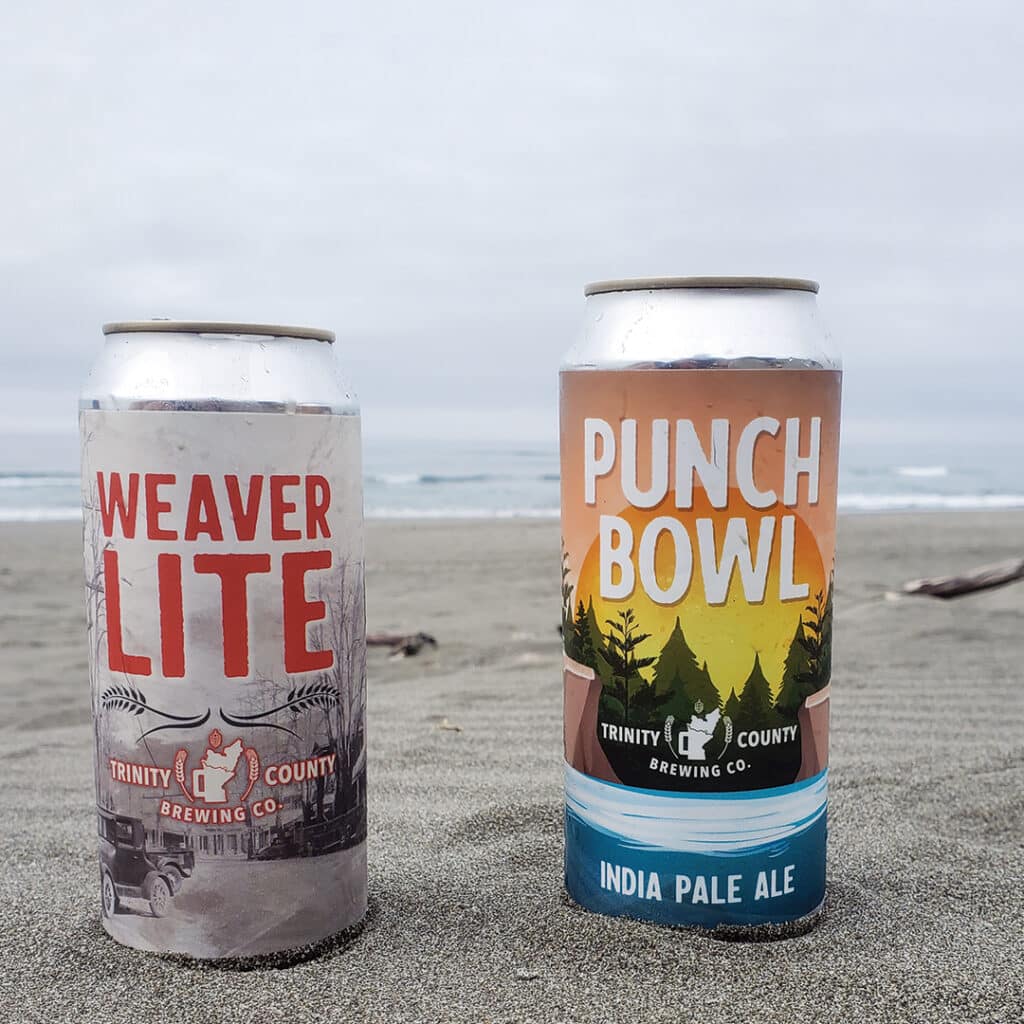 The beer menu is a perfect complement to the kitchen offerings that include smoked tri-tip, brats, burgers, chicken sandwiches, house-made fries and a rotating list of specials.•
Trinity County Brewing Co.
308 Main St. (Highway 299), Weaverville
(530) 423-3114
Hours: Wednesday through Sunday, 11 am to 8 pm; closed Monday and Tuesday
www.trinitycountybrewery.com