Market Street Blade and Barrel Turkey Stuffing with Cranberries
Tired of the same old stuffing? Our friends from Market Street Blade and Barrel have have kindly shared their recipe for Turkey Stuffing with Cranberries, and if you add this to your holiday feast, you may find yourself assigned to bring stuffing for every Thanksgiving moving forward. Enjoy!
Recipe courtesy of: Market Street Blade and Barrel
Total time: 2 Hours 30 Minutes
Serves: 8
Ingredients:
8 cups stuffing croutons
2 large carrots
6 stalks of celery
2 medium yellow onions
2 leeks
6 cloves of garlic
2 medium shallots
2 T Herbs de Provence
6 sage leaves (fresh)
6 thyme sprigs (fresh)
¼ cup bacon fat
(any fat, oil or butter will work
as a substitute)
2 eggs
1 to 2 turkey necks
1 bag of giblets
(should come with the turkey)
1½ cups of sun-dried cranberries
1 orange
1 T powdered sugar
3 cups water
2 T sherry
White wine
Salt and pepper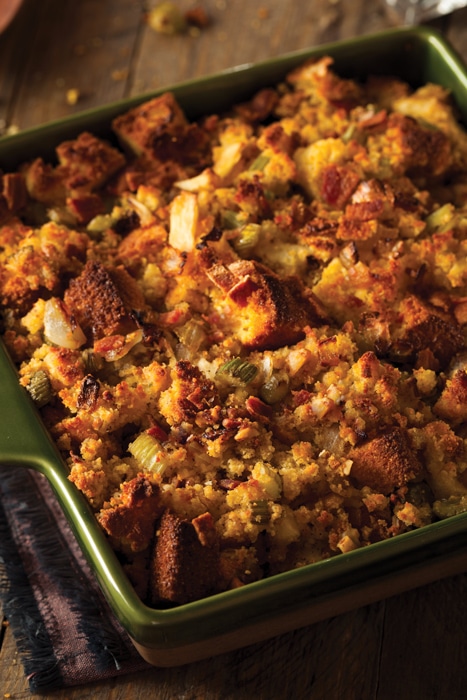 Directions:
Cranberries: Zest orange, then cut in half and juice. Mix with powdered sugar and sun-dried cranberries. Add to last cup of water, set aside to plump, about 2 hours.
Making the Mirepoix: Peel carrots and onions, then medium-dice carrots, celery and onions. Small-dice garlic and shallots, split leeks in half, then slice into thin half-rings. Put everything in a bowl and set aside, leaving the garlic aside.
Making Turkey Stock: In a small saucepan, melt 1 T of bacon fat on high heat. Add one third of the garlic and the turkey neck(s), whole. Let brown for 1-2 minutes. Then add one-third of the mirepoix. Let cook until the onions start to soften and caramelize, 3-4 minutes, using a wooden spoon stir occasionally. Don't let anything stick to the pan. Deglaze the pan with white wine, add half of the sage and thyme, then add 2 cups of water. Reduce heat to a simmer. Cook until turkey neck meat is falling off the bone, about 2 hours. Strain the stock through a colander and put back in pan. Pull out the turkey neck(s), set aside to shred later.
Making the Stuffing: Pre-heat oven to 350 degrees. Chop giblets and shred all the meat off the turkey neck(s). In a large saute or cast iron pan on high heat, add bacon fat. After fat has melted add the remainder of garlic, giblets and sherry, and season with salt and pepper. Cook until browned. Add in remaining mirepoix and cook until tender. Chop up remaining sage, pull thyme leaves from stems and add to pan. In a large bowl add croutons with 2 eggs and Herbs de Provence. Drain cranberries and mix w/ croutons. Add mirepoix, giblets and shredded turkey to crouton mix. Mix in half of the turkey stock and season with salt and pepper to taste. Put in oven-friendly pan or casserole dish. Add remaining stock as needed, make sure it's generously moist without getting loose.
Cover with parchment paper and wrap with foil. Bake for 30 minutes. Uncover and return to oven for 12 to 15 minutes, or until golden brown. Pull out, let sit for 10 minutes and enjoy.
Tips:
*Next Level. For a more homemade approach, you can make your own croutons. I use sourdough baguette chopped into cubes of any desired size. Toss in melted butter, olive oil, Herbs de Provence, granulated garlic, salt and pepper. On a sheet pan, toast in the oven at 350 degrees for 10 minutes. Remove pan, stir contents, bake again for 2-4 minutes, or until golden brown. Then remove from oven and let them air cool/dry overnight.
Simplify. For a simpler approach use a store-bought stock and skip step 2. Turkey, chicken or vegetable all work.
LOVE OUR RECIPES?
Come into Enjoy the Store in Redding each month and ask for your FREE recipe card.