It Takes a Village
Unique N' Shabby Chic Boutique…
One of the best compliments Michele Brown has received – and there have been many – for her large and eclectic shop, Unique 'N Shabby Chic Boutique in Red Bluff, is "this is like adult Disneyland!" It's common for her to hear a lot of "wow!" and "this place is huge!" Each exclamation is a validation of her decision one year ago to purchase the shop and keep it from shutting its doors, stranding the 20 or so vendors who had generated the synergy that made the place one of her favorites.
"I stopped in every Wednesday for keto food from the previous owner. Then I brought in jewelry, a small display at the counter," Brown says of her introduction to the business she would eventually buy. "We had so many vendors in here and I just loved the store, so I decided to take it over," she says. "I actually didn't have any experience at all with antiques or retail. I jumped in with my eyes closed."
Her career history has been in In-Home Supportive Services, and she has worked with challenges from cerebral palsy to elder care to mental illness, all of which would make retail feel like a piece of cake. "I always dreamed of having my own store," Brown says. "I didn't know how it would happen."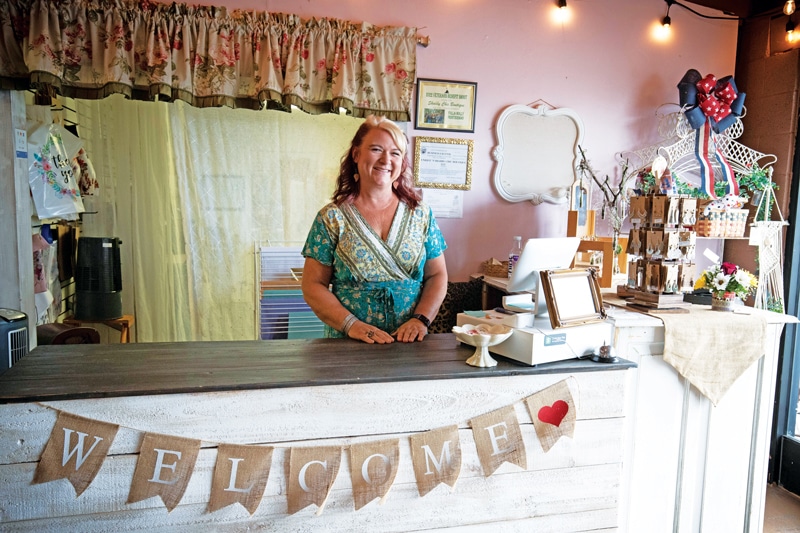 It turned out it would happen with the support of other vendors who would not only cheer her on, but offer up vital services to make the place a success. "I couldn't do this alone, not without the help of my vendors," says Brown. Genie Murdock of Genie's Galleria stepped in to help with management and Connie Hanson, another vendor, has been walking side by side with Brown as she's grounded herself in the world of retail business. "I feel proud of stepping up and taking over, of giving people the opportunity to stay in business. I don't know where everyone would have gone," she adds. "And the building is perfect for this. You don't realize how big it is until you walk inside."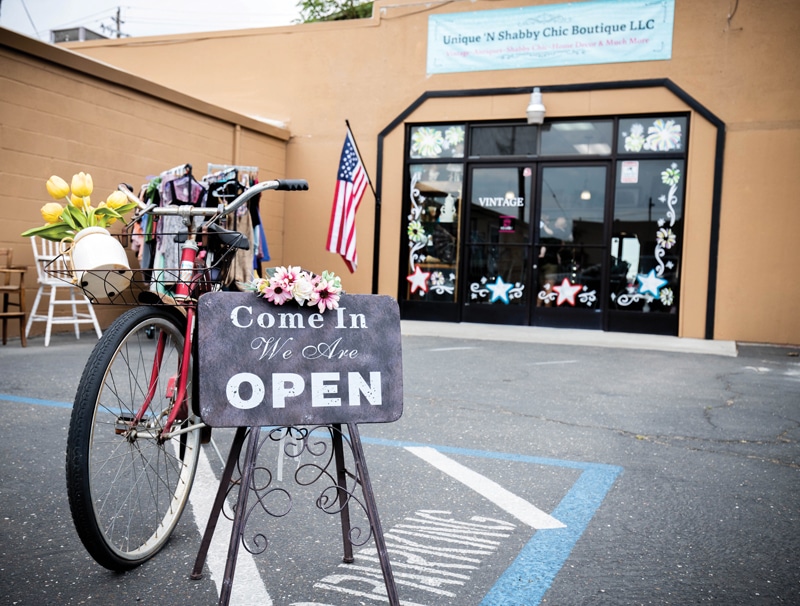 Affectionately called "The Shabby," Brown's venture is a collaboration of 30-plus vendors who bring a wide array of creativity and ingenuity to the 5,000-square-foot space. Much more than an antique mall, its vendors specialize in everything from vintage to crystals and homemade baked goods, jewelry, glasswork and upcycled home décor. "You name it, we probably have it," says Brown. "If you're looking for a gift, you're going to find it here, because we have everything." One room, operated by sisters, is whimsical and bright painted in purples and blues. "I direct everyone to that room because it's the fun room," she says with a laugh.
While The Shabby is proud of its eclectic selection of vendors, it does include a few traditional antique spaces, helping to prop Red Bluff 's once-stellar reputation as a destination for antique shopping. A few vendors who once had large shops on Main Street have set up space at The Shabby.
To delineate The Shabby as a new, exciting retail space in a building that has gone through its share of changes over the decades, Brown had bright and vibrant murals painted on the exterior walls. "This place has been so many things," she says. "This is so much different than anything it's ever been. Then it's fun when people discover it and say they can't wait to bring their friends here." Two of the murals were painted by a vendor, Tommye Carlon, and a third was done by noted Red Bluff artist Lacy Wilson.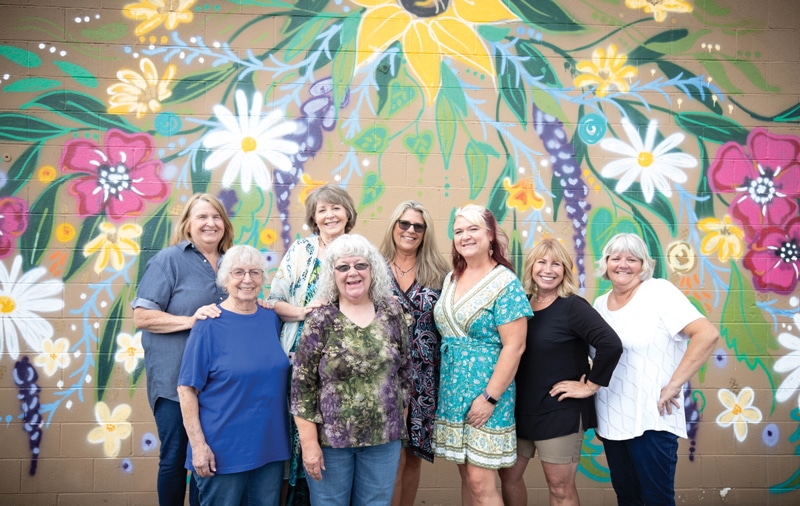 "It truly has everything for anyone here," says Connie Quadros, a vendor with great appreciation for Brown and her willingness to grow The Shabby into a space that works for all involved. She especially loves the camaraderie with other vendors.
One of the murals designed to invite people in says, "It's always a great day at The Shabby." It's a sentiment Brown seems to embody. "We are always changing," she says. "And the customers love that." •
Unique 'N Shabby Chic Boutique • 707 Walnut St., Red Bluff Find them on Facebook