Art Scene
Karlo Henry and Art for Everyone…
Thirty minutes into a three-month art show and people were clearing out the walls. It felt like an auction hall. Viewers shot up fistfuls of cash. There was a line out the door. At this rate, the old blank wall of the IOOF Hall would begin to show; there would be no paintings left. At least this is what Karlo Henry, curator of the art show, was thinking.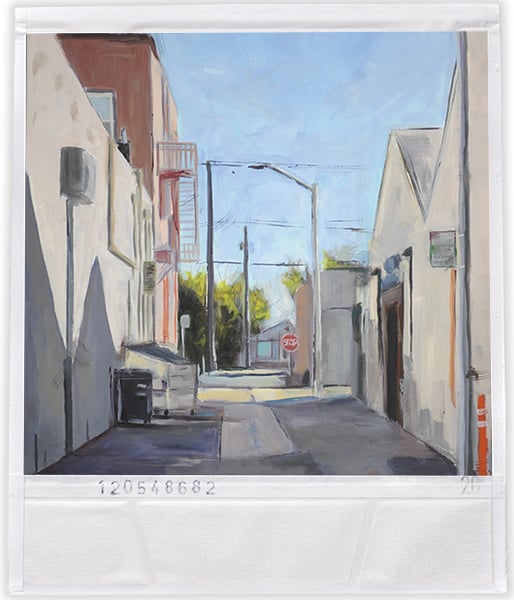 Four years ago, finding artists was tough going. Henry recalls walking through Redding, desperate to find signs of art life. Finally at a comic book store, a painting caught his eye. There's art here! He asked the person at the cash register how he could get in touch with the artist. Maybe he would join his show.
At Henry's first Redding art show, Art OutSide, he convinced 15 local artists to showcase their work,
including the comic book fan. A handful of paintings sold. Most of the foot traffic came from surprised Turtle Bay walkers. There's art here?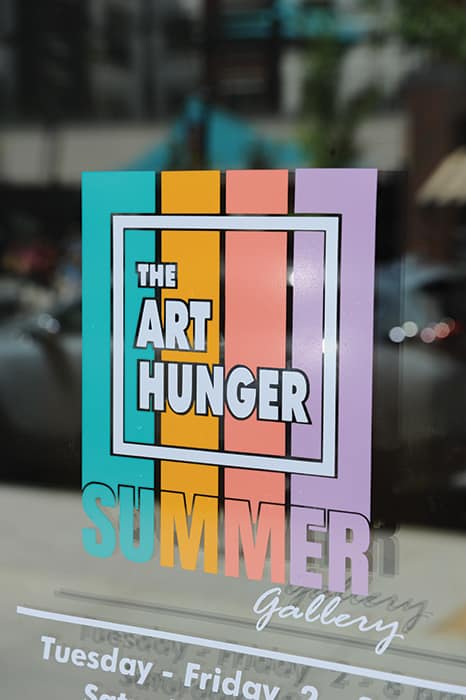 Now at the IOOF Hall, 65 artists were represented, and every viewer chose to be there. What began as a haphazard collection of paintings has become a movement. Henry's themed art shows at the IOOF are quickly becoming a staple of summer in Redding's downtown. Henry calls it The Art Hunger; the city is hungry for more.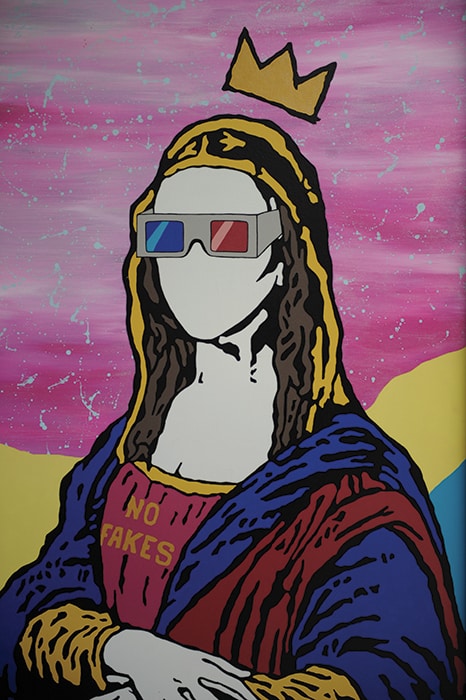 Henry, or "El Henrucho," is the man behind the movement. "I hate it when people say Redding has no culture," he says. Henry sees Redding as a place full of culture. Someone just has to make a space to draw it out. Michelangelo-like Henry carved away at the Redding art scene and set free a few angels, artists hiding in the marble.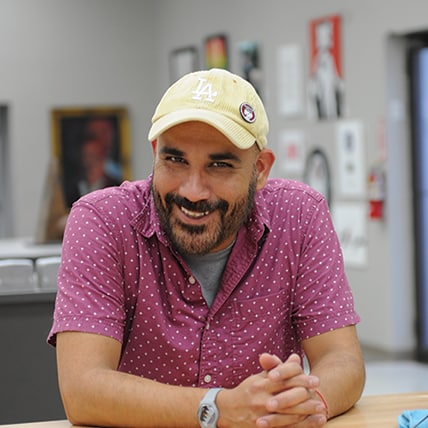 Henry always had an eye for seeing what others could not initially see. He grew up in the north of Spain, the child of a lawyer and a doctor, but he was an artist. His father is Mexican and his mother is from the southern Spanish city of Seville. Always feeling too Mexican to be Spanish, too southern to be from the north, Henry describes himself through the words of that Sesame Street song, "One of these things is not like the others." This is what gives Henry the knack to spot the difference today, his gift for seeing artists hiding in broad daylight.
Henry knows what it's like to be on the outside, driving him to create spaces of belonging. This shows up all over his artwork. Henry's pieces show that street art belongs in professional galleries; pop culture deserves the same attention critics give the highbrow stuff; Sesame Street quotes capture complex childhood emotions. Outside Henry's workspace hangs the Mona Lisa. She's wearing a t-shirt. It reads, "No fakes." Her wry smile says it all.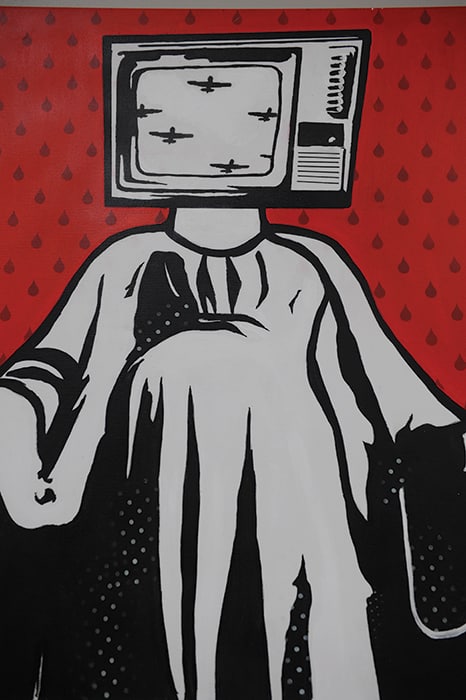 It's this blend of reverent/irreverent that marks Henry's work. It's why walking through a Karlo Henry art gallery reconnects you with your mischievous 8-year-old self, the one that imagined a bunch of Stormtroopers disrupting your piano recital. "Art is for everyone," Henry says, frequently.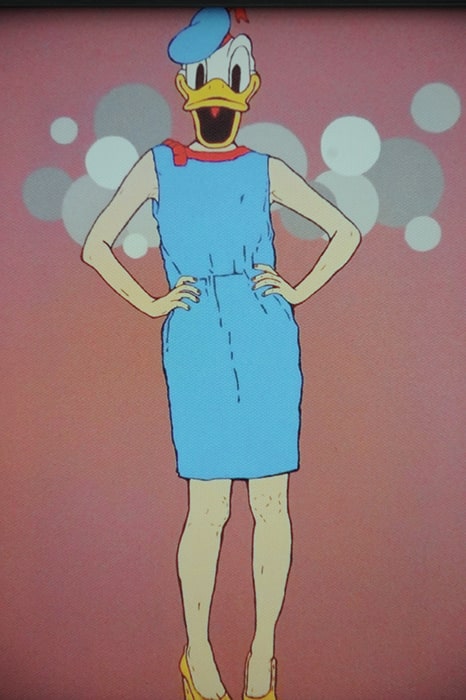 El Henrucho was made for "Out West." Like pioneers and cowboys, he's a self-starter, not afraid to get his hands dirty. The mantra, art is for everyone, has blood, sweat and cat poop behind it. Henry converted a Redding alleyway into a gallery. He spent his day clearing out cat poop before installing any art panels. Curating local art galleries is a lot less glamorous than drinking a full-bodied Bourdeaux while surrounded by artistic inspiration. It often looks like lifting and stacking panels. "Those are my best friends," Henry says, pointing at the panels.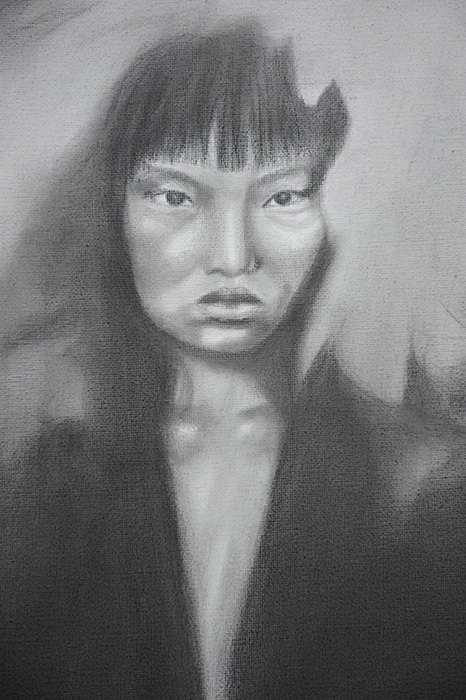 Luckily, on day one at the IOOF Hall, Henry's show did not sell out of artwork. That show was one year ago, and over summer of 2021 the city saw Henry and The Art Hunger at work. Henry is part of the story of Redding becoming a city vibrant. Redding has much to say and Henry is one mouthpiece giving it voice. Organizations like Viva Downtown and individuals like John Truitt recognize Henry and are partnering with his vision. Donuts and Brews is Henry's latest art show, on display through the summer. Line up and be a part of the movement of Redding's growing art scene. If enough show up ready to buy paintings, maybe this time we will get to see the whole of the old blank wall of the IOOF hall. •
www.thearthunger.com/karlohenry • Find Henry on Instagram @elhenrucho
Article by:
Ben LoCascio writes children's curriculum at HeartSmart TV. His senior thesis was awarded
highest distinction and an enthusiastic zoom wave at Brandeis University. It was COVID.
Ben lives in Redding, and you can find him in front of any nearby espresso machines,
thinking about having just one more cappuccino.