To the Extreme
Xtreme Adventure Rentals Takes the Hassle out of Maintenance…
If you're looking for fun ways to get out in the mountains or on the lake this
summer, then Xtreme Adventure Rentals in Redding has everything you need to get the utmost exploring in.
Fully stocked with standup paddleboards, mountain bikes, quads, kayaks, UTVs/ATVs (side-by-sides) and even trailers, Xtreme Adventure Rentals is ready to help usher people into their memorable outdoor experience without the hassle of owning and maintaining their own equipment.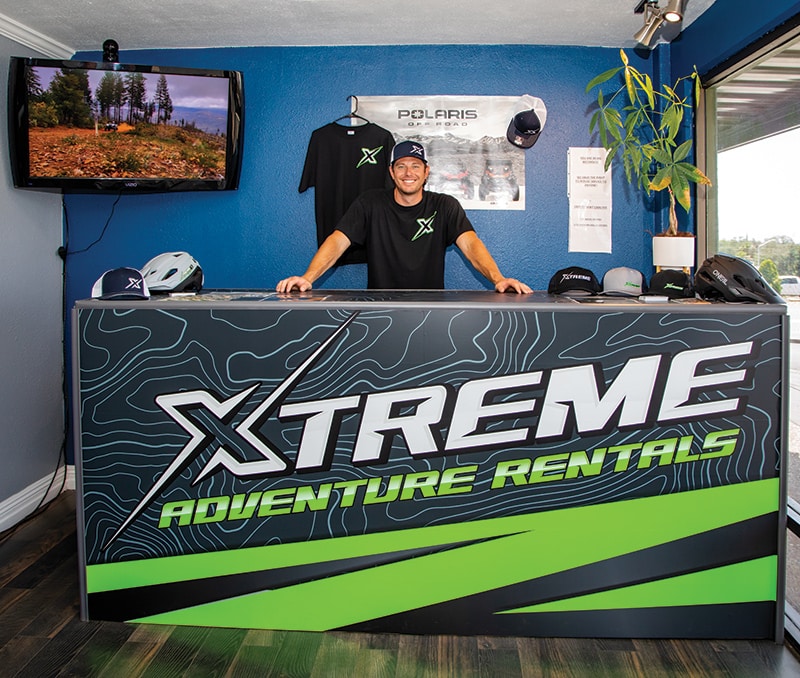 Xtreme Adventure Rentals Owner Ryan DeVarsos is fairly new to the Redding area; however, his wife Ashley grew up in Northern California and still has a lot of family here. "Her parents live in Klamath. We moved here before the Carr Fire from San Diego and opened a landscape installation business, but I loved kayaking, dirt bike riding, being outside. I was born and raised in Colorado and did a lot of wilderness outdoorsy stuff," DeVarsos says.
Whenever the DeVarsos came to Redding, they noticed other people likely visiting their families for the holidays as well, out mountain biking and riding ATVs on the ChappieShasta OHV trail. Being world travelers themselves, backpacking through Europe, Japan and Thailand, the DeVarsos were always looking for fun activities. The couple went kayaking on Lake Como in Italy, bungee jumping in Switzerland, paddleboarding in Hawaii, and ziplining, kayaking and scuba diving in Thailand.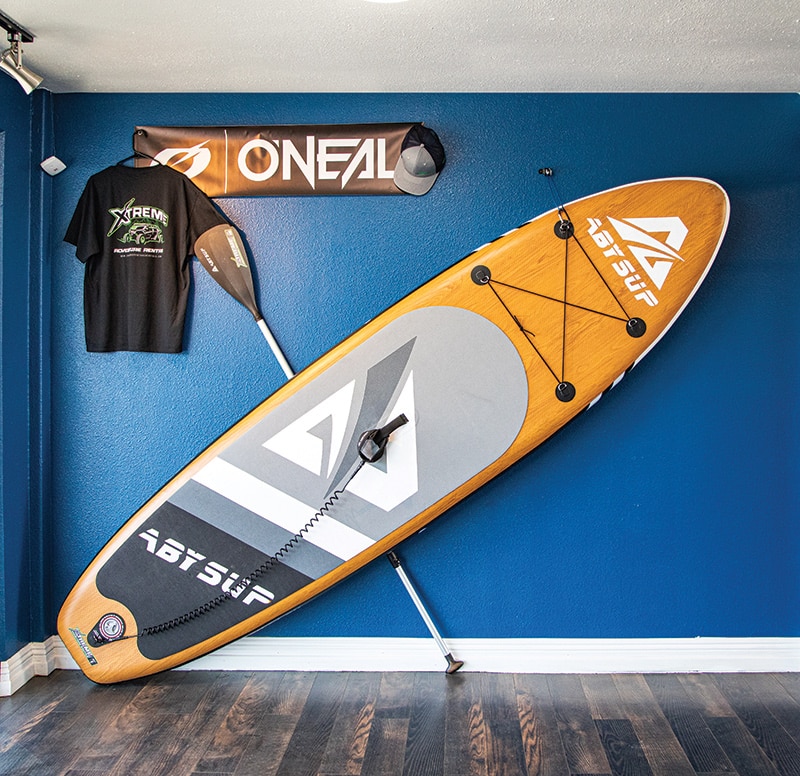 "We saw the demand for outdoor activities for travelers. Redding is growing so big so fast, and there are many travelers, since it's the largest city north of Sacramento before the Oregon border," he says.
Since Xtreme Adventure Rentals obtained its building on Victor Avenue and fixed it up to support its extreme adult toy business, the couple officially opened in January of this year and business has been going well so far.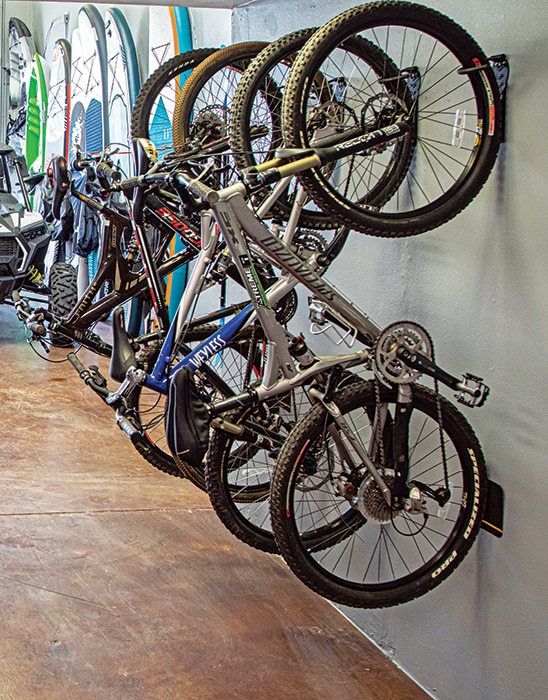 "I realized that there wasn't much competition in the adventure rental market and people have been cooped up for two years because of COVID and are yearning to get outside. This is a way to get outdoors. We were seeing how people have been getting more involved with outdoor sports equipment, but it's expensive. It's easier and cheaper to rent it and use it for a day. Let it be someone else's issue to deal with the maintenance, storage of it," DeVarsos explains.
"I think people have been coming up to Redding to visit family and are looking for something to do," he adds. DeVarsos recalls when there was an 80-degree sunny day this past February, Xtreme Adventure Rentals had a spike in kayak rentals. Xtreme gets a wide variety of requests on taking out its outdoor equipment, depending on what the weather is like. "ATVs are the most popular in the winter; kayaks and mountain bikes go out when the weather's nice. And the side-by-sides are going out, too."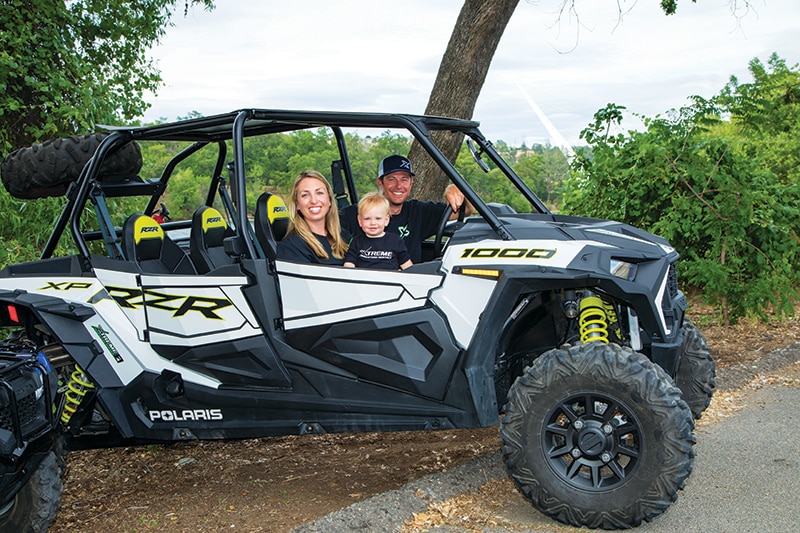 People can rent equipment for the day so that they have time to travel to their preferred trail or lake to use it and not feel rushed to get it back. Xtreme offers 5-day/7-day rentals on ATVs or 8-hour rentals on paddleboards and kayaks. Its fleet includes single kayaks, tandem kayaks and a variety of paddleboards – built for yoga, people of all sizes, and more competitive/advanced paddlers.
DeVarsos' favorite outdoor activity is riding the Chappie trail on the ATVs and UTVs. "My favorite thing to take out is the side-by-sides. I like getting out in the mountains; I'm a mountain guy. But when the temperatures are nice, I like to go to the lake. I like paddleboarding a lot, and kayaking."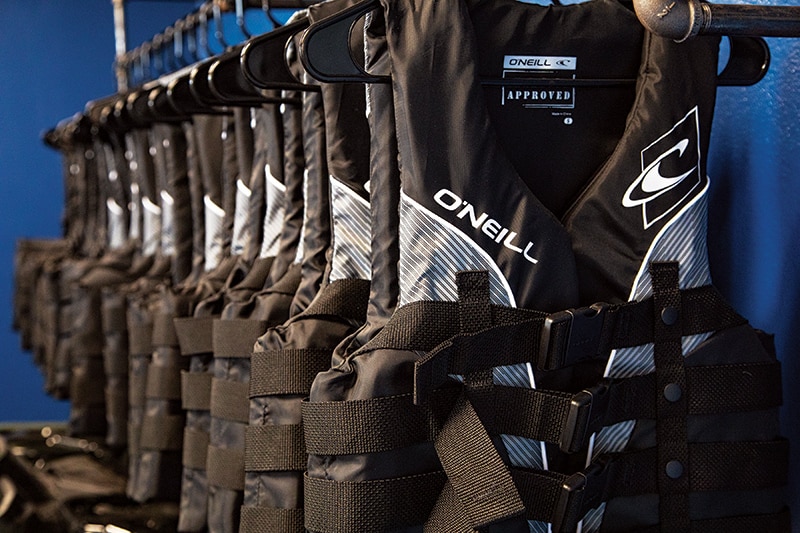 Whiskeytown is his favorite body of water to paddle in. "It's sunk in the mountain range and the water's usually like glass in the mornings. Oak Bottom is nice; you can spend an entire day out there and not be in a lot of boat traffic. There's a beach, picnic areas, it's not too crowded." Xtreme also has another employee, Mason Vandergriff, who grew up in Cottonwood and likes to go dirt bike riding in the Keswick area. DeVarsos says that he and Vandergriff are kind of two peas in a pod in managing Xtreme Adventure Rentals.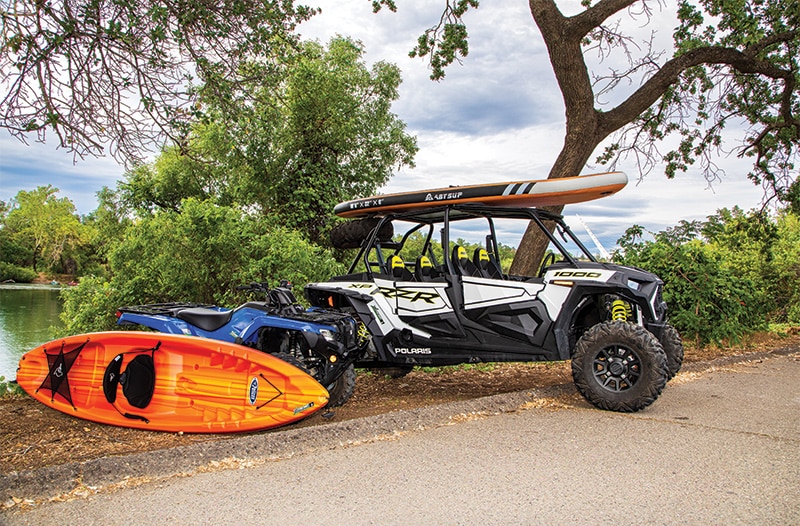 Vandergriff says that the abundance of outdoor activities such as rock climbing, fishing, whitewater kayaking and riding quads is what makes Shasta County unique, and he enjoys his job at Xtreme Adventure Rentals because it's so different.
"We're family-owned and operated, a local business. We just want people to enjoy the outdoors as much as we do. And we have the most competitive prices in town," DeVarsos says.•