In the Spring of Things
Small Steps For a Fresh Start
Springtime. It's the fresh start we've waited all winter for. The air is laden with newness. The birds are singing their sweetest songs. The grass is the greenest it'll be all year long. The flowers have decided it's time to come out and bloom. And why shouldn't you do the same? Let this change of season be just the inspiration you need to flourish in the moment. Follow along for some great ways to spring into spring.
OUT WITH THE OLD
They don't call it spring cleaning for nothing. It's time to lighten that load. You've been looking at some of what's in your closet, garage or storage unit for months, knowing it's high time to part ways with what's no longer working for you. Create four piles: keep, sell, donate, trash. If you don't love it, use it or need it, let it go. If it's past its expiration date, bid it a final farewell. A clutter-free environment isn't just good for creating more physical space – it creates mental space, too.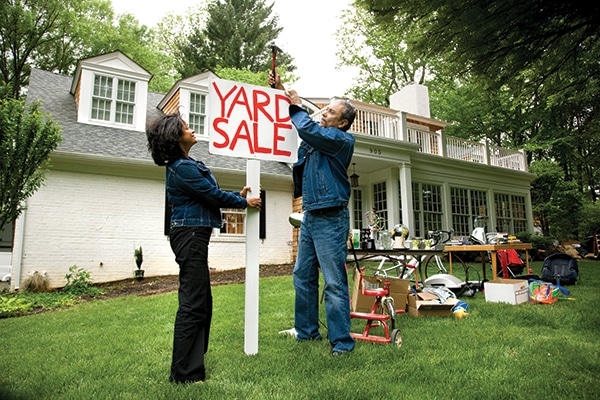 BRING THE SALE TO YOUR YARD
While the extra cash is a great motivator, think of a yard sale as a great way to connect with your neighbors. Make it a fun family project and use the proceeds toward a household purchase everyone can enjoy or a family vacation. Make readable signs and place them strategically at various entry and exit points throughout your neighborhood. Post about it on your social media channels. Have the kids set up a lemonade stand or share bottled water with your customers. Make the decision ahead of time to donate items that don't sell, so you don't end up starting the vicious cycle all over again.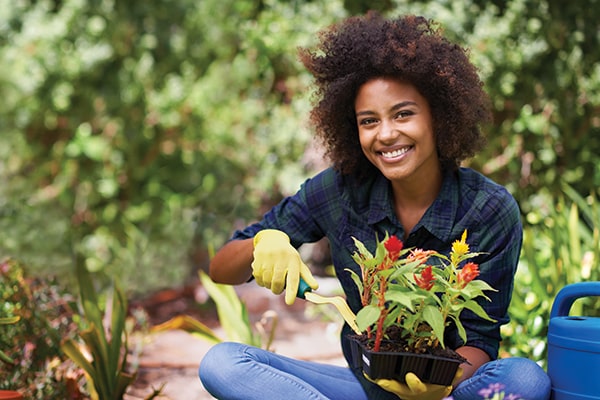 GET YOUR HANDS IN THE DIRT
Feeling soil in your hands has a way of restoring the soul, but it takes some front-end planning to bring in a good harvest. Whether you are planting a vegetable garden, fruit trees or flowers, consider your space, the kind of sunlight in that area of your yard, and how much water is needed. Do the plants you have in mind do better in the ground or will they work in a pot or planter? Do you plan to start with small plants or seeds? All of these are important considerations when it comes to planning your ideal garden. A little research and a lot of patience will go a long way. The joy of it all is in the possibilities.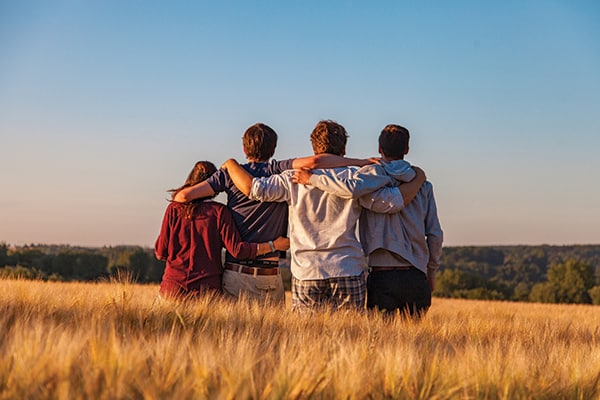 SAY CHEESE
Time has a way of slipping by so quickly. Before you know it, the tiny children in the photos on your wall have morphed into full-grown teenagers. Spring is a great time to schedule a family photo shoot. Not only will you capture the beauty of the season in your images, but it'll give your family a chance to bond in nature during one of the most uplifting times of year. While coordinating outfits are always fun, be sure that each family member is wearing something that feels authentic to them. It may not end up being that picture-perfect family photo, but their confidence is sure to show up on camera.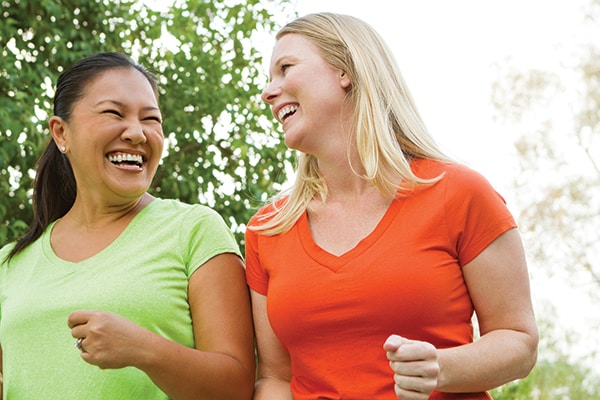 GET IN THE GAME, SPORT
Whether it's a pick-up game of basketball at a park, a weekly pickleball game or the commitment to join an adult soccer league, spring is the perfect time to get some outdoor exercise and make connections. Sports have a way of achieving both goals simultaneously. If you aren't into a team sport, set up a time to meet up with friends for a morning or evening walk or bike ride. Exercising with others provides a level of fun and accountability that makes sticking to a routine easier. It's good for the kids. It's good for the teenagers. It's good for the adults. It's good all around.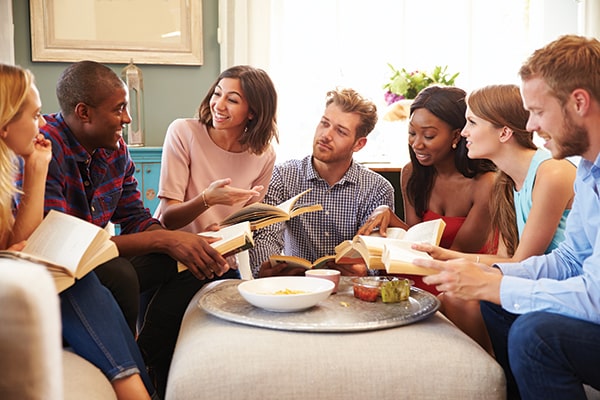 BOND OVER A GOOD BOOK OR MOVIE
If reading a good book or watching a good movie is the cake, having the space to discuss it amongst your friends is the icing on top. Good books and films have the power to encourage dialogue that may not happen otherwise. These conversations can open us up to new perspectives and help us get to know others and ourselves better. Start your own club this spring by gathering fellow book or film lovers together with drinks and food, and watch the magic happen. Make sure everyone on your guest list has had ample time to read or watch. (No spoilers!) If you can't meet in person, hop on a Zoom call instead.
GET YOUR GLOW BACK
Shed that rough winter skin with a homemade sugar and salt scrub. Mix equal parts salt and sugar in a glass container with an oil of your choice. Jojoba, olive or coconut oil are great options. Add in a few drops of a fresh or floral essential oil. Not all essential oils are safe to use on the body, so do some research and start with a small batch. Scrubs are great as you treat yourself to a pedicure or manicure at home. Use caution when using the scrub in the tub or shower, as the oil can be slippery.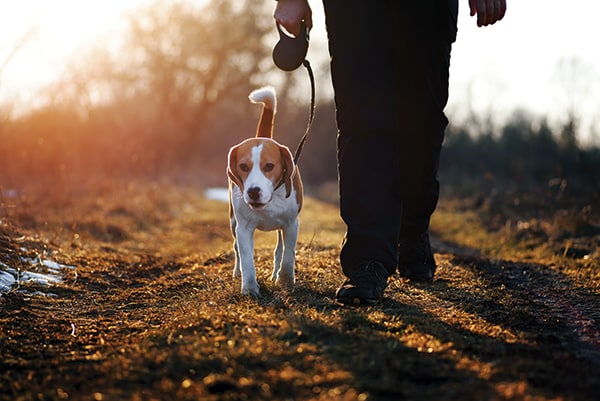 TAKE A HIKE
Once the winter temperatures have subsided, make plans for a day hike. Sure, it's great exercise, but walking in nature can help shed stress, too. Whether it's with your family, friends or your furry four legged walking buddy, find a hike that is manageable for everyone in your party. Pack a lunch, plenty of water, a first aid kit and your camera! Keep your eyes open for fresh buds on trees, wildflowers coming into bloom and wildlife coming out to enjoy the sunshine. Bonus points if you score some photos you'll want to hang on your wall at home.
LEARN SOMETHING NEW
Whether there's a class you've been wanting to take, a new hobby you've wanted to invest in or a new recipe you've had a craving for, spring is a great time for a new adventure. Those skills don't develop unless we take time to nurture them. We don't find new passions unless we seek them out. That new recipe could become your new signature dish. Whatever your heart desires, it's time to reach out and grab it.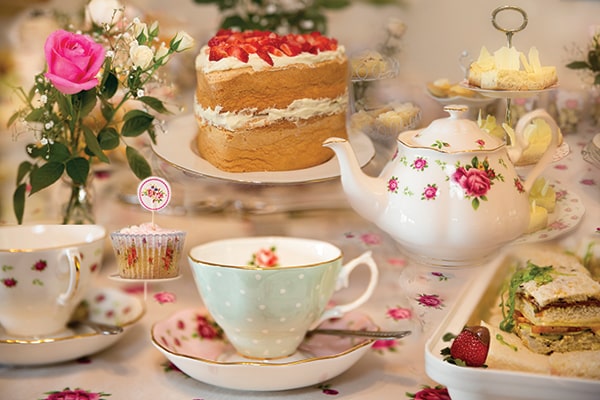 HAVE A GARDEN PARTY
There's no time like springtime to reconnect with your besties. Invite them over for tea and cookies or a delicious homemade lunch outdoors. Use real teacups and offer an assortment of teas to your guests. Pull out the heirloom china you reserve for special occasions. (This is a special occasion!) Decorate the table with fresh blooms or greenery from your yard. Soak up some sunshine and good vibes. The last two years have shown us that every moment of life is to be cherished, especially when you are with the ones you love.