Choose Kindness
The Huge Impact of a Small Kindness…
A random act of kindness has always been like a sudden burst of sunshine on a rainy day. But after the last several years – between an ongoing pandemic, devastating fires and snowstorms, and social and political strife that has left its mark on the North State, the country, and the world at large – one small but mighty act has the power to move proverbial mountains. A simple gesture can feel like an immeasurable dose of humanity when everyone needs it most. It can remind people on both sides of the equation that all isn't lost, even when it feels that way sometimes. Amidst the deep sense of loss and the weight of sheer exhaustion the world is experiencing collectively, the value of a simple kindness has skyrocketed. Follow along for a few ways to lighten the load for those around you.

Write a positive review for a local business or organization While we often hear people's bad experiences with a business or organization, we rarely get a public glimpse of those special moments when an employee went above and beyond to help a customer – when a simple smile redeemed the day. If you have experienced kindness at a local establishment, take a few moments to tell the world about it.

Businesses of all kinds have been plagued by staff shortages, breaks in the supply chain, shipping delays and ever-changing conditions – many of which are beyond human control. Things look different than they did before the pandemic from an operational standpoint – and they feel different, too. Take every opportunity to support businesses that are doing everything they can to push through one of the most challenging times in history. Your patience, gracefulness and kind words might be just the boost the team needs to keep going – or the reason the doors stay open.
Volunteer your time
Some of the typical opportunities to volunteer may not be available at this time, but if you find something you can safely do to support nonprofit organizations and people in need right now, don't miss the moment. Whether it's reading to kids at your local library, fostering a homeless animal, serving food at a local shelter, participating in a clinical trial, donating blood or offering to help a friend or neighbor by running an errand, your time and commitment is a priceless gift.

Thank an essential worker
Healthcare workers, scientists, pharmacy staff, first responders, utility workers, teachers, school staff, care providers, postal workers, delivery drivers, restaurant staff, retail store employees and countless others have kept our communities afloat through these challenging times. Through over-crowded hospitals, medical emergencies, natural disasters, months of uncertainty and ongoing health risks, they showed up to take care of others. Give them back some of the love they've shared over the last few years. Consider ordering pizza or donuts for the staff. Deliver a basket of fresh fruit. Purchase a new coffee machine or microwave for the break room. Make a home-cooked meal and deliver it in a slow cooker, complete with paper plates, disposable utensils and napkins. Take a moment to write a thank-you note. If you get a chance to tell them directly, let the words pour from your heart. One way or another, let an essential worker – or a team of them – know they made a difference in your life. It'll make a difference in theirs.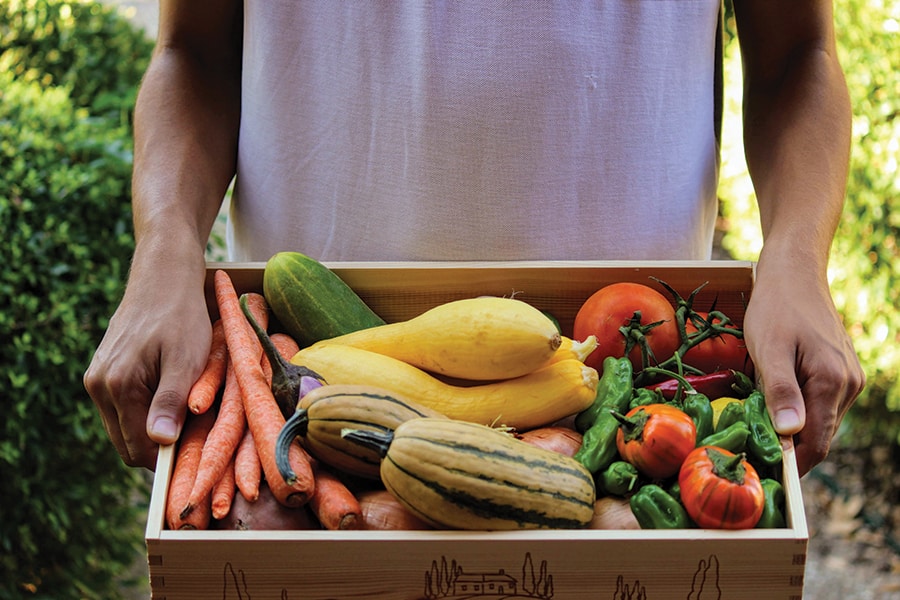 Share your surplus
Did your garden produce more tomatoes or lemons than you can use? Maybe you have a few extra cans of food or an unopened container of peanut butter in your pantry. Perhaps you stashed a few extra packages of cleaning wipes, hand sanitizer or paper towels you can share with someone else. Consider donating them to a local food bank or shelter that can distribute them to those in need. Between the fires that have impacted Northern California and a decrease in support for nonprofit organizations due to lack of finances, people here in the community need help.

Items like powdered milk, individually packaged cups of applesauce and canned meat, beans and vegetables with pop-top lids are options that don't require cooking. Contact your local food bank and ask if they can accommodate donations of any perishable items, as space and refrigeration aren't always available. Ask if there are specific needs the organization has and try to fill that need. If you can't deliver items to the organization directly, consider making a financial donation.

Help a struggling family
Sometimes, a supermarket run or a home-cooked meal is out of reach for a family experiencing a crisis. Consider dropping off essential items or a meal at their doorstep. Delivery services can be a great way to provide support without leaving your home. Check in with the family to see what items they need or if there are any dietary needs to consider when preparing or ordering a meal. A donation to the family or a gift card to a store where essential items can be purchased will go a long way to help them through a challenging time.
Spend quality time with a loved one
A friendly face or a familiar voice on the other end of the line is balm for a weary soul. Make that coffee date with a friend – and keep it. Send that handwritten card to a loved one. Pick up the phone and call your elderly family member. Take a child fishing or on a nature hike on a beautiful fall afternoon. Invite the neighbors over for dinner. Smile at a stranger and say "hello" – even if you are wearing a mask, the kindness in your eyes and the warmth in your voice will say it all.