Into The Woods
Sam Smith's Wood Fellows…
To wood carvers, there's treasure to be found in old logging areas of the North State. In places that weren't cleaned and burned as they are now, stumps and wood knots were left behind that are ideal source material. Sam Smith of Chico once found a site in Shingletown and has been carving what he calls knot heads or wood fellows ever since.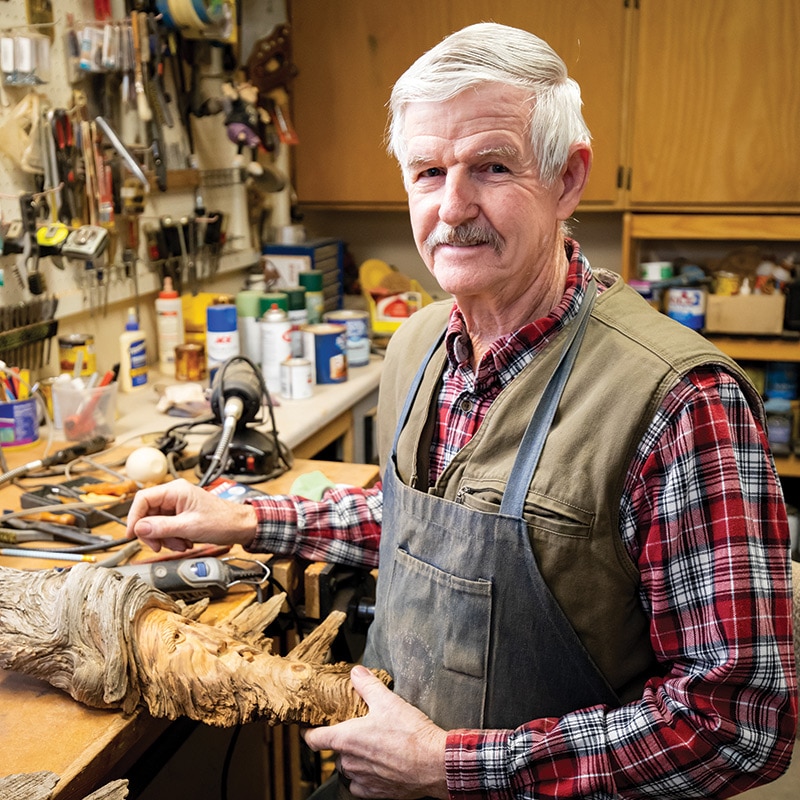 "I brought a couple hundred down with me and I haven't been back since," he says. Each pine or cedar knot holds the potential for a different face to be carved, and Smith enjoys determining what it should be. His carvings of people and sometimes fish have become popular and sell at Enjoy the Store in Redding.
Smith has now made about 300 such carvings and appreciates each challenge. "I just do it to while the time away when I'm not out golfing," he says. Smith likes to keep busy and is the type of guy who ended up working part time after he officially retired in 2008 after many years at PACE Engineering, nine of which he served as president. He completely retired in 2010 and has been carving more to stay active.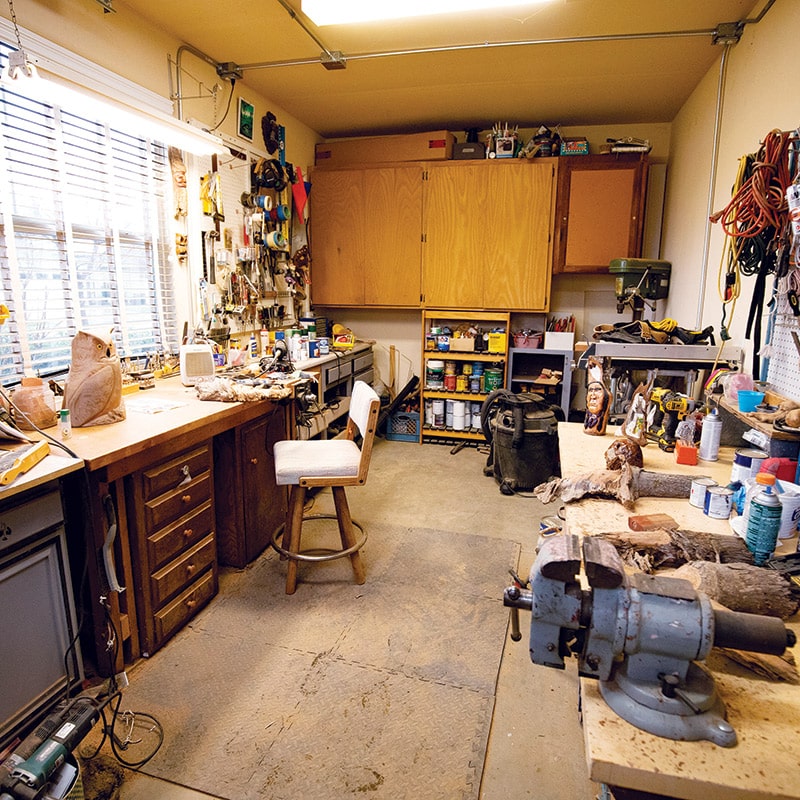 Smith's engineering career had him developing water and wastewater projects throughout the North State. He particularly enjoyed helping smaller municipalities develop effective systems and spent time in Red Bluff, Yreka, Anderson and Mount Shasta, among others. "I really liked hydraulics," he says, noting that he developed pumping stations for Incline Village.
Carving, then, is a nice contrast to the technical elements of his career. "There's nothing scientific about doing a wood fellow," he says with a laugh. "It's a gut feeling." He says the wood fellows often start out looking stern, but he's learned to create smiles in mustaches and add cigars to the characters to lighten them up a bit. "Each one is so different. The fiber of the knot tells where the beard goes. Some knots just come to a point," he adds.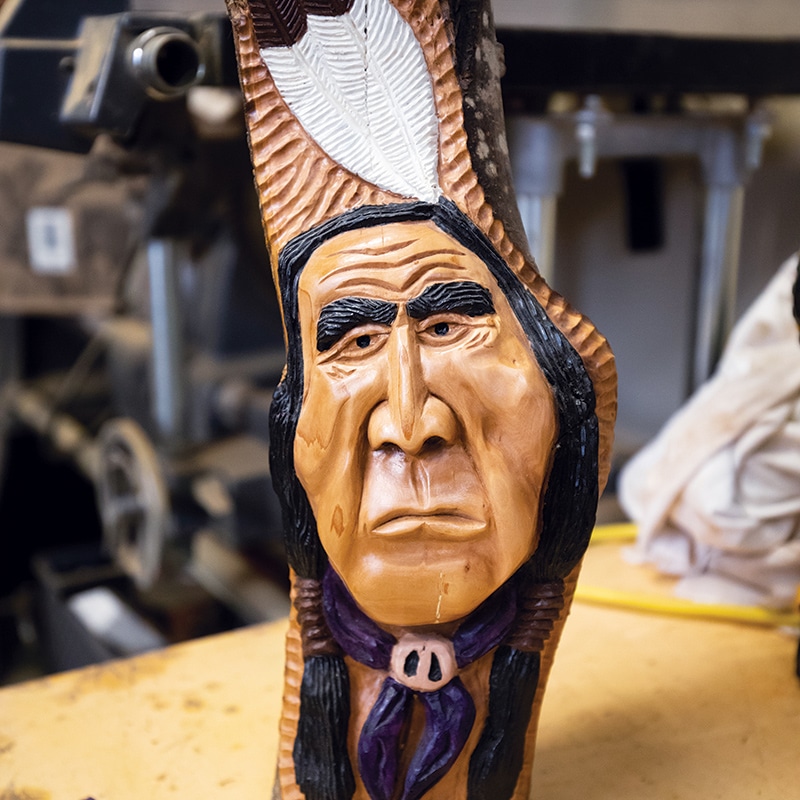 "I tried to do one of my dad once, but it didn't turn out well," he says, noting that the twists and turns of the wood determine where features can be placed. That doesn't mean he hasn't hit the mark creating people he's never met. "I've heard people looking at them saying, 'Oh, that looks like Uncle Fred!' or so and so," he continues. "It gives them a little joy."
Smith is a self-taught woodworker who learned to create his wood fellows from a booklet he ordered online. The first two resulted in unique gifts for friends he visited in Australia. Another became a gift for his chiropractor who lost his home in the Camp Fire. "The reason I do wood fellows is it gives people something to enjoy from the woods," he says. "If it gives someone a little joy, it's good to give them something to have."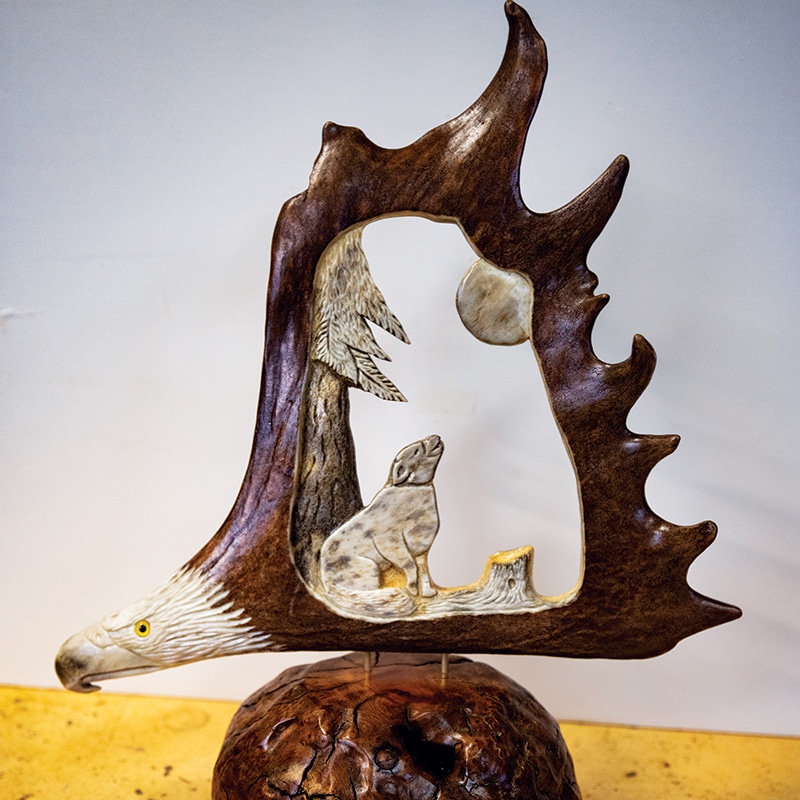 In many ways, his time working with the wood knots takes him back to his childhood. "I grew up in the mountains east of Red Bluff. My dad was in the timber business," he says. "So I did a lot of hunting, spent a lot of time in the woods."
Occasionally, Smith calls upon his time spent fishing to create carved fish from the cedar stumps he's found. He likes to refine the heart wood and use the natural red color. He'll use a bit of green paint to detail the head of a sockeye salmon that's spawned. It's a fish he knows well, having taken an epic trip to Alaska with his brother when they were running. "We took a toy hauler," he says. "But we didn't take ATVs. We took freezers." The pair brought back 1,100 pounds of sockeye and halibut.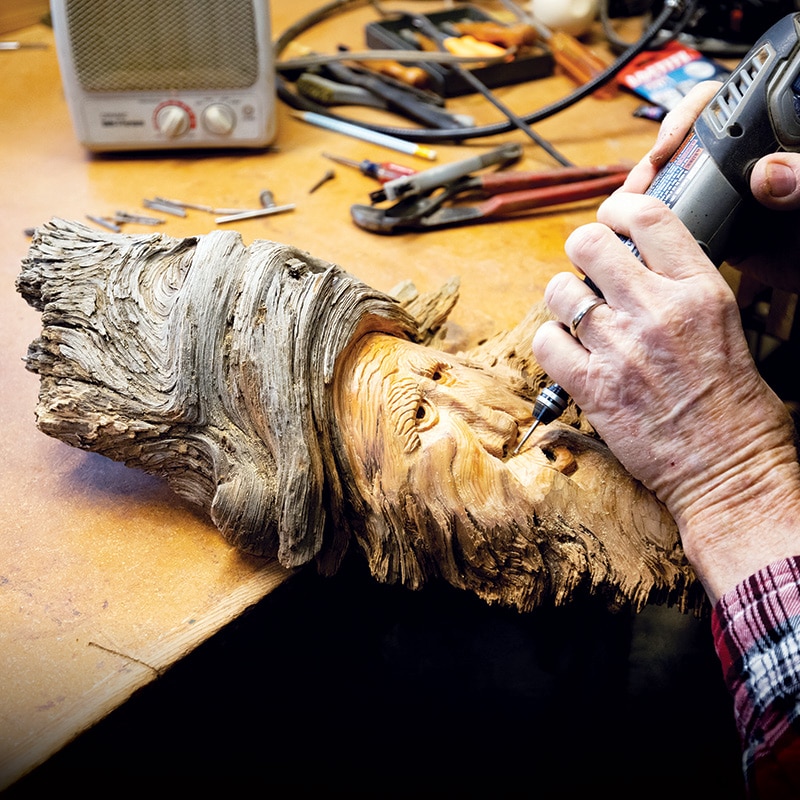 Smith is rounding down his original collection of source wood and says, "I'll go hunt for more knots." There are faces out there in those old logging sites just waiting to be uncovered. Sam Smith has just the tools to find them.
Sam Smith's Wood Fellows can be found at Enjoy the Store.