All The World's A Stage
Behind The Curtain With Pamela Carney And Kathryn Kirk…
Community Theater in the North State is among the myriad casualties of the COVID-19 pandemic, and like everything else the coronavirus has marred, the timing could not have been worse. Riverfront Playhouse's new downtown Redding theater opened last year, but the curtain has yet to be raised on a live performance; Axiom Repertory Theatre christened its new home with a production in January 2020 and then had to go dark; the Cascade Theatre and Shasta College both had to halt productions that were ready to roll last spring. While directors, actors, stagehands and audience members eagerly await a return to live performances, there's time to at least talk about theater. With that in mind, Enjoy Magazine asked two veteran actors – Redding residents Kathryn Kirk and Pamela Carney – to share a few insights into their shared passion.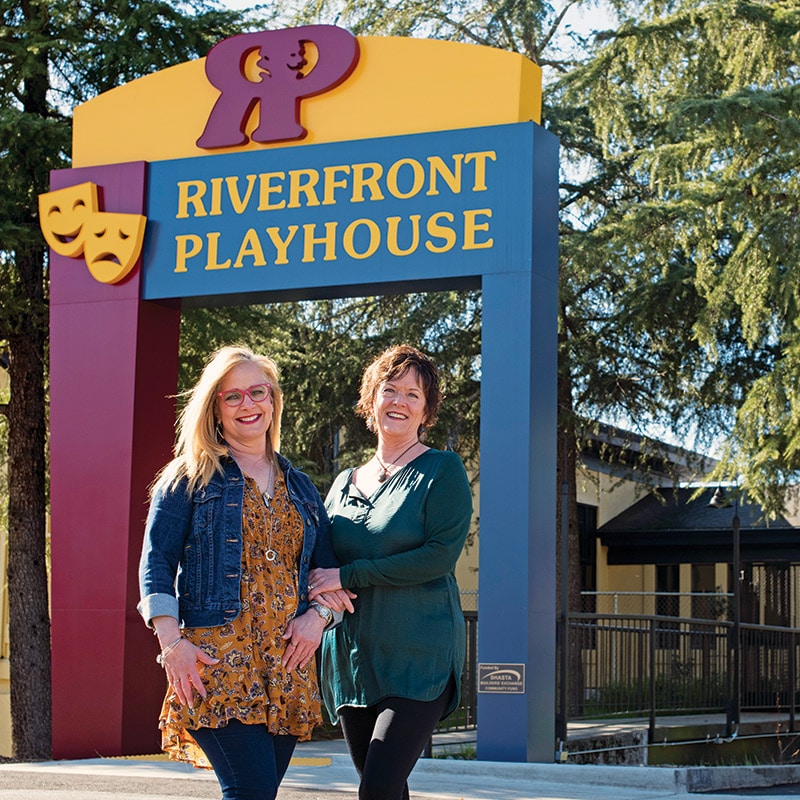 ENJOY: What was your introduction to theater?KATHRYN: "I auditioned for a cheesy play called 'Ask Any Girl' (as part of a high school drama class in Wyoming, Mich.). I wanted the lead, the ingenue, but no, I got the quirky taxi driver. That's the story of my life: always the character roles. But I wouldn't want it any other way."
PAMELA: "I started in my freshman year of high school in Middletown, Ohio. The International Thespian Society was headquartered back there and it was huge at my high school. I took drama, did the plays, sang in choir and played in the orchestra. You were a cool kid if you were in drama at that high school. It was definitely fun. It felt like I was a natural to the stage. I always wanted attention and that hasn't changed."
ENJOY: What has your theater experience meant to you?
KATHRYN: "I have a couple of talents: Working with children, acting, and I can carry a tune. To be able to use one's talent is a precious gift and Redding community theater has a lot of opportunities. The value it has added to my life is being able to work with these people and form lasting friendships with them."
PAMELA: "It's just a part of who I am, a part of my identity, a part of my soul and it fills me up. I love the entire process of a play that starts with getting a script, reading it, auditioning, watching others, the selection, rehearsals, learning the lines, finding your character andbringing that character to life and being able to give it back to the people in the audience. It's like a catharsis."
ENJOY: What have been some of your favorite roles?KATHRYN: "I have been blessed with some incredible roles. I do gravitate toward strong, many-layered roles. Violet Weston from 'August: Osage County' is high on the list … the drug-addled matriarch of the family; Martha in 'Who's Afraid of Virginia Woolf ?; Amanda Wingfield in 'The Glass Menagerie;' the 92-year-old woman in 'Three Tall Women;' Golde in 'Fiddler on the Roof;' and the Wicked Witch of the West: Talk about a disturbed woman!"
PAMELA: "My first favorite role was my first leading part at Riverfront, back in 1983. It was 'Picnic,' and I played Madge. I got a best actress award for that. Madeline Livingston from 'Women of Lockerbie' was another favorite and I got an award for that, too. It's rewarding to give back to the audience and also to feel validated that other people felt what I had to give. It's an affirmation for me and the audience as well. I recently did 'Devil at Midnight' (at the Cottonwood-based ARTS Theatre). Liz Burns was my character, a psychoanalyst who takes in a young abuse victim. It was a mystery with a huge twist, almost like a Halloween show. It was a very small venue and a very small audience and it made it so much more intimate and real for me. By the final performance I really bawled my eyes out. It felt so good to let that out. My favorite parts are dramatic. I like to get very deep."
ENJOY: What value does theater add to the community?KATHRYN: "Theater brings people together from all walks of life. Theater doesn't care what color you are, what your political beliefs are or how much you make. Working together to create a production of the highest caliber and offering it up to an audience creates community."
PAMELA: "It adds a richness of culture, and we can always use more culture."
www.riverfrontplayhouse.net
www.axreptheatre.com
www.facebook.com/ARTSTheatreorg/
www.shastacollege.edu
www.cascadetheatre.org