Safe & Tea
Dr. Richard Wickenheiser, Tehama County Health Officer…
Hard to imagine, but there was a time when a county health officer could live and work in relative obscurity. "As long as we're doing our job, you never hear of us," laughs Richard Wickenheiser, Tehama County Health Officer since 1985. The work of public health staff is often taken for granted. They keep our food and water safe and disease down with immunization programs and most Americans don't think twice when they mix and mingle among friends at a buffet with a drink bar.
That was, of course, before 2020.
Now a person like Wickenheiser, a man technically retired and classified as extra-help, is a lifeline to navigating the novel coronavirus and COVID-19. "I was to retire. Period," he says. "Then came COVID." He's doing his job, and it's more critical than ever, and you definitely need to hear from him and his team.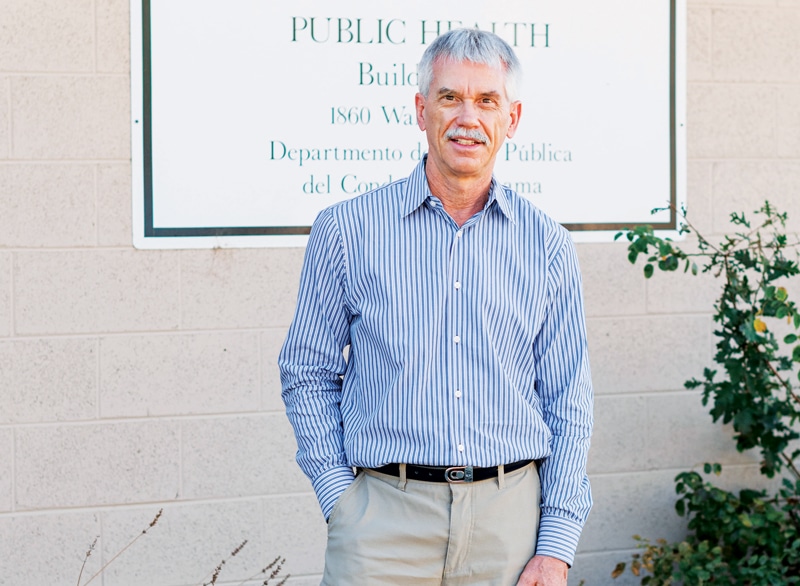 Since March 2020, Wickenheiser has been overseeing a small staff of public health professionals to address the pandemic. "Public Health works seven days a week," he says. "We do a lot with a little. My staff have been very good and the people from the state like working with us." They are busy contact tracing COVID infections, creating prevention campaigns and coordinating medical care, among many other duties. "As a health officer, everything I've ever done has come from science for the health of the community," he adds.
Keeping up with the science is a challenge on its own, as information changes rapidly and must be conveyed in real time. Success, he adds, "is because of our partnerships. We don't have any turf battles. When there's a crisis, you know who to call. We're small but we can react sooner."
While COVID-19 is certainly unique in many aspects, it's not Wickenheiser's first foray into complex communicable disease. He's treated and monitored tuberculosis infections for decades, as well as sexually transmitted infection, rabies and meningitis. As he dipped his toes into retirement in 2018, he set out for the Marshall Islands for five weeks to work on a CDC-funded campaign to eradicate tuberculosis.
"I have seen and taken care of things in my lifetime that many people have never seen," he says with a sense of pride in his chosen community. As a young physician, he selected work at Lassen Medical Group over a much higher-paying position in Texas because the North State fit his lifestyle better. It also afforded him opportunities in both private practice and at public clinics, in hospitals and areas of occupational health. He's taught and engaged with university medical systems.
With COVID-19, he also entered the realm of podcasting and social media engagement through a popular video series called Weekly with Wick that ran on Facebook. "It was simply an effort to get non-political public health information to the community," he says.
While it's been a great career that's going out with a global pandemic, Wickenheiser really is looking forward to the day when he can be truly retired. He's got plans already in the works for his next stage of life, a tea farm with his son Jeremy called Bella Vista Tea Company, already the largest commercial agricultural tea company in California. The pair have 1,007 tea plants in the ground and plans for tea classes via Zoom through Shasta College in May.
"Our whole goal is an experience," says Wickenheiser. A Japanese-style tea house is being built for small groups to come have a tea ceremony among the 200 acres of plants. The team has already partnered with Shasta College and the Global Tea Initiative at UC Davis to expand research and teaching opportunities. "We've tried to do things locally that we can and we think it will really pay off," says Wickenheiser, noting that they have engaged many other local businesses to get started. But before tea, there's a pandemic to get under control. "In January 2021, life will still not be back to normal," says Wickenheiser. "We'll still be required to mask and we'll still be required to social distance. And we'll be rolling out an intensive vaccination program. People just need to realize that until we get a significant portion of the population vaccinated, it isn't going to go away."
There's still a ways to go, but hope looms on the horizon. The public health system has moved us through polio and tuberculosis and many other communicable diseases that once ravaged populations. "If the people followed common sense and science rather than politics, then I can tell you we would not be where we're at," he adds. "We'd have our economy and our health." And then we'd have tea. Together. In peace. As we yearn to gather in kinship, health and prosperity in new year.