Custom Crafting
Corina Sloan's Queenie's Beanies…
Beautifully intricate beaded moccasin charms (along with baby leather moccasins and character beanies) are selling like hotcakes across the internet. The unique accessories, jewelry, and gifts are made by Corina "Queenie" Sloan, the founder of Queenie's Beanies.
Originally from Hopland, Sloan grew up on the reservation with her fellow Hopland Band of Pomo Indians. When she was about 8 years old, Sloan and her mother began exploring other parts of Northern California.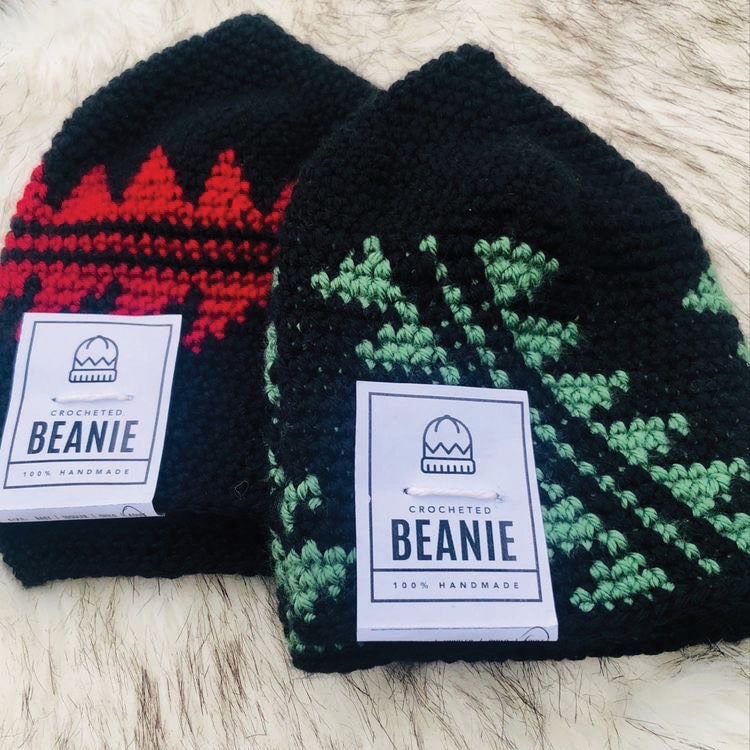 "I got bored a lot as a kid, so my mom would ask, 'Where do you want to go?' and we'd pick up and move," Sloan says. They lived in Del Norte and Siskiyou County, and Sloan recently moved to Weed with her family.
Sloan got into knitting and crocheting 2014 as a hobby. She made beanies with monkey ears and owl faces but didn't have any children at thetime,soshestartedgivingthemtofriends and selling them online for $5. People began buying them like crazy, willing to pay triple or even quadruple the amount she was asking for. Therefore, Sloan opened an online shop on Etsy and selling her beanies there and attending local farmers markets. "I started calling my business Queenie's Beanies because it was something simple that people could remember," Sloan says.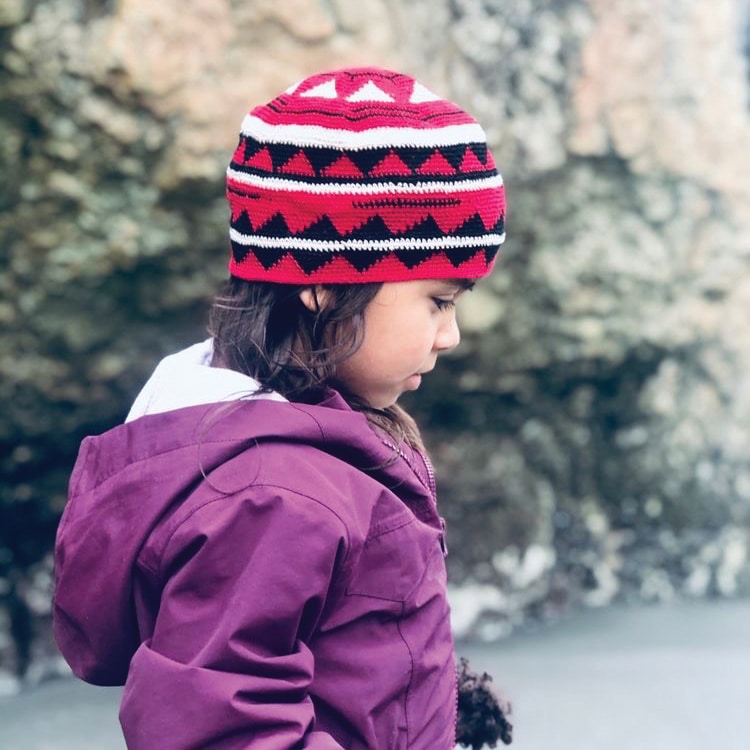 To stay challenged in her craft, Sloan got into doing more complicated stitchwork and beading. She created a 5,000-stitch beanie that took a lot of hours, but she believes she can finish one in two days (she's going to time
it soon). "I sold quite a few of those; I made a couple dozen of them in the last four years. People are obsessed with [the 5,000-stitch beanie] but they take a long time to make," she says.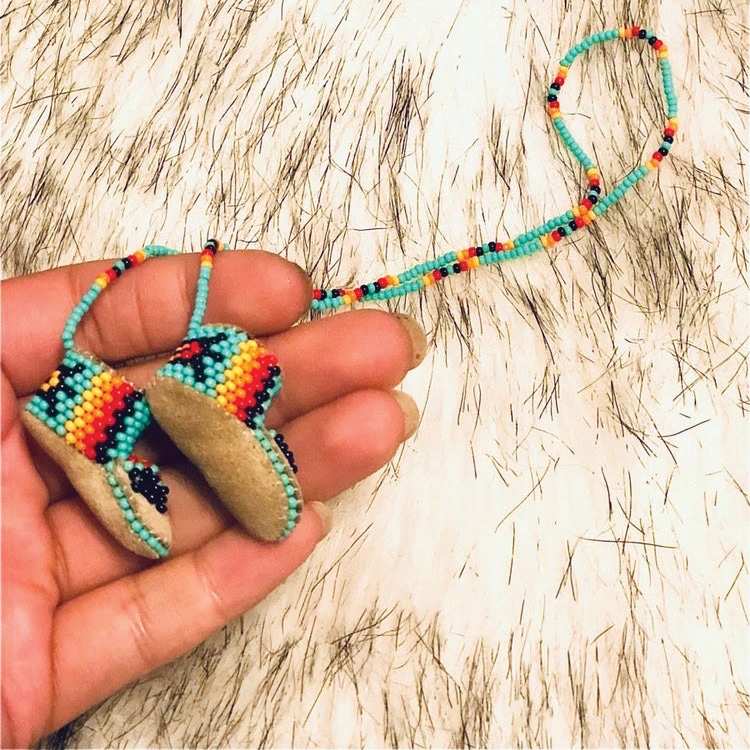 Sloan then got into beadwork, leather crafting, and making baby moccasins inspired by tribal designs. Some knitted baby moccasins look like a pair of Vans. Another pair is made of soft pink leather with beaded flowers on the front. Since everything is handmade, it's all one of a kind.
However, her beaded moccasin charms that function as lovely rearview mirror hangers are her bestselling items.
"When COVID hit, I wanted to do something different, so I started beading moccasin charms. I came up with my own design and started making beaded medicine bags and filled them with angelica root, osha root and white sage," Sloan says. "It took a long time to come up with my design. I figured out a rough design in a couple of weeks, but it was another two months to really love it and create a smooth pattern. Now I'm quick with them, I know the pattern.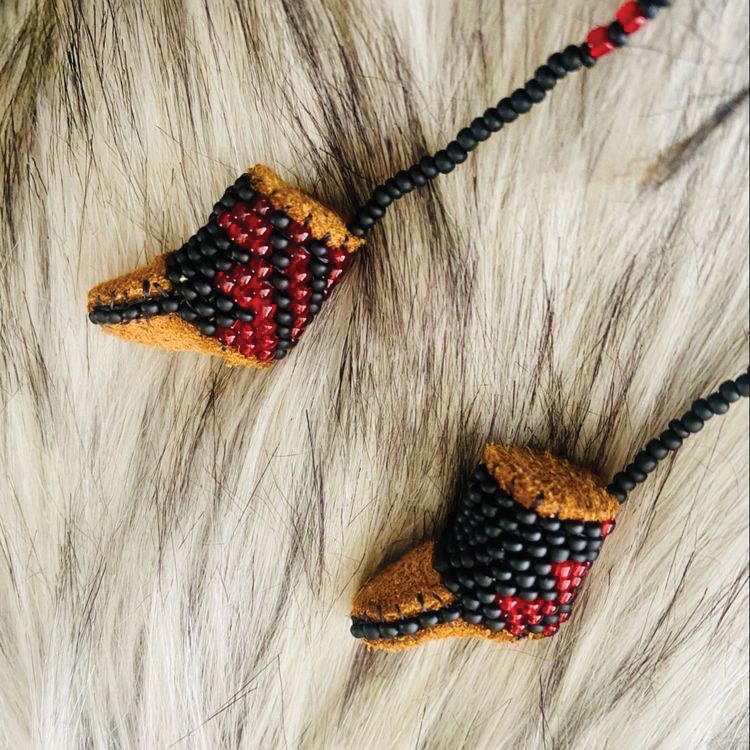 I see people do similar types of moccasins, but my design is still unique."
While perfecting her charm pattern, Sloan hosted a giveaway online to see if people would take to it, and she received a ton of orders. "I sold $10,000 one month, and these [beaded] moccasins have been a top seller for the last two years," she said. Her beanies are the next most popular items along with the baby fur moccasins.
"I do different styles and custom work, and I get people from different tribes ordering these. They like certain styles, so I learned diverse ways of stitching to match their customs," she says. "Each tribe is different but a lot of it is similar, if you look at our regalia."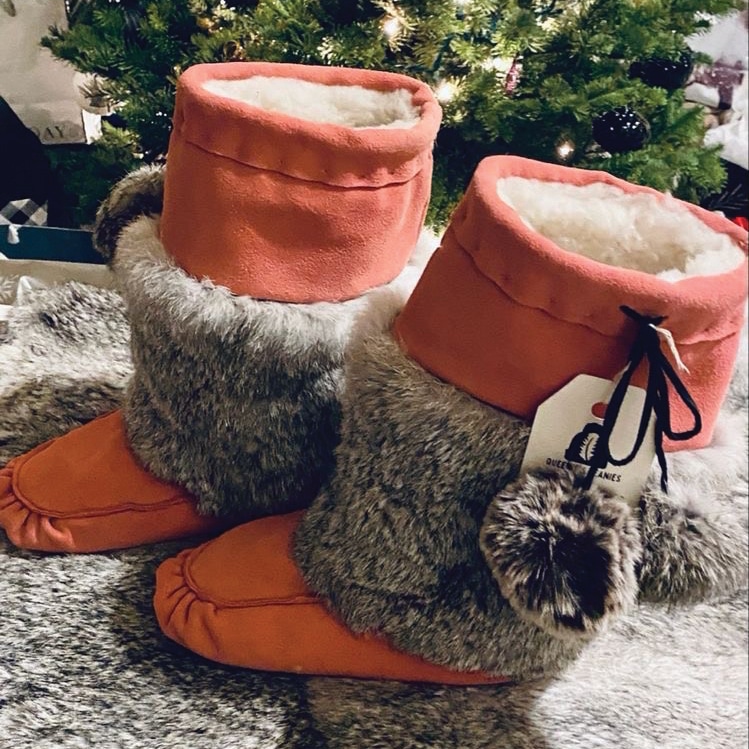 Her miniature moccasins are her favorite thing to make, although she can get more of her design in larger pieces. She offers moccasins from mini to baby XL, the mini version that can fit a Barbie foot. The XXL is two inches long. Sloan will soon introduce some XXL moccasins that are three inches long.
She enjoys making these items that reflect her heritage and Native American traditions, but she is also a police officer and is back to working on Queenie's Beanies part- time. "My goal is to focus on doing more farmers markets in Mt. Shasta and powwow shows. I feel like a lot of people don't see this kind of work, so I want to show it," she says.
People tend to buy her beadwork year-round. The moccasins are more popular in the summer when more baby showers are happening and winter when the holidays come around.
"I just really enjoy all of my hobbies and need to get out there and show people something different," Sloan says. •