Restoring Tradition
Embracing the Culture with Jack Potter, Jr…
Jack Potter, Jr., knows the sound of genuine laughter – the way it flows like music when it is rooted in genuine connection. Here members the way his grandfather's eyes shone brighter, and his face took on a different quality in those moments when he was amidst his people, speaking their language and taking part in their traditions.
Potter was born in Redding and describes himself as "Mi-Wuk and Wintu, with Navajo and Pit River influence." He is the Tribal Council Chairman with Redding Rancheria, a role he's held for eight of the 22 years he's been on the Council. He works as the cultural resource director for the tribe and serves on 44 boards concurrently at the city, county, state, national and tribal levels. Among them are the California Rural Indian Health Board, the California Nations Indian Gaming Association, United Way, Shasta Historical Society, and Lassen Park Foundation.
His tireless work centers on helping to restore the kind of wholehearted, sincere laughter and connection to his people that he witnessed with his grandfather. Potter believes that goal can be met by embracing cultural and spiritual traditions that had been forced to exist only in private.
"One day, I want to be able to talk and laugh the way my people do. Without your culture or identity, who are you? An empty shell, like a trained mouse in a maze. It's very important to have that spiritual connection," says Potter.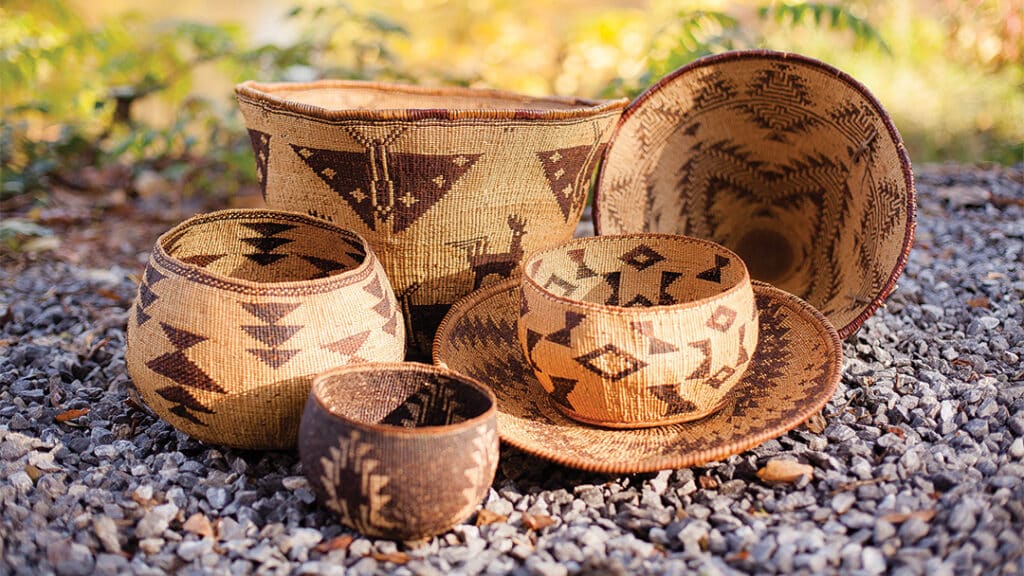 From drum and regalia classes to language restoration, and many culturally centered classes in between, Redding Rancheria is committed to helping to restore traditions that had been stripped away over the years.
"There was a time when we were invisible," says Potter. "We tried to blend in – tried to fit in – but we were ostracized. If you remove all that history, it will happen again. We need those reminders of what happened. If we don't have them, the next generation won't know how to respond or react when history repeats itself.
"Celebrations like Indigenous People's Day and Native American Heritage Month are important because they have welcomed people to celebrate their culture," says Potter. Now that it is safe to be a Native, we try to share our ways and culture with others so that people have a better understanding that we just want to live – but we want to live in a way our Creator intended us to be.
"In Indian Boarding Schools, children were beaten for dancing," says Potter. "You had soap in your mouth just for using your language. They were stripped of their entire culture. The old people preserved these traditions to keep them alive."
Those painful experiences have created a generational trauma Potter says can only be healed by addressing it directly: "Speak of it and share it, so that you can get beyond it. If you hold it inside, it festers. You have got to speak life into it so that it can move on."
Potter has worked through his own share of trauma. His mother's severe postpartum depression nearly led to his demise at her hands as an infant. His aunt, Lucy Gemmill, saved his life. Potter was raised by his maternal grandparents, Edith and Lloyd Stevens, and he frequently visited his paternal grandparents, Mildred and Willard Rhoades. He credits his loving relationship with both sets of grandparents as the reason he remains connected to his culture, works so hard to help others, and is committed to being the best grandpa he can be to his own grandson.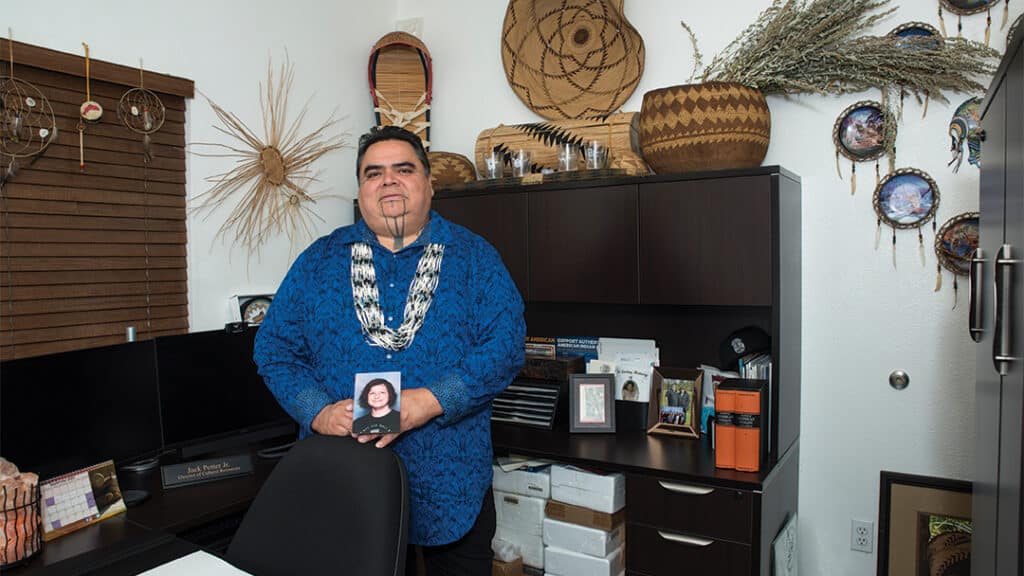 His Grandpa Lloyd died when Potter was 12 and he moved to Orland with his Grandma Edith. She died just before his 21st birthday, but not before she shared a final request that would change the course of Potter's life.
"One of the last things she asked me to do was take care of my mom. She said 'Grandson, I know you have hard feelings for her, but remember that she is my daughter. I want you to love your mom and take care of her for me.' I honored my grandmother's wishes. The greatest lesson she taught me was forgiveness." Potter repaired his relationship with his mom, returned to Redding, and connected with his paternal side of the family on a deeper level.
"I took my first flight with my Grandmother Mildred to the National Congress of American Indians Convention in 1998. She said to me 'One day, you will be up on that stage, Grandson.' I couldn't imagine that she could look at me and see that. In 2012, I was elected as the vice president of the National Congress of American Indians – Pacific Region, the fourth-highest seat in Indian Country."
Potter remains committed to giving back to the community he calls home. The Redding Rancheria is both a job creator and a healthcare provider in Shasta County. During the COVID-19 pandemic, the Rancheria received large vaccine supplies from the federal government and shared them with the entire community.
Redding Rancheria provided grants to many local mom-and-pop businesses during the pandemic. "I grew up in these places. They are the identity of Shasta County," Potter says, recalling a generations-long connection with the family who owned Lim's Café. "We were always accepted into the Chinese restaurants at a time when other establishments had signs that read 'no dogs and no Indians.' I felt like a person there because of their acceptance."
When 9,000 Shasta County residents were without a primary health care provider, the Rancheria made the decision to reopen an old healthcare facility: "We were going to sell the building, but there was a need that had to be met.
"We are at every charitable event. A true leader must be involved to know what the needs and wants are – to provide support. Being there lets people know that you care."
Whenever he feels disconnected, Potter says: "I take my shoes off on my land and connect with the spirits of the mountains, valleys, rocks and rivers. I can feel the prayers of the ancestors, of those who prayed for a better day.
"In traditional times, blood was not necessary to be family," says Potter. "I feel like I'm a little part of making things better for people – not just my people – but everyone in this community. In Wintu Country, we are to provide even for the guests in our land. That is why we give back. When you have an abundance of something, give it to others. We want our country to be better – for everyone who resides in it." •