Step Into the Light
The Power to Light up a Room…
Lighting. It's more than just a necessary function in a home or office. Some could argue it's the gateway to comfort, safety and wellness in any space. Without adequate light, a room can feel dark, dreary, difficult to navigate and disorienting. Reading, cooking, working and self-care are markedly more complicated without adequate light. Have you ever felt profoundly tired or sad in your space without a reason you could put a finger on? A dimly lit environment could be to blame for your mood or a shift in your circadian rhythm. Those who live in locations with fewer hours of daylight can certainly attest to the importance of light for physical and mental wellness and overall well-being.
A well-lit space holds the power to create an appealing, comfortable, workable, healthy and welcoming environment for all who enter or dwell within it. While lighting elements are the obvious choice for making your home or office brighter, there are other, perhaps more subtle ways to introduce more light into your space. Ready to light up a room without having to call an electrician? Check out these design hacks to add some sparkle and shine to your space.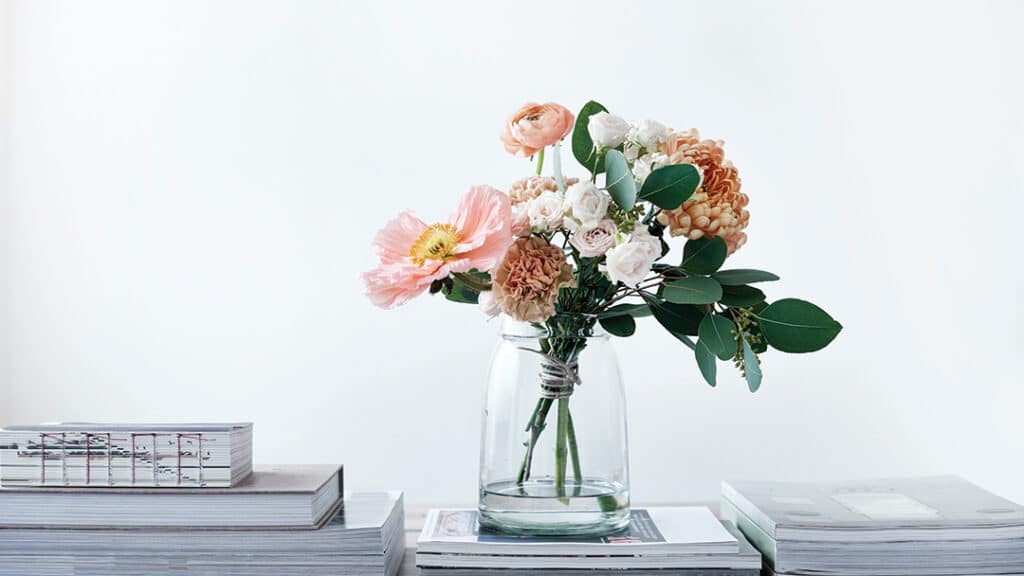 1. WALL COLOR MATTERS.
Walls are one of your home's most prominent features. Sure, rich, vibrant wall color has its charm, but if you want to add brightness to your space, keep those walls white. A white wall provides maximum reflection of any light sources in a room, but it also serves as a blank canvas to paint the perfect design aesthetic. Bonus: Does this white wall color make your house look bigger? Yes. Yes, it does.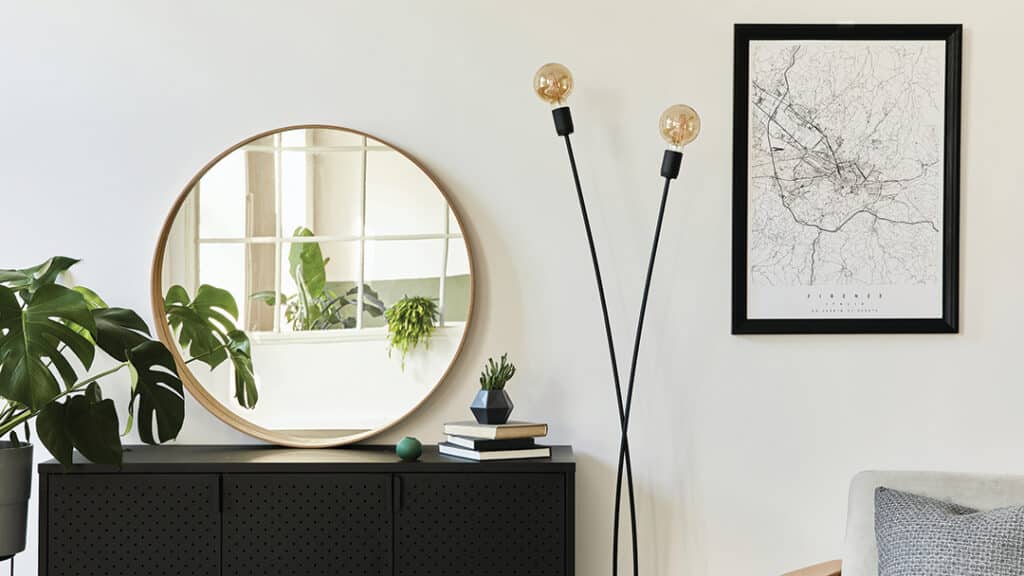 2. REFLECTION IS YOUR FRIEND.
Mirrors are a quick, easy, and beautiful way to add light to a room. Strategically place mirrors where they will pick up some of the natural light from windows or a sliding glass door and reflect it back into your space. Mirrors work well on a wall, but they can also go under a lamp to help maximize the light source.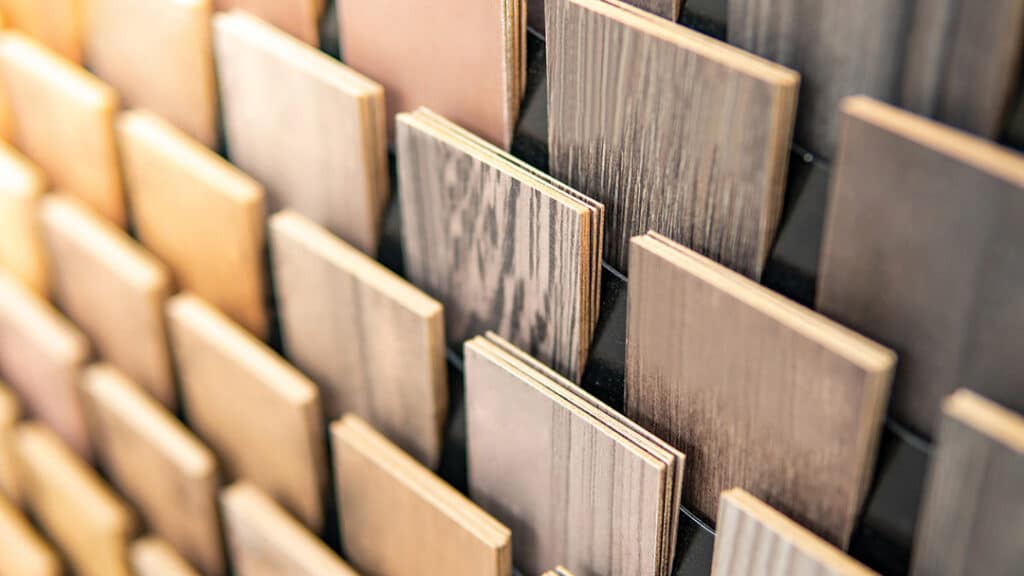 3. LET THOSE FLOORS SHINE.
Lighter-colored flooring, like a white wall, can work as its own point of reflection. Covering a large portion of your home, flooring is a big- picture decision to make, but if you want to make the most of the natural light in your home, consider hardwood, luxury vinyl or tile in a lighter hue, like birch or gray. Gray is the most popular choice, as it provides great reflection while keeping dirt at bay.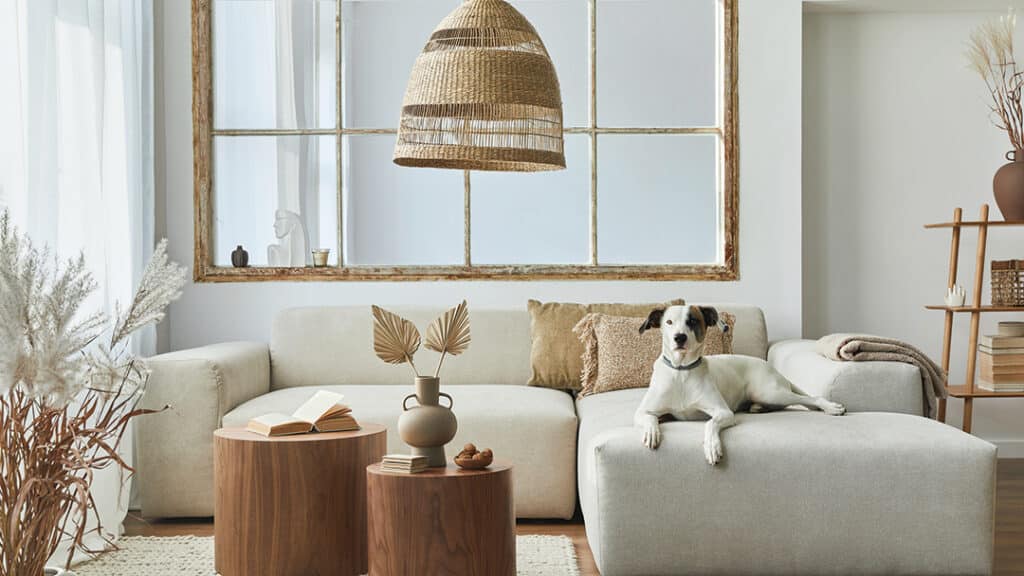 4. FIND FABRICS WITH SHEEN.
Some fabrics just seem to have a glow about them. Whether it's sheer or opaque – from satin and velvet to chiffon and tulle – fabrics are one powerful way to add a little shimmer and shine to your space. Metallic colors like gold, copper or silver welcome light with a modern, luxurious touch. Consider fabrics carefully when it comes to large furniture pieces like couches, accent chairs, draperies, bedding and throw pillows.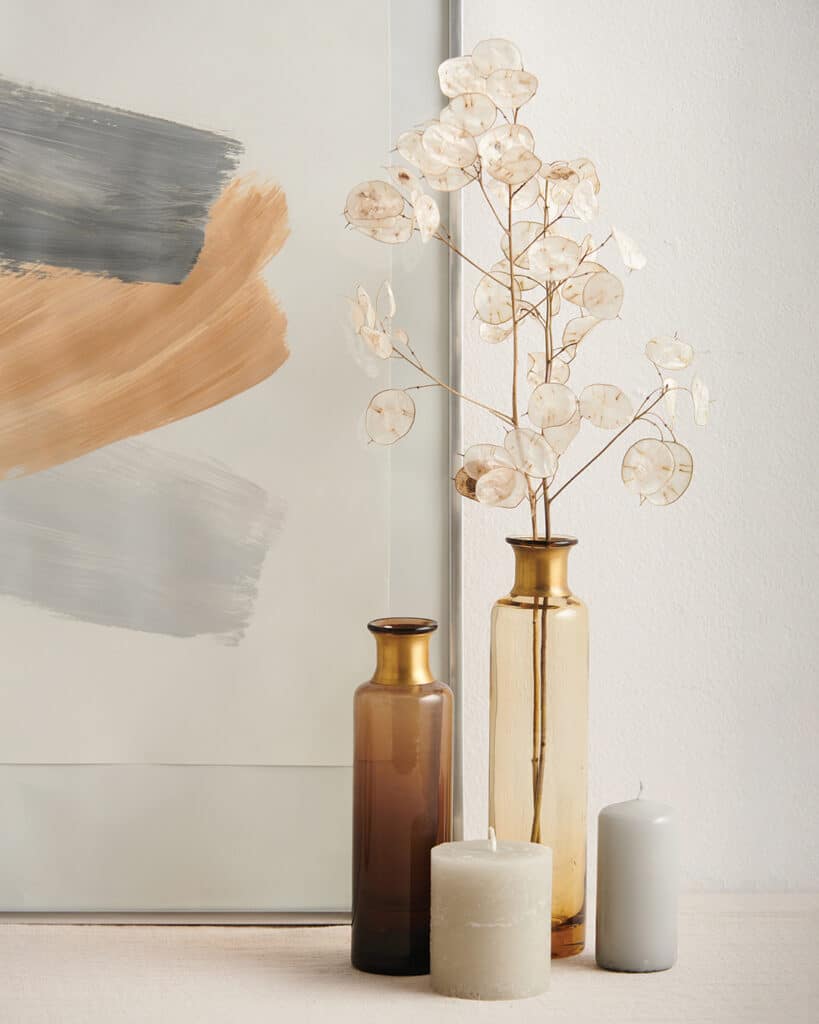 5. CHANGE THE BULB.
The temperature of the lightbulbs you use in your space can play a big role in determining the room's vibe. Some lightbulbs emit a warm yellow or orange light, while others emit more of a cool blue light. Some bulbs emit "daylight" – what you would find if you went outside at noon on a sparkling, cloudless day. There is no exact science for choosing a bulb that works best for you. It's a matter of preference and lighting needs in a room. A good rule of thumb is to go with a bulb with a cool or daylight temperature to brighten a space. Bulbs with at least 4100 Kelvin (4100K), known as Cool White, are ideal for kitchens, bathrooms, workspaces or entryways. Consider using bulbs with at least 5000 Kelvin (5000K) for working on projects, reading or accent lighting. Save the soft white bulbs for the bedroom or other spaces where relaxation is key.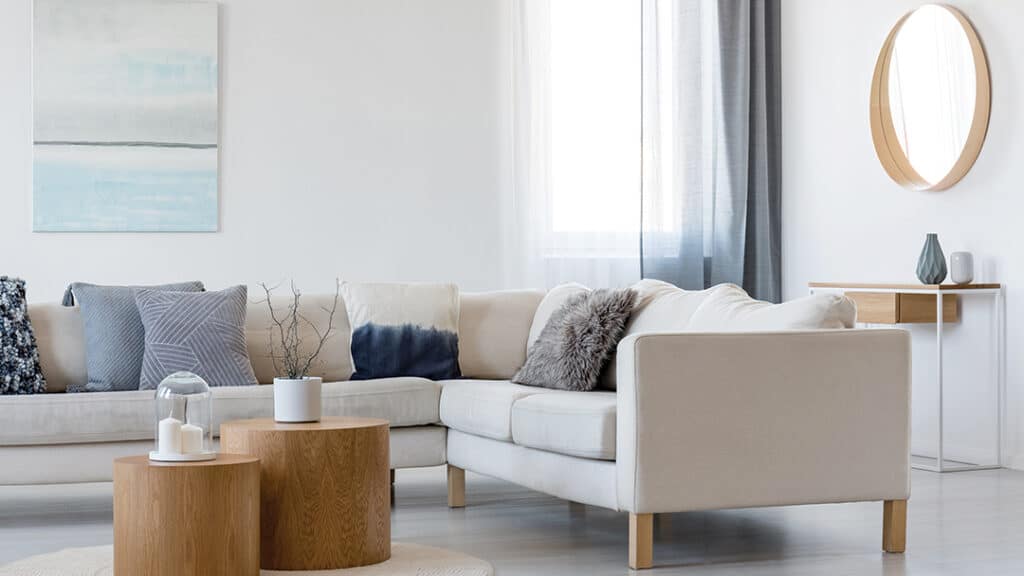 6. GO LIGHT ON BIG FURNITURE PIECES.
Selecting your most heavily used furniture in lighter colors might sound like the very definition of high maintenance but consider this: lighter colors on hard surfaces like dining tables, buffets, entertainment centers, coffee tables and accent tables can help maximize the light in your space. It will give the light more reflective hard surfaces on which to bounce. If you aren't afraid of a little extra work, consider a lighter color like sage green or light grey on your couch or accent chair. Just make sure that Scotchgard is in full effect.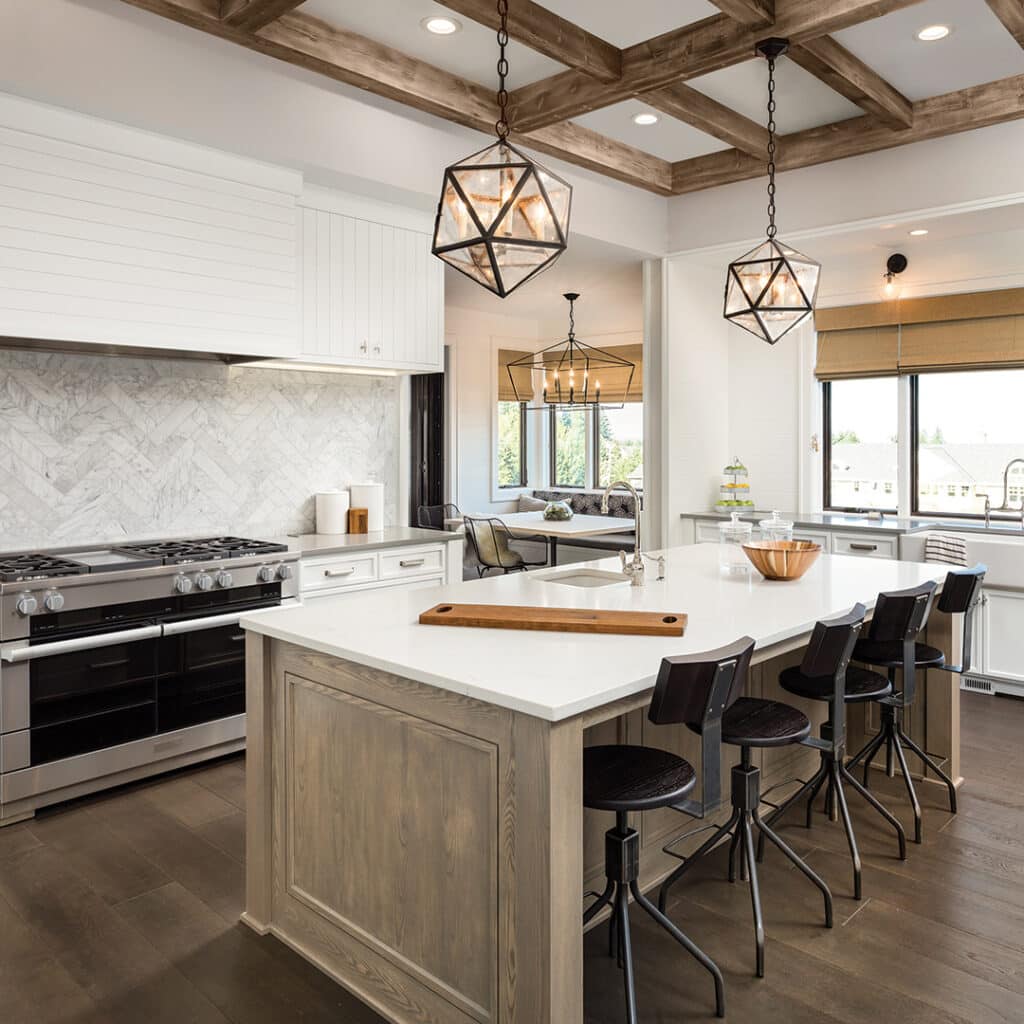 7. DECORATE WITH LIGHT.
Small design decisions – like the addition of a metal lamp with a glass globe, the placement of a series of glass bottles, a glass vase near a window or a metal décor item in a conspicuous place – can have a big impact on the light in the room. Choose elements that you love in materials that can help make the most of the light you already have. Silver accents are great when high shine is what you're after, but don't sleep on copper and gold. Any highly reflective metal can lend richness, energy and shine to a room.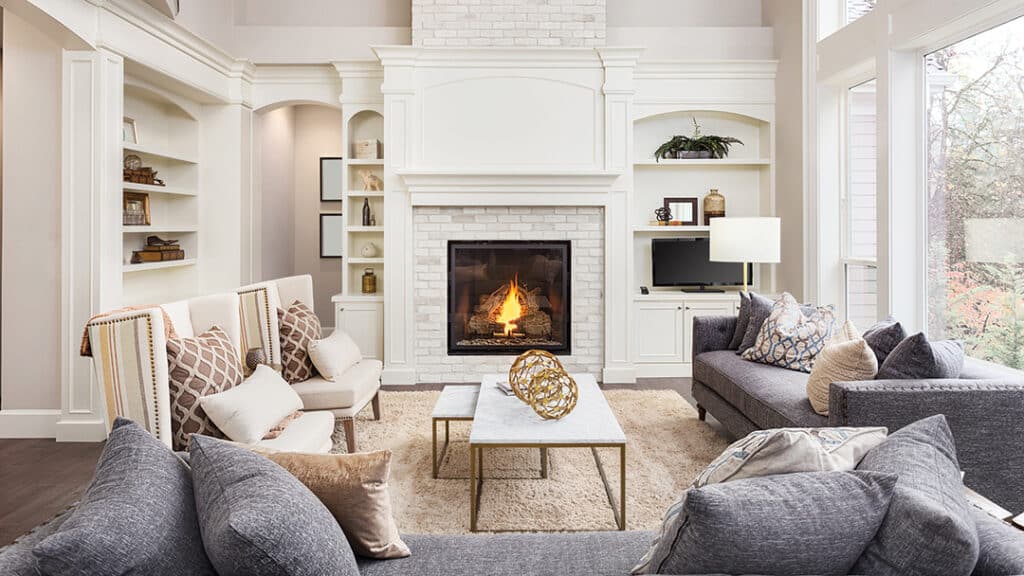 8. LET ART BE YOUR LIGHT.
While art is a great way to brighten your spirit, it has the power to brighten a room, too. Bold, textured, metallic paint in a piece of artwork gives the eye a little something extra to enjoy but these bright spots also bring in the light. Don't forget to consider the color and material of the frame, as well. •