Garden Italian
Zucchini Pizza Casserole…
Every Summer, I get inundated with zucchinis. Neighbors drop by and generously share the bounty of their gardens. Look, I like zukes as much as the next guy, but there's a limit to how many I really need.
There are hundreds of ways to prepare zucchini, but here's one your entire family will enjoy – even kids who are picky eaters. Pizza!
If you don't have the time to make pizza dough, this recipe is for you. It's tasty, quick and easy – perfect for those weekday summer evenings. It's the best of both worlds: all the deliciousness of pizza, with the convenience of a casserole. Just grate some zucchini, mix it with eggs, cheese and your favorite toppings, and bake. In no time, you'll have a delicious and satisfying meal that everyone will love.
But this recipe is not just about convenience. It's also about health. Zucchini is low in calories, high in fiber and packed with nutrients. Although zucchini is often thought to be a vegetable, it is technically classified as a fruit. Zucchini, also known as courgetti, is a summer squash in the Cucurbitaceae plant family, alongside melons, spaghetti squash and cucumbers.
Zucchini has been used in folk medicine to treat colds, aches, and various health conditions. Here are just a few benefits of eating zucchini:
• Itisrichinseveralvitaminsandminerals,including magnesium, vitamin C, potassium and vitamin A.
• Zucchini is loaded with antioxidants that help protect your body from damage by free radicals. Yellow zucchinis may contain slightly higher levels than light green ones.
• Yourdigestivesystemwillthankyouforeatingzukes because they contain both soluble and insoluble fiber.
• Zucchini may benefit bone, heart and prostate health. It also contains anti-cancer properties.
So, the next time you receive the gift of home-grown zucchinis – or if you are wondering what you're going to do with all those zukes growing in your garden – don't groan about it. Make a pizza! It's easy, healthy and fun.
Here are a few simple tips for making the best zucchini pizza casserole:
• Use a kitchen towel to squeeze out as much moisture as possible from the zucchini before adding it to the batter. This will help to prevent the casserole from becoming mushy.
• If you don't have any Parmesan cheese, you can substitute grated Romano cheese or Asiago cheese.
• For a more flavorful "crust," add some Italian seasoning to the batter.
• Serve your casserole immediately after baking, or let it cool completely and store it in the refrigerator for up to three days. •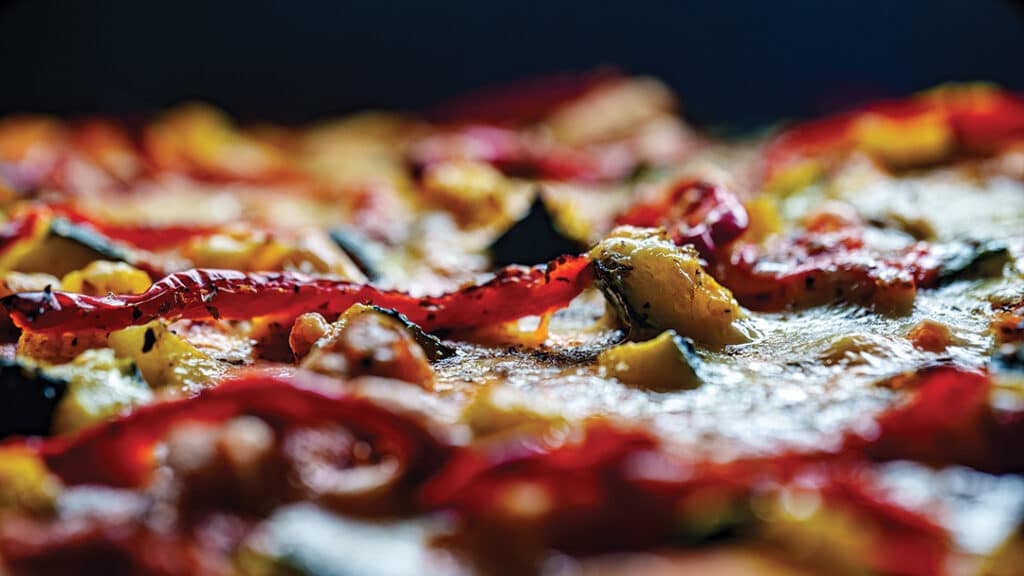 ZUCCHINI PIZZA CASSEROLE
INGREDIENTS
4 cups shredded zucchini
2 large eggs, beaten
1⁄2 cup grated Parmesan cheese
1 cup shredded mozzarella cheese
1⁄2 cup shredded cheddar cheese
1⁄2 tsp. salt
1⁄4 tsp. black pepper
1⁄4 cup pizza sauce
Your favorite pizza toppings (pepperoni, sausage, Canadian bacon, mushrooms, olives, onions, bell peppers, etc.)
INSTRUCTIONS
Step 1: Preheat oven to 375 degrees.
Step 2: Grease a 9×13-inch baking dish.
Step 3: In a large bowl, combine zucchini, eggs, Parmesan cheese, mozzarella cheese, cheddar cheese, salt and pepper. Stir until well combined.
Step 4: Press mixture into the prepared baking dish.
Step 5: Spread pizza sauce over the zucchini mixture.
Step 6: Add toppings.
Step 7: Bake for 30-35 minutes, or until the cheese is melted and bubbly.
Step 8: Cool for a few minutes before serving.