What's Cookin – Cabbage Salad with Ramen
This cabbage salad made with ramen noodles is a great option for a housewarming party. It's easy to make, has a unique flavor profile and offers a satisfying crunch. It's sure to be a conversation starter and a hit among your friends. Enjoy!
Cabbage Salad with Ramen
Makes 6-8 Servings
Time: 20-25 Minutes
INGREDIENTS:
1 package of chicken-flavored ramen noodles (with flavor packet)
1⁄2  cup slivered almonds
1⁄2  cup sunflower seeds
1 small head of cabbage, finely shredded
4 green onions, chopped
1/4 cup vegetable oil
3 T white vinegar 3 T sugar
2 T soy sauce
Salt and pepper to taste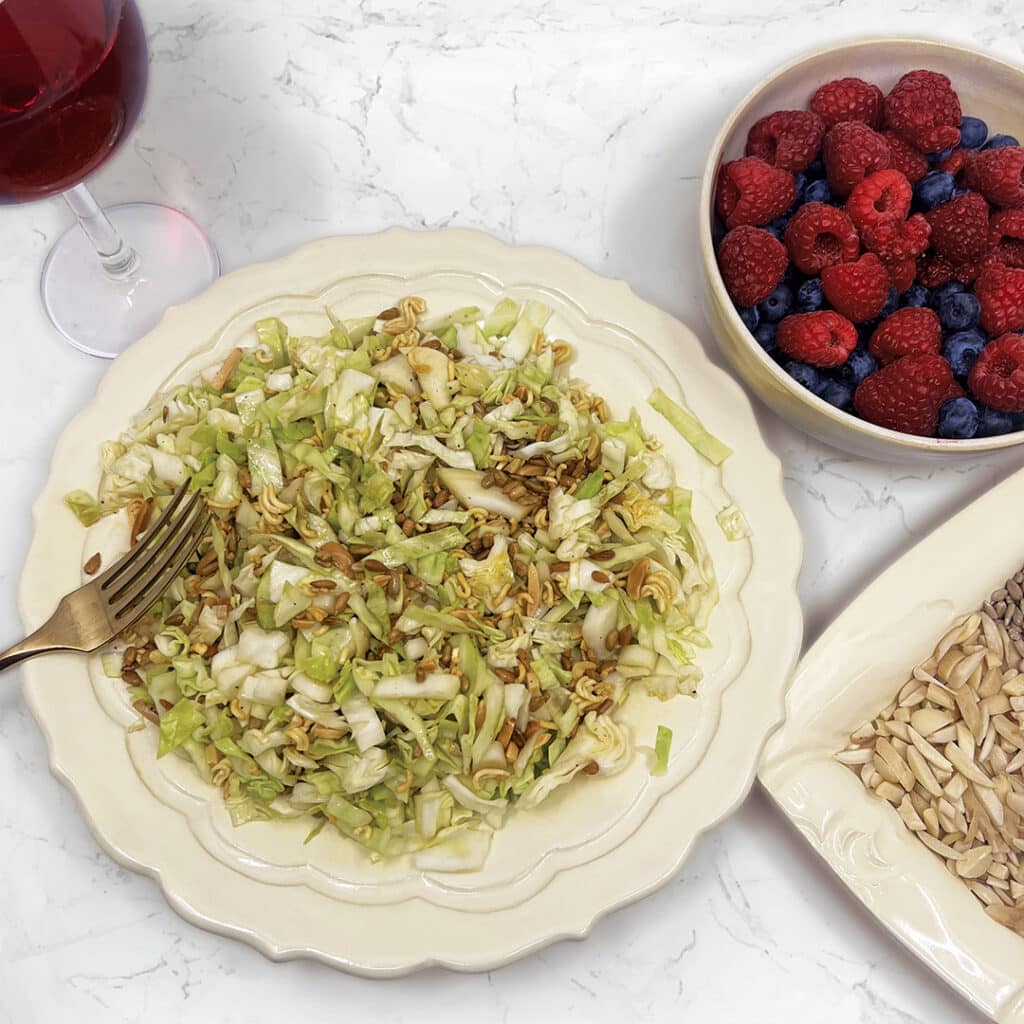 DIRECTIONS:
Step 1: Crush the ramen noodles into small pieces by placing them in a zipper storage bag, and lightly crushing them with a rolling pin or your hands.
Step 2: Spread the noodles, sunflower seeds and almonds onto a baking sheet and bake mixture in preheated 350-degree oven until toasted – 10-15 minutes.
Step 3: In a large mixing bowl, combine the shredded cabbage and chopped green onions.
Step 4: In a small bowl, whisk together the vegetable oil, white vinegar, sugar, soy sauce and the seasoning packet from the ramen noodles.
Step 5: Pour the dressing over the cabbage and onion mixture and toss.
Step 6: Add the cooled crushed ramen noodles, almonds and sunflower seeds to the salad and toss again to combine.
Step 7: Season with salt and pepper to taste.
Step 8: Refrigerate the salad for 10-15 minutes before serving to allow the flavors to meld together and the noodles to soften slightly.
Step 9: Give the salad a final toss before serving.
LOVE OUR RECIPES?
Come into Enjoy the Store in Redding each month and ask for your FREE recipe card.