Whats Cookin' – Toasted Coconut Sugar Cookies
When toasted coconut meets chewy sugar cookie, the combination is one that coconut lovers will be sure to enjoy! These cookies are full of complementary flavors and textures. They've got crisp edges and toasted coconut flakes, which add the perfect amount of crunch to the chewy middle. Enjoy!
Toasted Coconut Sugar Cookies
Prep Time: 15 Minutes
Bake Time: 12 Minutes
Makes 12 Cookies
INGREDIENTS:
1 egg, at room temperature
1 egg yolk, at room temperature 1 cup sugar (plus 1⁄4 cup for rolling dough in)
1⁄2 cup butter, softened
1⁄2 tsp. baking soda
1⁄2 T cornstarch
1⁄2 T vanilla
1⁄2 tsp. coconut extract (optional)
11⁄2 cups flour
11⁄4 cups sweetened coconut flakes, divided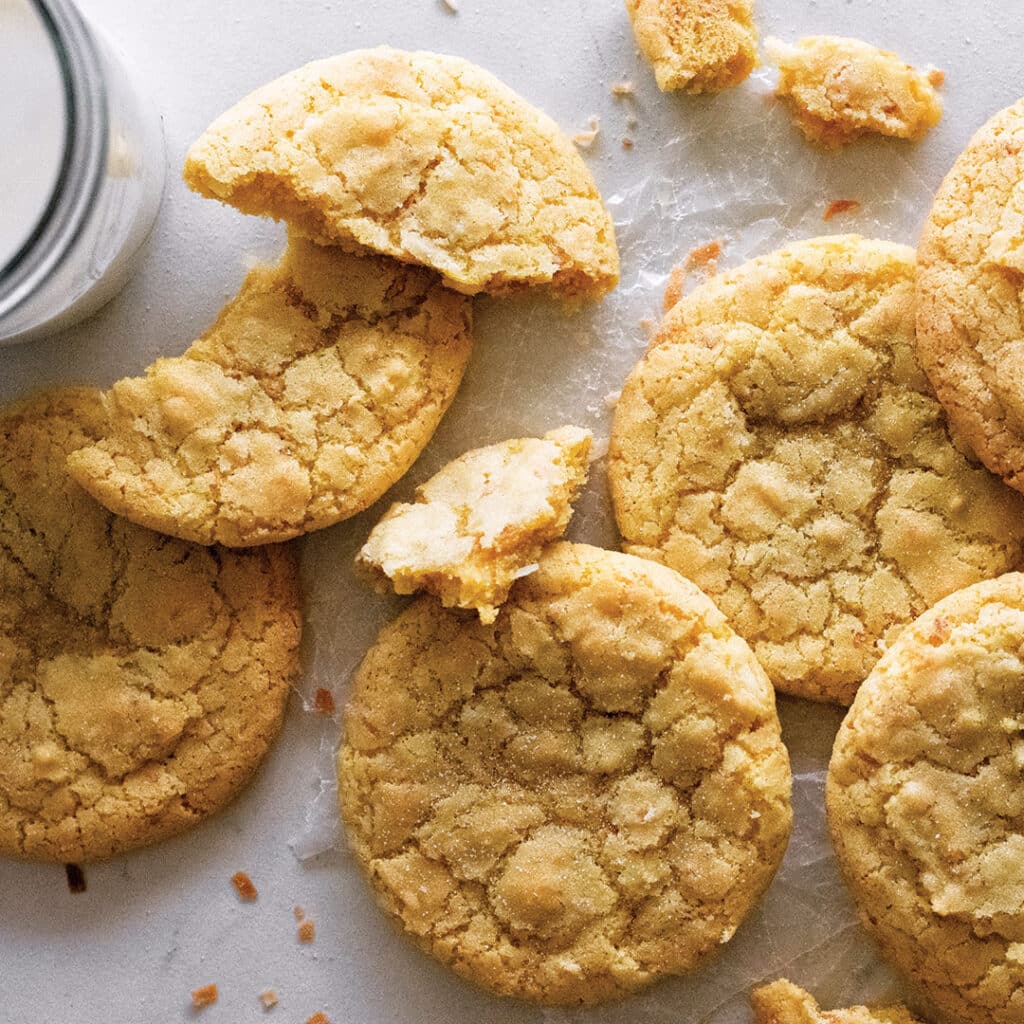 DIRECTIONS:
Step 1: Preheat the oven to 350 degrees and line a baking sheet with parchment paper. Spread around 3⁄4 cup of the coconut flakes evenly onto the lined baking sheet and toast for 8 minutes in the oven, stirring occasionally to avoid burning. Once the coconut is a golden brown, remove from the oven and set aside to cool.
Step 2: In a large bowl add the egg, egg yolk, sugar and butter and beat until well combined with an electric hand mixer or with the paddle attachment in a stand mixer.
Step 3: Add baking soda, cornstarch, vanilla, coconut extract and flour to the ingredients in the bowl and beat again until combined. Once combined, add in the remaining 1⁄2 cup of shredded coconut and beat until just combined. Lastly, add in the toasted coconut and lightly beat in until combined.
Step 4: Put 1⁄4 cup of sugar in a small bowl and set aside. Line two baking sheets with parchment paper. Use a large cookie scoop (~ 3 T of dough) to scoop out dough and roll it into a ball with your hands. Next, roll the ball of dough in the sugar to fully coat before placing on the lined baking sheet. Place cookies about 2 inches apart from each other on the baking sheet and bake for 12-13 minutes.
Step 5: Once baked, remove from the oven and allow the cookies to cool on the baking sheet for 5 minutes before transferring to a cooling rack. Store cookies in an airtight container to stay fresh for several days.
LOVE OUR RECIPES?
Come into Enjoy the Store in Redding each month and ask for your FREE recipe card.