Rescued Hearts
The Beauty of Four-Legged Friendships…
What is a best friend made of? Love, loyalty, laughter and longevity. For our family, best friendship came bearing four legs, the most soulful pair of eyes, a tail that often conveyed his sentiments better than words ever could, and a spirit that told us he was in it for the long haul with us.
We met our best friend in a lonely, hot animal shelter in Duarte, California. It was the third stop on our quest to meet a dog we could take home with us that day. After meeting a dog who bonded with another family during our co-introduction at the first shelter, we remained hopeful. The second shelter had no adoptable pets. We took a deep breath and set our sights on the third shelter.
Searching for a standout amongst the many lonely animals in cages, our hearts breaking all the way, one tiny little dog caught our eye. When we learned he was very sick, our last bit of hope began to circle the drain. "What about that little guy that was returned last week?" one staff member said to another.
Returned. The word hung onto our ears and left a concerned look on our faces. "Returned for what?" I asked.
"Oh, he did nothing wrong," the lady assured us. "Someone who needed a walker for mobility had adopted him, and he was so anxious to be near her, he became a trip hazard." We looked at each other with raised eyebrows, a glimmer of hope returning.
Remy approached us with no hint of trepidation. His white-tipped tail danced with hope, and he seemed to be smiling at us. His tiny three-month-old frame was punctuated by the longest, skinniest legs I'd ever seen. He was a black Dachshund / Chihuahua mix, with Doberman-like markings, including a large white anchor on his chest. His dark brown eyes gazed into mine, and all was made clear. Cleveland and Remy made their introduction with a dance. Cleveland's laughter let me know he thought fate had finally intervened in our favor.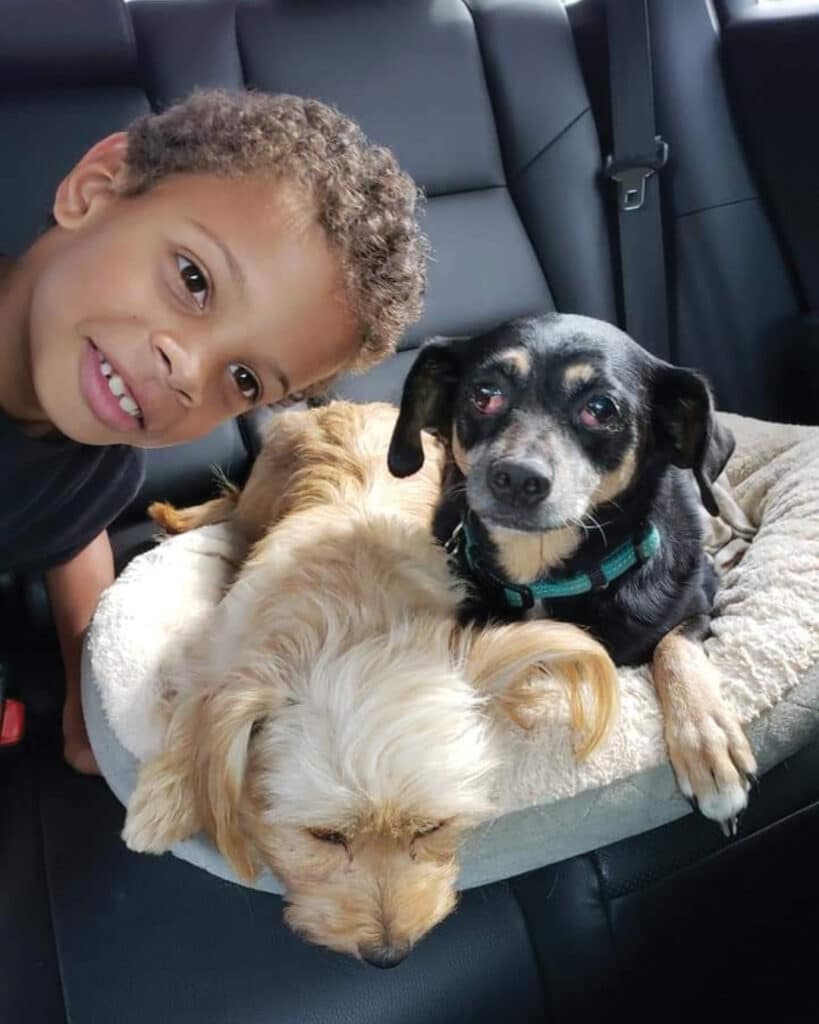 I don't know how long we stayed suspended in that joyful moment or how long it took us to sign paperwork. My most profound memory that day was how Remy hopped into Cleveland's lap, looking over the steering wheel like he had driven many a car before, as if to say, "let's go home."
Remy spent 45 minutes in the bathroom while we went on a pet supply run. We returned to strewn toilet tissue, items knocked off the counter, pawprints on the mirror and a pool of urine on the floor. The door was scratched beyond recognition. What remained was Remy's happy smile, a striking symbol that expressed his gratitude that we hadn't abandoned him.
The first few nights were a struggle. The whining was perpetual. He hated the food we had carefully selected. He made it clear by begrudgingly nibbling one crumb at a time. He refused to stay in the kitchen. He jumped the pet gate entirely – not a surprise, given those long legs of his. The second gate, placed on top of the first, was no match for him. He promptly scaled it and was nicknamed Houdini.
After trying to corral him in the kitchen for many sleepless nights, we relented. We woke up to the sound of Remy mistaking our carpet for grass. I decided to have a talk with him.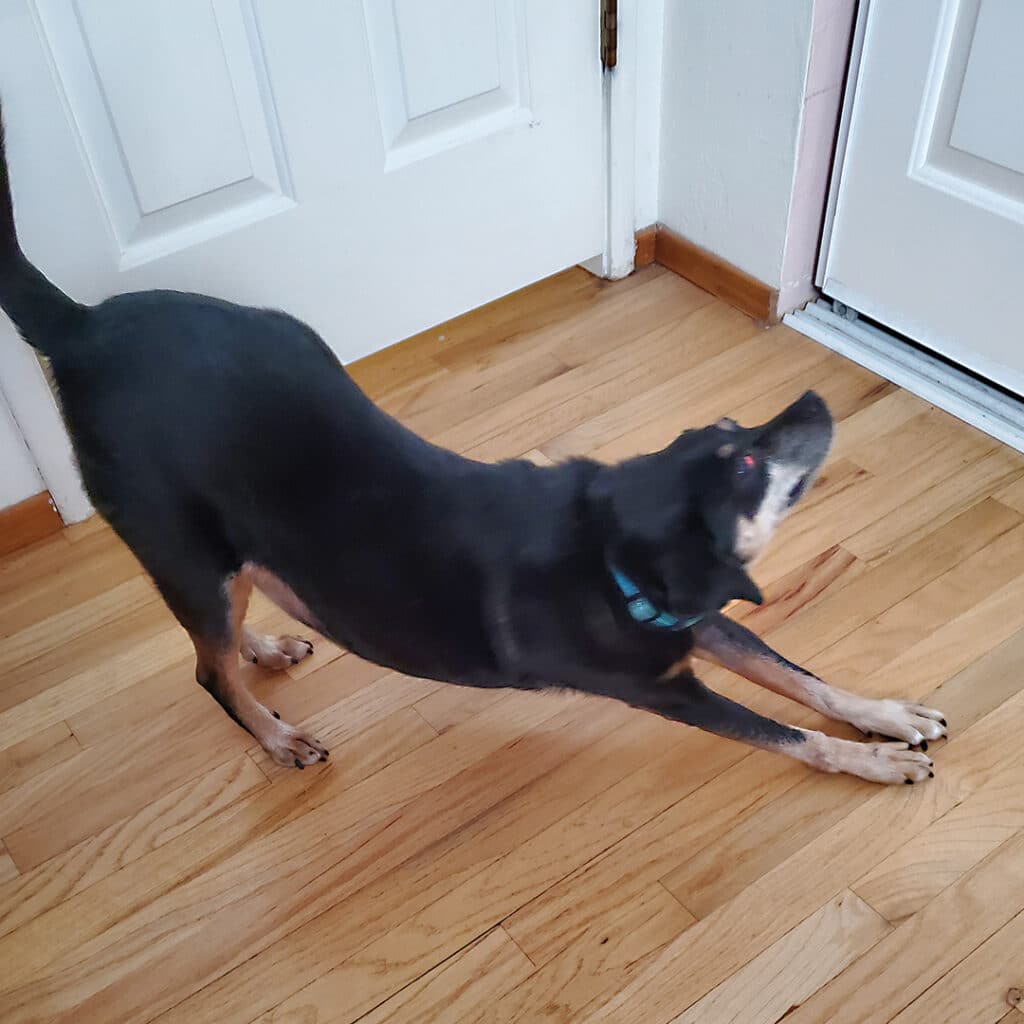 "Listen, Remy. We can't afford any more accidents. Can we trust you?" I asked. He smiled his most glorious smile and wagged his paintbrush tail. We never had another midnight accident in that apartment.
He would give us a few more stress-filled moments over the years, but the joy was unrivaled. We took him to the beach, much to his chagrin. We took him to the mountains. We moved to Northern California, where he met his older fur brother, Hammbeaune, and his little fur sister, Melody.
Remy was with us through our engagement, the loss of my grandmother, our wedding, the loss of Hammbeaune, the loss of Cleveland's grandmother, the birth of our son and the loss of Melody. When we lost our home in the Carr Fire and when we adopted Daisy, our newest furry addition, Remy was there, as he was through many more happy, sad, and in-between phases of life.
He became my son's reading buddy, listening attentively as Braxton read increasingly more challenging books. He followed me into every room by day and took his place on the carpet at Cleveland's side of the bed by night.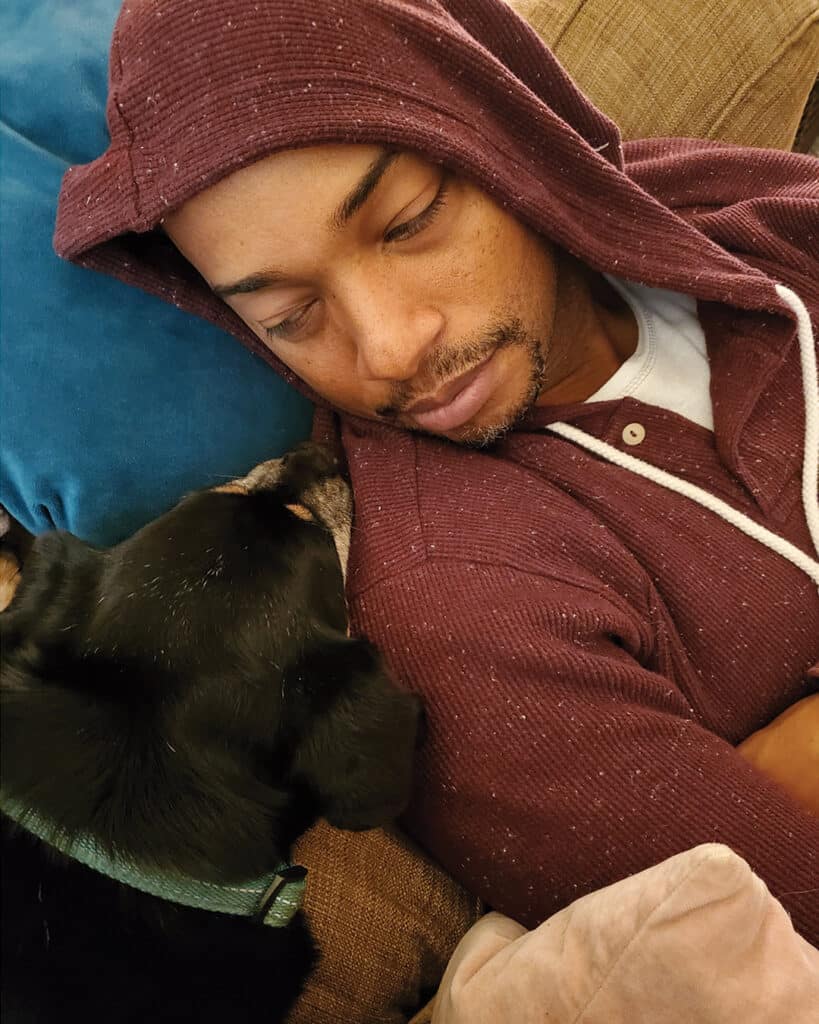 Remy would wake me in the wee hours of the morning like clockwork – first with the shaking of his collar, then an audible yawn, and finally, by tapping his feet on the side of the bed, letting me know it was time to let him out.
He battled allergies, cherry eyes, eye infections, lost teeth, surgeries, anxiety and other issues that left him wearing the Cone of Shame far too often for his liking or ours. He lived through a terrifying bout with pancreatitis last summer, giving all of us a blessed reprieve.
In October, Remy began to wane, quickly going from his normally food-motivated self to refusing to eat. I always told Remy that when he was ready to leave, he'd have to make it abundantly clear to me because it would be an unbearable choice for me to make. Remy and I always had those big conversations. I'd talk and he'd listen, absorbing every word and showing me that he understood the assignment. When he refused to eat, I took him at his word.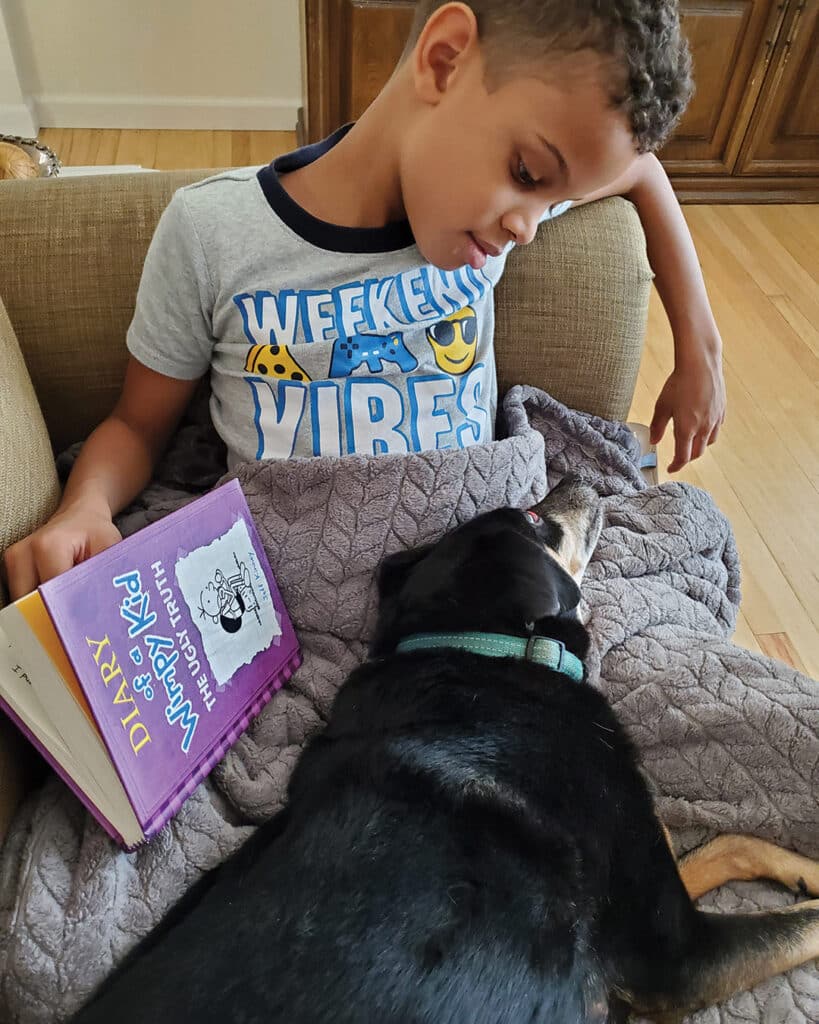 At the vet's office, Remy looked up at Cleveland and put his paws on his leg. Cleveland brought Remy onto his lap one last time, as he had the day we took him home from the shelter. Remy went down the line, lovingly saying his goodbyes to me, then my mom, and finally, Cleveland.
We were with him until he drew his last breath, firmly committed to being there with and for Remy, as he had been for us. He never wavered in his love and loyalty. He was our comforter and our comic relief. That distinguished gentleman, our Little Remy, never missed a moment to give us his very best.
It still stings that he isn't here to regale us with his shiny black fur, knowing glances, and periodic side-eyes, but our tears come with gratitude to have shared so many love- filled years with our best friend.