Pet Portraits
Sue Crowe's Rocks for Dogs…
When sue crowe began painting the likenesses of her favorite animal on the kindness rocks she hid around Redding some years back, she never dreamed she'd become a rock star. But her first additions of dog silhouettes to her designs drew unexpected attention. A friend whose son had just lost his dog came to her with a special request. The friend asked her if she could paint a memorial portrait of her son's beloved pet on a stone.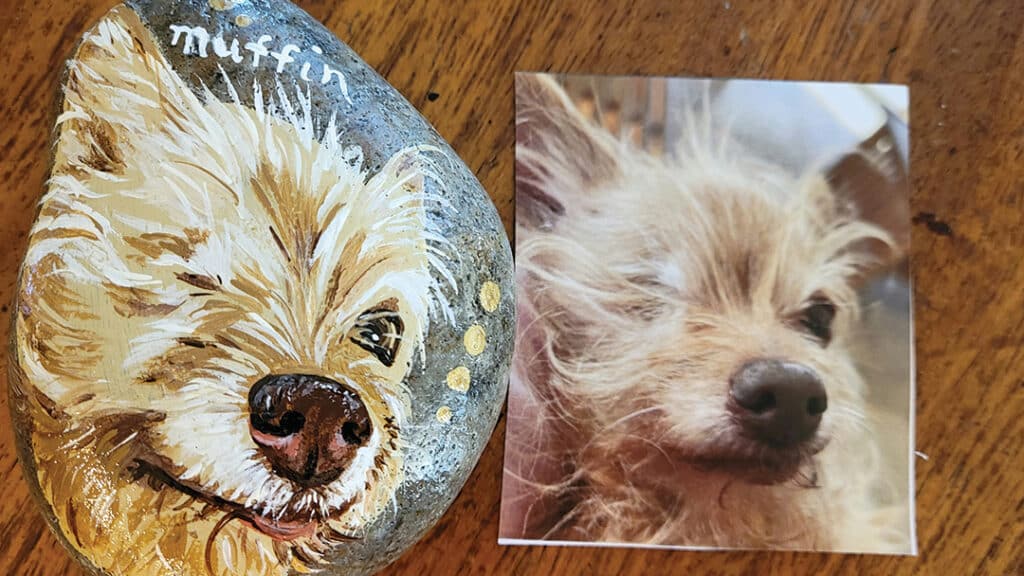 Six years later, Crowe remembers her reaction well. "I said I can try!" she says. "I painted this spaniel, and they loved it. And that was my first dog rock, my first pet portrait. Then my fellow volunteers started ordering them, and it kind of went from there."
At the time, the budding dog artist worked as a volunteer at Haven Humane Society, a pet shelter and adoption center in southern Redding. More orders came from friends. Then their friends. Within four months she set up a Facebook page she called Rocks for Dogs. There she posted photos of her works which, naturally, led to more orders. To date, she estimates she's sold 1,000 pet portraits on rocks. And she's given every penny of the of those untold thousands of dollars away.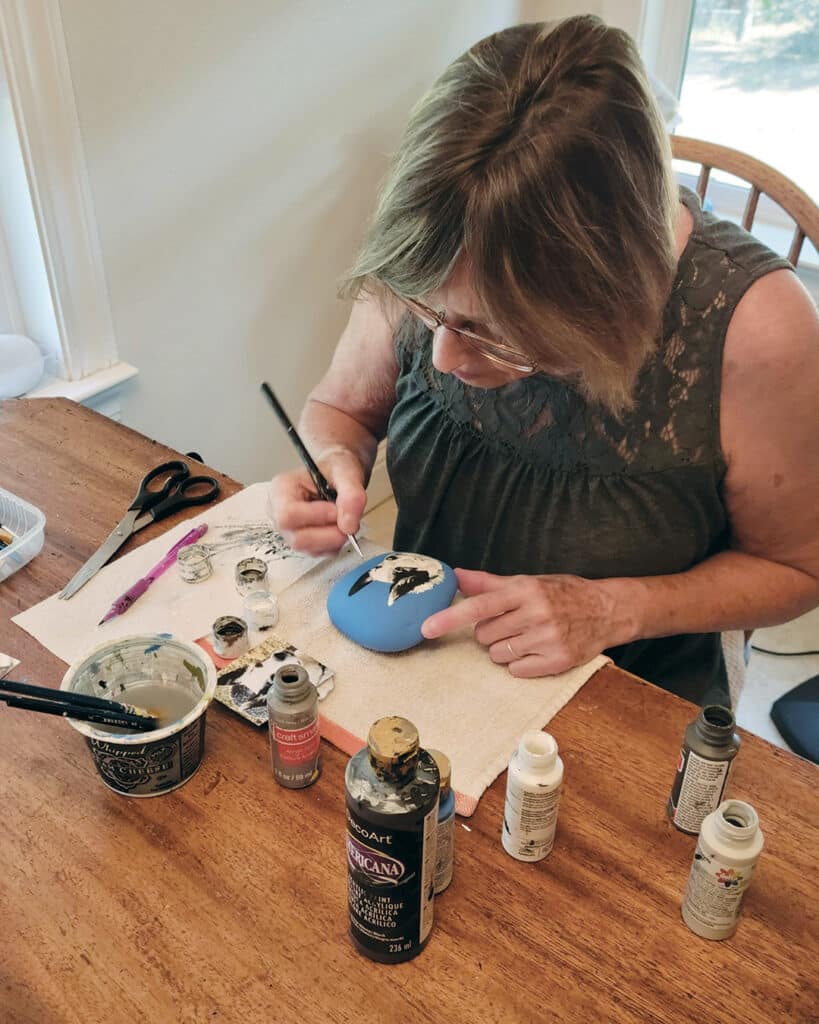 She donates most of the funds to Haven Humane, but also supports the efforts of other animal rescue organizations, such as the Hayfork Valley Spay and Neuter Fund of Trinity County, the Dogwood Animal Rescue Project in Santa Rosa and Hope Ranch Animal Sanctuary in Anza. "It's always been about the dogs," she says. "My friends say I'm helping the dogs one rock at a time."
Kassie Badman, Haven Humane's volunteer coordinator, remembers Crowe was already there and was named Volunteer of the Year for 2018, the year Badman was hired. "I wish I could take credit for finding Sue," she says. "She's incredibly selfless. She uses her talent to bring in money for the animals."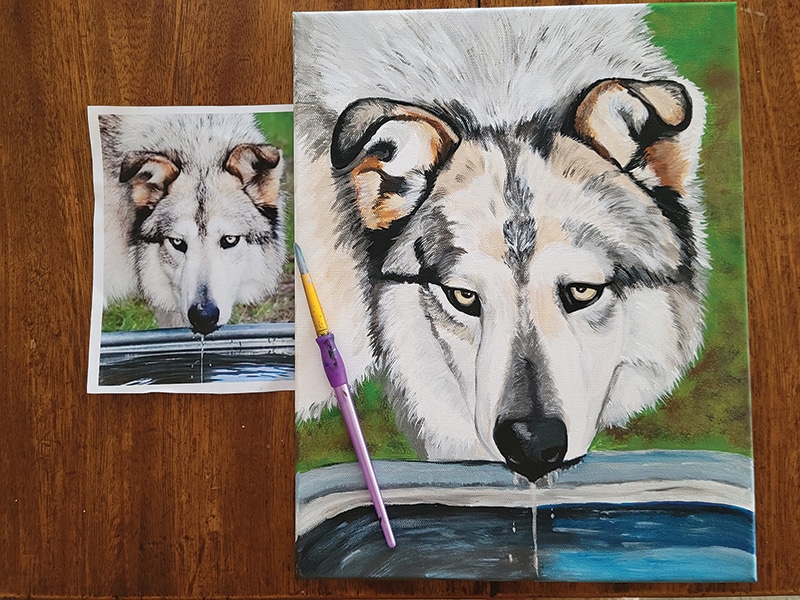 Crowe also impresses her supervisor with her prowess with the dogs there. "She walks the harder cases, the dogs that need a little more attention. She focuses on those."
Fellow volunteer Madeline Rippe worked at Haven Humane 10 years before Crowe arrived. "She is a ball of energy," Rippe says. "Nothing daunts her. She hasn't met a dog she won't want to walk. We are lucky to have her. She is one in a million. The dogs love her. We love her."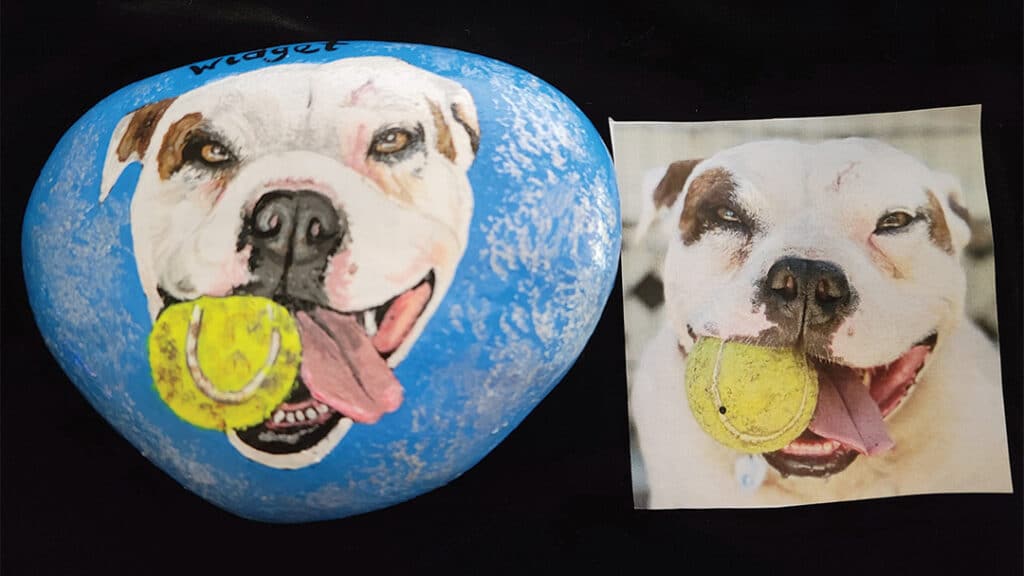 Unsurprisingly, both women are customers of Rocks for Dogs. "In terms of her artwork, they make great gifts," says Badman. "I bought one for my parents. The best thing is when you buy something from Sue, you donate to help the animals. I tell people that, too. That's what it's always about with her."
Rippe is still amazed at the transformation she witnessed. "She cared madly for our dogs, and through that she emerged as this incredible artist," she says. "I call Susan Crowe 'Sue Van Gogh.'"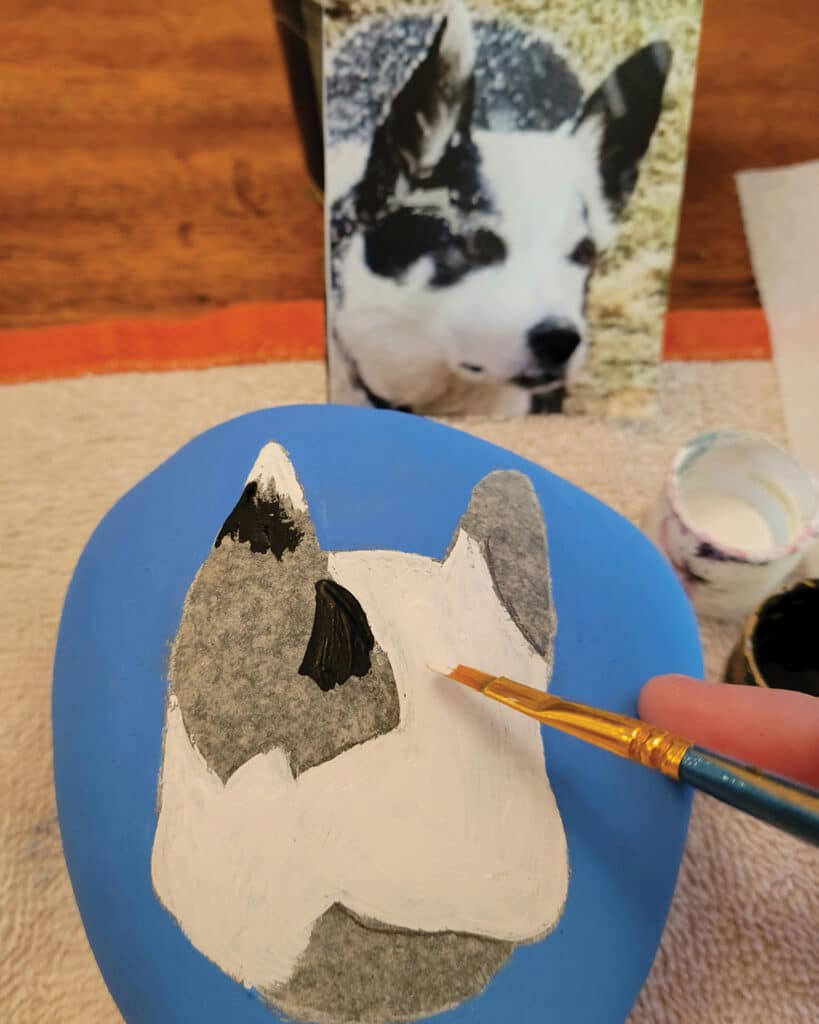 Crowe says the demand for her craft surprised her, but she understands how a portrait painted on a four-inch stone can offer a grieving pet owner something a photo cannot. "Yeah, because you can hold them," she explains. "It's not like a picture you just look at. You can actually physically hold them. One of the biggest compliments I get are comments telling me how that really helps healing in the loss of a pet."
She saw the sudden influx of funds as a way to realize her desire to help animals with special medical needs. "Treatment helps make them more adoptable, but I couldn't do it before, because I didn't have the money to donate $200 or $300. Rocks for Dogs was a way I could do it. And it has gone further than I ever imagined. I have shipped rocks all over the world."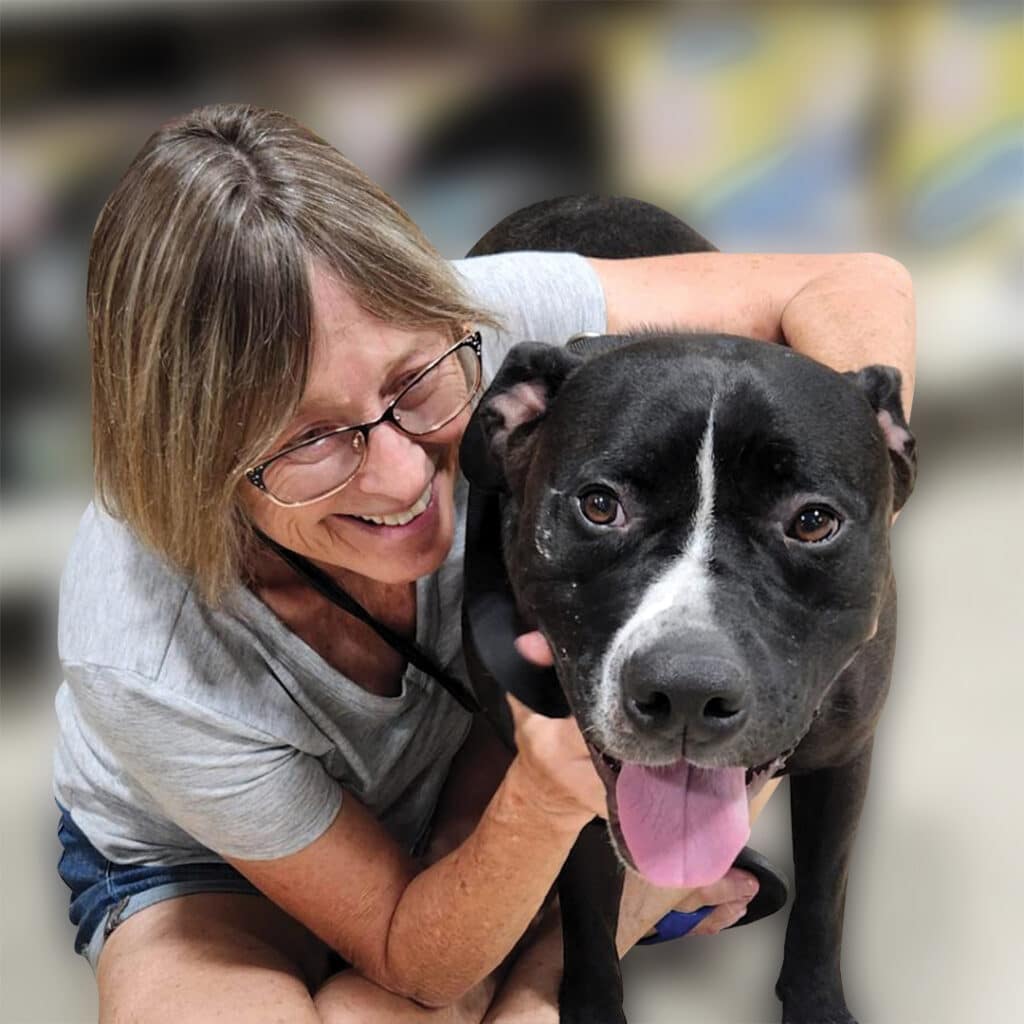 Crowe says when she retired from Shasta County in 2017, she wasn't ready for her mind to shut off. To prevent this, she not only volunteered at Haven Humane, but also landed a contract job with American Trails, a national nonprofit dedicated to advance the development of quality trails and greenways. So when she's not walking five temperamental dogs per day or painting pet memorials on stone or canvas, she's on a keyboard coordinating greenbelt data or helping with the American Trails website.
The uncertain rock painter of six years ago has matured into a confident artist who can turn a rock order around in 45 minutes, a bit longer for canvases. She's reluctant to reveal the total amount of her donations to date, but is willing to give us this: Sue Van Gogh paints 1,000 rocks and sells them at $30 each, plus maybe 100 canvases bringing, depending on the size, between $40 to $100 each. How much has she donated?
"Do the math," she says. •
Rocks for Dogs
www.rocksfordogs.com
Find them on Facebook