Jumpstart Summer
Swordfish Steaks with Jalapeno-Mint Butter Sauce…
As the weather starts to warm up, our minds inevitably turn to outdoor cooking and gathering with friends and family. What better occasion to kick off the grilling season than Memorial Day weekend?
Sure, we know that the official start of summer doesn't arrive until June 21, but for a lot of us, the holiday celebrated on the last Monday of May kicks off the barbecue season. Along with honoring those veterans who made the ultimate sacrifice for our country, it's a great day to gather with friends and family and enjoy outdoor cooking and a few libations.
Not only is May National Barbecue Month, nearly 60 percent of all American households will host or attend a barbecue over the holiday weekend, the second-most popular day for grilling to Fourth of July. It is estimated that Americans spend $1.7 billion on meat for Memorial Day – most of that on hot dogs, hamburgers and steak. This year, let's shake things up a bit and grill up some swordfish.
Swordfish is a mild-tasting white fish that has a firm, meaty texture. Unlike other white
fish that can easily fall apart after cooking, swordfish actually holds up well, making it the perfect grilling fish. When grilling swordfish, treat it as you would a rare steak. For a 1-inch piece of swordfish, use high heat to sear the swordfish on one side for approximately 5-6 minutes until you get the grill marks and the fish is well browned, before flipping over and grilling for another couple of minutes.
The American Heart Association recommends we eat at least two servings of fish per week. Swordfish is an excellent source of selenium, a micronutrient that offers cancer-fighting and heart-health benefits. It is protein-rich and loaded with niacin, vitamin B12, zinc and Omega-3. Best of all, it's low in fat and calories.
Swordfish is also a guilt-free choice. The species was once overfished, but is now considered a sustainability success story, with healthy populations in both the North Pacific and North Atlantic.
Inspired by the good folks at Weber, here is a tasty recipe to jumpstart your "summer."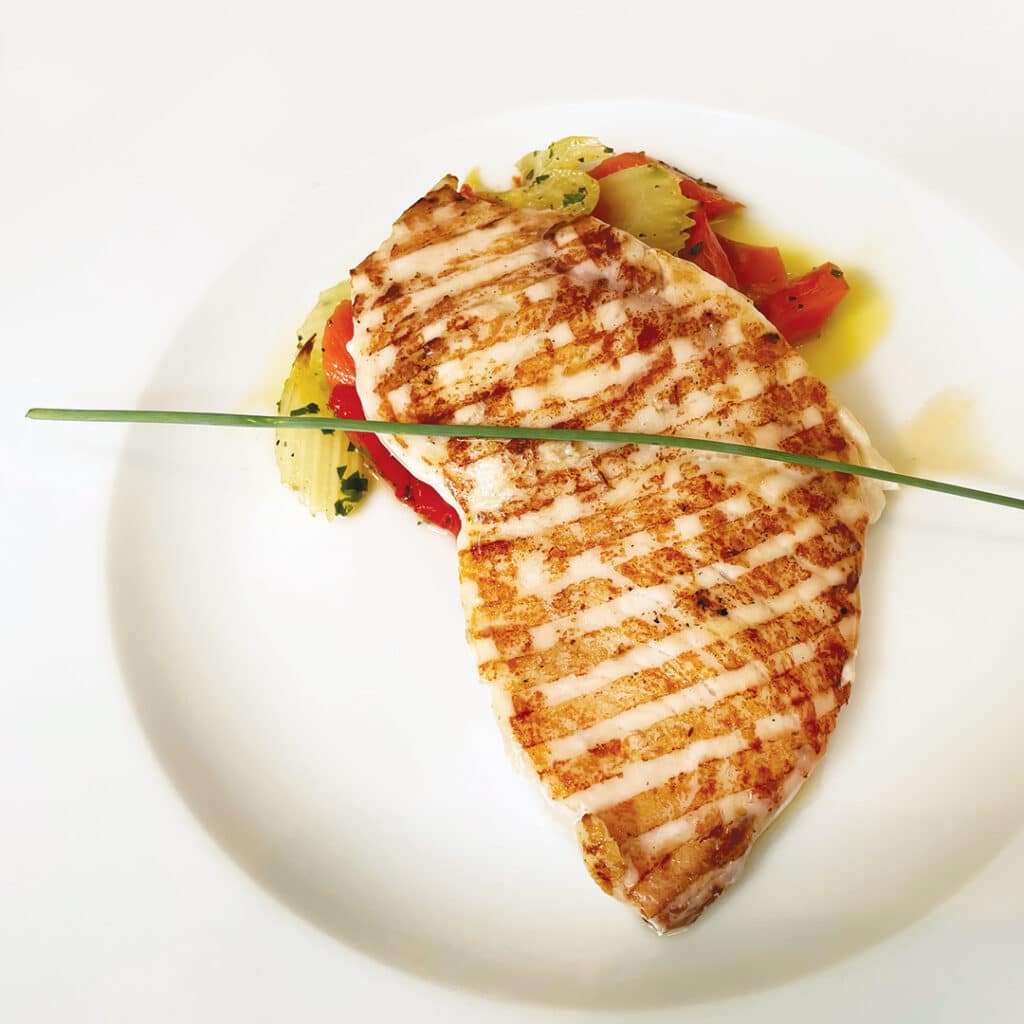 SWORDFISH STEAKS WITH JALAPEÑO-MINT BUTTER SAUCE
Servings: 4
Prep Time: 15 minutes Total Time: 35 minutes
INGREDIENTS
• 2 medium jalapeño chili peppers
• 1⁄2 cup (1 stick) unsalted butter
• 1⁄4 cup minced fresh mint leaves (from 8 to 10 sprigs)
• 3 T fresh lemon juice
• 2 scallions (white and light green parts only), thinly sliced
• 1 tsp. kosher salt, divided
• 4 swordfish steaks, each about 8 ounces and 1-inch thick
• Extra-virgin olive oil
• 1⁄4 tsp. freshly ground black pepper
• 4 lemon wedges
INSTRUCTIONS
Step 1: Prepare the grill for direct cooking over medium heat (350 to 450 degrees).
Step 2: Brush the cooking grates clean. Grill the jalapeños over direct medium heat, with the lid closed, until blackened, about 10 minutes, turning occasionally. Place the jalapeños in a bowl and cover with plastic wrap to trap the steam. Let stand for about 10 minutes. Peel away and discard the charred skin, stems and seeds, then finely dice.
Step 3: In a small saucepan over medium heat on the stove, cook the butter until melted and frothy. Mix in the jalapeños, mint, lemon juice, scallions and 1⁄2 teaspoon of the salt. Keep warm over low heat.
Step 4: Brush the swordfish steaks on both sides with oil and season evenly with the remaining 1⁄2 teaspoon salt and the pepper. Grill over direct medium heat, with the lid closed, until just opaque in the center but still juicy, 8 to 10 minutes, turning once.
Step 5: Top the swordfish steaks with jalapeno-mint butter sauce and serve warm with lemon wedges.