Building Community
Enjoy the Outdoors at Palo Cedro Park…
This month, Enjoy spoke with Andy Main, incoming president of the Palo Cedro Park board of directors.
Enjoy: How long has Palo Cedro Park been in existence? 
Main: Palo Cedro Park was started in 1999 as a 501(c)3 nonprofit by a group of local citizens led by Eileen Fox. From 1985 to 1998, the Palo Cedro Chamber of Commerce had raised around $35,000 toward development of a community park. Shasta County also committed $50,000 to the effort, and in 2004, 18 acres was purchased from the family of Homer and Lois Park, a longtime Palo Cedro family credited with starting the Palo Cedro bee industry.
Enjoy: What are the vision and mission for the park?
Main: The vision is "to develop a community park that serves the social and recreational needs of Palo Cedro community." This includes playgrounds and disc golf, walking and biking areas, soccer and softball fields, picnic and wedding areas. Our mission is "building a better community through parks and recreation."
Enjoy: Why are parks an essential part of a community?
Main: Since the park opened to the public in 2014, it has become a venue that people in Palo Cedro visit daily. People walk their dogs in the morning. People take breaks at the park throughout the day. Kids use the park after school every day. Its location between Junction School and Foothill High School makes it a perfect place to spend time in the fresh air.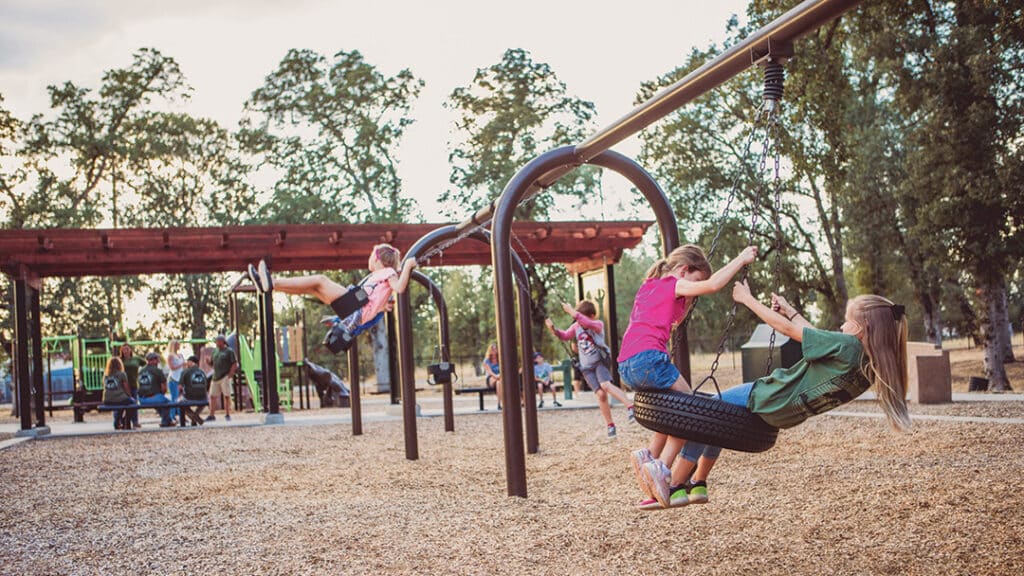 Enjoy: Do you have paid employees?
Main: The park is entirely run by volunteers, and since 2004, their efforts have raised more than $1 million toward the development of the local park. Upkeep has been done with work parties coordinated by the board of directors and by a few community individuals who regularly give of their time to pick up and empty trash regularly. An annual "clean up the park" day in early May is always attended by local residents and their families to do much-needed maintenance of the 18-acre facility.
Enjoy: Do you have community events?
Main: For 20 years, the Palo Cedro Park has run and sponsored many community events, including the Palo Cedro Honey Bee Festival (www.palocedrohoneybeefestival.com) that draws 6,000 to 8,000 people annually to celebrate Palo Cedro's rich bee industry. The park also sponsors the annual Celebration of North State Wine (www.celebrationofnorthstatewine.com) fundraising event that features wines from local wineries. This popular event brings together great wine and food of the North State and a silent and live auction that benefits the operation of the park. The park has also run Easter in the Park for the last five years on the Saturday before Easter. .  
 
Enjoy: What things are planned for the park in the near future?
Main: Our biggest upgrade for the park is now under construction – a bathroom! Palo Cedro's Ark Design Construction Company has gathered a group of local contractors and individuals who are all donating more than 50 percent of the cost to build a first-class bathroom facility. Further plans include a water facility, and a fun music addition called Harmony Park where kids can make music with outdoor all-weather instruments. •
Palo Cedro Park • www.pcpark.org
9449 Cedro Lane, Palo Cedro
To donate time or resources, visit the "Donate" page of the website.
Interview by:
Hayden Ball is a writer of poetry and short stories from Redding. In addition, he's been an active member of the Redding music scene for the past 10 years, releasing timeless hits such as "American Family" and the critically acclaimed album Wobbly H in 2016.