All About Comfort
Turkey and Chicken Meatloaf…
It's the ultimate comfort food and nearly every family has their own favorite recipe, handed down from generation to generation. Meatloaf is a simple meal to make and the ingredients are so basic.
The new year is the time many of us resolve to eat healthier and lose a few pounds gained during the holiday season. With this delicious recipe, you can still enjoy sitting down to eat comfort food and not worry about your diet. Simply by substituting beef and pork with turkey and chicken, this meatloaf delivers all the flavor with only 250 calories and 11 grams of fat.
Meatloaf dates back to the 5th century, when Romans prepared the dish. Just about all culinary cultures today have a version of meatloaf. In the United States, German Americans in Pennsylvania popularized the dish during colonial times. They called it Hackbraten, which translated into English means ground roast.
Food historian Andrew Smith explored America's love affair with meatloaf and discovered that the first recorded recipe for meatloaf is from the late 1870s. The original recipe called for "whatever cold meat you have" and to chop it finely. Beef was the preferred protein back then because the chef could use cheaper cuts. Just like today, the original recipe included pepper, salt, onion, breadcrumbs and egg. But unlike today, the original meatloaf recipe was a breakfast meal.
During the Great Depression, meatloaf became popular because it allowed families to stretch their food budgets when meat prices were high. Even today, as food prices continue to soar, meatloaf remains an economical option.
By the 1950s, meatloaf was an American staple. And it remains popular in 2023. A few years ago, Good Housekeeping magazine conducted a survey asking readers about their favorite food. Meatloaf finished seventh. •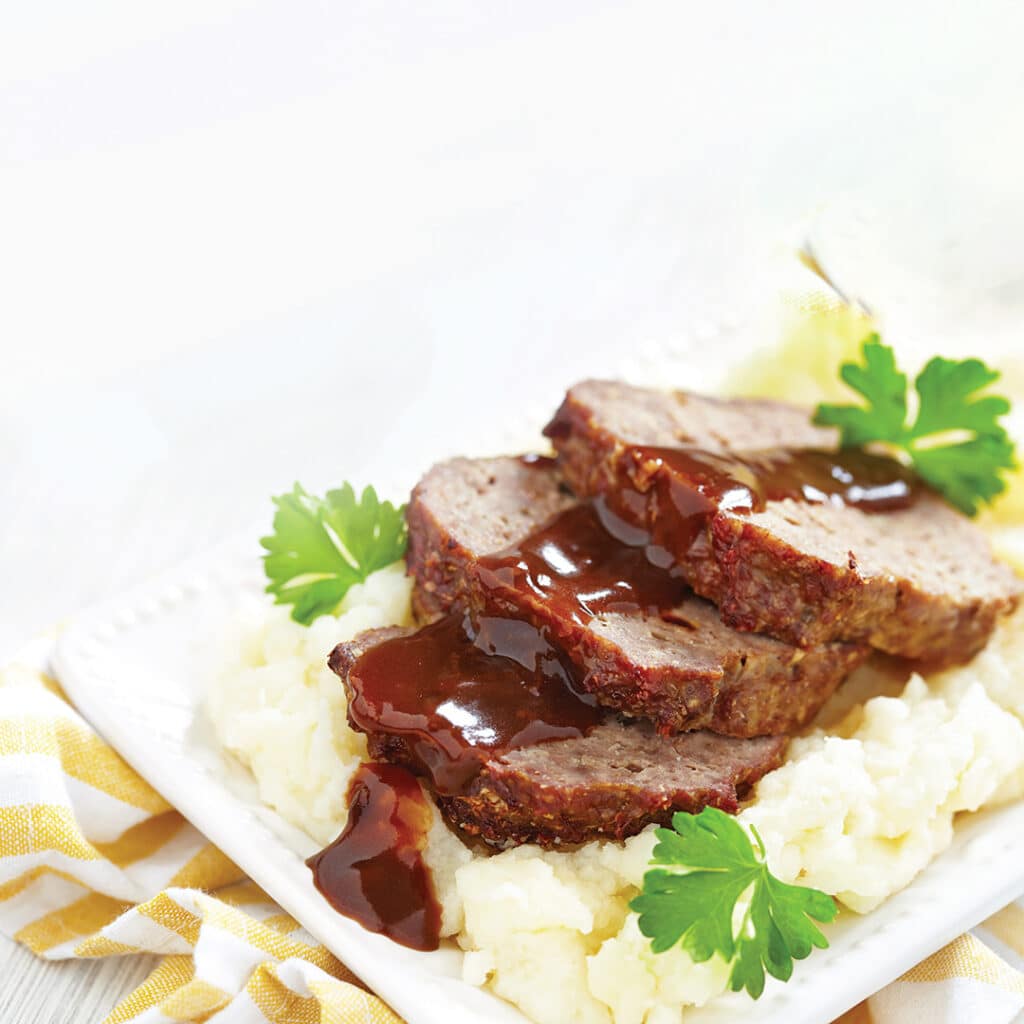 Turkey and Chicken Meatloaf
Servings: 4-6
Prep Time: 15 minutes
Total Time: 1 hour, 15 minutes
Ingredients
• 2 T butter
• 1 cup onion (minced)
• 3 cloves garlic (minced)
• ½ lb. ground turkey
• ½ lb. bulk chicken sausage
• 1 cup breadcrumbs
• 1 egg
• ¼ cup ketchup
• 2 tsp. Worcestershire sauce
• ½ tsp. black pepper
• ¾ tsp. salt
• Optional: Barbecue sauce or salsa
Instructions
Step 1: Preheat oven to 350 degrees. Melt butter in a small skillet over medium-high heat. Add onion and garlic and cook 5 minutes, stirring occasionally. Transfer mixture to a large bowl and cool for 5 minutes.
Step 2: Add ground turkey, bulk chicken sausage, breadcrumbs, egg, ketchup, Worcestershire sauce, pepper and salt to turkey mixture. Mix well.
Step 3: Press into 8×4-inch loaf pan. Top with barbecue sauce or salsa, if desired.
Step 4: Bake 1 hour or until the internal temperature of the meatloaf is 165 degrees.
Step 5: Let stand at room temperature 5 minutes before slicing.