Happy Holidays
The Return of the Cascade Christmas…
Lizzie Stoxen had a nice run as Mrs. Claus in the holiday performances of "Cascade Christmas" and she says the best parts were the cast parties after the final show when excited performers would talk about what to add for next year.
This year, as both director and musical director, Stoxen has taken on the task of writing the "Cascade Christmas" script and she's using those cast party brainstorming sessions for inspiration. "I'm really having fun coming back to those ideas and putting pen to paper," she says.
The theme this year is coming home; a return to the fundamentals that helped transform "Cascade Christmas" into a cherished holiday tradition. The story's a work in progress but Stoxen says it will "pay tribute to what 'Cascade Christmas' shows were in the past and ushering in the future. There will be family elements, acceptance, humor and fun."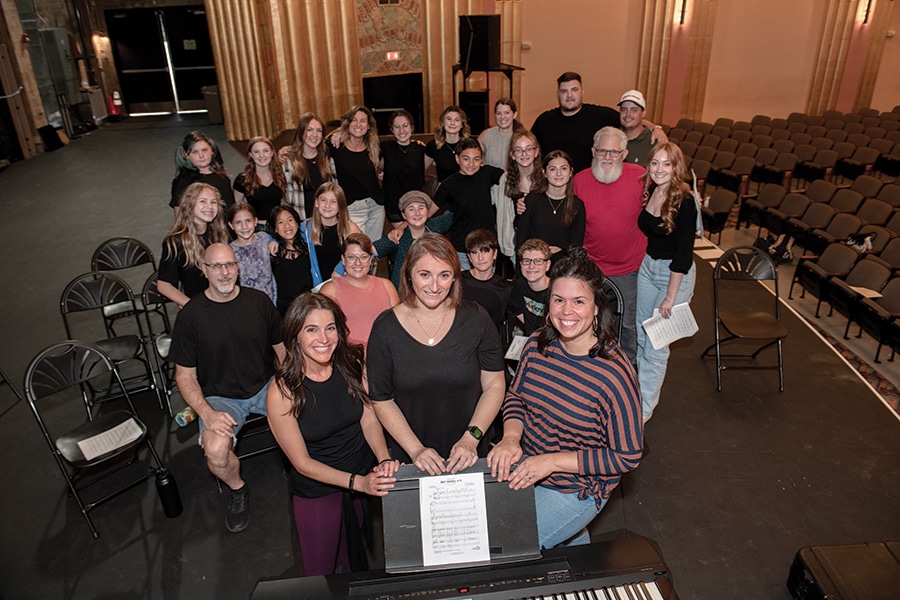 Stoxen says she's been bouncing ideas off Jessica Weichman, a professional playwright who has penned previous Christmas shows, and also is getting plenty of help from her choreographer Kristin Lawrence, who has performed as a dancer at previous shows.
"Redding has such an incredible theater community already and there's no shortage of wonderful productions people can go and see," Stoxen says. "'Cascade Christmas' has become such an ingrained part of the Christmas tradition and when it wasn't able to happen because of COVID, it was really hard for a lot of people.
"I'm hoping to provide a heartwarming, entertaining show that performers can share with an audience that is ready for it."
People are ready, says Tara Faires, who stepped in to produce "Cascade Christmas" after an earlier planned production had to be canceled. Even before accepting, Faires says she took an informal poll "and a lot of people wanted to see 'Cascade Christmas.' It was important to bring it back."
Aided by costume help from Debbie Goodman and Amanda Hazeleur, Faires says the goal is to "bring back some of the numbers people really loved and add some new traditions."
Unlike previous productions, there will only be one weekend of performances, with each show scheduled to fit around other holiday happenings like the lighted Christmas parade and the lighting of the downtown Christmas tree.
"This is the first musical where COVID isn't such a scary thing so we're hoping to get people in the theater and get people downtown," Faires says.
Faires also envisions "Cascade Christmas" serving as the start of a new era for the Cascade Theatre, since it coincides with the start of Alex Hauf-Belden's tenure as managing director of the theatre. The Shasta County native and Chico State graduate most recently worked as the event and production manager for Principia College in southern Illinois. His previous posts include event coordinator for Seattle Center Productions and assistant production manager for Chico Performances at Laxson Auditorium.
"I'm hoping the Christmas show is the first in a new dawning of the Cascade," Faires says. •
"Cascade Christmas" will be performed at 7:30 pm Dec. 1 and 2; at noon on Dec. 3; and at 2 pm Dec. 4. For tickets, visit www.cascadetheatre.org