Glass Act
Glassblowers Jason Paine and Ron Toroni…
A puff of one's own breath is at the core of every glassblowing piece, and that's just one aspect of the art form that Jason Paine finds so compelling. Paine, who teaches at Shasta Charter Academy when he isn't working with molten glass in his Palo Cedro studio, finds that others are equally drawn to glassblowing once they experience it on their own.
"The appeal is limitless. And it's challenging; that's what makes it addictive," Paine says. "I really enjoy exposing people to glassblowing." He gets that opportunity with his Shasta Charter students and working with customers who schedule two-hour make-your-own-glass experiences.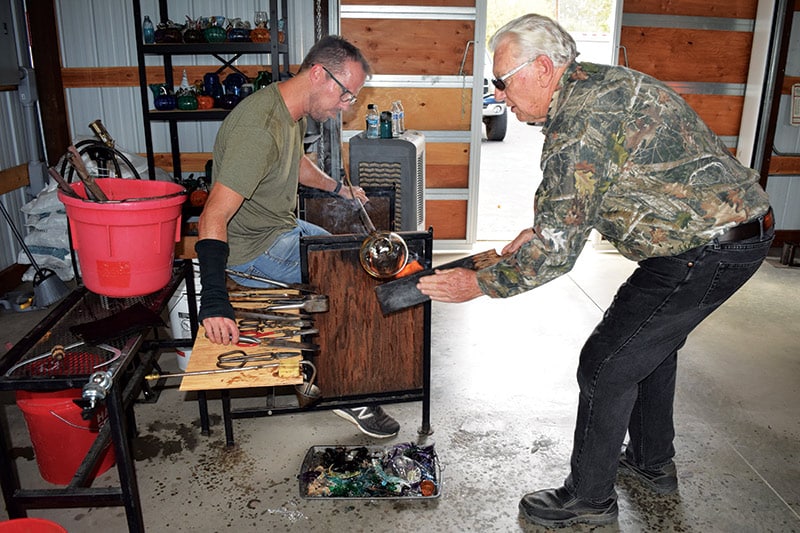 Ron Toroni, who started working with glass after a 38- year career with the U.S. Forest Service, also enjoys sharing the wonders of glassblowing. For several years, he opened his Bella Vista studio to North Woods Discovery School students and volunteered his time to teach the craft to eighth-graders. Students finished the six-week course by making their own belt buckles.
Toroni was looking for a challenging hobby and he found it in glassblowing. An intensive six-week course at the Pilchuck Glass School in Stanwood, Wash., gave him a solid grasp of the fundamentals. The following 25 years have been filled with lots of experimenting, growth, learning new techniques and the occasional glass- shattering setback. Toroni says he loves it all.
Toroni got his son, Adam, involved in glassblowing and the two often work together as a team. Adam's daughter, Marina, a senior at Cal Poly Humboldt, also has been known to join in the process. Often, Toroni says glassblowing is best performed as a two-person venture with one partner assisting the "lead" glassblower in choreographed moves as glass is repeatedly heated, formed and colored.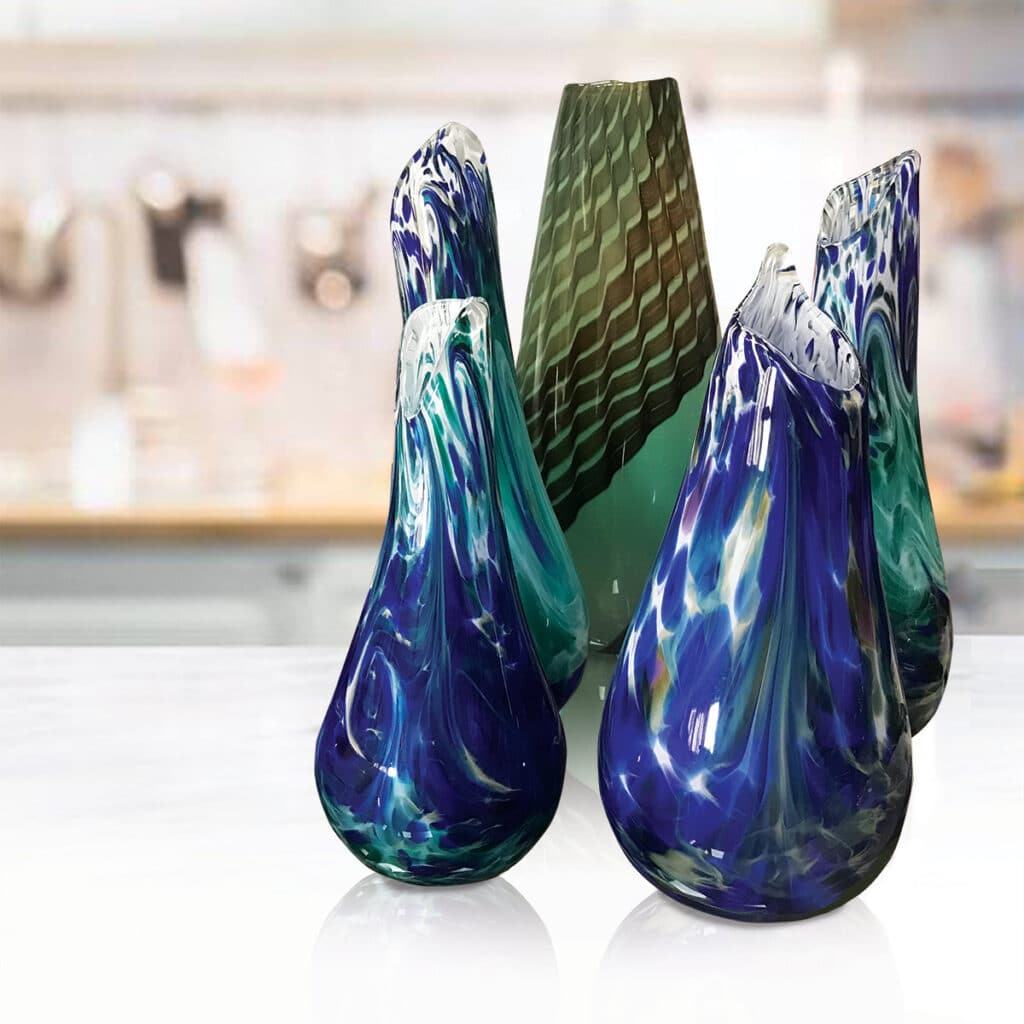 Paine, who often works together with Toroni, was introduced to glassblowing in 2007 when he and his wife, Christine, were backpacking through Europe and happened upon the island of Murano near Venice, Italy. Artisans in Murano have a glassblowing lineage that dates back seven centuries; they were the first Europeans to learn how to make glass mirrors and they refined the use of multicolored glass, threads of gold and crystalline glass.
That fateful visit made such an impact on Paine that he taught himself how to blow glass and, 10 years after visiting Murano, he had a glassblowing furnace set up on the roof of his Hong Kong apartment. A year later, that furnace made its way to Palo Cedro when the Paines, now with three kids in tow, returned to the states and continued their teaching careers. Paine describes himself as a self-taught glassblower but he has attended workshops in Tacoma, Wash., at the Corning Museum of Glass in Corning, NY.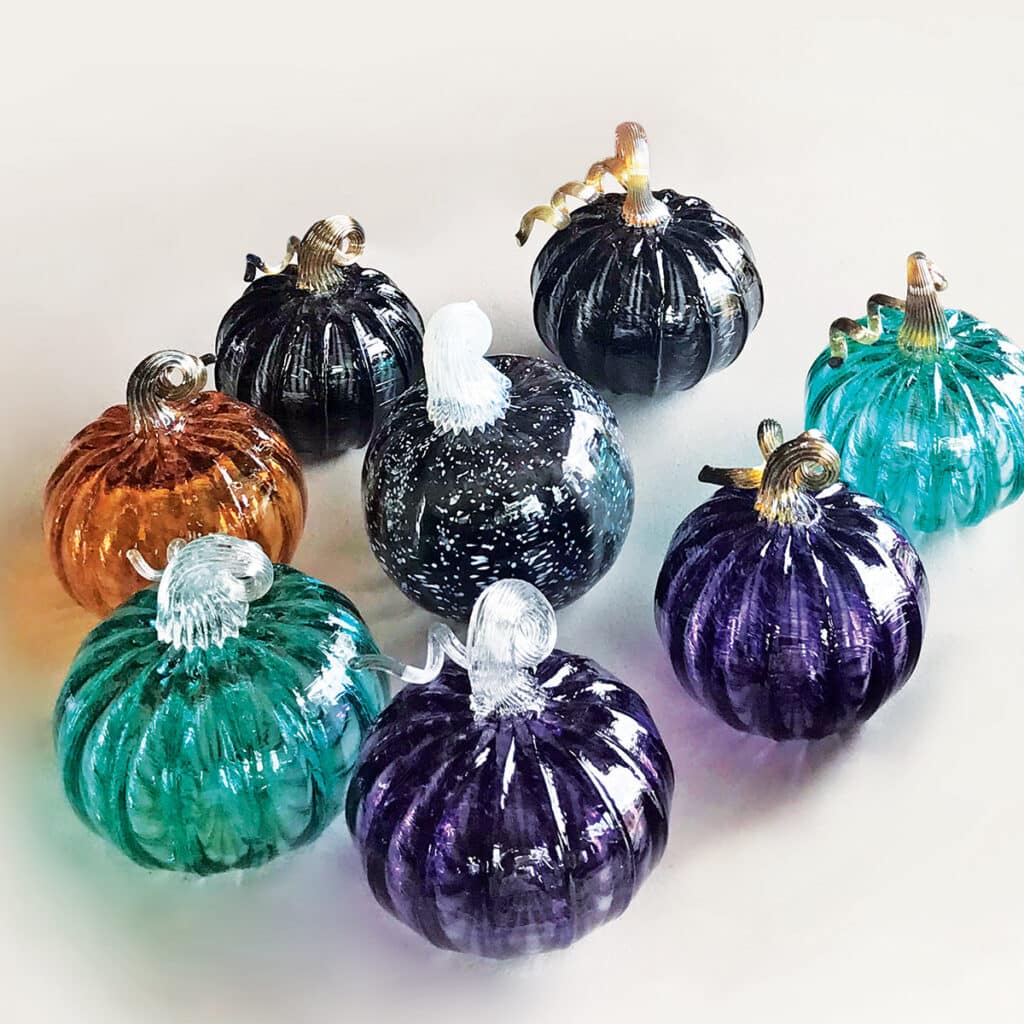 Glassblowing itself dates back 2,000 years and is believed to have been invented by Syrian craftsmen. Today, the process typically starts with clear glass pellets that are melted in a furnace at a scorching temperature of 2,025 degrees fahrenheit. The glassblower dips a blowpipe into the molten glass to collect a glob or "gather" of glass and quickly begins the process of shaping the gather and blowing until the desired shape begins to take place. The glass is workable when it is kept at about 900 degrees Fahrenheit, so frequent reheating in a "glory hole" furnace is required.
Finished pieces are placed in a separate kiln and allowed to cool down over a 12-hour period in a process called annealing. It is not unheard of for a glassblower to return to the studio in the morning only to discover a piece has cracked while annealing. Working with glass – a beautiful yet temperamental material – only adds to the challenge, Toroni and Paine agree.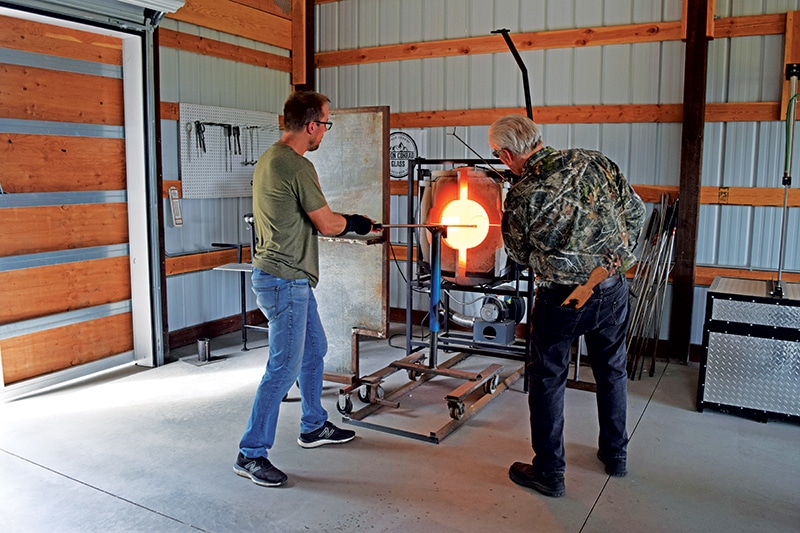 Occasional breakages aside, Paine says glassblowing is gratifying for him because it allows him to work with his hands and at the end of the day, you can see the results of your efforts. Toroni is more succinct when it comes to glassblowing: "It feeds my soul."
Both glassblowers work on pieces that strike their fancy and occasionally accept commissions. The seasons tend to influence their work, as well. Glass pumpkins in myriad colors and designs are popular in the fall and colorful ornaments become the go-to handblown glass baubles for the holiday season. Their work is available at Enjoy the Store in downtown Redding.•
www.jasonconradglass.com Ron Toroni, Lassen View Glass (530) 472-3158