Check Mate
Redding Chess Club…
Just as the Pandemic changed the way we interact with one another, the 2020 Netflix series "The Queen's Gambit" changed the world of chess. And now businesses are back open, and the world has gone back to normal, but the renewed chess craze has kept alive.
When "The Queen's Gambit" came out (becoming the number-one watched show in 12 countries), orders of chess sets shot up 87 percent and millions of people joined online sites like Chess.com. In Northern California, the Redding Chess Club has also seen a resurgence, expanding its gatherings to meet twice a week to accommodate the growing number of members.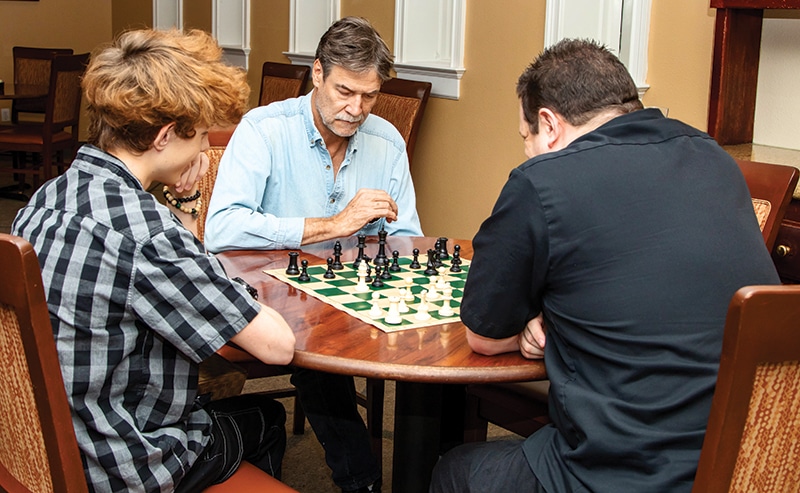 Redding Chess Club President Matt Rudd has been in the club for more than 10 years. He was born and raised in Redding, but moved around the country a lot before coming back. He took up chess as a hobby while in Kansas, thinking it would be a nice way to meet people and give him something to do.
His cousin taught him to play chess when he was 5 or 6 years old, so he knew the rules, but one day he picked up a book about chess strategy." And it became more interesting to me," he says. Rudd started playing with homeless people who hung out on the street corner and got better at it. He soon found a local chess club and went to a meeting with a friend.
"I got clobbered," he chuckles.
Rudd also joined a chess club in Portland, Ore., before eventually moving back to Redding. In 2010, he saw that there was a chess club meeting at Yaks coffee shop, so he and a friend went to check it out. About 10 to 15 people were playing chess, and he began showing up more regularly. After a few years of being active in the club, Rudd became president.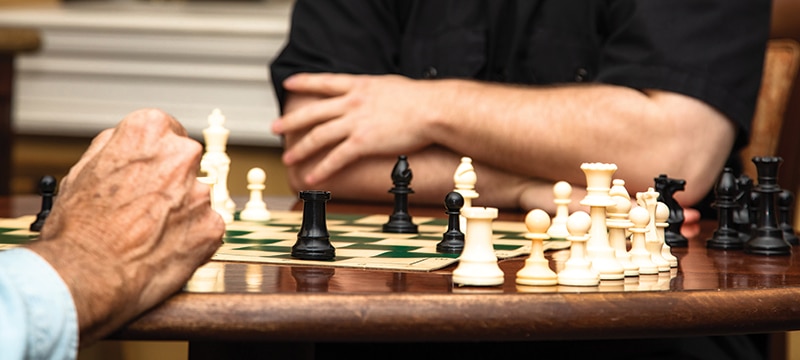 Rudd says that the Redding Chess Club started in the 1930s or the 1960s, depending on which of its older members you ask (its crest says that it was officially established in 1965).
Sometimes three or four people show up and sometimes the café is full of players. Summertime is slower, when the weather gets nice and people tend to be outside. Predictably, more members show up in the winter when the weather is colder and it's nice to hunker down indoors with a chess set and an opponent.
Time limits are set on chess games so that they don't drag on forever (and annoy café workers trying to close). "It was a change I pushed for becoming president. People would start a game and then the coffee shop would try to kick us out. Each person has their own time; a player makes their move and then hits the button to reset the clock. If the time runs out, they lose," Rudd explains. This creates a balance and is especially nice for impatient players. The club encourages new players to use clocks as much as possible, unless they are playing a casual game with a friend or someone who they absolutely know plays at the same pace as them.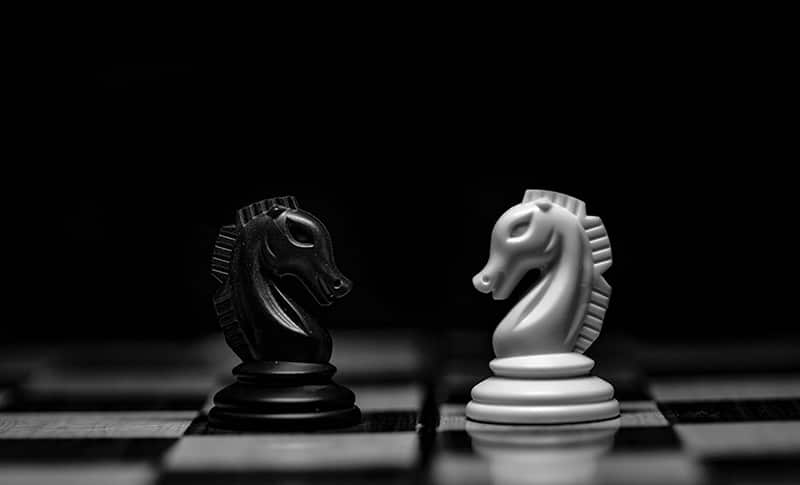 Five-minute blitz games have also gotten more popular because they're even more fast-paced and exciting to watch. Around 15 people show up on an average game night, and about 50 people are active in the club. About 400
people are in the public unofficial Facebook group. "People have been itching to get out of the house and it's a good game to connect with people from all walks of life," Rudd says. "'The Queen's Gambit' sparked a lot of interest. When people called, they'd mention that and say, 'I started watching that and started thinking about whether there was a chess club in my town.'" He also teaches chess to kids at a local charter school. "A lot of
parents call about getting their kids into it," he says. Rudd believes he's played tens of thousands of chess games over the years (possibly even hundreds of thousands) and has won about half of them, or a bit more, if you consider the chess games he's played against students. "A lot of them are short blitzes. I play online a lot and they generally match you up with people of a similar ability, but I teach new players a lot which gives me a bit of an advantage," Rudd says.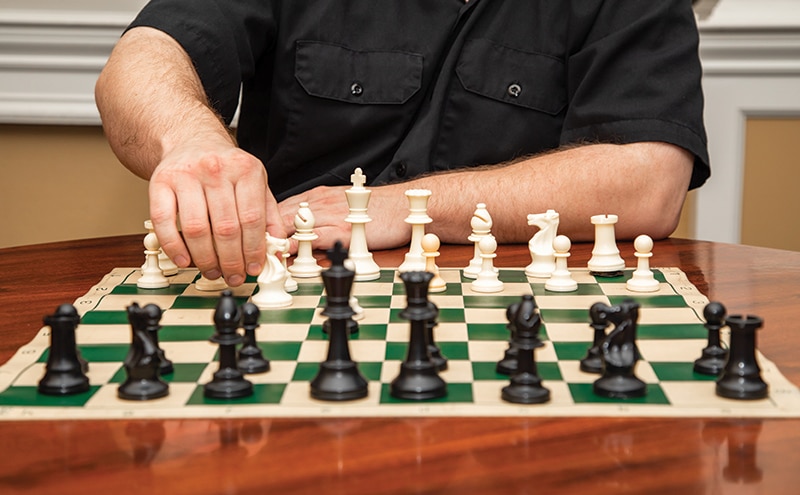 The Redding Chess Club is growing and is open to all ages and abilities. The youngest members are two girls who are 4 or 5 years old, and another girl who is 6 or 7 can beat many of the adults. Redding Chess Club Treasurer Ellis Martin is 95 years old.
"Chess attracts the older gentlemen; it's a good activity for them that's not physically demanding," he says. He'd like to see the Redding Chess Club expand its children's membership, too.
The club meets Tuesdays at Sweetspot and Thursdays at the Braided Mane on Hilltop
Drive at 6pm. "We have some tournaments planned out; we want to do them monthly, maybe weekly, and then have a once-per-year big event," Rudd adds.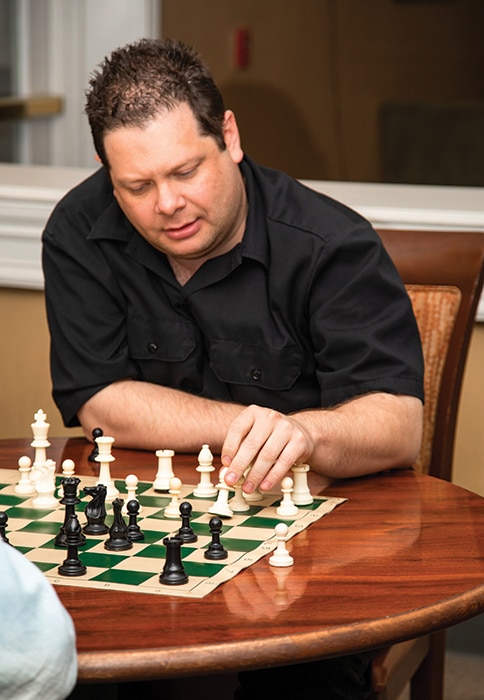 When asked what his favorite part of the world of chess is, Rudd responds, "I like that it's a game of strategy; you don't lose because you've been dealt a bad hand or bad roll of the dice. I've also met a lot of cool people over the years, from all walks of life, people I wouldn't have met normally. I've met a lot of amazing people over the years.
"And chess takes 10 minutes to learn the rules, but it takes a lifetime to master." •
Find Redding Chess Club on Facebook