But First, Coffee
Jim Milestone's Coffee House Paintings…
In less than a year, Jim Milestone painted a series of 14 artworks featuring each of the local independent coffee shops in Redding. His love of the character, vitality and creativity that these spaces have infused into Redding inspired him to begin working on painting the scenes in an approachable, delightfully human way. The paintings Milestone created capture the unique feeling, clientele and atmosphere of each coffee shop. He says painting people was never his specialty, but despite this, he has successfully depicted many charming characters, all based on the real people he has seen while frequenting these shops.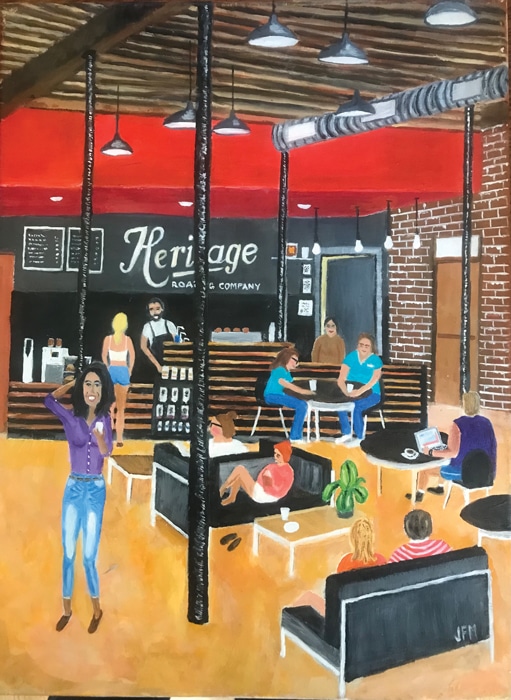 Milestone sees the development of coffee shops and their growth in popularity as a distinct and significant part of Redding's evolution as a city. Time breeds change, and the business and leisure landscape in Redding is no exception. After its construction in 2004, the Sundial Bridge was one of several local outdoor spaces where people could congregate and spend time together. Natural outdoor spots were (and remain) city favorites, but Redding's merciless summers demand indoor alternatives. The relatively recent attraction to coffee houses, however, comes from more than just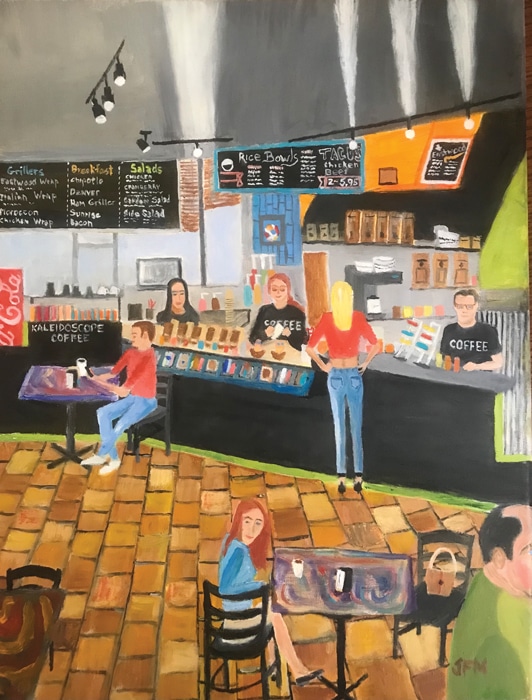 wanting somewhere to cool off. The nature of coffee and the residents who love it has created an atmosphere that is distinct, and defines it as more than a placeholder for community gatherings. Milestone shares in an essay titled "Redding's Emerging Café Culture" that in addition to communal opportunities for connection, coffee roasters and baristas display "characteristics
equivalent to what a sommelier can offer wine enthusiasts." People are excited about what the coffee scene has to offer, and will explore any new avenue that offers it.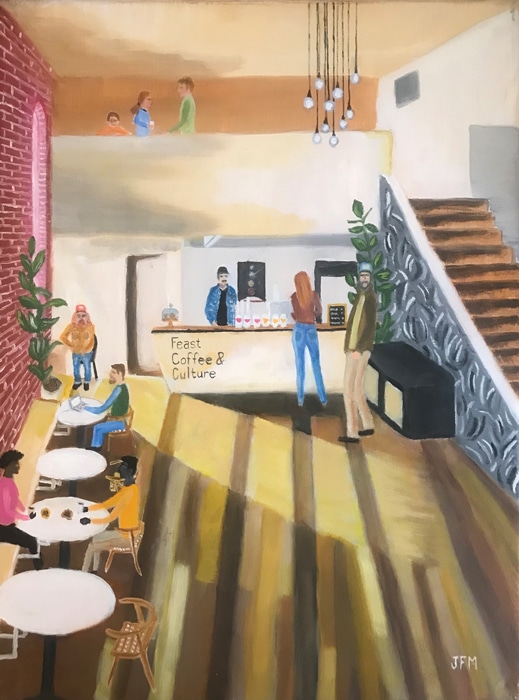 Milestone's connection to art goes back several decades. He worked for the National Park Service for 43 years, the last 30 spent managing art collections. He came to Whiskeytown in 2000 and started the Whiskeytown Artist-in-Residence program when he realized they had next to no art in their collection. He served as the program's supervisor until his retirement in 2018, working to bring artists from all over the country to Shasta County, where they would stay in cabins around Whiskeytown Lake and create paintings, one of which they were required to donate to the local collection in return. He built up the body of artistic work at Whiskeytown, and fostered an environment where the arts were supported and encouraged. Milestone personally began to paint in 2016, and when he retired in 2018, he devoted more time to it.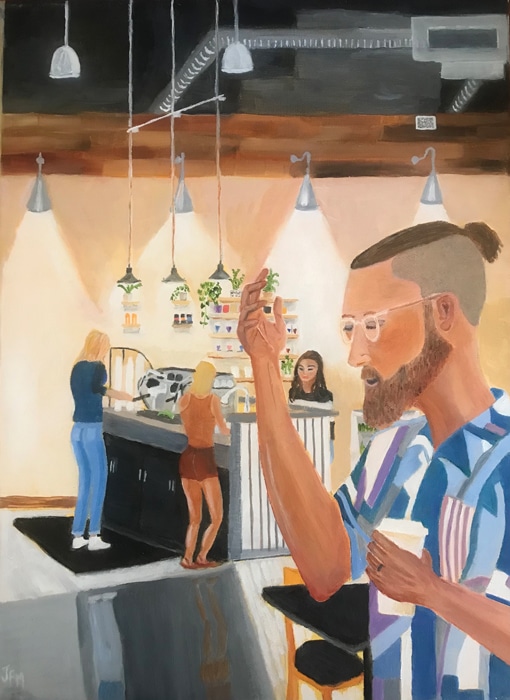 Milestone remembers when the Market Street area downtown closed in the 1990s and they began developing Dana Drive. The hub of activity quickly shifted to that section of town as the mall was constructed, large businesses started buying lots, and the shopping centers were established. In the last 10 years, however, there's been a gradual rise in demand for the return of a thriving downtown. People want to see life settle back into what feels like the real center of Redding. Theory Coffee Roasters was one player in that shift, popping up about five years ago on California Street. It quickly grew in popularity and became a bustling center of the coffee culture scene, along with Evergreen on Pine Street, which rebranded from Coffee Bar in 2018 and has only grown as a favorite.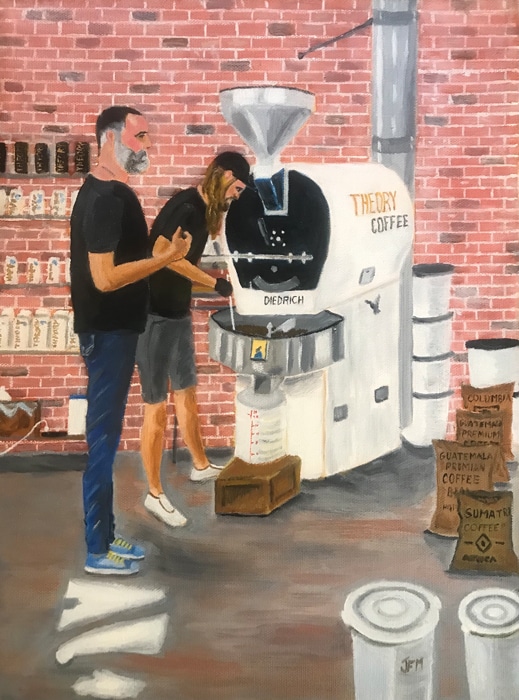 The recent renovations on Market Street have brought an entirely different atmosphere to the west side of town that goes in tandem with the demand for small, local coffee houses as communal gathering spaces. Each coffee house, from Hebrews at Bethel Church to Kaleidoscope Coffee Company on Athens Avenue, has a unique ecosystem that draws in certain groups of people, each happy within their circle of books, newspapers, or laptop and headphones. Some shops are known for catering to the hipster crowd, some to the senior demographic. Milestone presents a painting of each one in a celebratory, welcoming manner that invites us to consider just how integral and delightful these producers of espresso really are.
Milestone's paintings will be displayed at Theory Coffee Roasters at 1250 California St. for the month of September for people to view and purchase; be sure to stop by and take a look while you chat with a friend and sip an excellently crafted cup of coffee. •
Article Written By:
Eythana Miller was transplanted to Redding from Montana three years ago and has fallen in love with the area. She's in her second year at Shasta College, and loves a good literary discussion over a few cups of black tea.