The Big One
Making the Catch with the Simpson Bass Team…
Nathan Phillips had hoped baseball would be his ticket to a college education until a shoulder injury curtailed that dream. He never thought his second love, fishing, would be the sport that earned him a scholarship.
The idea of bass fishing as a college sport may strike some as a tad frivolous, but for administrators at Redding's four-year university, it makes a lot of sense. Simpson's president, Norm Hall, came from a university that had a bass fishing team, and he proposed it for Simpson along with co-curricular programs like women's wrestling, men's volleyball and track and field.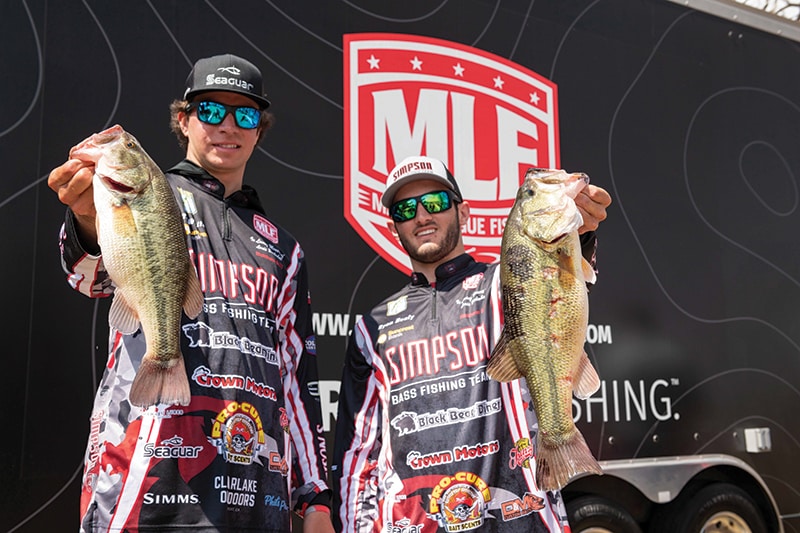 "It was part of an intentional effort to grow the university," says Mark Endraske, Simpson's dean of students. "It really is a perfect fit for Redding and the North State." Alex Thiemann was hired in the spring of 2019 to recruit anglers and begin coaching the new team. By the fall semester he had a five-member squad, led by Phillips. Today there are 10 members of the Red Hawks bass fishing team, with a couple of new recruits coming in.
Quinn Hawkinson, a sophomore, signed on in 2021 after he was recruited while fishing in high school tournaments. Thiemann says the two were elected co-captains by their teammates, and with good reason: "They're both strong in academics and always willing to help in the interest of the team. They put a lot of time into it and they're learning the craft, just like any sport."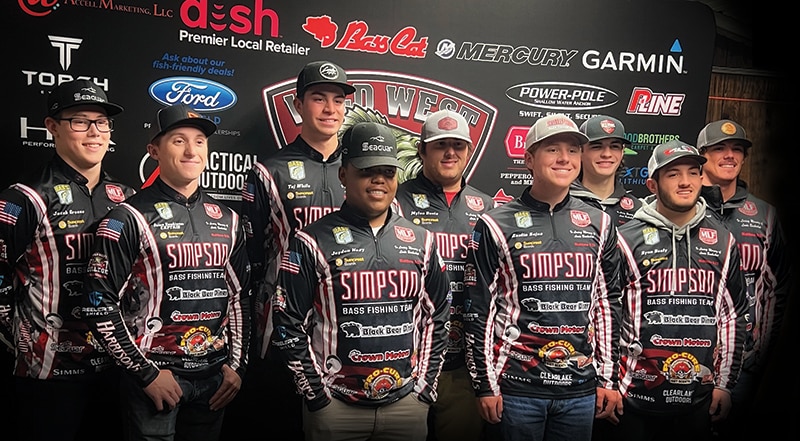 Phillips lives in Kelseyville and has done the bulk of his bass fishing on Clear Lake, where he also works as a licensed guide during the summer, in addition to a job at Clear Lake Outdoors, a popular tackle shop. Hawkinson lives in Chico and has a side job with his father making jigs and other tackle through their business, Hawkeyez Lures.
Phillips, a business major, says tournament fishing offers the competitive energy he used to get from baseball. "It was fun at first just to go fishing, but once I kind of lost baseball, I started to do tournaments. You want to do as good as you can, and that comes with a lot of knowledge and time on the water."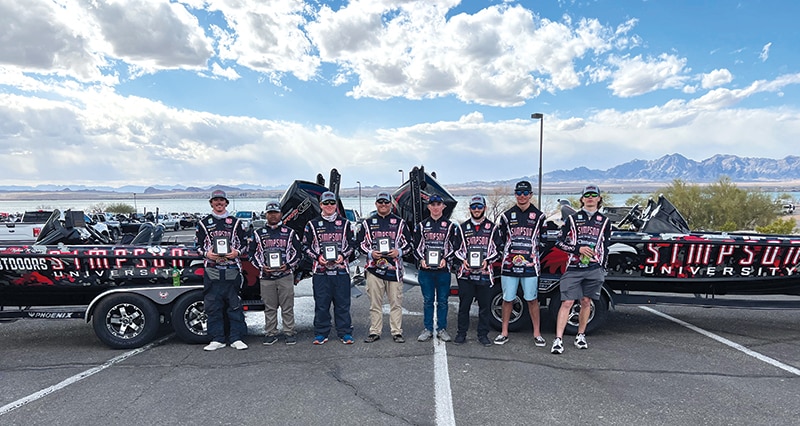 As any angler knows, fishing is nothing if not dynamic. Changing weather, wind, sun, shade, the color of the water, the season and the time of day can all affect the bite. Solving those puzzles on the fly is a
big part of the challenge, Phillips says.
"It's been amazing," Hawkinson says of his time at Simpson. "Obviously, fishing for a school is awesome." Hawkinson, also a business major, says he's learning a lot about the fishing industry by fishing in tournaments, representing his team at trade shows and enlisting team sponsors.
When he's not on the water tricking spotted bass with spinners, crankbaits and plastic worms, he's enjoying life as a student. "The professors and campus life are great, living in the dorms. I got lucky
with good roommates," Hawkinson says.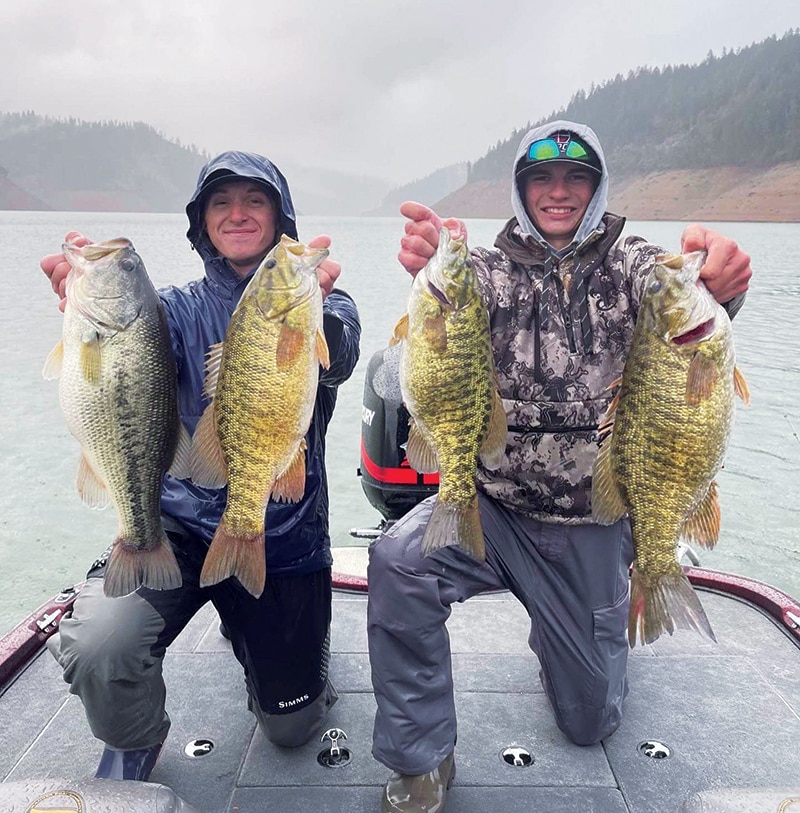 Thiemann, who fished competitively at the collegiate level while attending San Jose State University, says while his student anglers may not have a "pure" connection to a scholastic program, they are learning to advance best fishing practices (boating, angling and tournament skills) while giving back to the larger fishing community through their work on a local fundraising tournament and, hopefully, helping to reenergize a "Cast for Kids" program at Bridge Bay Marina. There's also a cross-curricular aspect to being on the bass fishing team, Thiemann says, such as "skills that serve them on the water and in the classroom, like critical thinking, collaboration skills and communication."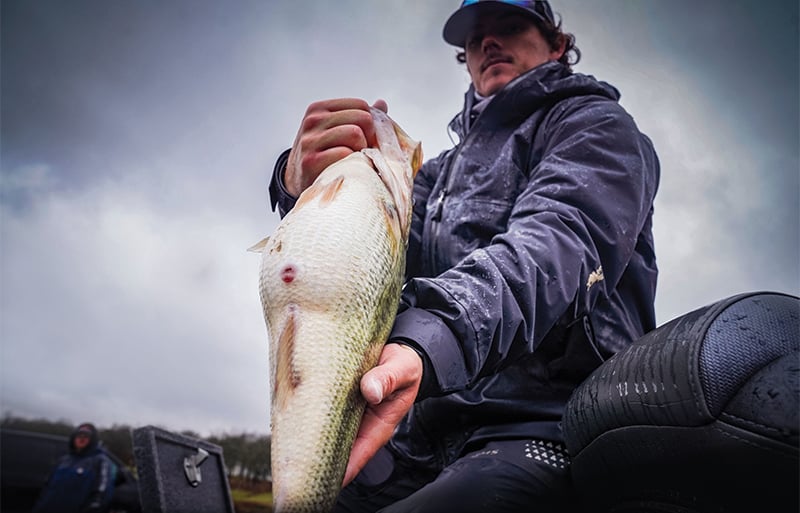 The Simpson bass fishing team has enjoyed strong local support, from Harrison's Marine, Black Bear Diner and Crown Motors among other businesses, and the Red Hawks have had some impressive
success. Simpson's anglers have won back-to-back Western Conference championships and in standings maintained by Major League Fishing's Abu Garcia College Fishing division, the team is ranked 40th overall in the nation. All four of its two-man teams are qualified for the collegiate national championship, to be held in the spring of 2023. •
www.simpsonredhawks.com/sports/bass-fishing