Music Fest
Mt. Shasta Summer Concert Series…
The Sumday evening concerts at the foot of Mt. Shasta started in 2014 as a way to get the word out about the Gateway Trail project, an ambitious plan to eventually construct 100 miles of multiuse trail in the forests and towns surrounding the mountain. That's still a big part of the Mt. Shasta Summer Concert Series, but the weekly gatherings have grown to become a cherished tradition in their own right. "People got stoked," says Jason Allen, president of the concert series' nonprofit board. "We had a huge eclectic gathering. It was an instant hit."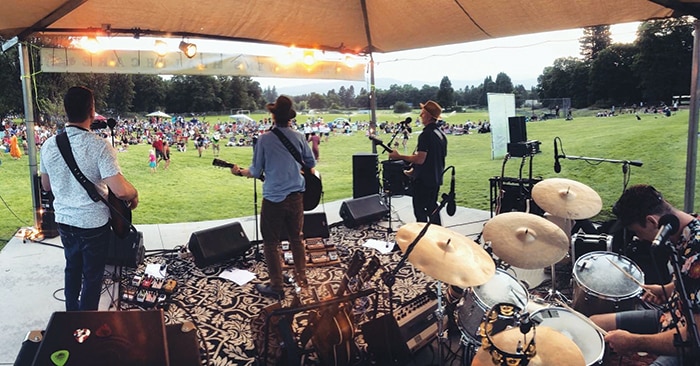 Rounding up sponsors for the first season was a bit of a challenge, but Allen says it has become easier as the Gateway Trail project grows and the summer concerts gain in popularity. "A lot of people look forward to it. It's completely free and they can get info (on the trail project) if they want or buy raffle tickets or get a beverage," Allen says. "It just works being on a Sunday. It's a nice way to end the weekend and relax a little before they get back at it on Monday."
The concert series started under the umbrella of the Mount Shasta Mountain Bike Association and last year became its own incorporated nonprofit organization. In addition to hosting the popular concert series, Allen and the other volunteers are establishing a scholarship program and organizing music instruction for interested community members. The group also is working on the Shastice Park venue, where artists currently perform on a concrete stage under a temporary shade structure. Allen says a generous grant from the Friesen Foundation will allow for a permanent roof structure, hopefully by next summer.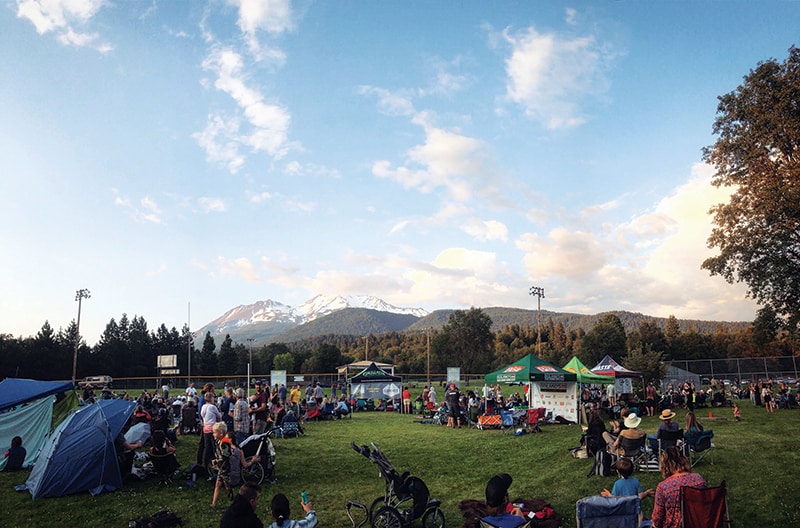 Andrew Brown, a Mount Shasta-based musician and one of the original Mount Shasta Mountain Bike Association members, books the acts for the concert series, lining up local favorites like the Sundown Poachers and bringing in touring regional acts like Hot Buttered Rum. Allen says Mount Shasta's location on the interstate makes it an attractive Sunday evening stop for traveling artists. "I-5 is a corridor and if schedules work out, you can grab some amazing talent. I take a lot of pride in the fact we put on a free event and people can see some really great music."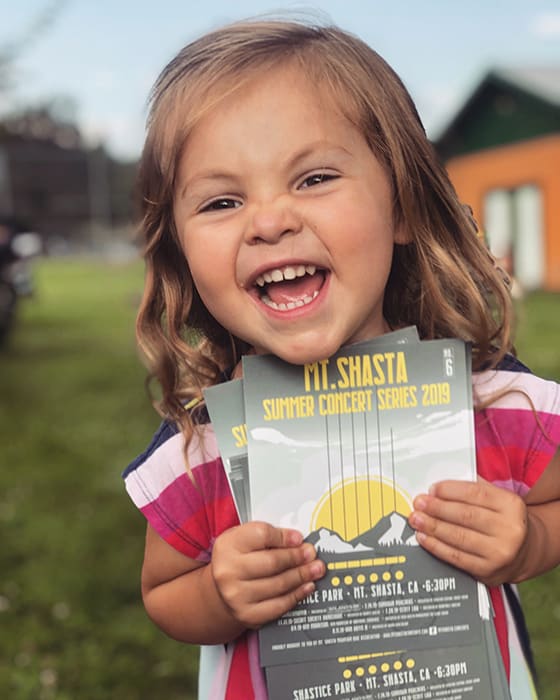 Concertgoers also can keep tabs on the Gateway Trail, which is now in its second decade of development. The first phase, comprising 11 miles of multi-use trails, began in 2009 when a group of mountain bike enthusiasts envisioned a network of trails that would serve as a "gateway" to the National Forest land surrounding Mount Shasta. The vision of the Mt. Shasta Mountain Bike Association was shared by the Mount Shasta Trail Association and soon advocates from both groups set to work on Phase 2 of the Gateway Trail, which will add an additional 46 miles of multi-use trails that will connect the city with the Mt. Shasta Ski Park, the Mt. Shasta Nordic Center and McBride Springs Campground.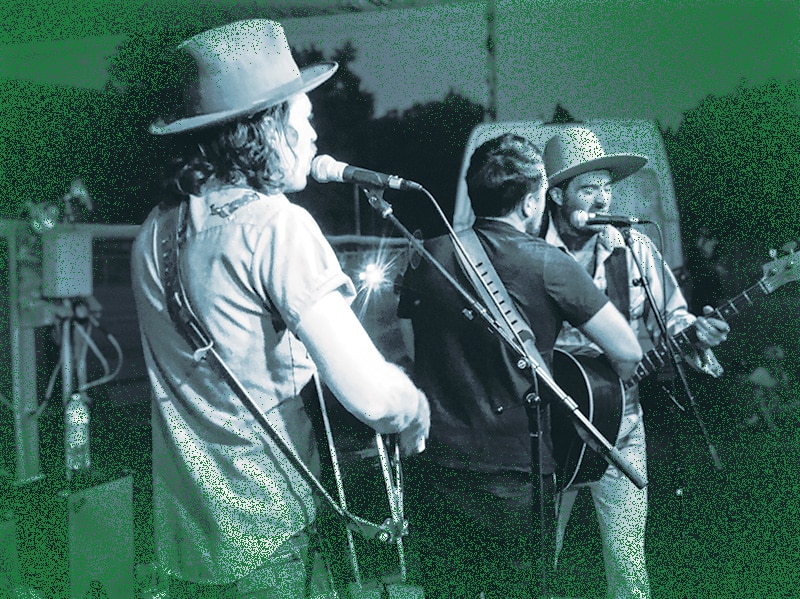 Thanks to a $420,000 grant from the McConnell Foundation in 2017, extensive support from the Shasta-Trinity National Forest and other community help, trail designers will be able to include four new trailheads with parking areas, a restroom, interpretive signage and maps. Mountain bike riders and hikers alike will be treated to scenic overviews of the volcanic landscape in the Mt. Shasta Wilderness Area, the upper Sacramento River headwaters and the Klamath Mountains. Phase 2 construction is expected to be finished in 2024. In the meantime, there will be a summer of singing and dancing to look forward to and Allen says he can't wait. "Bringing our community together for seven weeks is the big payoff."•
Mt. Shasta Summer Concert Series
Shastice Park, 800 Rockfellow Drive
All concerts begin at 6:30 pm
July 10: Sundown Poachers
July 17: Hot Buttered Rum
July 24: Wind Fields
July 31: Never Come Down
Aug. 7: Jessica Malone
Aug. 14: Secret Society Handshake
Aug. 21: The Contenders
www.mtshastaconcerts.com
www.mountshastatrailassociation.org
www.bikeshasta.org
Photos by Taryn Burkleo